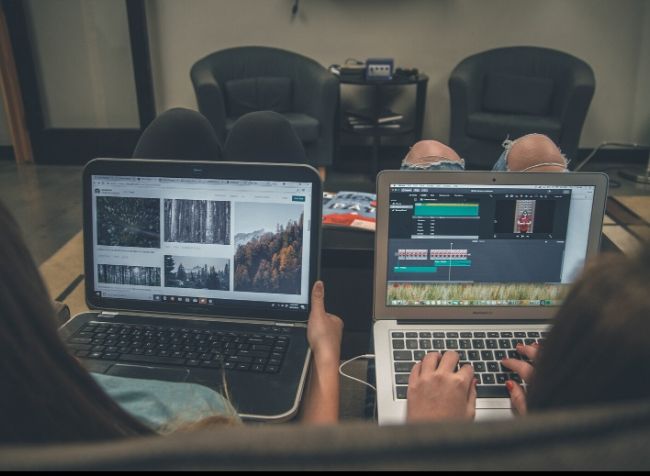 Are you looking for a comfortable way to work while sitting on your bed or sofa?
If that's the case, you should check out excellent lap desks with storage compartments in the market. Finding the right one that suits you might just revolutionize your home office space. Why would you need that extra storage?
There might be a couple of reasons:
If you're a writer, you may keep your notebooks and pens in a single space.
If you're working on a laptop or tablet, you may store them away after each work session.
If there's an artist in you, it can be a secret cache for paintbrushes and other tools.
Lap desks come in many colors and designs. The ones you'll find below are designed for adults, but semi-grown-ups should be able to use them too. After doing thorough research, I was able to find the five models that will also moonlight as a storage box. They are all affordable and ergonomic so you can use them without getting fatigued. Shall we take a look?
The Best Lap Desks With Storage Compartments (For Adults):
Out of all lap desks with a small storage area, this is your number one pick. It's fantastic for comfortable work sessions on your sofa or bed. Instead of a single storage drawer, it has three compartments where you can organize your office accessories. These compartments are not large enough for you to store a 15-inch laptop. However, they are perfect for a tablet, a mouse, or the power supply cable for your computer. The cushion is quite large and comfortable, but if you're short, it might be just a tad too high for you. The only drawback here is that it might give off quite a strong smell when you first unpack it. But this should vanish within a couple of days. Try it out. You will surely enjoy the mahogany or walnut finish that graces it with a premium look.
Specs at a glance:
The dimensions of this desk are 14.5 x 18 x 6 inches, and the storage space is 13" across 0.47" wide, and 0.25" deep.
The product weighs 6.3 pounds, so it's a bit on the heavy side of things. But it also has a unique handle on the side so you can carry it around with ease.
This one is perfect if you're on a budget, but still want something for cozy work in your bed or while sitting on the floor. Yes, it's 100% plastic, but still, it's quite sturdy, and it will last for a long time. This low-profile, budget lap desk is perfect not only for adults but I'm sure that kids would enjoy it as well.
Specs at a glance:
You can use it in two different modes:

First, with the legs folded and the top placed directly on your lap.
Second, with the legs open, so you have extra space that will prevent your thighs from sweating in the summer.

The desk is 17.9 x 13.1 x 2.5 inches in size and the storage space is almost the same. As you can see, it's enough for a laptop and even some small office accessories.
It's not exactly a lap desk, but I included it here because it's a viable alternative, and it comes with a small storage area. It's more like a species of little table with foldable legs, and it can serve a variety of purposes. Except for placing your laptop on top, you might want to use it for your study sessions, or even to eat breakfast in bed. Instead of placing it on your lap, you'll have some extra space between your legs, and the main surface area. However, if you fold the legs and place them on a cushion, you have a bona fide lap desk as well. The desk is fantastic because it lets you adjust the angle, and makes your work sessions so much more comfortable.
Specs at a glance:
This product from Songmics has a storage drawer on the right that you can use for your office supplies.
The main surface area is quite large enough to fit a 15-inch laptop and even a mouse.
Here's an atypical lap desk that's redolent of the good school days. It has a smooth, wooden surface that will allow proper ventilation for your laptop and prevent it from slipping at the same time. Most importantly, it has a large storage compartment that will fit a 17-inch notebook. Best of all, the secret cache is padded with felt, a material like the one used for billiard tables. The designers took the time to develop a high-quality product. The wood is entirely polished, so you don't have to worry about splinters. The only issue with this one is that the hinge bracket, used for keeping the storage compartment open is a bit too stiff. That's why if you don't have a lot of physical strength, you may remove it as soon as you get the delivery.
Specs at a glance:
It's eco-friendly, it's sweet, it's smooth, and it will prevent your precious electronic devices from getting scratched.
Besides the central storage place, there's also a smaller chamber for small office items.
At the bottom, you'll find a plush lap pad, that will enable you to work in comfort for a few hours.
This is probably the most unobtrusive desk you can buy. It's not only beautiful, but it also has enough desk space for a 15.6-inch screen laptop. In short, it's a minimalist productivity taskmaster's favorite. This ergonomic product is made of acacia wood and has a cushioned bottom. There is something stylish and straightforward about it. It has this kind of Zen quality to it, which is excellent if you are trying to do some work in peace. To access the storage compartment, just lift the desktop, and the inner sanctum will reveal itself. It has divided spaces for organizing your stuff like pens, styli, notebooks, and other stationery items.
Specs at a glance:
You have two options for the hardwood desktop. Acacia if you want a lighter wood color, and Java basswood if you want a darker hue.
The compartment is 1.5″ deep and is divided into two sections, one measuring 9.75 x 2.25 inches, and the other 9.75 x 11.5 inches.
It evokes a vintage feel with its beautifully finished wood surface.
It has a well-cushioned bottom with a lovely herringbone patterned fabric cover.
Did you find a lap desk suitable for your needs?
We are all looking for better and more ergonomic ways to do our work. Sitting at a desk for hours on end may lead to neck, shoulder, and wrist pain. A lap desk designed especially for adults is a great alternative. It lets you stay in a comfortable position on your bed or sofa, and do whatever you have to do in terms of work and art. I hope that by reading this review, you got some valuable information, and now you are ready to create a small revolution in your home office.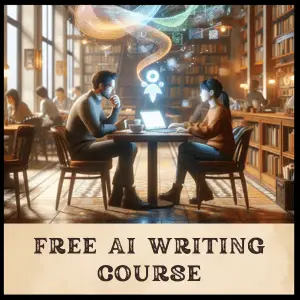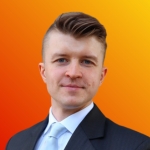 Rafal Reyzer
Hey there, welcome to my blog! I'm a full-time blogger, educator, digital marketer, freelance writer, editor, and content manager with 10+ years of experience. I started RafalReyzer.com to provide you with great tools and strategies you can use to become a proficient writer and achieve freedom through online creativity. My site is a one-stop shop for freelance writers, bloggers, publishers, and content enthusiasts who want to be independent, earn more money, and create beautiful things. Dive into my journey here, and don't miss out on my free 60-minute AI writing online course.