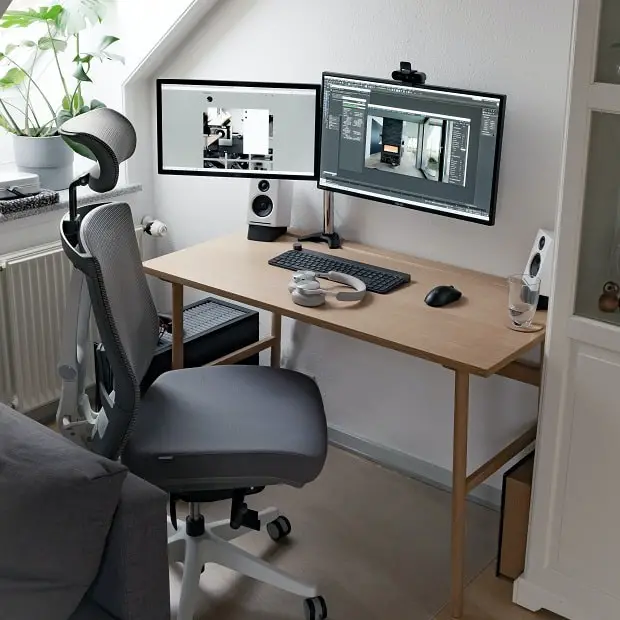 More businesses embrace the idea of a remote or hybrid work model.
According to an Owl Labs study, globally, 16% of companies are fully remote and around 62% of employees work remotely at least occasionally. Even most workers have adapted to this new work culture. As working from home becomes more prevalent, investing in home office spaces gains traction. Good thing several home office design tools make planning your workspace a breeze.
How to set up your workspace for maximum productivity?
Well, there are no hard and fast rules in setting up your home office. The idea is to create a space that works both aesthetically and practically. Because no matter how small it is, it should inspire productivity.
Here are some tips that should help you transform a room or part of a room into a productive workspace:
Working from home can be super comfortable and productive if you know how to set up a workspace that enables you to focus easily and detach from at the end of the workday.
6 Online Design Tools for Your Home Office:
A home office design tool can help you design a fully functional workspace, without getting the services of an architect or interior designer. Fortunately, there are myriads of design tools available out there, both free and paid. They can help you create the home office of your dreams. Following are some of the intuitive and easy-to-use design tools that will help you add value to your workspace: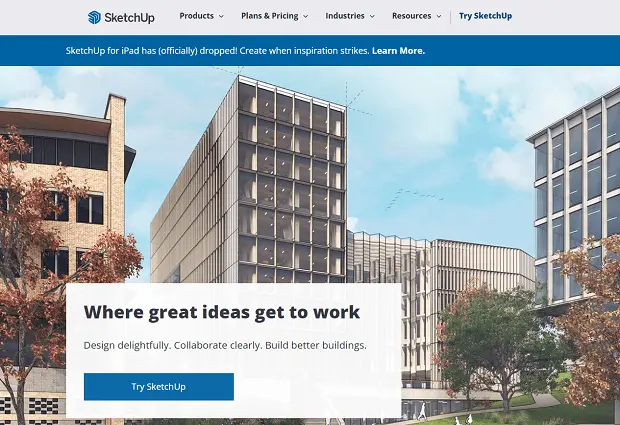 SketchUp is the most comprehensive 3D design software. It makes 3D modeling a breeze for anyone looking to redesign their home office. It is a robust 3D modeling and design tool that is super intuitive to make it seem like you're taking a walk inside your future home. SketchUp Free is the simplest free 3D design software on the web that can help you design anything you imagine, without having to download a thing. All you need is your imagination and a room to draw. The paid plans start at $55 per year for students and $119 per year for commercial use.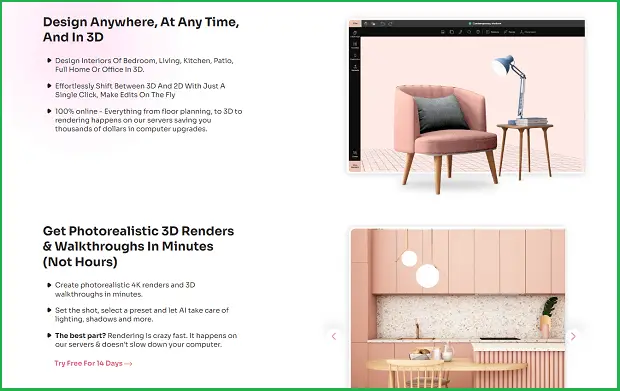 Foyr Neo is the world's leading and most powerful interior design software trusted by over 50,000 interior designers worldwide. Although it's a powerful tool built for interior designers, no prior CAD or 3D modeling knowledge is required to use this software. You can do the whole interior design process, starting from creating high-quality interactive floor plans to 3D modeling to rendering. You can even create photorealistic models in minutes. And the best part is everything happens in their servers, so rendering is insanely fast. You can try the software for free for 14 days. The paid plans start at $49 per user per month.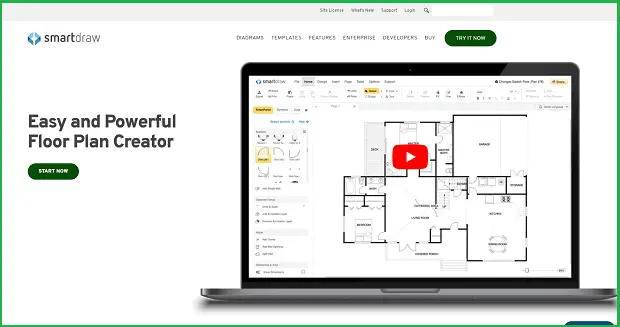 SmartDraw is yet another great home design software that combines professional templates and intuitive tools with an easy-to-navigate user interface. It's easy enough to learn, so anyone with a little creativity can create wonderful home designs. With thousands of templates and symbols to choose from, you can plan your home office space and customize it to suit your needs. You also get to choose from a seemingly endless collection of floor, ceiling, and desk lamps, cabinets, decorative stuff, landscape elements, and whatnot. The Individual plan costs $9.95 per month on annual billing and the Team plan costs $5.95 per user per month if billed annually.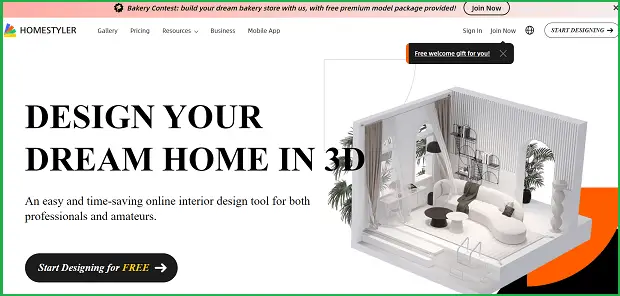 HomeStyler is a simple yet functional 3D floor plan and interior design tool that lets you layout and decorate your home office in a 3D view. You can do everything online and don't need to download any software. Unlike any complex tool, HomeStyler is an ideal home redesign tool for anyone with no architectural knowledge or prior interior design experience. It offers a free Basic Plan that enables users to design and render a full interior design project with unlimited 1K renders and over 100,000 free 3D models and materials. You have to pay extra for more advanced features like 4K rendering.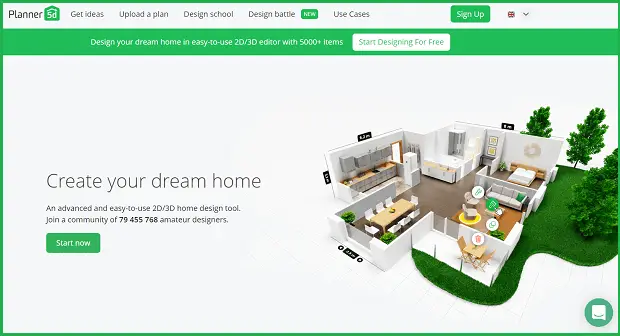 Planner 5D is one of the most popular and powerful home improvement and interior design platforms out there. It's an intuitive, easy-to-use home design tool that allows you to layout furniture and other home accessories in either 2D or 3D mode. You can redesign your entire house to your liking, not just your home office, with little hassle. It works well, regardless of the platform you're using it on. It uses snapshots to create interior plans and converts them into high-definition visualizations that show colors, lighting, shadows, and other visual design elements.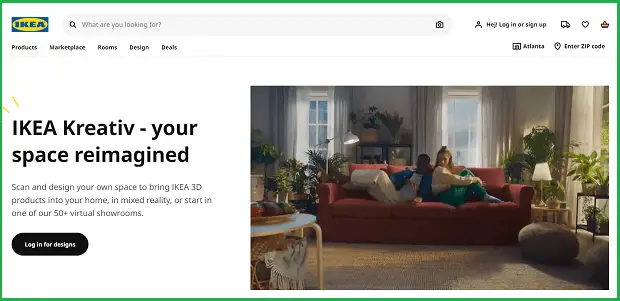 The house of IKEA, one of the world's largest home furnishing retailers, brings an excellent planning tool to design your perfect storage and home office solutions. The tool allows you to design different household rooms using their products. You can start with an already furnished home or start designing from scratch. Known for its high-quality ready-to-assemble furniture and home accessories, IKEA is a household name in many highly developed countries. As an added customer service, they offer a plethora of layout and planning tools to help you visualize the interior of any room after it is fitted with their storage solutions and furniture pieces.
Key Takeaways
You are probably in a work-from-home situation right now. Perhaps it's out of necessity and not by choice. Or, it's the other way around. For many, working from home could be an outstanding experience. No commuting, more freedom, and more control over how you want to set up your workspace. That being said, it also comes with certain challenges, like your environment. You may not have the patience, ability, or budget to commission an interior designer to create your ideal home office. That's where online home design tools, such as the ones mentioned above, come in. They are so useful in giving you a better picture of what works best for your home office space before you spend any money building it. Next up, you may want to explore a guide to buying a computer for remote work.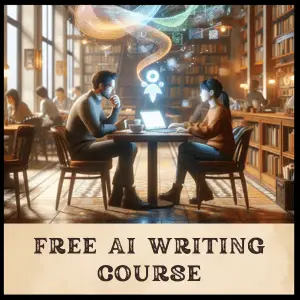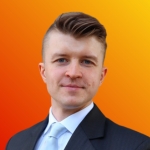 Rafal Reyzer
Hey there, welcome to my blog! I'm a full-time blogger, educator, digital marketer, freelance writer, editor, and content manager with 10+ years of experience. I started RafalReyzer.com to provide you with great tools and strategies you can use to become a proficient writer and achieve freedom through online creativity. My site is a one-stop shop for freelance writers, bloggers, publishers, and content enthusiasts who want to be independent, earn more money, and create beautiful things. Dive into my journey here, and don't miss out on my free 60-minute AI writing online course.