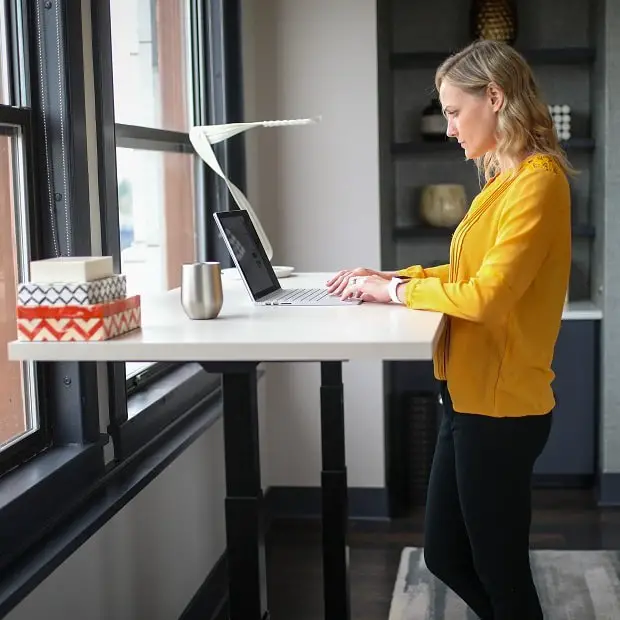 Sitting at the office all day might do more harm than you can imagine.
With work-from-home becoming the new normal, sitting for long hours in front of the laptop is taking a toll on your health and physique. Experts advise professionals to maintain a healthy balance between sitting and standing to flex the muscles and maintain proper body position. You may also alternate the hours of sitting and standing at work. A new-age affordable height adjustable desk may offer the perfect solution to this need. It could turn your home workspace more ergonomic and maximize your convenience along with your productivity.
10 Best Affordable Height Adjustable Desks for Your Home
To help you find the most suitable height-adjustable standing desk for your home office, we compiled a list of the best ones available in the market. This way, you can look at ten products in one go.
If you are looking for a standing desk riser on a limited budget, here is one of the best you can get. This fantastic monitor riser designed and fabricated by Vivo allows you to have a perfect workspace at home. If you lack the space or set up for a standing desk, this sit-to-stand converter may do the trick to give you a more comfortable work-from-home environment. Just place this dual-tier workstation with height-adjustable features on top of your current work table. The pneumatic spring allows smooth transitions, and the height lock system helps you achieve the ideal setup you need. The upper deck is ideal for dual monitors to maximize work output without congestion.
Features:
Sit to stand set up
Dual tier
Easy assembly
Removable keyboard tray
Desktop Dimensions: 36″ x 22″
Base Dimensions: 31″ x 26″
Height Adjustment Range: 6.5″ to 17″
With this affordable height-adjustable standing desk, you can turn your home office into a smart workspace. This wide tabletop workstation has a sit-to-stand mechanism, allowing you to adjust the height at your convenience. The top surface area is quite spacious, giving you plenty of space to hold a computer monitor and a laptop simultaneously, or a dual monitor. You can raise the workstation to 19.8 inches or lower it to 4.3 inches to suit your needs. Adjust the height in one smooth motion and keep it sturdy in place with its height-locking mechanism. Maintain your ideal balance between sitting or standing at work throughout the day.
Features:
Fully assembled
Spacious work area
Dual gas spring force
Sit-to-stand adjustable height mechanism
The top surface measures 31.5" x 15.7"
This 36-inch height-adjustable standing desk from SHW is your perfect convertible workstation. You can alternate between sitting and standing at your expediency, as the desk surface can adjust from 4" to 16" height in one swift motion and back. The ergonomic design maximizes your comfort and minimizes strain and fatigue. You can also use the monitor riser separately or as a part of the whole unit.
Features:
Maximum weight capacity: 30 lbs.
36-inch wide desktop
Sliding drawer
Movable monitor riser
Dimension: 36″ W x 24″ D x 4″- 16″ H
Height adjustable between 4″ to 16″
This electrically height-adjustable standing desk is another magnificent design by SHW. It comes with a classy wooden tabletop look. It has a fully motorized lifting system that allows you to adjust the height handily between 28 to 46 inches with a simple push of the buttons. There are 4 pre-set memory options and telescopic height adjustment features to easily transition from sitting to standing mode in seconds without disturbing your setup. You can save a current height setting to get the same level of convenience each day without fidgeting manually with levers.
Features:
Product Dimensions 40″D x 20″W x 26″H
Digital display handset
4 pre-set memory options
Electric lift system
Height adjustable from 28 to 46 inches
If you are looking for the best telescopic height adjustable standing desk at home, SHW has a winner in this category, too. The SHW 5-inch Electric Height Adjustable Stand Desk comes with sturdy telescopic legs. It has a classic oak tabletop finish to accent your workspace. The digital display handset has 4 pre-set memory options for height settings. You also have the option to save your preferred height settings. The motorized height control mechanism allows you to adjust anywhere between 28″ to 46″ as it suits you. Moreover, the 55″ wide workstation area is large enough to accommodate your work stuff without a space crunch. Set up your own spacious office at home by investing in this electric height adjustable standing desk.
Features:
Dimensions: 55 x 28 x 28 inches
Digital display handset
4 pre-set memory options
Electric lift system
Telescopic height adjustment from 28 to 46 inches
The Flexispot EC1 Electric White Standing Desk with a height adjustment mechanism has an ergonomic design to comfort you. Its electronic height adjustment feature lets you change the height of your desk anywhere from 28″ to 47.6″. The motor lift mechanism makes it easy to push down the desk or raise it. The workspace is spacious enough to hold two monitors and a laptop. Spread yourself out comfortably at work with this smart workstation.
Features:
Dimensions: 48 x 30 x 28 inches
Spacious workspace
Electric height adjustment system from 28″ to 47.6″
Adjustable motor lift mechanism
Weight Capacity: 154 lbs
Easy assembly
2 button controller
FEZIBO brings you an affordable height-adjustable standing desk with a drawer for a spacious and well-organized workspace at home. The desk comes with an electric motor lift to enable you to change the table height from 27.7 inches to 46.6 inches. It has 4 memory functions to help you achieve different heights with a press of a button. There are lockable casters that keep the desk in place for stability. The workspace is wide and sturdy enough to hold multiple objects.
Features:
Dimensions: 55.12 x 23.62 x 29.53 inches
Height adjustable from 27.7 to 46.6 inches
15 inches high storage space
Lockable casters
Under-desk pull-out drawer
Cable management tray
The FEZIBO 55-inch Dual Motor Height Adjustable Electric Standing Desk is a slightly upgraded version of the previous one. It comes with a keyboard and mouse tray that smoothly slides in or out for better space management. It has an electric lift system with 3 pre-set buttons, allowing you to achieve customized heights from 27.36″ to 46.04″. The lockable swivel casters keep your desk stable and the floor protected from unwanted scratches.
Features:
Professional keyboard tray
Electric lift system
Simple assembly
Height adjustable from 27.36″ to 46.04″
Weight capacity: 176 lb
Cable management tray
Lockable casters
Spacious workspace
This height-adjustable desk converter workstation with airlift control from Seville Classics is just perfect for remote workers who work from home all day. With this converter workstation, you can turn any table into a sit-and-stand height work desk. The pneumatic height adjustment lets you achieve any desired height between 4.7″ to 16.9″.
Features:
Dimensions: 30.3″ W x 20″ L x 16.9″ H
Keyboard tray
Quick vertical lift
Desktop monitor riser
Easy setup
Weight Capacity: 33 lbs
Here's a height-adjustable work desk that allows you to feel the convenience and functionality of a normal office setup in the comfort of your home. The wide L-shaped 48″ work desk gives you ample space to set up your monitor and laptop, with still a lot of room to spare for your files and various desk accessories. The desktop hook also allows you to hang your bag, earphones, or jacket. You can change its height from 27.6″ to 47.3″ using its electric height-adjustment feature. There are 3 pre-set memory buttons to give you three different height settings. It's the most professional setup you can have at home.
Features:
48″ L-shaped board
Convenient desktop hook
Electric height adjustment from 27.6″ to 47.3″
3 preset memory buttons
Dual-motor lift system
Industrial-grade steel frame to support 220lbs
To Sum Up
Here we discussed the 10 best and most affordable height adjustable standing desks to turn a portion of your home into an ergonomic office. These are the best brands and top models you can get within a certain budget range. The more affordable ones are mostly equipped with manual adjustment control, while the high-end ones offer motorized height settings and wider workspaces.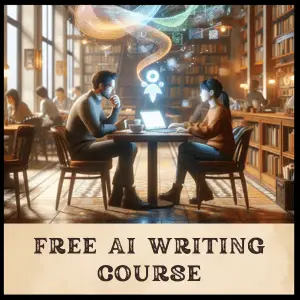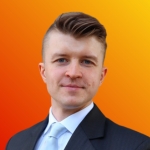 Rafal Reyzer
Hey there, welcome to my blog! I'm a full-time blogger, educator, digital marketer, freelance writer, editor, and content manager with 10+ years of experience. I started RafalReyzer.com to provide you with great tools and strategies you can use to become a proficient writer and achieve freedom through online creativity. My site is a one-stop shop for freelance writers, bloggers, publishers, and content enthusiasts who want to be independent, earn more money, and create beautiful things. Dive into my journey here, and don't miss out on my free 60-minute AI writing online course.