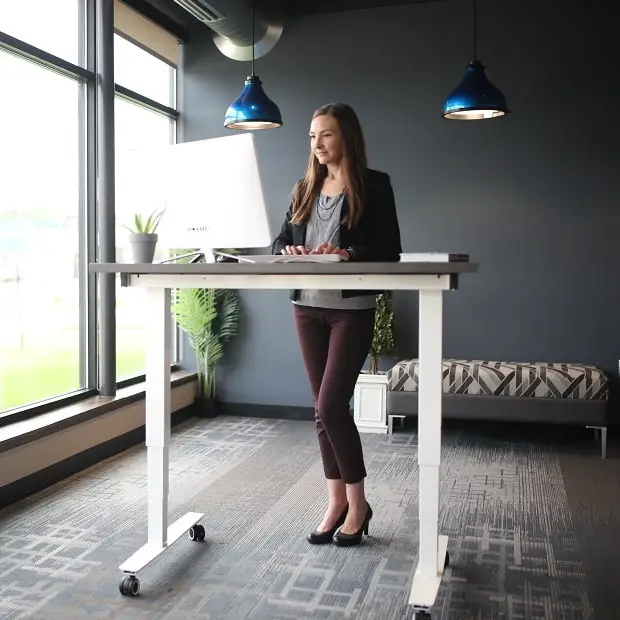 Ever felt that nagging backache after a long work-from-home session?
You're not alone. Like many of us these past couple of years, the confines of our homes have become makeshift offices, often leaving us yearning for a good stretch. The key? A dynamic workstation that moves as you do. Dive into our handpicked ergonomic setups that promise not just productivity but also the freedom to move and groove while you work.
Top Adjustable Computer Workstation Setups:
Beyond the health benefits, this adjustable electric desk helps you transform your home office into an active, adaptable workspace. Thanks to telescopic height adjustment, you can take the desk from 28 inches to 45 inches in height with a single press of a button. This allows you to switch from sitting to standing with ease. It also has a high-quality grommet to keep your cords organized.
With thousands of five-star ratings, this award-winning bamboo-topped standing desk from the house of Fully is perfect for promoting wellness and movement. It is a personal favorite among both earth-friendly and aesthetically conscious customers. It has an accommodating work surface with four customizable memory presets, which makes transitioning from sitting to standing a breeze. It's a bit pricey, but it is certainly justified in terms of value for money.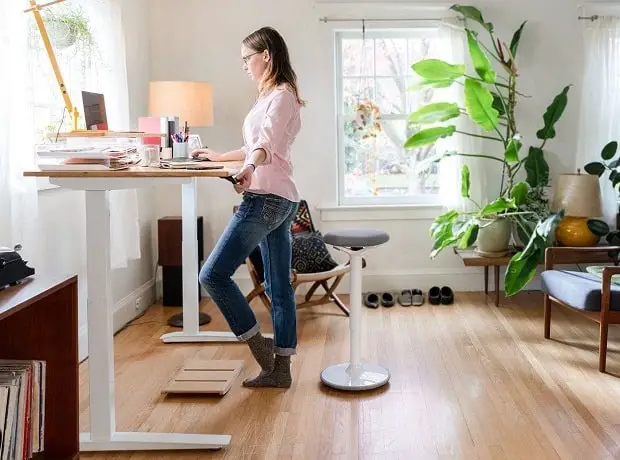 If you're cramped up for space, go with the beautiful yet space-friendly Tangkula Height Adjustable Desk, which offers plenty of features on a budget. It easily goes from 27 to 38.5 inches tall to get you the desired desktop height for a comfortable working experience. There is a bottom shelf that creates some extra space for your essentials and an ergonomic footrest that helps relieve fatigue after standing for long hours.
The Techni Mobili laptop cart with adjustable height and storage space makes up a functional workstation that you can wheel into any room. The height can be adjusted easily from 28 to 43 inches with dual adjustment knobs and the small storage space helps keep your works essentials organized and within easy reach. The two-side knobs help keep the moving desk stable. So, if you don't want to spend a fortune on a fancy motorized workstation desk, this is it.
Transform any regular desk into a functional standing desk with the Stand Steady-patented X-Elite Pro. This model is probably one of the most popular one-level desk converters in the market. The X-Elite Pro is the perfect ergonomic solution for any home office setup that changes height in a matter of seconds. It is available in four different colors, is highly functional, and is a great space-saver. It comes ready to use right out of the box, so you do not have to worry about assembling the unit.
The FEZIBO standing desk adds a vertical dimension to your progressive workspace. It helps reduce fatigue and supports your ability to easily change posture. Thanks to its hydraulic lift adjustment, you can take it from 27.7 to 46.6 inches with a simple push of a button. So, it can segue from standing to sitting height for optimal efficiency and comfort. The storage drawer helps keep your work-related stuff organized and the 36-degree swivel caster wheels make transporting the desk from one room to another easy.
The FEZIBO L-shaped workstation provides ample room to accommodate three monitors and two laptops. The power of its triple-motor assembly makes for a smoother and more stable movement throughout the day. The desk comes with three preset buttons that take it from 27.56 to 47.24 inches in a matter of seconds. There are two desk hooks to support your bag or headphones, and there's a tray underneath to keep the cords organized. It may fit your bill if you're looking for a corner workstation setup with ample tabletop space.
The VariDesk Pro Plus 36 is a dual-platform converter that sits conveniently on existing work desks. It is perfectly balanced, and sturdy, and features a double Z-shaped base with a spring-loaded boost mechanism to assist with the lifting process. The best thing about the Pro Plus 36 is that it features one adjustment rowing-lift mechanism for the overall height of the unit. It is controlled by two handles placed underneath the monitor platform. Talking about the platform, the two-tier unit is spacious enough to fit up to 2 monitors and a laptop. A standard keyboard can go into the bottom tier. Overall, it's a great pick.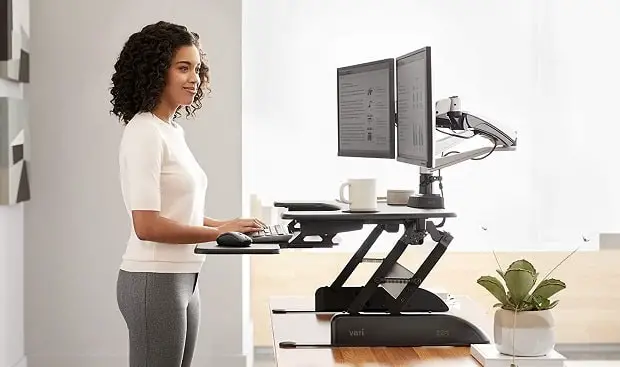 Sitting all day can negatively impact your health and hamper your productivity. Well, thanks to Flexispot EC1, not anymore! You can go from sitting to standing in one smooth, quiet motion, thanks to the silent electric height adjustable system that takes the unit from 27.6 to 47.6 inches in a jiffy. The Flexispot sit-and-stand desk is super sturdy with all-steel legs. The unit offers ample working space for a variety of monitor and laptop setups. There's a range of desktop dimensions to choose from to help balance your workday.
Choosing the VIVO stand-up desk converter is a no-brainer if you want a quick and easy transition from sitting to standing. Available in two different sizes, this ergonomic workstation with a two-tier design and plenty of work area is all you need to create a functional workspace and stay productive. Thanks to a smooth vertical lift system, you can choose your desired level of comfort so you can focus on the tasks at hand and enjoy a healthy work-from-home life. There are five different colors to choose from to perfectly match your home office décor.
Final Thoughts
With work-from-home becoming the new normal, many people are looking to outfit their workspace with an ergonomic setup. It can help them easily transition from one posture to another throughout the day, with no hassle. It is advisable to alternate between sitting and standing when you work on a computer for long hours. Regularly stretching your muscles helps reduce fatigue, and facilitate proper posture. Hopefully, our list of the best adjustable computer workstation setups will help you be more productive and comfortable. Next up, you might want to check the list of the top ergonomic reading chairs.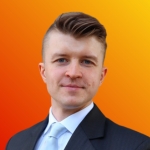 Rafal Reyzer
Hey there, welcome to my blog! I'm a full-time blogger, educator, digital marketer, freelance writer, editor and content manager with 10+ years of experience. I started RafalReyzer.com to provide you with great tools and strategies you can use to achieve freedom from 9 to 5 through online creativity. My site is a one-stop-shop for freelance writers, bloggers, publishers, content enthusiasts who want to be independent, earn more money and create beautiful things. Feel free to learn more about me here.