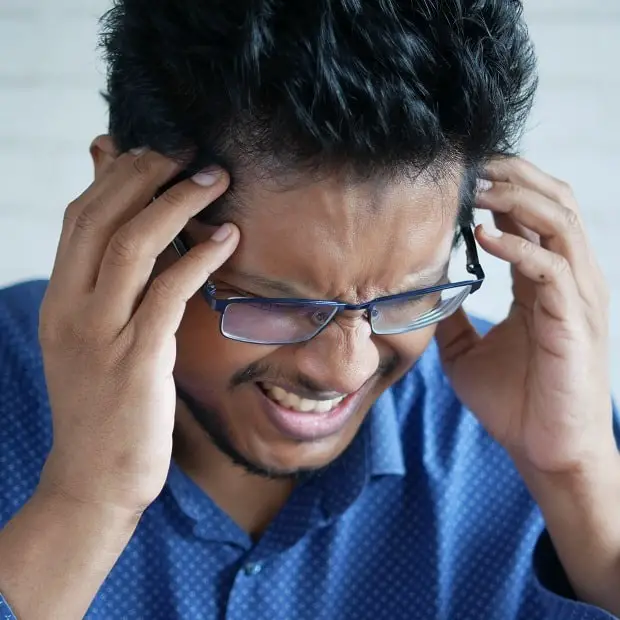 Migraine headaches often result from environmental stressors such as an intense source of artificial light.
While lighting can set the mood for almost any occasion, some parts of the light spectrum can exacerbate migraine headaches. But then, other types of light relieve the painful symptoms of this condition, as some studies suggest. According to the National Headache Institute, scientists at Beth Israel Deaconess Medical Center, Boston, found a "narrow band of green light" that may "alleviate migraine pain by 20 percent." They recommend lights with fewer blue-spectrum elements and a more smooth, yellow hue. So, we compiled a list of the eight best desk lamps for migraine sufferers, while taking some of these scientific findings into consideration.
Best Desk Lamps For Migraine Sufferers
Whether you are a migraine sufferer or looking to get a gift for someone who is, you are in the right place. Studying and working from your desk is about to get better with these lamps that were proven to be the best for migraine sufferers. We also considered brightness control and adjustability in our selection process.
Your first thought on seeing this might be, "Would I be able to read with that?" Well, absolutely! You can read, knit, and even use your laptop or phone. The Allay light therapy lamp was specifically designed for migraine sufferers. Its narrow-band green LEDs help with light sensitivity. It was made based on research done at Harvard Medical School by Dr. Burstein and his team, who discovered this band of natural light. It results in milder, less irritating electrical signals in the brain, making it one of the best desk lamps for migraine sufferers. Other wavelengths of light won't irritate you as long as the Allay lamp is the only source of light in the room.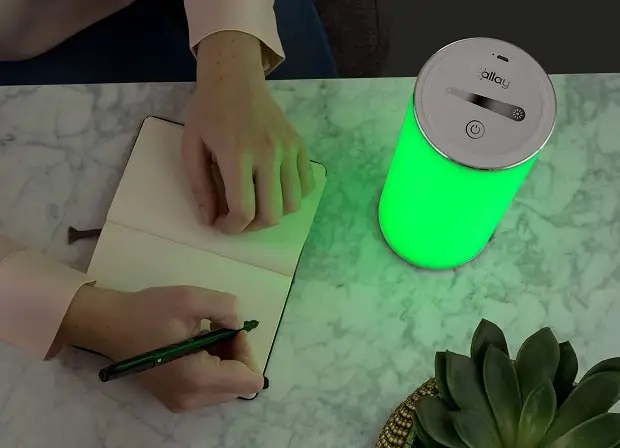 It is portable, so it doesn't occupy too much space on your desk. You can control its brightness with a single touch. You only need to hold and drag to dim. It has a slider on the top panel that lets you do that. It also comes with a shade that allows you to direct the light to where you need it the most without looking directly at it. You can also switch between the Allay light and regular light just by flipping it over. The Allay lamp is long-lasting with impressive battery life, so you won't have to buy a new one for years. It charges with Micro-USB. Although it is not a magical fix for migraines, it would allay it.
While this Eye-caring LED desk lamp has a simple, minimalist design, its soft, natural light works great for migraine sufferers. It is designed for studying, reading, and working. It is dimmable, adjustable, and fully rotatable. You can bend it to whatever angle you need it to be, and it even rotates on the base. It is energy-efficient and multifunctional. There is a charging port for mobile phones, laptops, and other devices. It also has a 30-to-60-minute auto power-off function that you might find helpful. What's more? It is lightweight and can be easily carried around. Just have a micro-USB to A/C adapter handy. It gets very bright, so make sure you get the best light setting for you.
This desk lamp has 7 brightness levels, four lighting modes, and a blue light filter – just great for migraine sufferers. With its sleek and modern design, it makes a great gift to people you care about. It comes with a USB port for charging your other devices and has built-in control for adjusting brightness levels and lighting modes. Besides its soft light, its non-slip lamp base makes it a great buy. Nobody wants a lamp that keeps falling over. It is wired, has multi-angle adjustments, and comes with a 1-hour auto time off for reading at night.
The EASTAR desk lamp has no blue light LED beads, making it a safe desk lamp for migraine sufferers. It has an energy-saving quality, and its light is soft, uniform, and flicker-free. You won't have to strain your eyes while reading or studying with this lamp. It is portable, adjustable, and durable. It has 5 color modes and 10 brightness levels that you can easily adjust according to your preference using an easy-touch control. It also comes with a smart wireless charger, a USB charging port, an adapter, and a power cable. You can conveniently use it straight out of its box.
This is another green light-emitting lamp that is perfect for migraine sufferers. Its precise narrow band of green light helps anyone with light sensitivity. It has a super bright mode that mimics daylight and aids in concentration. While it won't cause sunburn, this mode might not be advisable for your migraine. You can control this lamp from a distance with its remote control. You can switch between 4 different color temperatures, as well as adjust its brightness among 20 varying levels. Just place it on the most ideal spot on your desk to get optimal lighting, even at a short distance away from it.
If you want a stylish and efficient desk lamp that will not cause a migraine attack, this is it. Its dimmable type A incandescent bulb won't trigger any sudden episodes. Its elegant design features a mercury glass body with brushed nickel metal accents, making it the perfect decor item. To better prevent headache symptoms, you can replace its bulb with a NorbRelief LED light bulb, which is specifically designed for migraine sufferers. A fine glass gourd with an effective light bulb sounds like an aesthetically pleasing yet health-improving choice.
This LED desk lamp with a swing arm has 10 brightness modes and 3 color temperature settings. You can choose between warm light, daylight, and cool light mode and you can dim or brighten up each one as needed. Its warm light makes it one of the best desk lamps for migraine sufferers because it drastically reduces the blue light output that contributes to the onset of headaches. If you don't feel a migraine attack creeping in, the other light modes are readily available for use. It comes with a USB adapter, a button switch control, and a clamp with silicon padding. You can rotate the lamp freely up to 360 degrees, as well as fold it away when not in use.
This is one of the best desk lamps for migraine sufferers who have limited desk space. It emits a very soft light that protects the eye and won't trigger migraines. It has five brightness levels that can be adjusted according to use or preference. This desk lamp also has four color modes: the nightlight mode that induces sleep, relaxation mode (great for migraine sufferers) that has a calming effect with its low range of color temperatures, study mode, and reading mode. Its responsive touch controls allow you to slide your fingers to adjust brightness levels without making unnecessary sounds that could trigger a headache. It comes with a USB charging port and wireless charger. It is portable and adjustable with a 90-degree adjustable arm and 180-degree foldable head. It has a memory function that repeats your previous setting the next time you turn it on.
Wrap Up
While sitting in the dark might be the best thing for you when experiencing a migraine episode, there are lighting alternatives available to you. You can use desk lamps with LED lights of 3000k or less light temperatures. Avoid bulbs that emit more blue light and avoid fluorescent lights. LED lamps are the best options for your condition. That is why we only suggest such in this list of best lamps for migraine sufferers. Next up, you may want to explore the top outlining software for writers.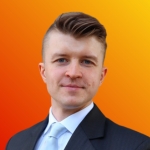 Rafal Reyzer
Hey there, welcome to my blog! I'm a full-time blogger, educator, digital marketer, freelance writer, editor and content manager with 10+ years of experience. I started RafalReyzer.com to provide you with great tools and strategies you can use to achieve freedom from 9 to 5 through online creativity. My site is a one-stop-shop for freelance writers, bloggers, publishers, content enthusiasts who want to be independent, earn more money and create beautiful things. Feel free to learn more about me here.