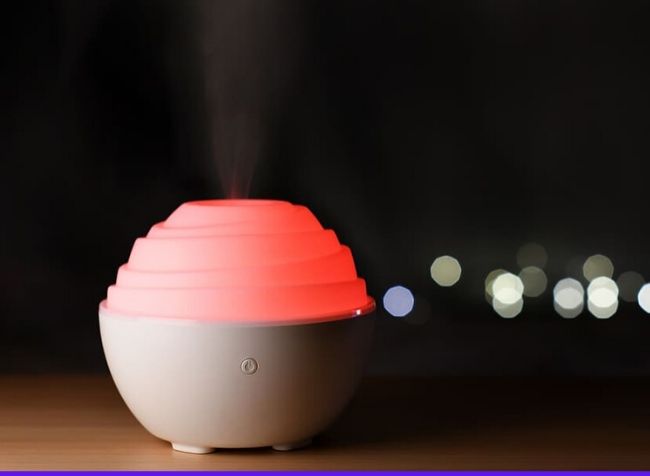 The gentle mist flowing from a personal desk humidifier is a welcome sight at any office.
It will make you feel relaxed and ready to tackle the major projects of the day.
It also has a lot of health benefits for your skin and will prevent you from catching a cold.
You may even add a few drops of essential oils inside and fill your office space with a refreshing smell of citrus or mint.
Humidifiers are affordable, compact, and come with a few extra functions that make the moisturizing experience so much fun.
Do you want to learn about the main reasons introducing the water element into your office is a great idea? Let's take a look!
Why should you use a desk humidifier?
It's helpful, especially if you have dry skin, experiencing dryness in your throat, suffering from allergies, have irritated eyes, cracked lips, or sinus headaches.
Studies have also shown that office spaces with humidity levels above 40% are much healthier and

less conducive for flu viruses to thrive.

If you have a cough and sit in a dry place, you will irritate your throat even more. But if the air is moisturized, you'll regenerate your throat so much faster.
These are only a few benefits you'll get by placing this small item on your desk. And did I mention it looks gorgeous?
Now let's look at some of the best models available so that you can pick the right humidifier for you.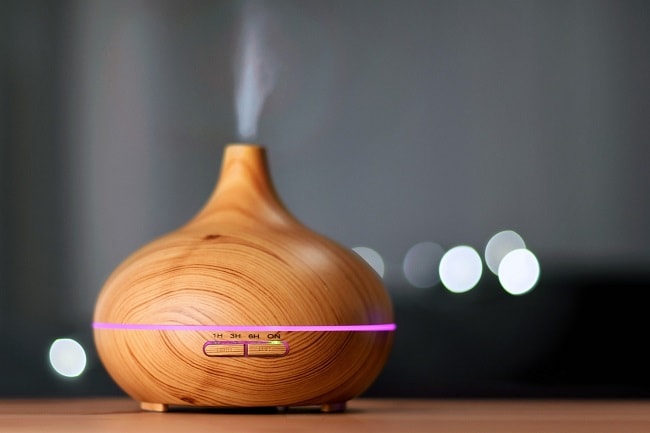 Six Top Personal Desk Humidifiers for Your Office:
If you're looking for a mix of functionality and design, this should be your number one pick.
It looks professional, so it's the item you won't be embarrassed to place on your desk and show off to your colleagues.
You can get it in four different colors (blue, black, pink, white), so pick the one that matches your personality.
What makes this portable humidifier stand out is that it has a 500 ml water tank capacity. This is more than most other models, and it allows you to spray continuously for 12 hours.
Other Notable Features:
If you turn it on with a full tank first thing in the morning, your personal workspace will still be nice and moist.
It even has a small light built-in, so turn it on if you want to create a cozier atmosphere in your office.
Finally, you can pick from a continuous spray mode or an intermittent spray mode. The latter will let you spray for 18 hours, so you keep your space humid nearly all the time.
This little device from Sanag is the winner when it comes to design.
It's more expensive than other models, but it's definitely worth the price, as it looks enchanting.
You can pick from three different colors that will please the eye (white, grey, pink).
Like the first item in this review, the humidifier can either spray continuously or intermittently.
But the big difference is that this one is completely silent, which adds to the relaxing atmosphere.
Other Notable Features:
It's powered by a USB cord so you can hook it up to your office laptop and get all the benefits of moist air.
You can either keep it plugged at all times or move it around because the battery is rechargeable and has a working time of around eight hours.
This model has 320 ml capacity, which should be enough for eight hours of spraying.
Best of all, it has a built-in LED light in seven different colors. A bit of variety is always great, right?
If you want to be more Zen in your life or you already developed a meditation routine, this model will blow your mind.
Not only will it keep your air moist, but it can also serve as a mini succulent garden. How's that!?
On top, it has a spot where you can place a bit of soil along with tiny rocks, and of course, a beautiful plant of your choosing. It comes with a fake plant, but I would immediately exchange it for a real one, and create a minimalist garden in the office.
This humidifier will put your mind in a state of calm and relaxation for sure!
Other Notable Features:
It has a 320 ml capacity and also has a small night light that will further add to its charm.
It also has a continuous or intermittent mist mode, and you can even choose from four different designs.
It's genuinely one of the most beautiful models that will be the talk of the office for a long time.
Okay, perhaps this model would be more suitable for your home. But if there's a relaxed work culture at your office, and you love animals, go for it.
This humidifier with a 300 ml water tank has a tiny doggy in it. It will keep you company while you fill out your reports and develop your blog.
You can pick from seven different ambient light colors. When the light is on, the doggy inside looks like it's sitting in a spaceship about to take off. I couldn't come up with a cuter and more clever design if I wanted to!
Other Notable Features:
You can get it in four different colors and it'll work for about eight hours if you fill the tank fully.
Finally, it has a four-hour automatic power shutoff protection, so you don't have to worry if you leave it on.
This humidifier is tiny, so it's easy to take it with you on a business trip. It weighs only 8 ounces and it wouldn't take up much space in your bag.
It can hold up to 280 ml in the water tank. And since it's only using up around 35 ml per hour, it can keep on going for eight hours straight.
It's powered by a USB cable and doesn't take up a lot of energy, so you can hook it up to your laptop, tablet, power bank, or even a car charger.
The design of this item is minimalist, and it looks like a candle.
Other Notable Features:
It's available in six colors, and each one will create a different vibe in your office.
Like other models in this review, the humidifier is equipped with an LED lamp that will create a warm atmosphere during the evening hours.
It also has an auto shut-off function, so if you leave it running, it will turn itself off after four hours.
Last, let's check out this high-end model designed for office workers who are more serious about keeping their workspace humid.
It's a bit more expensive than other humidifiers on this list, but it's worth it.
First, it has a 6l water tank. That's 20 times more than a regular humidifier, so the water will last for much longer (up to 60 hours to be precise). Second, you can operate with voice control as it works with Alexa and Google Assistant.
It also comes with a free VeSync App that enables you to customize its humidity level at will. This can work wonders if you have a larger office space or bedroom and want to crank up the humidity levels way above 40%.
Other Notable Features:
It is equipped with a smart humidity sensor and automatically adjusts the mist levels to avoid over-humidification.
Another thing that makes it unique is that it's extremely quiet. Some people like the dripping sounds. But if you want things to be nice and calm, this item is right for you.
Finally, the supplier provides an excellent after-sales service and has a California-based Customer Support Team.
The only hitch is that it is quite bulky, so most likely, you won't be taking it for your next business trip.
Are you ready to increase humidity in your office?
Now you know that keeping the air moisturized in your workspace is an excellent idea. Besides offering a plethora of health benefits, placing a humidifier on your desk is plain cool.
The items presented in this review look great, and watching the steam slowly evaporating into the air will calm your nerves. If you feel like it, you can even place a few drops of essential oils in the water to experience a beautiful and relaxing scent.
Some oils like lemongrass are known for boosting your work productivity. Incredibly, you can get these benefits for as little as $20.
That's why getting a high-quality humidifier is a easy decision, and it's also a perfect gift for one of your friends or colleagues.
Rafal Reyzer
Hey there, welcome to my blog! I'm a full-time blogger, educator, digital marketer, freelance writer, editor and content manager with 10+ years of experience. I started RafalReyzer.com to provide you with great tools and strategies you can use to achieve freedom from 9 to 5 through online creativity. My site is a one-stop-shop for freelance writers, bloggers, publishers, content enthusiasts who want to be independent, earn more money and create beautiful things. Feel free to
learn more about me here.