Graduation exams usually entail essay questions.
Knowing what to write about is essential, so understanding the type of questions given is a must.
Before you write your graduation essay, check out some examples provided by students who successfully made it through.
This will give you an idea about the most asked questions, so you can better structure your thoughts, set your focus, and prepare for graduation exams in the fastest and most efficient way.
What Is Graduation?
For primary and secondary school, a graduation rite or commencement exercise formally declares a student's completion of the current curriculum he or she is in, and the eligibility to enroll in the next level.
For college students, graduation means being conferred with a university or college degree. The ceremony would include the awarding of diplomas, honor medals, and other academic awards, as well as special awards for students with accomplishments in various fields outside of academia.
Graduation is a time of celebration and achievement for students who have finally completed their journey through school and are ready for the next step in their lives. It is also an opportunity to reflect on one's educational journey and look back at what led up to this point.
How To Prepare Effectively for Your Graduation Exams (6 Tips)
College graduation will usher you into a new and exciting chapter of your life. And what will bring you to the threshold is the graduation exams that you must pass.
The best way to prepare for your final essays is by creating a solid skeleton outline you can edit and add to.
1. Organize Your Study Space
If you're looking to prepare for the most important exam in your college life, it's important to organize your study space.
You should ensure that you have everything you need close by and that all your study materials are easily accessible.
Get your lesson notes, academic course materials, and other contents from your teacher and tutor well arranged. This will enable you to pull them out when needed.
Students often find it challenging to stay focused on their studies because they're constantly distracted by something else in their surroundings.
If you find yourself in this situation a lot, try using noise-canceling headphones or earplugs while studying. It will help you focus more on what's in front of your eyes without being distracted by anything else going on around you.
2. Study With Classmates
There are many ways students can prepare for their graduation exams, such as taking practice tests or reviewing past exams. But one of the most effective ways is to study with classmates.
Exam study groups benefit from the opportunity to learn lessons in a more structured way, as well as from the sharing of each other's experiences and insights.
There are many advantages to studying with classmates, including:
Sharing notes and insights on the test format.
Generating useful strategies for the exam.
Having someone to talk to about what might happen during the exam and how to prepare for it.
Get the best examples of essays to help you in your preparation.
3. Read and Review—Early and Often
The more you can prepare in advance to make yourself comfortable with your final exams, the more you will focus on your studies and get the best grade possible.
It's always good to keep an essay sample in hand as you prepare for a final exam. It can be something relevant to your studies, or even just a general example. Great essay samples can help you understand what essays look like and what to expect from them before sitting down for an exam.
4. Practice On Old Exams
Preparation is important whether you are just starting your studies or getting ready for the final exams. You can practice with old examination materials, which can also serve as a reviewer.
Many students think they don't need to read and learn from old exam books because they will not use them again soon in the questionnaires. But the fact is, there's a lot of content in any exam, even the old ones, that you can find useful.
It shouldn't be too hard for students who've already covered the material before to get their hands dirty with the old ones. It didn't matter when it was last given, what matters is going in and reading everything with a fresh pair of eyes!
5. Take Regular Breaks
It is important to understand that your brain needs rest, especially if you are cramming for an exam. Try taking regular breaks and focusing on other tasks like reading, writing, or studying.
Graduating students who crammed to the last possible moment before the test experience significantly more mental fatigue and much lower performance. That is in comparison to those who prepared early and are therefore more well-rested before the exam.
Taking regular breaks will help you stay focused during stressful moments. It is also an excellent way to remember what topics you already learned, and to use this information when the right moment comes.
6. Plan Your Exam Day
Many students worry about how to prepare for graduation exams, especially the writing part. You should try to maintain a daily routine and practice your writing skills regularly.
You must start from the very beginning of your education and try to learn everything you can to prepare for anything – even for your graduation exam.
If you need some help with writing essays, novels, or poetry, hire an essay writer online or find an expert in your field.
Conclusion
Preparing for your graduation exams could make you feel a thousand emotions at once. It could be the same thrill and anxiety that you feel when writing a book or the exhilarating satisfaction of finally finishing your thesis.
Well, relax and gather your thoughts. Study hard and take heed of the tips we provided here and take the exams with confidence. Congratulations and best of luck!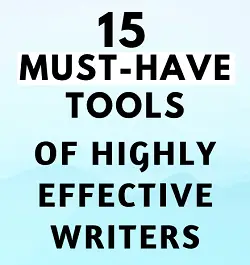 Free resource: Download your free PDF and learn about the top tools used by freelance writers.
Download here
Rafal Reyzer
Hey there, welcome to my blog! I'm a full-time blogger, educator, digital marketer, freelance writer, editor and content manager with 10+ years of experience. I started RafalReyzer.com to provide you with great tools and strategies you can use to achieve freedom from 9 to 5 through online creativity. My site is a one-stop-shop for freelance writers, bloggers, publishers, content enthusiasts who want to be independent, earn more money and create beautiful things. Feel free to
learn more about me here.