They say, "Pleasure in the job puts perfection in the work". Who better relates to this than freelancers who are following their passion!
The general statistics stated freelancers comprise ~35% of the global workforce! Interesting, right?
Whether you're a full-time freelancer or do it as a side hustle, there will always be a time to raise an invoice.
It is so you'll get paid for services you rendered or products you delivered. Here I am, to help you with a quick guide for the best way to make an invoice for freelance work.
Who is a freelancer?
A freelancer offers professional services to companies or individuals for a fee on a long-term or per-project basis.
He or she is free to work on many projects for different clients simultaneously.
There is no "one boss"! Freelancers manage their priorities, interests, time, and workload. They may also do their own billings and file their own taxes.
What is an invoice for freelancing services?
Just like most businesses, freelancers may be required by clients to submit an invoice for the processing of payment. It should state the details of the job or project and the corresponding amount for each product or service you delivered.
But an invoice is more than just a bill! It can also reflect your competence, abilities, and professionalism. The invoice may also illustrate that you are well-versed in your business/industry.
If you have no clue about how to make a freelancer invoice, I hear you. In this article, I will share with you tips and tricks and the best way to make an invoice for freelance work. Let's get started.
A Quick Guide on How to Make An Invoice For Freelance Work
Here, I will tell you how to create an invoice. It will be followed by what information you must include in your invoice, and when to send it to the client.
I. How to Create an Invoice
While there are many ways, I will tell you about three methods that freelancers can choose from to create their first invoice:
The easiest way is to leverage online invoice templates to create a digital invoice. You can download and customize them as per your requirements. Lookup sites such as ClearOne, Refrens, Invoice Simple.
If you don't want to use online invoice templates, go ahead and create your own. You can use Excel, Google Docs, or Microsoft Word to do this.
Don't enter a deal on just a handshake or verbal commitment.
Always have an invoice, or in legalese terms, have everything in black and white.
The freelancer's invoice serves as proof of delivery in case of payment delays or future disagreements/disputes. Also, if you write your invoice on paper, always take a snapshot and convert it to a PDF for reference.
You should either mail the invoice or send it to your client's postal address. I suggest using e-mails, as there is the possibility of losing a paper invoice!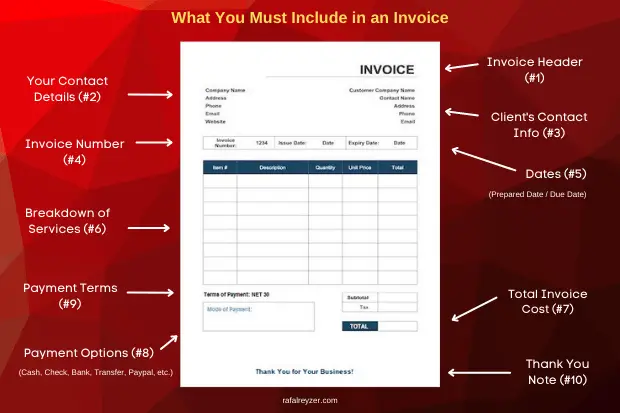 II. What You Must Include in an Invoice
The following are the essential details you must include to make an invoice for freelance work:
1. A proper invoice header
A client receives several invoices for their businesses. When the header indicates the file is an invoice along with your business/your name, it helps in easy identification by your customer.
Ensure the header is professional. If you have a logo for your freelance business, include it in the header (left or right corner). If you do not have one, just put your name in big bold text.
2. Your contact details
The client may have to contact you for multiple reasons. Hence, your contact details should be mentioned in the invoice.
Be sure to include your business name, business, or personal phone number, mailing address, and website. For easy readability, you can follow this:
Test business
ABC Street
UK 12345
contact@testbusiness
012-345-6780
testbusiness.com
3. The client's contact information
Who is the recipient of the invoice? Mention who it is for. Like your contact details, state the same for your client. This would include the client's name, address, email, phone number, website, etc.
A few freelancers mention their business info on the left while the clients are towards the right. Some prefer left-aligning the whole thing. Do it as per your choice.
One thing you should remember, an invoice is like a sales contract. A contract always bears the complete contact details of both parties involved: the buyer and the seller.
4. The invoice number
Under the contact information, cite your invoice number. It is not just an identifier for your record-keeping, it also serves as a reference number for both you and your client.
Be sure to keep it sequential to avoid confusion. As an example, number your first invoice as #001; followed by #002, and so on.
Every invoice should have a number, so it will help you track who has and hasn't made payments.
5. Dates
Mention the date when you submit the invoice to the client. "Prepared date" is vital as it helps you keep a track of postponement in payments.
Also, specify the "due date" so your client knows when you are expecting their payment. You could use either 15, 30, 45, or 60-day payment terms.
For clients who do not pay on time, the prepared and due date will be of help for follow-ups.
6. Breakdown of services rendered
The most important part of the invoice is the detailed breakdown of the work. This should typically be in a tabular format. The invoice items should resonate with your contract agreement with the client.
Your customer must understand every item that they would have to pay for. For example, if you helped them write a grant application, you can charge them for billable hours or completed milestones or projects, whatever it is you have agreed upon.
Ideally, you should have five columns. The items, item description, the hourly rate, quantity (hours), and the amount.
7. Total invoice cost
Once you mentioned the breakdown, it is time to highlight the total amount due. This should also include any applicable taxes.
It is important for the client to identify what he needs to pay. The total invoice cost helps enhance payment accuracy and avoid miscalculations.
8. Payment options
In the invoice, mention the payment options that you offer. It could be cash, cheque, credit card, or a payment solution like Payoneer or PayPal.
A few companies provide direct deposits for regular projects. However, in such cases, every time you complete a project, you need to generate and send an invoice to the client.
9. Payment terms
You must list down the payment terms. Here you should emphasize the due date and mention any early discounts or late/penalty fees.
Quick tip – follow-up/send a reminder to the client about the due date at least once before charging a late fee. You would want to maintain client relationships, after all.
10. Thank you note
Building strong connections in the freelance world is important. A quick thank you note can work wonders. It adds a personal touch and helps you build fruitful client relationships.
You can place it below the total amount due. You can also add any other important reminders or details here.
11. A space to affix your and your client's signature
This is the norm in local business transactions, but with the advent of globalization and digitization, it is slowly becoming optional. But if you are submitting a paper invoice, this would be advantageous to you.
As I've mentioned, an invoice is like a sales contract. For it to become binding, it must be signed by both parties involved.
As much as possible, you should ask your client or their authorized representative to sign your invoice and send it back to you. Nowadays, e-signature is already widely accepted and offers convenience to transacting parties who are miles apart.
It will be your solid proof that your client acknowledged receiving your billing statement and accepting the responsibility of paying you the correct amount on or before the due date.
III. When to Send an Invoice
A freelancer usually works on specific projects and doesn't have a long-term relationship with the firm. Thus, once the task is complete, it is advisable to raise an invoice and send it to the client immediately.
This is the time when the project is garden-fresh on the client's mind, and it gets easier to follow up.
When it comes to long-term projects, you can do progressive billings as suitable. You can choose from weekly,  monthly, or quarterly, to raise and send invoices.
Did this quick guide help? Tell me if you think this is the best way to make an invoice for freelance work. Let me know if you follow other best practices.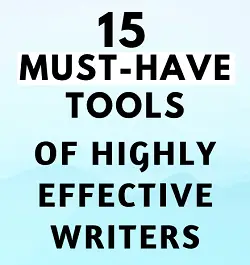 Free resource: Download your free PDF and learn about the top tools used by freelance writers.
Download here
Rafal Reyzer
Hey there, welcome to my blog! I'm a full-time blogger, educator, digital marketer, freelance writer, editor and content manager with 10+ years of experience. I started RafalReyzer.com to provide you with great tools and strategies you can use to achieve freedom from 9 to 5 through online creativity. My site is a one-stop-shop for freelance writers, bloggers, publishers, content enthusiasts who want to be independent, earn more money and create beautiful things. Feel free to
learn more about me here.