Bookkeeping is an accounting process that keeps tabs on the company's daily financial transactions and inventory.
Bookkeeping for freelancers and self-employed individuals is also essential. It helps during an audit, assessment of your enterprise's financial reports, and correct filing of taxes. It likewise gives you a clear vista of your business's financial health.
Considering the volume of transactions meted out daily, manual bookkeeping becomes a thing of the past. With today's rapid digital transformation, modern accounting solutions have become more accessible to everyone, including freelancers.
In this article, we'll discuss some of the best bookkeeping tools available for small businesses and freelancers.
Benefits Freelancers Get from Digital Bookkeeping Software and Apps:
They are easy to use, with some even offering turnkey accounting solutions
You don't have to be tech-savvy and/or well-versed in accounting to use them
They can help automate invoicing for recurring transactions
They can assist in the smart filing of tax returns
They give you a real-time view of your enterprise's financial state
They could cater to smaller accounting requirements that suit freelancers and small businesses
Budget-friendly and non-complicated
Easily navigable and with user-friendly features
Using the abovementioned advantages as criteria, we present:
Bookkeeping For Freelancers – The 6 Best Best Tools Available:
QuickBooks is one of the most advised bookkeeping software for freelancers.
It helps you calculate accurate sales taxes without complications. You can also use it in filing tax returns, sending invoices, tracking miles, and performing other bookkeeping tasks.
Online pricing starts from $25 per month for a Simple Start and an extra $50 per month for essential additional features for three users. The price for five users is $80 per month, while the Advanced package for 25 users costs $180 a month.
QuickBooks' Notable Functionalities:
SEND ESTIMATES- As a freelancer, you can send customized estimates to clients. This helps increase your professional credibility.
MILEAGE TRACKING- QuickBooks Online helps track mileage expenses for accurate billing to clients. You may also calculate the non-billed mileage costs to analyze your profit.
TRACK SALES TAX – Freelancers can track and manage the sales tax for all transactions without complications. QuickBooks easily calculates the sales tax amount based on inputted data.
SCAN RECEIPTS – QuickBooks Online allows you to scan receipts for all expenses. It can also attach copies of physical receipts to the entries for accurate documentation and verification.
It's ironic that Bonsai seems to be named after miniature trees. How can an app named after something small deliver really big benefits? But it does!
Bonsai offers a complete business suite that covers every phase of business transactions – from proposal to project completion to accounting and tax filing and everything else in between. What's more, they even provide templates for each business document that you would need to appear highly professional to your clients!
Their pricing starts at $24/month for the Starter Package, which is enough for freelancers and those who are at the early stage of their business ventures. It is followed by the Professional Package at $39/month with added features such as brand customization and workflow automation. Lastly, they have the Business Package for multiple users, which starts at $79/month.
Bonsai's Notable Functionalities:
TEMPLATES – preparing documents such as proposals, contracts, invoices, quotations, and many others has never been easier with Bonsai
WORKFLOW INTEGRATION – It organizes and inter-connects every aspect of business operations including customer relations, automation, task-tracking, time-tracking, invoicing, and many others.
FINANCE MANAGEMENT – Bonsai Cash will not only help you collect payments faster from your clients but also track your cash flow. They provide a card that you can use like a debit card. You may also opt to have in digital form or integrate it with ApplePay.
TAX MANAGEMENT – Their software enables you to track down your 1099 expenses and maximize your tax write-offs. It can even give you an estimate of your quarterly taxes and help you avoid penalties.
QuickBooks Self-Employed is the best accounting software for freelancers who need specific jobs done easily.
This easy-to-use and inexpensive software let you track profits, file returns, and calculate quarterly tax payment estimates. It also offers convenience at your fingertips with the mobile app that helps you track mileage and save receipts.
QuickBooks Self-Employed costs just $15 per month for a user. The Tax Bundle helpful for most freelancers comes at $25 a month for a user.
Overall, it is an easy platform for freelancers to calculate and track their income and expenses and take care of tax returns. However, you can manage sales taxes or track assets with the software.
QuickBooks Self-Employed's Notable Functionalities:
TRACK EXPENSES – Track your expenses accurately and bill them easily before mailing them to clients. QuickBooks Self-Employed also helps manage and sort your expenses. It automatically finds areas to apply tax deductions, thus enabling you to save more.
TRACK MILEAGE – QuickBooks Self-Employed lets you track mileage. A task that would have been cumbersome and complicated if done manually. You can do this by using a GPS-enabled smartphone and through the system's automated mileage tracker feature. It can also categorize personal trips and business trips for convenience.
TRACK AND FILE TAXES – QuickBooks Self-Employed estimates and tracks your taxes and shows how much you need to pay while filing. It does not file your tax returns but helps you file them yourself with easy and accurately calculated information.
SCAN RECEIPTS – Use the mobile app to scan physical receipts of transactions to verify expenses. Store them safely in the cloud for future use.
Zoho Books is the best accounting software for simplifying bookkeeping tasks for freelancers and sole proprietors.
From tracking expenses and mileage to managing sales tax, it is extremely helpful and easy to use. It is also free for businesses with less than $50,000 in annual revenue.
The Standard membership costs $20, while the Professional membership costs $50. Premium membership costs $70 per month for an organization. You can also have 50 auto scans in a month for just $10 extra.
Zoho Books provides excellent customer support to freelancers. It is useful for creating transaction records and tracking mileage from pictures of receipts.
Zoho Books' Notable Functionalities:
AUTOMATED ENTRIES – Say no to repetitive entries of transactions with an automated entry system by Zoho Books. You can make use of recurring invoices and bill entries to save time.
PORTAL FOR CLIENTS AND VENDORS – Zoho Books creates a separate dedicated portal for vendors and customers to transact. This helps in easy coordination with your clients, and in maintaining transparency and credibility. It also streamlines the sending of estimates and invoices and receiving of payments.
GENERATE REPORTS AND STATEMENTS – Zoho Books can generate financial statements and other reports. This is to analyze performance and tax liability without going through complicated steps.
TRACK PROJECTS – Track and analyze the performance of your projects by noting the billable hours and costs, and monitoring profits and expenses accurately.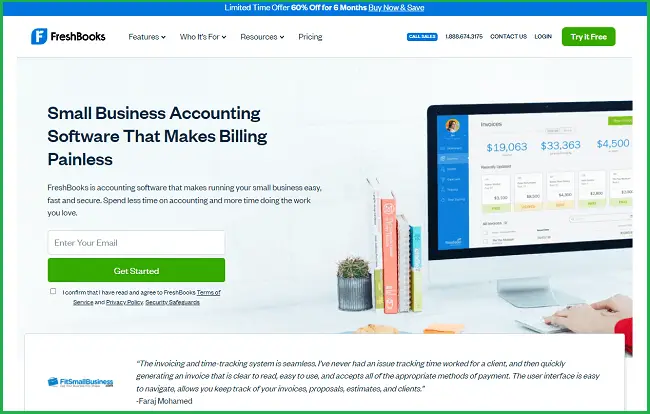 FreshBooks is a dedicated software tool designed for freelancers.
It was originally an invoicing software for self-employed people. Gradually, it has become an accounting or bookkeeping software for small businesses, freelancers, and sole proprietors.
With FreshBooks, you can easily track your expenses, bill them, and collect payments. Another thing worth mentioning is their stellar after-sales service.
It is an affordable accounting solution starting from just $15 per month to an expandable plan costing $25 per month. Such a measly amount for various useful features.
FreshBooks' Notable Functionalities:
RECURRING INVOICES – FreshBooks helps you create professional and customized invoices to send to clients. It can also auto-generate recurring invoices each week or month to save you time.
PROJECT TRACKING – FreshBooks accurately tracks billable expenses and hours and adds them to invoices before you send them to clients. It successfully assists freelancers in time and project tracking. You can also compare real and estimated costs to analyze performance and efficiency.
EASY MONTHLY PAYMENTS – FreshBooks can accept your clients' credit cards for easy payments. You can also use it for recurring transactions. So, instead of sending monthly bills, the software can charge the amount directly to the client's credit card information.
SEND REMINDERS – FreshBooks tracks all incoming payments and helps you send timely reminders to clients who defaulted on their dues. You can use the app to send automatic reminders instead of calling them.
Sunrise is one of the most recommendable free bookkeeping software for freelancers.
You can send recurring professional invoices, manage sales tax, and perform basic accounting operations at zero cost.
Sunrise Self-Service operates free of cost. You may also opt to subscribe to the Sunrise Plus package at $19.99 per month, which, of course, offers more useful features.
Sunrise's Notable Functionalities:
FREE BASIC BOOKKEEPING -The free plan is enough to help you manage and track income and expenses. It also creates estimates and invoices for mailing to clients, as well as comprehensive income statements.
PROFESSIONAL & PERSONALIZED INVOICES – Sunrise lets you create professional-looking invoices which you can personalize too. The recurring invoice-making feature in the Plus version saves you time and doesn't let you miss any payments.
ASSISTED PERSONAL BOOKKEEPING – For a few extra dollars each month, Sunrise lets you have a personal bookkeeper to assist you in the process and save you time.
To Sum Up
These are five of the finest and easiest-to-use bookkeeping software tools for freelancers. We picked them among hundreds of accounting software programs available.
According to reviews, QuickBooks is the most popular, while Zoho Books has the best features.
Overall, freelancers looking for specified purposes like simple income and expenses calculation and tax returns may benefit the most from QuickBooks Self-Employed or Bonsai. The latter provides everything a freelancer or a small business owner needs for their entire operation, including templates for all documents they would ever use.
Rafal Reyzer
Hey there, welcome to my blog! I'm a full-time blogger, educator, digital marketer, freelance writer, editor and content manager with 10+ years of experience. I started RafalReyzer.com to provide you with great tools and strategies you can use to achieve freedom from 9 to 5 through online creativity. My site is a one-stop-shop for freelance writers, bloggers, publishers, content enthusiasts who want to be independent, earn more money and create beautiful things. Feel free to
learn more about me here.