Did you know that 40–60 billion search queries are run on Google each month in the U.S. alone?
Search engine optimization (SEO) is the process of using non-paid (also known as "organic") search engine results to increase the quality and quantity of visitors to your website, raise brand awareness, or engage with other organizations. If you're curious whether SEO can work for you if you're a SaaS (Software as a Service) business, read on!
What is SaaS SEO, And How Does It Work?
Most people today use Google to find potential software suppliers. SaaS SEO allows you to compete with other software firms in your field on Google to gain exposure to your target consumers and deliver helpful information. You can increase your business organically by developing a professional, comprehensive, and logical SaaS SEO strategy. Check a Semrush, and ahrefs review to know more about SEO practices and their roles. SEO may continue to pay off even after your agency contract has expired or you've completed most of the work because SEO is a long-term approach that pays off over time.
When SEO is Not the Best Option?
Consumers conduct extensive research on the internet, whether it's for a local barbershop or a third-party risk management firm. I believe that 90% of businesses can benefit from SEO. However, SEO is not necessarily a good match for every SaaS company.
Here are a few circumstances in which SEO may not be the best option:
You require immediate business/leads.
You have a limited marketing budget and already see success with pay-per-click (PPC) advertisements.
You work in a specific niche business that doesn't rely on search engines.
What are the Signs You are Ready to Explore a SaaS SEO Agency?
Below you'll find the reasons why you may want to look into a SaaS agency for your business.
1. You're selling a high-margin B2B product that's popular enough for customers to use search engines to find and make purchase decisions
SEO is all about bringing customers to your website and getting them to interact with your high-quality content. It's then time to present your offer, and the success will be determined by your user experience, product quality, price, and so on. Your customers have to know you before they like you and eventually trust you enough to buy your services. Although SEO can drive visitors to a website, if the price, features, product, or website design aren't up to par, your sales will not rise in lockstep with traffic.
2. Your buyers commonly use Google to find companies in your industry and make purchase decisions
Take the time to learn how your target audience buys things in your industry and concentrate on keywords that will guide them through the buying process. If you have a long sales cycle, it's better to use SEO to educate and deliver value to prospects rather than rank for high-intent keywords. Specific tools and goods have purchasing cycles that range from months to years. For these businesses, SEO will be about establishing brand awareness, MQLs (marketing qualified leads), and trust as much as it will be about producing SQLs (sales qualified leads). SEO may not be the best bet if your target market is rather limited. SaaS firms come in many shapes and sizes. Companies that provide relatively low-cost items (think staff productivity tools) may sell subscriptions directly from high-intent keywords. For example, if you're selling commercial B2B software and have around 2,000 prospects worldwide, it's just quicker to contact them personally.
3. You're already spending money on other marketing channels and want to add SEO to the mix
SEO is not a replacement for marketing or advertising. The sole purpose of an SEO specialist is to increase the number of high-intent visitors to your website. Anyone can buy bot traffic using several shady websites. Spending time and money on SEO is also not a substitute for other areas of your sales and marketing funnel. Before deciding on your SEO budget:
Ensure that your company's website has a great user experience
Your sales team can close deals coming from SEO leads
You have a healthy budget for PPC ads, social media marketing, content marketing, and any other channels that make sense for your business.
4. You can dedicate time to build a healthy SEO profile and bandwidth to optimize as time goes on
SEO requires a holistic approach. You must have clear goals when implementing an SEO strategy. Do you want more traffic, sales, or both? Have a plan with well-thought-out goals before diving into SEO because SEO results will take anywhere from 6 months to 2 years on average, based on many factors. Your backlink profile is essential; your website will rank quicker if you have or can generate more high-quality backlinks. The age of your website and its content is an important factor too. You should periodically revise your content to rank more quickly if your website is older or if you acquired an older website. The more high-quality content you produce on your site, the more "authoritative" it becomes in Google's eyes, and thus the more likely it is to rank higher. The more quality content you can generate quickly, the more time your content has to "marinate" and thus rank for key SEO terms.
5. You or an outsourced team can craft high-value content your potential customers search for
You must produce content that is engaging, and that addresses the searcher's questions. A great user experience includes a quick load time and an appealing user interface. Linkable, citation-worthy, and amplification-worthy content is the bread and butter of SEO. SEO is also one of the few internet marketing strategies that, when done effectively, may pay off in the long run. Your traffic may snowball over time if you come up with quality content that deserves to rank for the relevant keywords. Conversely, advertising requires ongoing spending to drive users to your site. You don't need to rebuild your existing blog catalog from scratch, however. Updating and republishing old blog posts with new material and graphics can result in a huge boost in organic traffic.
Extra SEO Tips For SaaS Businesses
Use marketing tools such as Ahrefs, or SE Ranking to find the best keywords and monitor the activities of your competitors.
Produce content of varying lengths and always keep in mind the user's intent for a specific keyword you're targeting. Articles that are around 2000 words long tend to perform best for more competitive queries.
Invest in video content as well. Video plays a huge role in any marketing process these days, and there's a whole field dedicated to video SEO. You can use it to show the main features and benefits of your software solution. By uploading your video content to YouTube, you get a chance to rank for highly competitive keywords right there in the search engine results pages (SERPs).
Make sure you hire a great editor who will curate the content and embellish your content.
Invest in site speed. A high-capacity server and a well-coded website theme, as well as more technical activities like deferring CSS and JavaScript on your page, will boost your rankings and user engagement. If you're not sure about how to go about it, hire a professional or an agency to help you out. Next up, you may want to explore the top affiliate link-tracking solutions for marketers.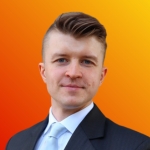 Rafal Reyzer
Hey there, welcome to my blog! I'm a full-time blogger, educator, digital marketer, freelance writer, editor and content manager with 10+ years of experience. I started RafalReyzer.com to provide you with great tools and strategies you can use to achieve freedom from 9 to 5 through online creativity. My site is a one-stop-shop for freelance writers, bloggers, publishers, content enthusiasts who want to be independent, earn more money and create beautiful things. Feel free to learn more about me here.