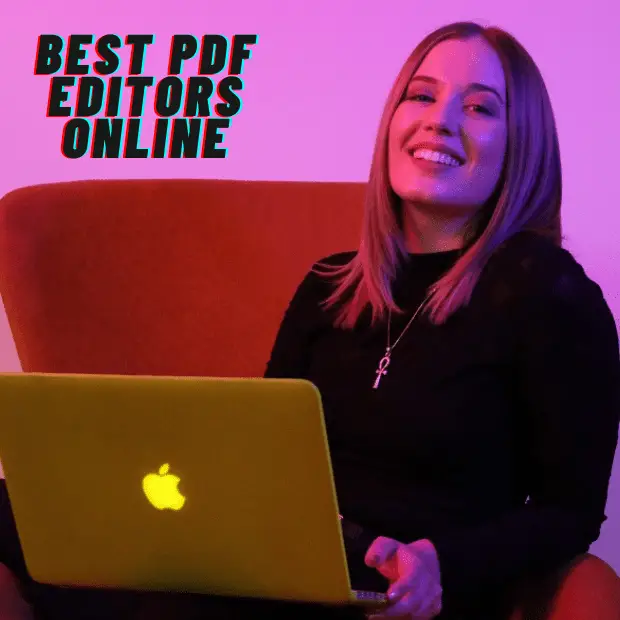 PDFs make life easier in this digital age.
PDF is a portable document format that allows you to share your documents, images, and files across multiple devices and platforms.
The best thing about a PDF file is that it opens in any browser, freeing you from format conversions and additional software downloads.
The downside is you cannot edit them without the help of special software or a Web API.
This article explores and evaluates the best PDF editors online you can use to edit PDFs.
Several online tools and downloadable packages enable you to add/delete texts and images, split or merge multi-page PDFs, convert other file formats into PDFs, and perform many other editing functions.
Here are the best ones we found in 2023:
The 9 Best PDF Editors Online:
PDF files look like perfect final versions, but they are not. You can edit, crop, sign, and enhance a PDF file using the right tool to suit your needs. What makes the tool useful?
The best PDF editors let you:
Reorganize text
Edit both text and images
Create annotations for edited files
Add notes
Sign online documents
Edit without altering the quality
Save documents in multiple formats
Split multiple-page PDFs into separate documents
Merge separate documents into a single PDF
Before choosing, make sure that your PDF editor has the above features. Now, on to our list:
Who else can provide you with the best PDF editor than the company that developed the Portable Document Format about 30 years ago? Adobe Acrobat is the first software that can read and process PDFs, thus, it is the most complete and authentic package to handle PDF files. So, I must say that functionality-wise, it should offer the best PDF editing tools on the market. The downside is it's quite expensive. But if you are a professional that uses PDF files regularly, then this is the best solution for you.
Features:
Full-featured editing facilities
Can read scanned characters
Convert, edit, share, and sign PDF
Support voice recognition
Can convert PDF into any format
Easily navigable interface
Available in both online and offline versions
Cons:
Expensive
Requires lots of computing resources for operation
Character recognition capability is not 100% accurate
Pricing:
$180 per year
Free version available with very limited features
Compatibility:
This Web API is created not only for end-users but also for developers, as it can be integrated and used in other programming languages such as JavaScript, C#, Python, and PHP. It is AI-powered and highly secured and scalable, making it ideal for both individual and enterprise users.
Features:
It has a built-in document parser
Encrypted data transfer and storage
Add/delete/edit texts and images
Generates PDF from URLs, templates, HTML documents, and other files
Converts various files such as PNG, GIFF, CSV, JPG, and many others to PDF and vice versa
Splits a multi-paged PDF into different files
Can merge separate PDF files into a single file
It has a PDF filler function for accomplishing PDF forms
Can be used for signing online documents
It can generate and read barcodes and QR codes
Extracts PDF data and converts them into raw JSON, CSV, XML, and other formats
Can make PDF components searchable
It is OCR-enabled and can read and digitize scanned documents
300+ integrations
Cons:
The output link for free services has a 60-minute expiration, so you should save it immediately
Packages have corresponding credit limits
Pricing:
Free account with limited features
Pay as you go: no fixed monthly subscription
Basic: $9.99 per month
Personal: $24.99 per month
Business: Starts at $49.99 per month
Compatibility:
All browsers, Windows, and IOS devices
The DocFly PDF Filler allows you to create, edit, merge, and upgrade PDF files. The best thing about this tool is it customizes its features in groups like healthcare, legal, finance, and business. Each group contains relevant editing features to provide you with ease of access.
Features:
Provides PDF solutions according to different industry needs
Allow integrating APIs from other platforms
Support e-signature
Cloud-native platform
Allows creation, editing, merging, saving, and transforming PDFs
Cons:
The online version is slightly slower
Does not work well with OCR
Pricing:
Basic editing features are available for free
Basic: $8 per month
Plus: $12 per month
Premium: $15 per month
Compatibility:
All browsers, Windows, and IOS devices
Foxit PDF is a powerful PDF editor with many unique features that are not available in other online editors. For instance, you can change the page layout and add unique elements to your PDF files.
Features:
Allows you to drag and drop blank pages or pages from other documents
It enables you to add watermarks, footers, headers, stamps, and bates numbers
You can integrate it with text management systems
You can create, edit, split, merge and share your documents
Support conversions to multiple formats
Support annotation and e-signature
Cons:
Congested interface
Only supported by Windows
OCR is not fully supported
Pricing:
Starting from $159 per year
Compatibility:
All browsers and Windows devices
Does not support IOS
This is one of the most widely used PDF editors for basic editing, merging, saving, and transforming PDF files. It is among the top editors that appear on Google when you type 'PDF editor '.
Features:
Very simple, responsive, and easy-to-use interface
Allows you to compress, convert, merge, split and encrypt your PDF files
Support e-signature
Provides the simplest PDF solution by removing unwanted features
The most loved PDF editor
Cons:
Do not use the cloud, processed files are saved to your device
Does not allow you to rename your file
Pricing:
Two free files per day
$10 to $12 per month based on the number of features
Compatibility:
All browser, Windows, and IOS devices
PDF Xchange is one of the fastest and most feature-rich PDF editors. It contains a few advanced features along with basic editing.
Features:
Allows to create, edit, and merge PDF files
Support annotation and OCR
Support e-signature
Includes dynamic stamps
Allows you to edit fill-able forms
Support annotation
Cons:
Only works for Windows
Some features of edited PDF can only be viewed in PDF Xchange
The free editor contains a watermark
Pricing:
Starting from $56 per year
Compatibility:
All browsers and Windows devices
Do not work with IOS devices
It is probably one of the best PDF editors for Mac and iOS, as it was designed to cater to these devices. It, however, can be used to create interactive documents for Windows and other browsers too.
Features:
Work across all IOS devices
Lightweight and portable tool
Takes fewer computing resources
Edit, share, and create PDF documents
Add images, signatures, and text to PDF files
Support optical character recognition
Allows to export files into multiple formats
Store all files in cloud storage where you can access them from anywhere
Allows to fill and create online forms
Intensive customer support
Cons:
Edited text font rarely matches the original
It sometimes crashes because of heavy files or extensive usage
Little expensive
Only work with Mac and IOS
Pricing:
Compatibility:
iPhone, iPad, MacBook, and IOS devices only
It is a comprehensive and feature-loaded PDF editor that you can use both online and offline. It quickly presents all the editing functions you need. All you have to do is click the icon for what you intended to do on your documents such as add or delete images, crop, merge PDFs, add watermarks, and many others, then follow the prompts.
Features:
All-in-one package including multiple file formats and editing options
Support optical character recognition
All features are available in the browser-based version
Easy-to-use interface with 40 usable features
Cons:
A native PDF viewer is not available
The interface seems congested to some users
The free version allows using one file per hour
Pricing:
Compatibility:
Compatible with all browsers
It is a cross-platform tool to read and edit PDFs. It enables you to read, annotate, fill up PDF forms, and do other PDF editing functions on your smartphone.
Features:
Provides annotation facility
Allow switching between documents
Free tool to view, edit, share and annotate PDF
Provides cropping, merging, comparing, flattening, splitting, and compressing documents
Support optical charter recognition
Cons:
Does not support MS office font styles
The interface is a little challenging as you will struggle in finding options while editing
Contains few bugs
Pricing:
Compatibility:
All browsers, Android, and Windows
Wrap Up
Whether you are a student, professional, or entrepreneur, you use PDF files as part of your job or vocation. It is the most convenient and secure way to share and view files without the need to download any additional software.
PDF files are read-only, once you convert a file into PDF, you cannot edit it directly. That is why it is one of the safest documents to use for online transactions.
Several PDF editors are available online that allow you to edit, format, re-organize, sign, compress, merge, and split your documents.
We have presented a verified list of the 8 best PDF editors online in 2023. Choose the one that matches your requirement and edit your files with ease.
Rafal Reyzer
Hey there, welcome to my blog! I'm a full-time blogger, educator, digital marketer, freelance writer, editor and content manager with 10+ years of experience. I started RafalReyzer.com to provide you with great tools and strategies you can use to achieve freedom from 9 to 5 through online creativity. My site is a one-stop-shop for freelance writers, bloggers, publishers, content enthusiasts who want to be independent, earn more money and create beautiful things. Feel free to
learn more about me here.