Looking for a quality online PDF converter? Let's help you find one.
PDF converters are one of the most important tools for productivity. They help people quickly convert their PDFs into various formats and vice versa.
PDF or Portable Document Format is a versatile digital file format, widely used in business communications.
Often, you need to convert a PDF to other formats, but it can be a drag if you don't have the right tool.
If you're looking for the best online PDF converters, follow along as we explore some of the best options (free and paid).
What Is An Online PDF Converter?
An online PDF converter is a web-based tool that converts pdf files to different formats. This web app can turn your PDFs into various formats easily and quickly— without requiring installation on your computer. Some of the most common formats that are generated by an online PDF converter are:
Word document (DOCX)
HTML (.html)
Text (TXT)
Images (JPG OR PNG)
These websites are very easy to use. All you need to do is upload your PDF file and choose the output format. The conversion takes only a few seconds. In some tools, you can either download or get an email with the converted document.
How To Pick the Top Online PDF Converter?
Picking an online PDF converter can be easy if you know what you need to look for. So, what exactly are the standard criteria that you should employ in your search?
Here are three things that you should consider:
MONETARY ASPECT: Does the app offer free usage for simple conversion tasks? If you require a premium account, how much do they charge for the license and what are the payment terms?
EASE OF USE: Is the converter quick and efficient? Does it have an easy-to-understand interface?
CONVERSION FORMATS: Does the tool support the required conversion for your file? Do you need the document to be converted to Word, CSV, or any other format?
If the tool you picked has these three options, you're good to go.
The 9 Best Online PDF Converters:
1. EaseUS PDF Converter
EaseUS PDF Converter is our first pick, as it's easily the best tool you can use today for PDF conversion online. Allowing you to upload your PDF with a simple method and then convert it into various formats. On top of that, it offers a simple UI design, and it's free.
Thus, you can use EaseUS to convert your PDFs into various formats, such as:
PDF to Word
PDF to Excel Spreadsheet
PDF to PPT
PDF to JPG
These are some of the factors that make it an ideal PDF converter and put it on the top spot of our list.
Pros:
Easy to use & free
Exceedingly quick
Can convert into four formats
Cons:
2. Adobe Online PDF Converter
Adobe is one of the leading names in graphic design software, so there's no wonder their online PDF converter is on this list. Besides, they are the ones who developed the PDF!
It's easy to use, and it's free as well—which is a rare thing from a premium tool provider.
This tool's format options include PPT, Word, Excel, and Image (JPG). These are some of the factors that make it our second-best pick and an overall solid option in 2023.
Pros:
It comes from a reputable provider
Easy conversion method
Very quick
Cons:
Only JPG is supported for the image format
3. Online2PDF.com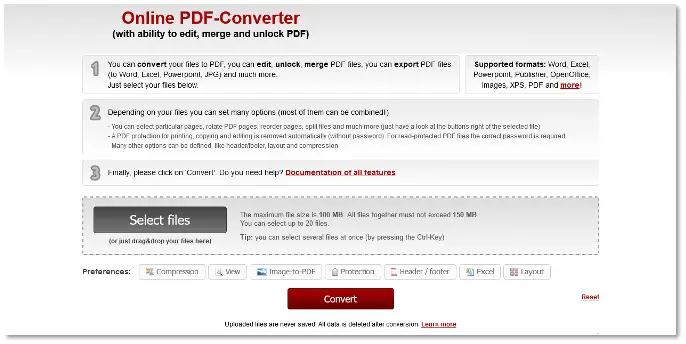 Online2PDF.com is another great option for PDF conversion in 2023. This tool focuses a lot on quantity, allowing you to upload a PDF of over 100MB. That's why you can upload around 20 files to convert at a time.
However, it's not recommended to use it for more than 5 files at one go, as it might slow down a bit. The formats it supports for digital conversion include Word, Excel, PPT, Images, XPS, etc. This versatility makes it another remarkable option for a PDF converter.
Pros:
Offers a variety of conversion formats
150 MB file limit, 100MB per file max
Cons:
Ads can be annoying
Slows down when files exceed 5 or more
4. FreePDFConvert.com
FreePDFConvert.com is another remarkable web app that allows you to convert your PDF into Word, Excel, PPT, or image formats. Moreover, it allows you to upload your files directly from Google Drive or Dropbox.
However, it's the quick conversion and a variety of formats that should be considered. On top of that, it can help you split, merge, or compress your PDF file to save space.
Pros:
Unlock or protect PDF
Delete or rotate PDF pages
Merge or split PDFs easily
Cons:
5. SmallPDF.com
SmallPDF.com is yet another great tool for those looking for a free option. This online PDF converter is as easy as they come and it conforms to the standard that we talked about earlier. While it only offers conversion into three formats, it's quick and easy to use.
The formats that you can convert your file into include PPT, Word, and Excel. While it may not be enough for some, it'll be enough for most, making it one of the most viable converters today.
Pros:
Easy and quick to use
Attractive design
Cons:
Only three conversion formats
6. SodaPDF.com

SodaPDF.com is another very viable option. You can use it to convert your PDFs into DOCX, Excel Spreadsheet, PowerPoint, or plain images. It's also one of the few tools that allow you to convert your pdf into HTML format.
While this may not be useful for a majority of users, it's very handy for web designers and developers. These factors put it in the 6th spot on our list.
Pros:
Offers HTML conversion
Quick conversions
Cons:
7. Zamzar Online PDF Converter

Zamzar's online PDF converter is a rare tool that allows you to upload your files from Dropbox, Google Drive, On Drive, Box, or URL. This capability makes it one of the most versatile in terms of file upload methods.
Besides that, it offers a wide variety of supported file formats. You can pick from a broad range of documents, images, and eBook categories to convert your PDF into. However, very limited free use is the only reason this tool sits at number 8 on our list.
Pros:
Various conversion options
Various upload methods
Very quick and efficient
Cons:
8. PDFConverter.com

PDFConverter.com has a unique approach to PDF conversion. Instead of allowing you to pick the file format upfront, it takes you to the specific formatting tool, such as PDF to Excel or vice versa. While this is unique, it might feel a bit off for some.
However, it doesn't take away the quality and integrity that this converter has to offer. Besides supporting a variety of formats, it is equipped with an OCR tool that makes it a very intuitive and top-quality option today.
Pros:
Specific conversion methods
Merge PDFs
In-built OCR
Cons:
Some people might find it slower
9. PDF2Doc.com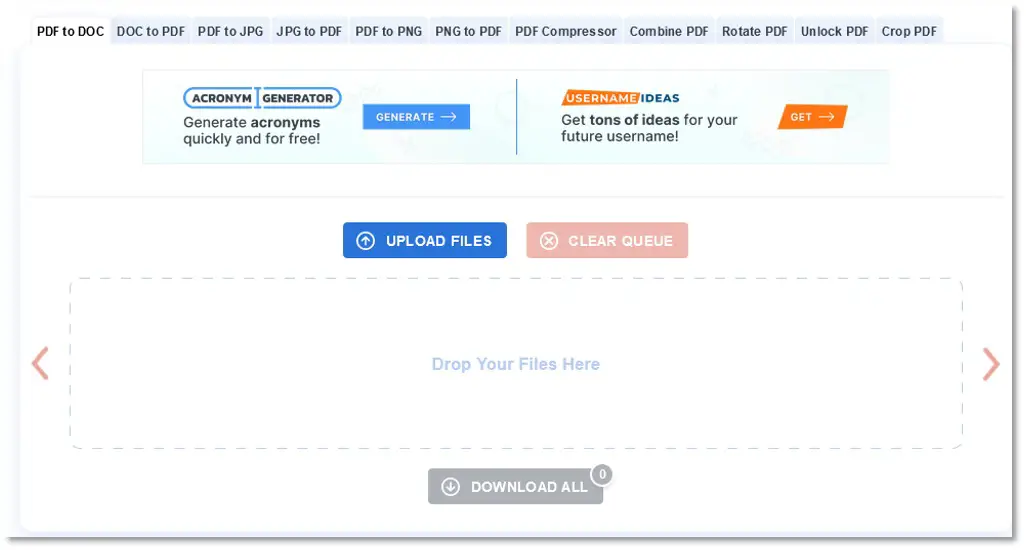 PDF2Doc.com is our final pick, and it's an equally capable option. It's a highly functional tool, with a similar approach to the previous converter we talked about, which offers specific conversion methods.
While the name might suggest it only converts PDFs to DOC files, it can actually convert your PDFs into JPG, PNG, Excel files, etc.
Pros:
Variety of conversions
Offers conversion from various files to PDF
Cons:
Conclusion
These are some of the best online PDF converters you'll find today. All of these remarkable tools offer something unique, but they are all very capable of converting PDFs into various formats. So, it's up to the user to decide which one they like, but our suggestion would be to go with EaseUS PDF Converter—the first option.
Rafal Reyzer
Hey there, welcome to my blog! I'm a full-time blogger, educator, digital marketer, freelance writer, editor and content manager with 10+ years of experience. I started RafalReyzer.com to provide you with great tools and strategies you can use to achieve freedom from 9 to 5 through online creativity. My site is a one-stop-shop for freelance writers, bloggers, publishers, content enthusiasts who want to be independent, earn more money and create beautiful things. Feel free to
learn more about me here.