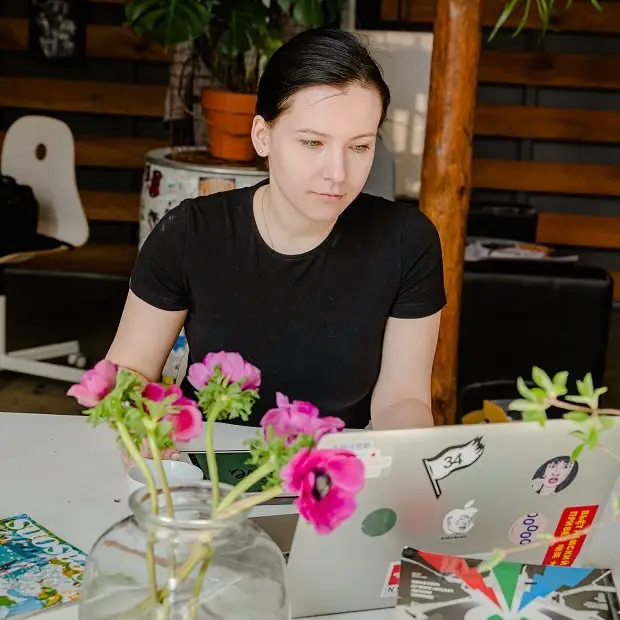 Creating an eBook may seem challenging, but some of the best free online eBook creator tools come to the rescue.
Now you may turn your writing into a professional eBook without hiring a designer.
Several online software applications can help you accomplish this on your own. Some are free, while others require purchase or paid subscription.
This article shall discuss the available online tools that have all the features you are looking for.
It includes facilitating easy conversion of your content, making your eBook compatible with mobile platforms, allowing them to be downloaded in multiple formats, and enabling cloud storage support. Who knows, maybe you'll find your work included in the libraries of popular ebook and audiobook subscription services such as Scribd and Kindle unlimited one of these days.
Let's help you create exciting eBooks for your readers.
The 8 Best Free Online eBook Creator Tools: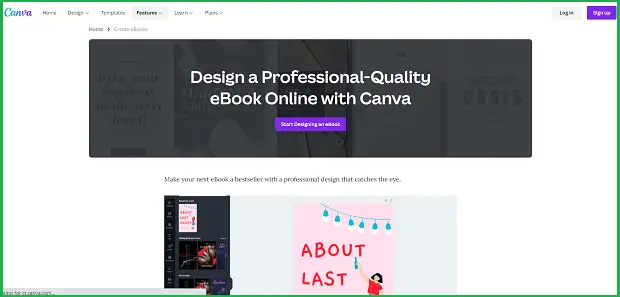 Canva is a popular eBook maker you can try for free. You can also use it to create visually appealing advertisements, reports, presentations, banners, and more.
The software enables you to choose from a library of customizable templates to create a professional eBook from scratch. It is equipped with drag-and-drop tools to help you get your desired results in minutes.
Canva also offers you cloud storage for each design you create. In addition, you can add your images to the eBook or choose from a library containing over a million pictures and graphics.
With endless illustrations and over 700 font styles, you can easily turn the eBook you always visualized into a reality. The Dashboard is user-friendly and gives you the free hand to take care of each aspect of the design process.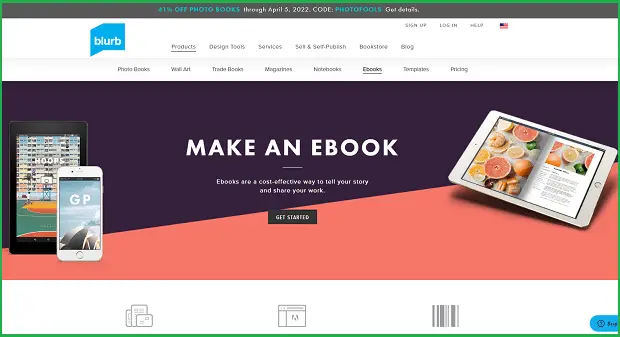 Blurb is a free eBook creation software that lets you convert your PDF file into an eBook. It can also help you sell your eBook once it is market-ready.
Download the Blurb desktop software to proceed with the eBook creation. It can also handle on-demand printing procedures, shipping, and logistics to help you sell your eBook through Amazon, Instagram, Apple iBook store, and Blurb Bookstore.
It significantly cuts down the time and effort needed for production. You also don't have to contact third-party distributors and sellers to sell your eBook.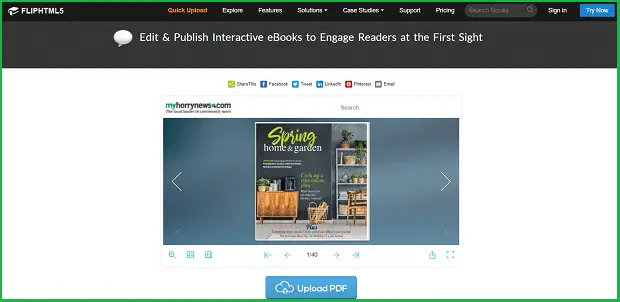 FlipHTML5 is the best free online eBook creator you can find. Just sign up for free and get started with your dream eBook.
There are tutorials available on the website to guide you through the step-by-step procedure of creating an eBook.
In addition, FlipHTML5 has 10 customizable templates to choose from for your eBook cover. The template selection is based on various themes and genres of writing.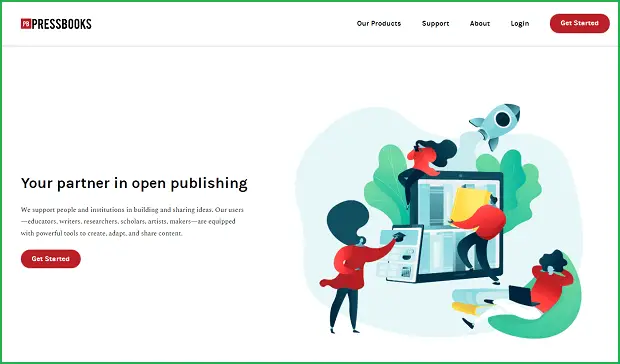 Pressbooks is another online eBook creator tool you can use without paying hefty prices.
First, you need to sign up on the website and create your eBook. Once you have the book written on your computer, you can import the chapters or files and arrange them accordingly to make the eBook.
You may also add audio, images, or videos as needed. An array of templates lets you decide your book's layout and helps you choose an appealing cover.
When you are done with the entire procedure, you can export the eBook in ePUB, PDF, Mobi, or XHTML formats and download them. Later, you can sell the downloaded eBooks through any third-party distributor.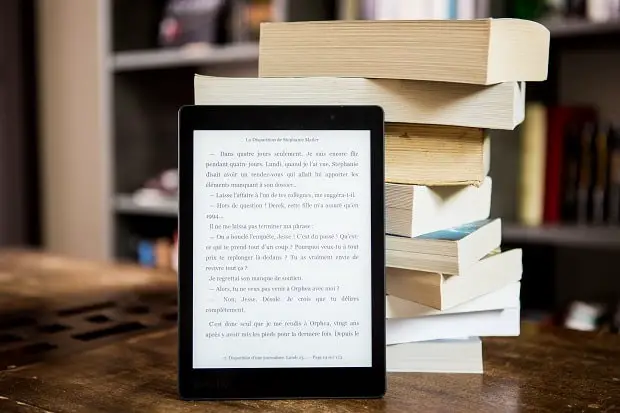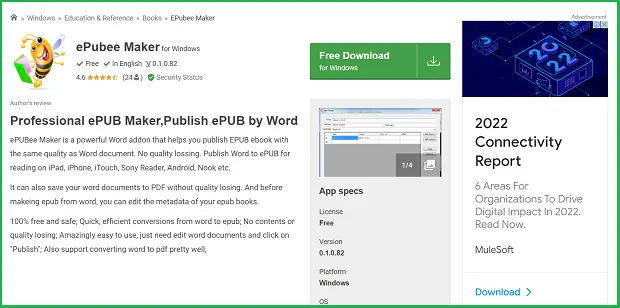 ePUBee is a free eBook creator tool that works as an add-in to MS Word. Installing it on your PC will enable you to convert word documents to your desired eBook format.
You can finish your manuscript on MS Word and convert the finally edited file into PDF, Mobi, or ePUB formats.
After conversion, you can easily transfer the eBook to other reading devices like Kobo or Kindle. ePUBee Maker also works as an eBook reader and editor.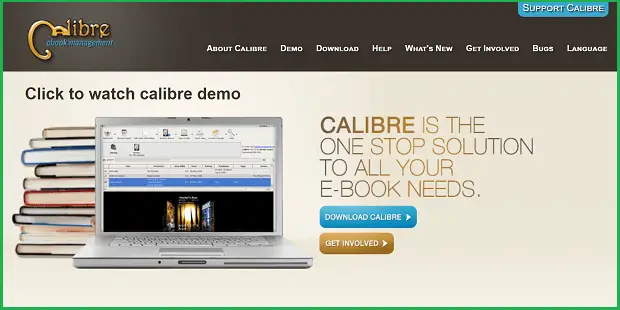 Calibre is one of the finest free eBook creator tools you can find. There are endless possibilities of the things you can do with the software.
It lets you achieve a thousand small tasks associated with eBook creation that will leave you satisfied with the results. Most new authors looking forward to their first eBook can use Calibre to turn their visions to fruition.
Calibre is compatible with PC, Linux, and Mac. You can use it anywhere and on any device. You can edit your eBooks and convert your manuscript to ePUB, PDF, and Mobi formats.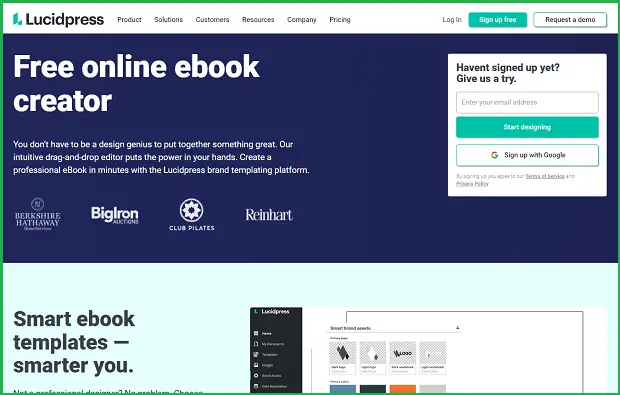 LucidPress is an eBook editor and creator tool with hundreds of free templates to get your work done.
You can create stunningly professional eBooks with no background in graphic design. It lets you make everything yourself from scratch with the simplest drag-and-drop tools. Isn't that what new authors look for while planning their first eBook?
LucidPress is free software that comes with customizable templates. Thus, you can change the font styles of your title, index, chapter, and other content as it pleases you.
In addition, you may add images or change the color schemes to suit your theme. Therefore, you can have sole control over the designing process and see your eBook come alive.
The best part about LucidPress is that you don't need to install or download any app, which could take up a large amount of your device's memory.
The website gives you the platform to create your eBook using your browser. Just import your written content from Google Docs or Dropbox, then proceed to making and designing.
If you are working as a team, you may collaborate in real-time with your members. The platform streamlines tasks such as idea sharing, template selection, and brand design.
Talking about free eBook creator tools wouldn't be complete without Visme. It is a platform that allows users to create on-brand presentations, advertisements, and other forms of engaging visual or digital content.
Top companies like Unilever and PayPal use Visme for infographics.
It's simply one of the best eBook designing software in the market with a cloud-based platform. Create and collaborate and see your content take shape as you always wanted.
Visme eBook creator has many templates that allow you to create your eBook in a few minutes. These templates are editable and customizable, which are useful for transforming your manuscript into a professional eBook.
The Dashboard is so easy to use for customizing the layout, media, and graphics. You can add media content like audio or videos and embed it within the eBook for an engaging presentation. This is something you can't do with printed books.
You may also add graphics and images or illustrations to written content. You can change fonts, colors, and shapes of the titles, texts, stats, etc., to suit the final outlook you desire.
Finally, you can download your completed eBook in PDF format, HTML5, or a PowerPoint presentation. Join Visme for free and create a professional eBook you can sell.
Conclusion
These were the 8 most popular and the best free online eBook creator tools that can help you fulfill your dream of publishing your first book without knocking on the doors of big-time publishers.
Create your eBook without paying a handsome fee to a design team. You can design, customize, edit, publish, and even sell your work with the help of one of these applications we discussed.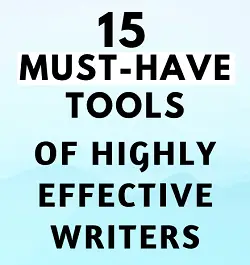 Free resource: Download your free PDF and learn about the top tools used by freelance writers.
Get it here
Rafal Reyzer
Hey there, welcome to my blog! I'm a full-time blogger, educator, digital marketer, freelance writer, editor and content manager with 10+ years of experience. I started RafalReyzer.com to provide you with great tools and strategies you can use to achieve freedom from 9 to 5 through online creativity. My site is a one-stop-shop for freelance writers, bloggers, publishers, content enthusiasts who want to be independent, earn more money and create beautiful things. Feel free to
learn more about me here.