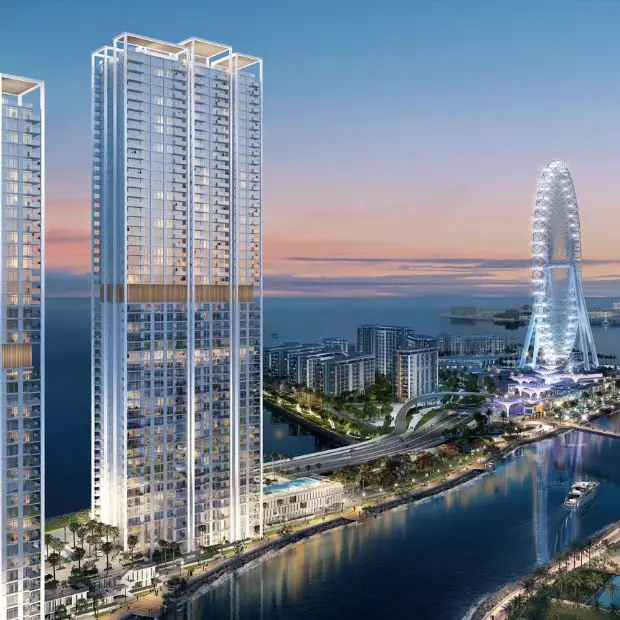 Bluewaters Bay is a residential complex in Jumeirah Beach Residence (JBR) and it's a new point on the map of Dubai.
It is a prestigious place to live, relax, or grow a business. Residents will come home to luxurious living spaces designed to combine a secluded lifestyle with the dynamics of the metropolis. It's a pretty unique spot, so I thought I would share a bit of useful information if you're currently looking to relocate. What else should potential investors and future residents know about this project? Read this review on the Bluewaters Bay residential complex.
Bluewaters Bay location
Bluewaters Bay is located on the new human-made Bluewaters Island on the shores of the Persian Gulf. It is connected to Jumeirah Beach Residences, one of the most popular and densely populated areas of the emirate, by a bridge and is an extension of JBR. The location will offer residents of the residential complex access to many landscaped beaches within walking distance. The complex's phenomenally convenient location is one of its main advantages. It is a residential project that attracts residents who want both to live with the times and relax from the bustle of the city after a hard day's work. Within a short drive, key attractions, business and entertainment complexes, as well as other famous locations in Dubai, are all available.
Here are some of the main locations along with travel time from Bluewaters Bay:
10 minutes to Dubai Marina
25 minutes to Downtown
40 minutes to Dubai Airport (DXB)
30 minutes to EXPO-2020
30 minutes to Al Maktoum AirporT
Real estate options
A total of 672 residential units will be presented in the complex:
Apartment with 1 bedroom: price from 2,560,000 AED ($697,000)
Apartment with 2 bedrooms: price from 3,350,000 AED ($912,000)
Apartment with 3 or 4 bedrooms: price from 6,350,000 AED ($1,729,000)
The area of the apartments ranges from 74 m² to 282 m². The complex will also include several private spacious penthouses with 5 bedrooms, and the living area in the penthouses is up to 641 m².
Exquisite penthouses
The 5-bedroom penthouses are an ultra-luxurious feature of this complex. If you want even more luxury, consider going for a spacious penthouse. Here you'll admire majestic panoramas through floor-to-ceiling windows, allowing shining natural light to fill your home. Enjoy aesthetic sophistication in light shades with wood accents and exquisite design.
Payment plan
The developer provides the buyers with the possibility of payment in installments for the entire period of construction. Thus, the investor only needs to pay 20 percent of the amount as the first payment at the time of booking. 60 percent of the amount is distributed over the entire construction period in equal installments. Another 20 percent is the amount that can be paid after the completion of the project in July 2027. The price for a 1-bedroom apartment starts from 2,560,000 AED ($697,000).
About the location: Jumeirah Beach Residence
Jumeirah Beach Residence is a famous beach community in the new resort location of Dubai, which is a part of one of the most popular districts of Dubai Marina. Jumeirah Beach Residence consists of 40 towers with Miami-inspired aesthetics, along with resort-like amenities and 1.7 km of white sandy beach. It will be a daring new destination for a beachfront living in Dubai. Jumeirah Beach Residence is home to many common facilities for residents' comfortable and safe living, such as hospitals, schools, kindergartens and playgrounds, and many attractions. The Walk, a pedestrian street, will provide not only a pleasant promenade in the open air but also the opportunity to enjoy dinner in fine restaurants in Dubai, as well as to shop in famous boutiques or take a nice evening jog through the city.
About the location: Bluewaters Island
Bluewaters Island is a new human-made island located across from the famous district of Dubai Marina. The island is conveniently divided into five zones: residential, hotel, commercial, beach, and entertainment. In the central part of the island rises the largest Ferris wheel in the world, Ain Dubai. The shopping and entertainment areas offer over 200 cafes gourmet restaurants and boutiques, so you'll always find a great place to write in or meet with friends. Brass Monkey entertainment center and Italian restaurant Ali are especially popular with residents and guests on the island. The island also recently opened a branch of the Madame Tussauds wax museum. The luxurious resort hotel Caesars Palace Dubai which is on the island has Hell's Kitchen of the famous Michelin-star chef Gordon Ramsay on its territory among other famous restaurants, as well as a lot of family entertainment, poolside recreation, and musical shows. Bluewaters Island offers a magnificent view of the Dubai mainland from the shore, which attracts both tourists and permanent residents to the island. Another human-made island, Palm Jumeirah, a popular attraction in Dubai, is 20 minutes away from Bluewaters Island.
About the Developer
The developer of Bluewaters Bay is Meraas. The company has been operating since 2007 and is known as the creator of popular areas of the emirate. Properties from developer Meraas meet the highest quality requirements and are delivered within strictly agreed deadlines. The company's main aim is to ensure that projects are completed to the highest standards for buyers and that excellent service is provided throughout the real estate buying journey and beyond. Meraas has a sound mission and vision to strengthen Dubai's global position in tourism. The company continues to build the emirate's reputation as a leader in global entertainment and retail. As Meraas continues to pursue a comparable mixed-use improvement project, they expect to attract managed speculation and tourism from around the world. The largest Ferris wheel in the world, Ain Dubai (aka "Dubai Eye") will be another landmark structure designed by Meraas and will especially grace the skyline of Dubai. Thanks to the company's success, the Bluewaters region will become a key landmark in the UAE, as well as reinforce Dubai's status as a favorite entertainment and retail destination worldwide. Today, Meraas projects benefit the local economy tremendously and create thousands of jobs, changing the face of the city and the understanding of comfort.
Start searching for real estate in Dubai
Choose to live your best life today and consider moving to Dubai, as it's an excellent location for remote workers and freelancers. Premium housing, available to foreign investors, is collected in one convenient catalog. You can choose one of the luxury apartments by the sea, apply for an installment plan, and get the best price offer. Here are the details if you want to learn more: https://bluewaters-bay-dubai.ae/. Next up, you may want to explore a guide on maintaining your pool in Dubai.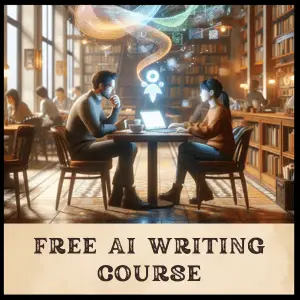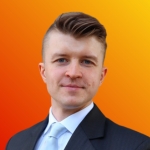 Rafal Reyzer
Hey there, welcome to my blog! I'm a full-time blogger, educator, digital marketer, freelance writer, editor, and content manager with 10+ years of experience. I started RafalReyzer.com to provide you with great tools and strategies you can use to become a proficient writer and achieve freedom through online creativity. My site is a one-stop shop for freelance writers, bloggers, publishers, and content enthusiasts who want to be independent, earn more money, and create beautiful things. Dive into my journey here, and don't miss out on my free 60-minute AI writing online course.