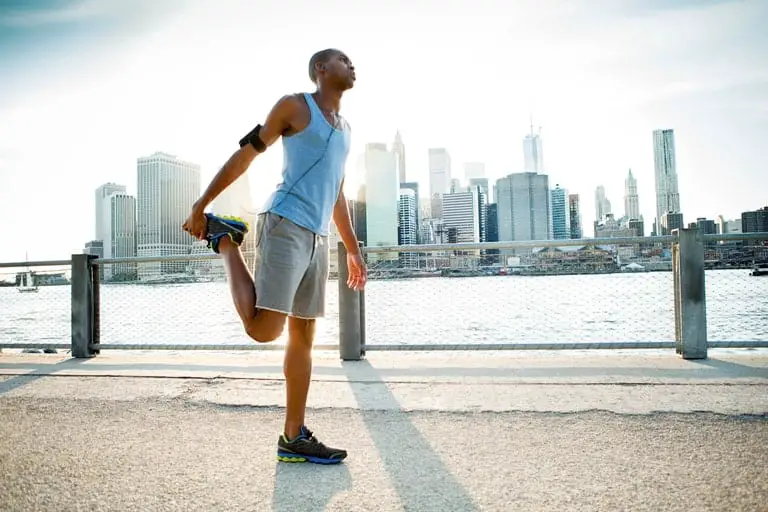 Running is one of the best ways to explore a new city. It's healthy, invigorating, and provides many novel experiences. It will also let you build a better image of the place you're visiting – you'll see all the nuances, traditions, and secret places that you would otherwise miss.
After your run, you'll feel fantastic, just because the experience was so unique (and because of the endorphin rush). I explored Madrid, New York City, Istanbul, Barcelona, and Berlin in that way and it was always great. Below I share some of the best tips that will get you ready for the run.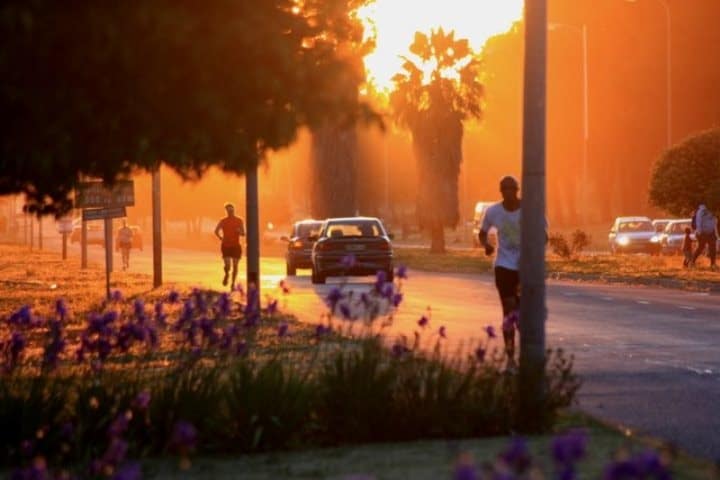 18 Ideas on How To Explore a New City Through Jogging:
1. Start your run early in the morning or just before sunset
If you're a morning bird, you can put on your shoes and hit the road just after waking up. The air is crispier at dawn and there's nothing like getting these first sun rays on your face. On the other hand, an evening run will show you a different, more relaxed side of the city, and there's nothing like seeing the architecture at sunset.
2. Take note of all of the tourist places you want to visit
In most cities, the best places are situated in the very center. Before setting out, take a look at your Lonely Planet Guide, or just search for "top things to do in XYZ". I like to use Trip Advisor as they always have lists of best things rated by other users. You can put the list on your phone, and if you have data, or you can use their mobile app as you go.
3. Check out the map and plan your route
If you don't want to get abysmally lost as soon as you turn a corner, take a look at the city map before starting out. Locate the places of interest on Google Maps and come to grips with your location in the city. You may also want to download an app like Map My Run which will provide you with great running routes for most of the big cities around the world.
4. If you're abroad, download an offline map to avoid getting lost
Quite often, when you travel abroad (especially to more remote places), you don't have instant access to data. In that case, you can download an offline map app like Maps.me or experiment with Offline Google Maps which will let you find your way without any connection. It doesn't work perfectly, but it can also serve as a compass and at least show you the right direction.
5. Use the armband to keep the phone from annoying you
Keeping the phone in your hand all the time can be quite annoying and not very comfy. It's much better to buy one of these $10 armbands. It will give you more flexibility and it's great for listening to music while you run.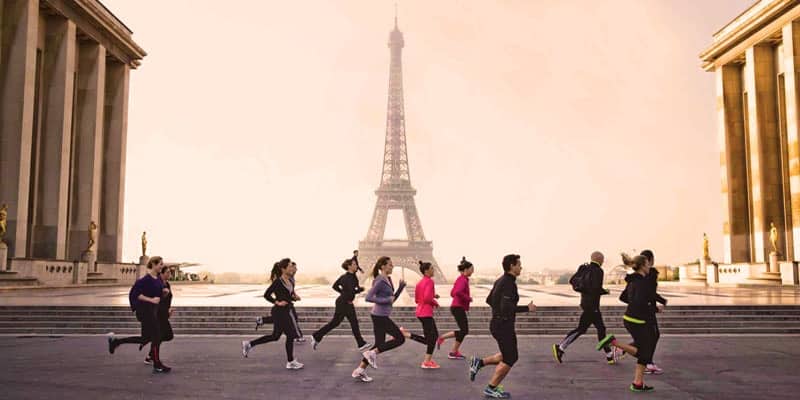 6. Use the hydration pack and have the water handy
Exploring a city through running requires quite a lot of time so you'll need to keep hydrated. Again, holding a water bottle in your hand is not the best option. What you can use instead is a hydration pack that can hold as much as 3 liters of liquid. It's perfectly aligned with your body and has space for keys and money too.
7. Get your favorite music, upload some local music or unplug totally
Listening to music while running gives you that wonderful feeling. I'm sure you have some of your favorite exercise tracks, but if you're in a new environment, maybe you can upload some of the local vibes and immerse yourself in the local culture. It's best to use wireless Bluetooth headphones as the cable might be annoying. Personally, I've found that unplugging is a great idea because it will let you appreciate all the smells and sights a little bit more.
9. Reach the desired spot, take a break, grab some food and come back by public transport
Your run doesn't have to be cyclical. You can set a far-away goal, reach it, stretch a little bit, relax, grab some tasty local food, and quickly come back home by bus or metro. In that way, you can explore places that are a little bit further away.
10. Run at a slower pace to notice all the nuances of the new place
Many of us runners like to give it our best and stretch our limits. But when you go around a city, running at full speed is actually not the best idea. There's a lot of traffic and unexpected situations so it's better to keep a steady pace. It will also let you appreciate the surroundings and learn about the place.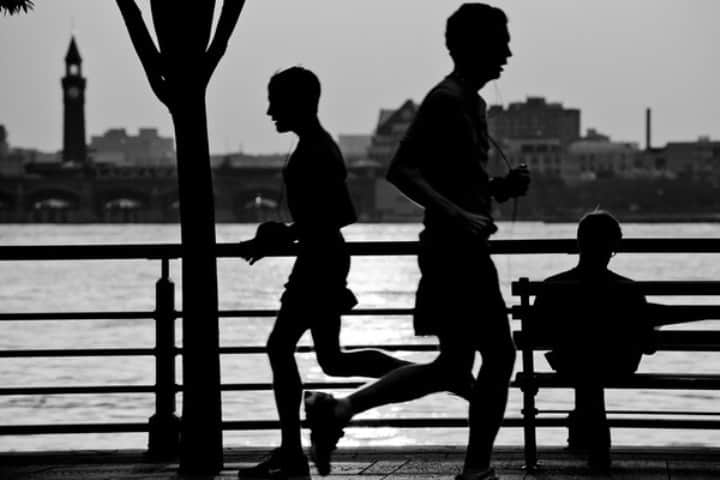 11. Watch the locals and their traditions
During your jog, you'll see many places that are usually omitted by the tourists. Just take a moment and closely observe these secret corners, small cafes, and inner-city parks. In that way, you'll learn so much more than by going to the "top 5 places" which are mostly eschewed by the locals (think Times Square in NYC).
12. Schedule different running sessions over a few days
If you're in a quaint old European town, you can usually jog around the whole place in one day. The case looks much different when you find yourself in a mammoth-like Istanbul or London. Then you can schedule a few runs around different routes and explore them piece by piece.
13. Take some quick notes and photos along the way
Nobody said that you can't mingle jogging with tourism. Sometimes you'll encounter places you want to come back to or interesting events that will happen in the future. So grab your mobile, take a few photos and record interesting info about the places you visit.
14. Let yourself get lost a bit
After getting acquainted with your surroundings (at least to the point when you more or less know how to come back home), you may want to take the road less traveled and get lost. Your run will be more exciting and you'll surely encounter unexpected gems along the way.
15. Have some cash on you
You never know when you'll need some money, so better take a few banknotes of whatever currency you're dealing with on your trip. Maybe you'll want to grab a quick bite after the run? Or go into a small museum? Or just do groceries before coming back home?
16. Join a group-run and meet new people
When you feel gregarious, you might want to run around with other people. It's a great way to form new relationships and learn about the city. The best site to find running buddies is probably Meetup.com where you'll find groups for many major cities around the world.
17. Use the Runkeeper app to track your progress and meet other runners
Running apps are very useful and you can pick your personal favorite. One of the most popular is ones is called "Runkeeper" and it will use your phone's GPS to track your exercise activities. It will keep the stats, tell you about the calories burned, let you create and share running routes, and tag pictures you took along the way.
18. Take your dog with you
This one may not apply to you but if you have a canine companion it will be more than happy to share the joys of jogging with you. Currently, I live in Madrid and quite often I see people having the time of their lives running with dogs. For that purpose, it's better to choose a city park and relax a little. Have you ever tried to explore a new city through jogging?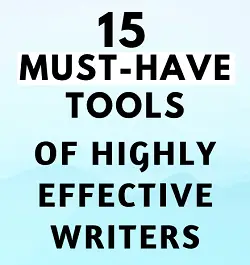 Free resource: Download your free PDF and learn about the top tools used by freelance writers.
Get it here
Rafal Reyzer
Hey there, welcome to my blog! I'm a full-time blogger, educator, digital marketer, freelance writer, editor and content manager with 10+ years of experience. I started RafalReyzer.com to provide you with great tools and strategies you can use to achieve freedom from 9 to 5 through online creativity. My site is a one-stop-shop for freelance writers, bloggers, publishers, content enthusiasts who want to be independent, earn more money and create beautiful things. Feel free to
learn more about me here.