You probably come across several technical manuals or user guides in your daily life.
For example, you buy a new air conditioner, and inside the package, you find instructions on how to set up and use your product.
Putting together such a document sounds easy, but preparing a user-friendly manual requires superb technical writing skills.
Are you a business executive who needs to hire a company that offers such services? Or perhaps you're looking for a job in the technical manual writing services sector?
Great! You have landed in the right place.
In this article, I will tell you about the best companies offering technical manual writing services.
What comes to mind when thinking about technical writing?
It's mostly about producing high-quality manuals, reviews, or instructions.
Technical writers deliver content following two basic criteria. First, the copy should appear as if industry professionals created them. Second, it can easily be understood even by fifth-graders.
Developing instruction manuals, guides, and other technical documents are a few examples of technical writing.
What exactly is a technical manual writing service?
A technical manual is nothing but a how-to guide on the proper use, assembly, care, and maintenance of a certain product. The manual may also describe the features and functions of the product.
What's essential in technical manual writing is being able to explain everything in terms that end-users can easily understand.
10 Best Companies Offering Technical Manual Writing Services: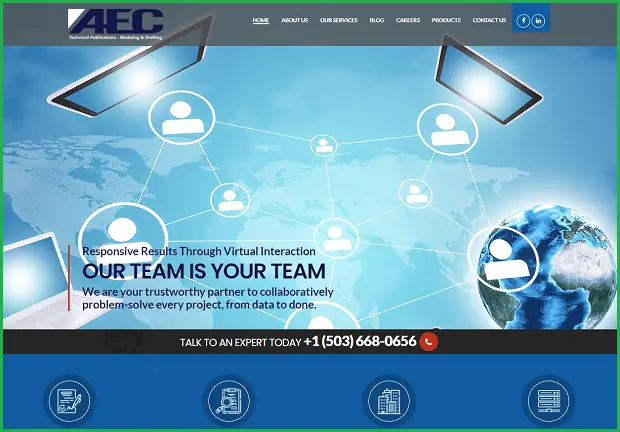 For over 3 decades, AEC has been one of the leading companies in developing technical documents.
Their team includes technical writers, illustrators, former mechanics, technicians, content creators, and technology experts.
They create documents for leading manufacturers of electrical, mechanical, and electronic products, as well as systems/software applications.
AEC produces technically accurate and appealing documents that cater to client specifications. They deliver maintenance and operator manuals, installation manuals, user guides, and many others.
Oregon TriMet, Greenpoint Technologies are some of AEC's clients.
Red Robot is a UK-based company known for its business content and copyrighting services.
Their focus is on technical writing, documentation for new apps/software/devices, manuals, and blogs.
They also offer proofreading and copyediting services, which they charge at an hourly rate. You can contact them directly for your writing project and receive a quote for the same.
Simply use Red Robot's contact form, phone number, or email them right away.
Founded in 2006 by Johnson CY Chan, Orbis specializes in providing services to help clients achieve their content goals.
The company understands how to structure content and is well-versed in creating manuals and guides. The team handles each writing project with expertise and care and ensures they understand the clients' business objectives well.
Some of their noteworthy clients include American Express, eBay, Eaton, The Home Depot, and TransUnion.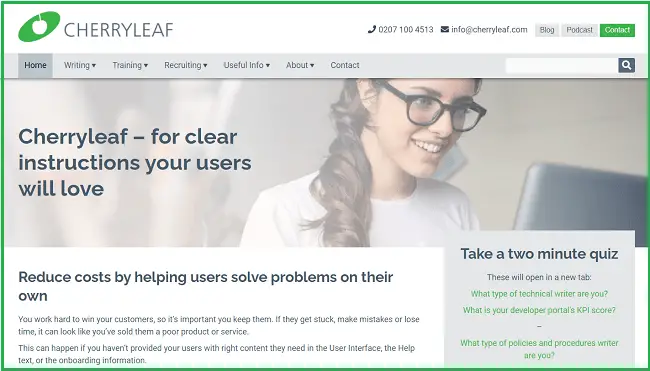 Cherryleaf believes in the power of clear instructions and provides content that customers would love.
They churn out instruction manuals that even the technologically-challenged ones can easily understand and follow.
Here's who Cherryleaf can help:
Project managers that will launch a new product/service
Managers who handle policies/procedures
Developers who need to come up with end-user documentation or API
Companies who need to hire UX writers or technical communicators
Professional technical communicators
Freshers looking to start their career in Technical Manual Writing Services
Opportunity Matrix™, ProcessAssets, Citrix, and ITWeek are some of its clients.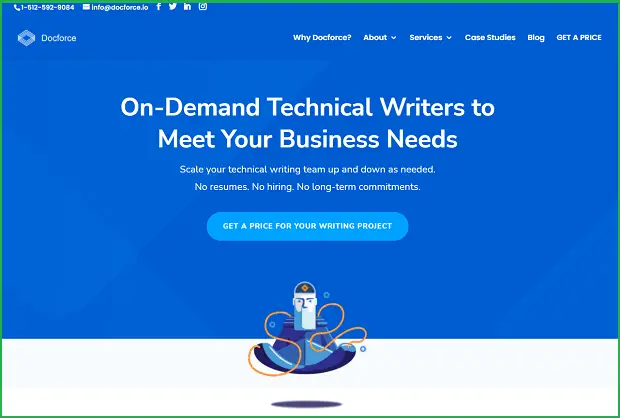 Docforce has headquarters in Austin, Texas, and Limerick, Ireland.
This is an auspicious setup as they touch bases with two of the largest English-speaking regions, with distinct nuances in speaking and writing.
Besides technical manual writing services, the company also writes documentation for web & software development, including users' guides for API programming, software installation, hardware specification, reference manuals, and many others.
They offer a package called "Writing as a Service", which I'm tempted to call WaaS (You know, after SaaS and the likes). This is for clients who require a continuous flow of content. It is based on a monthly subscription of writing hours the client can avail and consume.
One good thing about this program is that any amount of hours you did not use for the current month will be rolled over to the next.
Established in 2009, this digital content creation agency caters to all types of content creation services. This includes writing technical manuals.
With a team of content marketers, writers, designers, and developers, CDP has completed over 75K projects. They prove to be the "pro" in content services, don't you think?
They believe in quality, professionalism, experience, and affordability. Pricing for ContentDevelopmentPros' services starts from $12.95 for a page.
AshfordGlobalIT.com, SnapInMedia, Giftbasket4kids, Giftbasket4kids are some of its clients.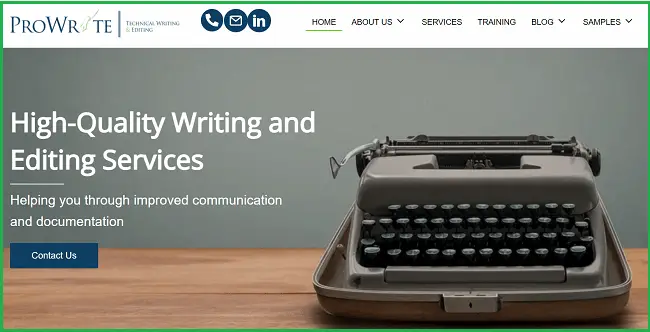 ProWrite is a company that offers high-quality technical writing and editing services.
It helps clients improve their marketing communication and product or service documentation.
Technical writing is a solution they excel at! They also offer training, outsourcing, and consulting services.
They have been in the business for over 35 years. ProWrite is staffed with writers and editors with technical backgrounds and skills to assure the delivery of quality products and services.
AB InBev, Cynthia W., and Lawrence M are some of its clients.
Through a team of technical experts, Acade Craft provides fast, accurate, and quality-driven technical writing services.
The company helps its customers to connect with the right audience. Their services include content strategy, design, copyrighting, content management, and single-source publishing.
They also offer translation services for technical documents in over a hundred languages! Their clientele includes companies from the construction, engineering, IT, and telecommunications industries.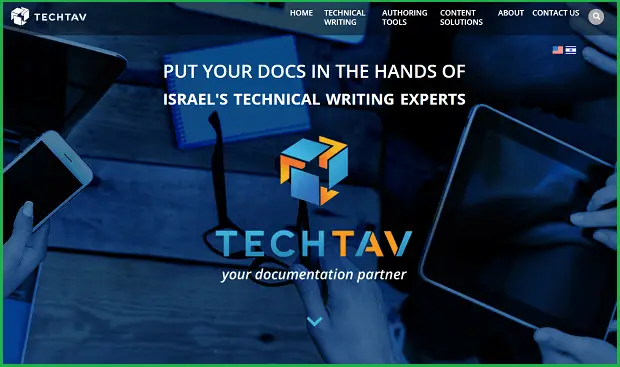 Israel's technical writing expert, Tech-Tav can be your documentation partner.
They offer high-quality and affordable technical text compositions, authoring tools, and content solutions.
Their team of technical writers and documentation consultants can deliver a gamut of compelling content for technical, marketing, and other business communications.
This includes technical manuals, project management syllabus, single-sourcing software, and API documentation.
Techno Ad, ECI Telecom are some of its clients.
Craig Wright, an experienced freelance technical writer, founded this company in 2012.
Manuals and guides, software and hardware documentation, help desk articles, are some of the writing solutions that StrayGoat offers.
If you have a requirement for a freelance technical writer, UX writer, content designer, or have other content requirements, you can use the contact page.
Remote work for technical writing is priced at £300/day and £350/day for onsite work. A user guide with 60 to 80 pages could cost up to £5,000.
Bonus section: Reasons to become a technical manual writer
1. To showcase your creativity
While many think writing is a dull and boring job, that's far from reality. Technical writing goes beyond mere documentation.
You, as the writer, should also be good at visual communication. The job may also entail creating diagrams, graphs, charts, images, or video/audio files. It could also be an opportunity to hone your creative thinking and strengthen your writing.
2. To stay updated about the latest releases
As a technical manual writer, you'd stay ahead of your peers. You may be tasked to create manuals for technologically advanced products/services before their market release!
3. Have a good earning opportunity
Did you know, as of 2022, the average salary for a Technical Writer in the US is a whopping $76,740? While you may think technical writing doesn't pay, it's time to think again!
4. Get a chance to build new marketable skills
As a technical writer, you could sharpen your analytical mind, as well as develop your listening and interviewing skills. You may also be in constant interaction with engineers, designers, illustrators, scientists, and other professionals.
As a technical writer, you would have to focus on exploration and research skills too. Thus, this career will ensure you have overall self-development.
Are you convinced to start a career in technical manual writing services? Which company would you consider joining?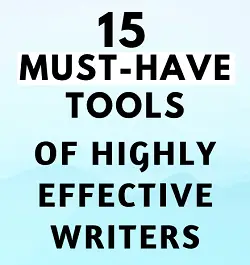 Free resource: Download your free PDF and learn about the top tools used by freelance writers.
Get it here
Rafal Reyzer
Hey there, welcome to my blog! I'm a full-time blogger, educator, digital marketer, freelance writer, editor and content manager with 10+ years of experience. I started RafalReyzer.com to provide you with great tools and strategies you can use to achieve freedom from 9 to 5 through online creativity. My site is a one-stop-shop for freelance writers, bloggers, publishers, content enthusiasts who want to be independent, earn more money and create beautiful things. Feel free to
learn more about me here.