Are you looking for educational platforms to improve your skills and grow your career?
Even 15 to 30 minutes per day spent on skill development is enough to transform you into one of the most effective operators in your niche. That's why it's so valuable to check some of the best educational applications designed specifically for that purpose.
Why should you use online platforms for skill development?
Educational websites offer a solid foundation in various subjects, and with the right tutor, you can delve deeper into advanced topics. After grasping the basics from educational apps, you can further explore with the help of teachers and peers, streamlining your learning process and enhancing exam scores. A seamless online experience requires a reliable internet connection. Optimum provides high-speed connectivity (up to 940 Mbps) tailored for students on a budget. English speakers can reach out to Optimum customer service, while Spanish speakers should connect with Optimum en Español to get started. With the right deal in place, dive into these educational apps.
Here are some of the top educational platforms for adults:
1. Coursera
Coursera is a fantastic educational learning platform that also has apps for both your Android and Apple devices. The website offers countless courses to enhance your career and attain certificates from the best universities and industry leaders like Facebook, IBM, etc. The categories in Coursera include business, art, sciences, music, entrepreneurship, etc. You can easily download their app from Google Play and App Store.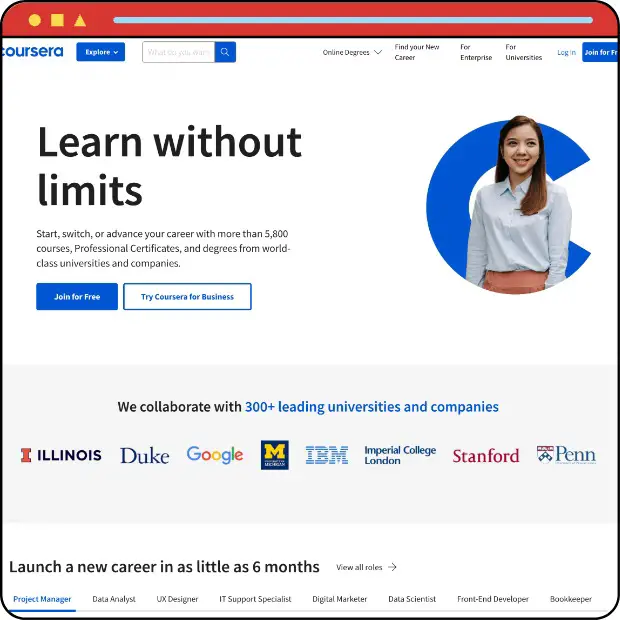 Pros:
University Partnerships: Coursera partners with top universities and organizations worldwide, offering a range of high-quality courses, specializations, and degree programs.
Flexibility: The platform provides a flexible learning environment, allowing students to learn at their own pace and according to their own schedule.
Certificates and Degrees: Coursera offers shareable certificates upon course completion, which can boost professional profiles. There are also fully accredited online Bachelor's and Master's degree options available.
Cons:
Cost: While many individual courses are free to audit, certifications, specializations, and degrees can be quite expensive.
Limited Interaction: Despite having discussion forums, real-time interaction with instructors and peers can be limited, which may affect the learning experience.
Variation in Course Quality: Although Coursera partners with prestigious institutions, there can be variation in the quality of instruction and course materials, so pick your course carefully.
2. EdX
If you are in search of a professional degree and certification to land an amazing job in the corporate sector, then EdX is the app for you. This app essentially offers several master's and Ph.D. programs, but you can get your degree with much more convenience. If you are looking for courses from well-known businesses like Microsoft or reputable institutions like MIT, Yale, etc., then getting access to EdX will help you accomplish most of your goals. You can complete all these incredible courses without having to leave your house and attain degrees from the world's finest universities. Just visit their website or simply install this app from Google Play or App Store.
Pros:
Quality and Variety of Courses: EdX partners with many prestigious universities worldwide, offering high-quality courses on an array of subjects, from humanities to STEM fields.
Academic Rigor: Many of its courses maintain the same academic rigor as their on-campus counterparts, offering an authentic university-style learning experience.
Certificates and Degrees: Learners have the option to earn verified certificates, MicroMasters, or even full online degrees, which can enhance their academic and professional profiles.
Cons:
Cost for Certification: Although many courses are free to audit, certificates, MicroMasters, and degrees come at a substantial cost.
Limited Course Availability: Not all courses are available at all times. Many follow a traditional semester-based schedule or are archived, which may not suit all learners.
Time Commitment: The rigorous nature of many EdX courses often demands a substantial time commitment, which might be challenging for individuals seeking more flexible, self-paced learning options.
3. LinkedIn Learning
LinkedIn Learning, the educational wing of the world's largest professional networking site, offers personalized course recommendations based on your profile, interests, and industry trends. This allows the platform to anticipate and adapt to rapidly changing industry demands, a unique feature that sets it apart from many other online learning hubs. Moreover, LinkedIn Learning's intrinsic connection to the job market gives it a valuable perspective on high-demand skills. Offering courses that target these sought-after skills, will provide you with the precise tools you need to improve your job prospects. This bridge between learning and employment is a powerful attribute that underscores its distinctiveness.
Pros:
Personalized Recommendations: LinkedIn Learning provides personalized course recommendations based on your profile, interests, and industry trends, offering a more tailored learning experience.
Industry-Relevant Courses: The platform offers a wide array of professional development courses that align with the skills employers are seeking, providing direct career applicability.
Integration with LinkedIn Profile: Completed courses can be easily added to your LinkedIn profile, showcasing your learning achievements to potential employers.
Cons:
Cost: Unlike some platforms that offer free courses, LinkedIn Learning requires a monthly or annual subscription, although it does offer a one-month free trial, which is worth taking.
Limited Academic Content: While it excels in professional and business-related courses, it lacks the depth and breadth of academic or theoretical content found on other platforms.
Focus on Self-Learning: The platform is primarily geared towards self-learners, with limited opportunities for interaction with instructors or peers, which may not suit all learning styles.
4. Udacity
Udacity distinguishes itself in the crowded e-learning marketplace through its strong emphasis on technology and job readiness. The platform is renowned for its "Nanodegree" programs, which are structured to provide a deep dive into subject areas like data science, artificial intelligence, cloud computing, and programming. These Nanodegrees, crafted in partnership with industry giants such as Google and IBM, reflect the practical needs of the modern tech industry, providing real-world applicability and a hands-on approach to learning. What's less obvious, yet pivotal, about Udacity is its commitment to career support. Beyond just providing courses, Udacity provides resume and LinkedIn profile reviews, GitHub portfolio reviews, and real-world projects which help students build a compelling portfolio. The platform also offers career coaching services to its Nanodegree students, underlining its mission to not only educate but also ensure its students are employable in the tech-driven economy. This unique focus on career readiness gives Udacity an edge in the online learning space.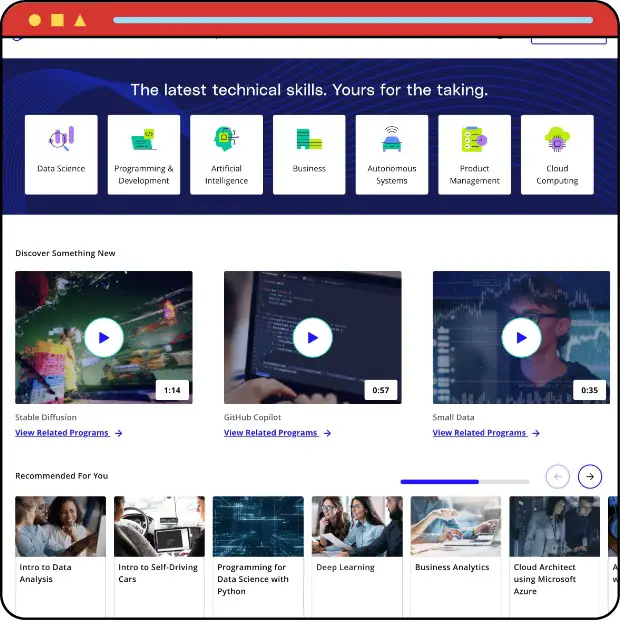 Pros:
Industry-Relevant Nanodegrees: Udacity offers job-ready, industry-aligned nanodegree programs in high-demand tech fields, developed in collaboration with leading tech companies.
Hands-On Projects: The platform emphasizes practical, project-based learning, allowing students to build a portfolio of work that showcases their skills.
Career Support: Udacity provides career services, including resume and LinkedIn profile reviews and interview prep, to enhance the job readiness of their learners.
Cons:
Cost: Nanodegree programs can be quite expensive compared to other online course offerings.
Narrow Focus: While Udacity excels in tech-related subjects, it lacks diversity in course offerings, particularly in humanities and social sciences.
Time Intensity: The rigorous and intensive nature of Nanodegree programs may demand a substantial time commitment, which could be challenging for individuals seeking more flexible learning options.
5. MasterClass
MasterClass sets itself apart in the online education space by leveraging the power of celebrity. Rather than traditional educators, courses are taught by world-renowned experts in their respective fields, such as Martin Scorsese on filmmaking, Serena Williams on tennis, or Gordon Ramsay on cooking. This star-studded teaching roster brings a unique appeal, allowing learners to gain insights directly from their idols, which can be both motivating and inspiring. A less obvious but noteworthy aspect of MasterClass is the high production value of its courses. Unlike many other online learning platforms that prioritize function over form, MasterClass places a strong emphasis on the cinematography and aesthetics of its course videos. This makes for a more engaging, immersive, and enjoyable learning experience, akin to watching a high-quality documentary. Despite this, the content remains rich and informative, balancing entertainment and education.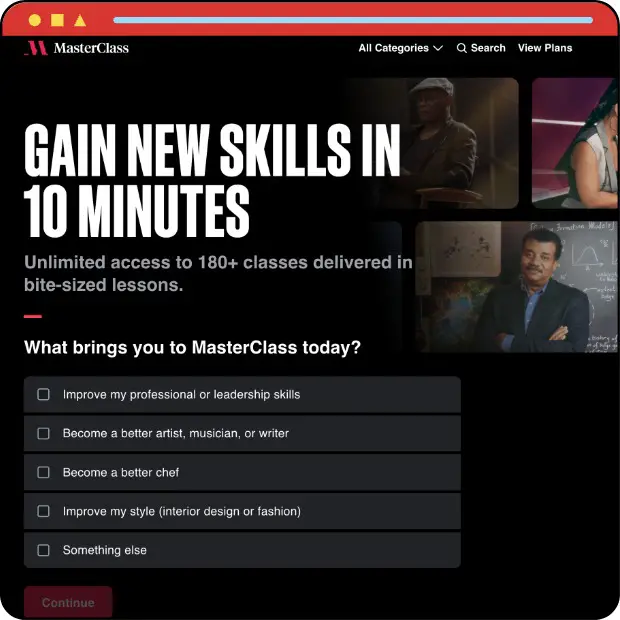 Pros:
Celebrity Instructors: MasterClass offers courses taught by world-renowned experts in their respective fields, providing unique insights and inspiration.
High Production Quality: The platform's courses have high production values, creating an engaging and enjoyable learning experience.
Lifetime Access: Once purchased, learners have lifetime access to the course material, allowing them to learn at their own pace and revisit content as desired.
Cons:
Cost: Unlike platforms that offer some content for free, MasterClass operates on a subscription model which may not be affordable for everyone.
Lack of Interactivity: While courses come with downloadable class materials, the opportunity for direct interaction with instructors or fellow students is minimal.
Less Academic: While the platform offers unique insights from industry professionals, it is not designed for in-depth academic learning or credentialing, limiting its suitability for those seeking formal education or professional qualifications.
6. Khan Academy
Khan Academy is one of the greatest online sources dedicated to providing exceptional learning experiences to students of all ages. This online academy will not let you down if you are a newbie, principal, professor, student, or even an adult learner. The best feature of Khan Academy is its educational app, which is compatible with both iOS and Android devices. By downloading this app, you'll be able to hone your learning skills and ultimately score better grades.
Pros:
Free and Accessible: Khan Academy is entirely free to use, making high-quality education accessible to anyone with an internet connection.
Comprehensive Curriculum: It offers a wide range of subjects, from math and science to humanities, providing a comprehensive curriculum for learners of different ages and levels.
Practice Exercises: Its self-paced learning model is complemented by interactive practice exercises and quizzes that help solidify understanding and enhance retention.
Cons:
Lack of Personal Interaction: The platform lacks real-time interaction with educators. This might limit the learning experience for students who thrive in interactive, discussion-based environments.
Limited Advanced Content: While it has extensive resources for school-level subjects, Khan Academy lacks content for more advanced or specialized topics seen in higher education or professional development.
Depersonalized Learning: Although the platform has made efforts to personalize learning experiences, it may not be as tailored or adaptive as some other online learning platforms.
Conclusion
Each online educational platform caters to unique learning needs. LinkedIn Learning and Udacity are excellent for professional development, while Coursera and EdX provide a more academic approach. Khan Academy offers accessible, self-paced learning, and MasterClass delivers unique lessons from industry celebrities. The best choice will depend on your individual goals, learning style, and budget, enabling diverse opportunities for lifelong learning.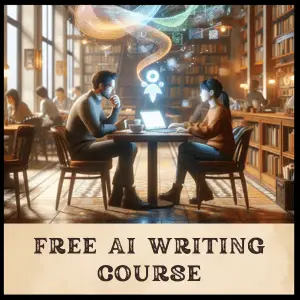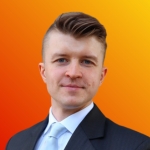 Rafal Reyzer
Hey there, welcome to my blog! I'm a full-time blogger, educator, digital marketer, freelance writer, editor, and content manager with 10+ years of experience. I started RafalReyzer.com to provide you with great tools and strategies you can use to become a proficient writer and achieve freedom through online creativity. My site is a one-stop shop for freelance writers, bloggers, publishers, and content enthusiasts who want to be independent, earn more money, and create beautiful things. Dive into my journey here, and don't miss out on my free 60-minute AI writing online course.