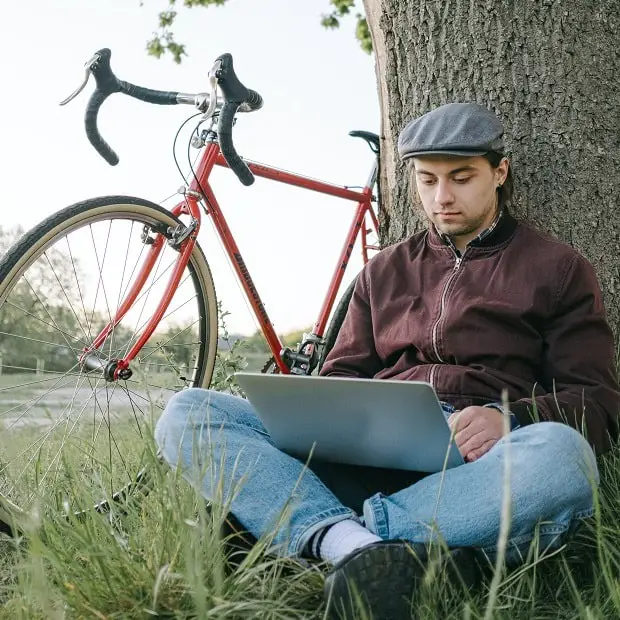 If you want to level up your writing career, consider taking a self-paced online writing certificate program.
Receiving a certificate from a reputable institution will bolster your credentials as a professional writer.
Tackling one of the online courses described below helps you keep up with the latest trends in your writing niche while sharpening your writing skills.
It can also open new job opportunities, potentially boost your salary, and earn you a promotion. Most of all, it helps you stand out and builds your personal brand.
Are you ready to improve your creative writing skills? Let's do it.
Best Online Writing Certificate Programs
Some of these courses are free, but to get the most out of online writing certificate programs, I suggest you go for paid classes (they're worth it!)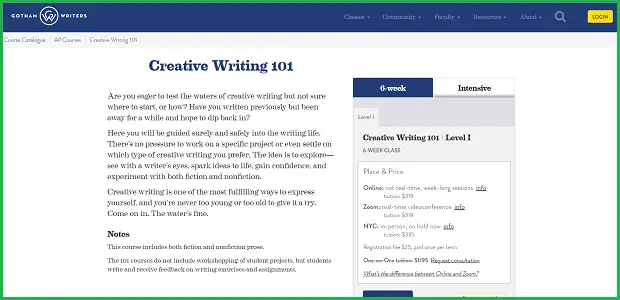 Since 1993, the Gotham Writers Workshop has been teaching creative and business writing. So, if you want to take online classes to improve in these writing niches, this is the place to develop your craft.
They offer comprehensive certificate programs in various writing niches, including fiction, nonfiction, short stories, scriptwriting, novel writing, comedy, poetry & song, etc.
You also gain entrance to a community of writers and expert teachers who know "the lay of the land" and have perfected the art of writing. That is on top of getting access to a wealth of resources.
You could take online, often pre-recorded, or real-time writing workshops on Zoom.
One of its amazing courses is called Creative Writing 101, a six-week-long class fit for beginners who want to test the waters of creative writing. You get to experiment with fiction and nonfiction writing, bring ideas to life, and get feedback on writing exercises.
Other unique classes offered are Gotham's premium Zoetrope Fiction Writing class and Fiction Writing: Level 1 class, mainly for writers who seek to write novels or short stories.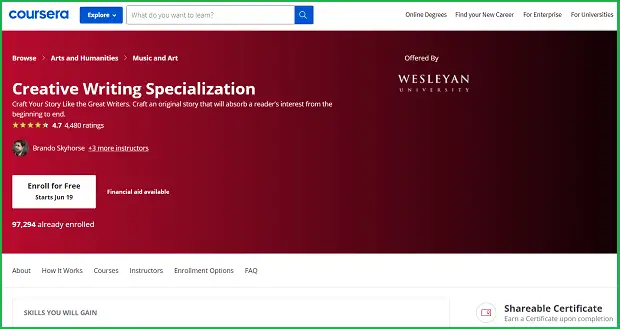 Coursera is a famous online school known for partnering with established universities and colleges to offer the same academic programs you would receive through in-person classes.
Of the many writing courses it offers, this one by Wesleyan University is among the best online writing certificate programs out there. It is mainly because published writers will teach you for free.
It is a course that helps you master a specific skill. It covers three major genres of creative writing: short story, narrative essay, and memoir. You get to master essential techniques for composing captivating stories.
Whether you want to brush up your writing skills to college-level standards or need a fresh look as an established writer, this course can help refine your craft.
Upon completion, you get a creative writing certificate and discounts on writing apps like Scrivener and Write-Bros. Another notable benefit of this writing program is that they subtitled the courses. There are 12 available language subtitles, including French, German, and Polish.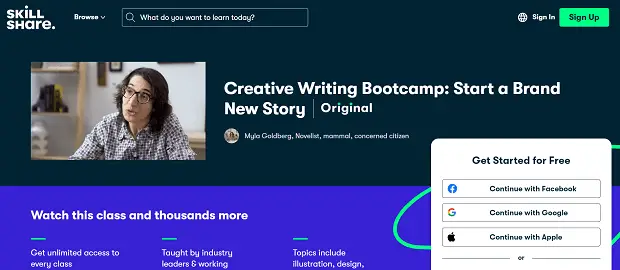 Skillshare enlists industry leaders as teachers. Its Creative Writing Bootcamp: Start a Brand New Story course is one of the best online writing certificate programs to explore this year.
They even have an app that makes learning offline easier. It is the ideal class for the writer who is asking, "What should I write about next?"
The bestselling author of Feast Your Eyes, Myla Goldberg, handles this course. You get an engaging teacher who gives clear instructions and has a fantastic sense of humor.
What's more? It is one of the shortest courses to complete in less than one hour, although you can choose to split it into sessions over a couple of days. You can also communicate with fellow writers through the course dashboard, which can definitely help in achieving your writing goals.
If you have a short attention span or are always in a rush, courses on Skillshare will be great for you. Each course has short lessons, and you can take as many as possible. You also get to work on different projects to enhance your writing experience through remote instruction.
Whether you write books or articles, Creative Live's 44 classes teach valuable tips on effectively bringing your stories to life in a way that captivates readers.
Joyce Maynard, a celebrated journalist, memoirist, and novelist, teaches an interesting course titled Writing Your Story. Not only does she teach you how to identify a good story, but she also shows you how to tell it. Her class covers everything from story structure to dialogue, writing goals, description, creating tension, and editing.
There are 26 lessons in this open-enrollment course, and you can get them for less than $80.
One student expressed what being in Maynard's class was like. She said Maynard meets her writing students where they find themselves: "stranded: at the point where… creative impulse and need for expression begins to lose breath."
If the above describes how you feel about your writing, this class might be all you need to give your story a new life. There are other select courses available on Creative Live, so take advantage of them to get better in your chosen field.
Masterclass has many fantastic writing courses taught by the biggest names in fiction. One of my favorites is the Shonda Rhimes: Writing for Television course.
Rhimes is the brain behind TV hits like Bridgerton, How to Get Away With Murder, and Grey's Anatomy. In her masterclass, you will learn everything you need to know, from creating interesting characters to pitching your ideas to TV producers.
You get six hours' worth of video lessons, pitch notes, exclusive pilot scripts, and other tips. It's also unexpectedly affordable. You get access to all classes and sessions for $15 per month, billed annually. There are no application deadlines here (like with formal training), so you can take your time and earn a certificate on your terms.
If TV writing interests you or you want to know what makes certified hit-maker scriptwriters different, the 28 video lessons in ShondaLand will satisfy you.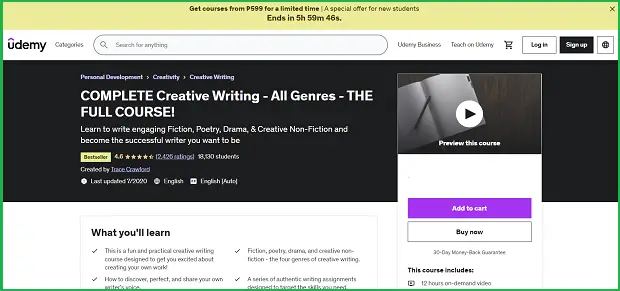 If you are new to online learning and are looking for writing certificate programs that cost little but are effective, go to Udemy.
One of its best writing programs is the Complete Creative Writing – All Genres, where you learn to write engaging fiction, creative nonfiction, narrative essays, drama, and poetry.
You have a 12-hour on-demand video at your disposal, 145 downloadable resources, full lifetime access, and a certificate upon completion of the course.
At the end of this program, you would become acquainted with multiple genres of writing and identify your own writer's voice.
You would also become familiar with writing strengths and weaknesses and have explored various writing styles and techniques for success.
This course is especially great for beginners who want to make writing a career, or for professionals who need additional skills to move up the career ladder.
If writing impactful horror stories is for you, explore Autocrit's "Nightmare Fuel: How to Write Horror That Guarantees Sleepless Nights" class.
It is not a therapeutic class and might be traumatic for panicky or sensitive individuals. Hence, it is not a course for all.
In this course, you can work with others to develop ideas, explore themes, and elevate your skills. There are often assignments and discussions. They usually hold live classes via Zoom.
If you are interested in forging a career as a horror story writer, this class will teach you everything you need to know. It includes finding inspiration for implementing foundational practices and specific scene-based methods for writing horror stories.
It will take about four weeks to complete the course. But even after then, you'll still have access to the learning platform and course materials.
The Novelry is a trusted source of effective online writing certificate programs. As its name implies, it is for the writer who has a book in him.
You can learn from an award-winning author how to develop masterful fiction writing skills. The program offers self-paced lessons in video and text formats. Besides getting access to the courses and coaching, you'll also connect to a community of writers who push you to be better.
Beginners can start with The Novel Kickstarter course, which takes you from the idea phase to finishing the first draft. Experienced authors can take advanced creative writing courses like The Second Novel. There is an available course for every step of your novel writing journey.
These courses are quite expensive, often over $1000, but less than $4000. However, you'll get your money's worth for what they offer. You can also pay in installments.
Wrap Up
The eight online writing certificate programs discussed above are only a few of the many programs you can take to improve your writing skills, but they are incredibly effective.
All are self-paced except if you opt to join real-time zoom classes. You'll also get certified upon completion, which you can add to your resume.
Now it's your time to join the ranks of published writers, create a solid portfolio, and submit your manuscript to a publishing company.
Rafal Reyzer
Hey there, welcome to my blog! I'm a full-time blogger, educator, digital marketer, freelance writer, editor and content manager with 10+ years of experience. I started RafalReyzer.com to provide you with great tools and strategies you can use to achieve freedom from 9 to 5 through online creativity. My site is a one-stop-shop for freelance writers, bloggers, publishers, content enthusiasts who want to be independent, earn more money and create beautiful things. Feel free to
learn more about me here.