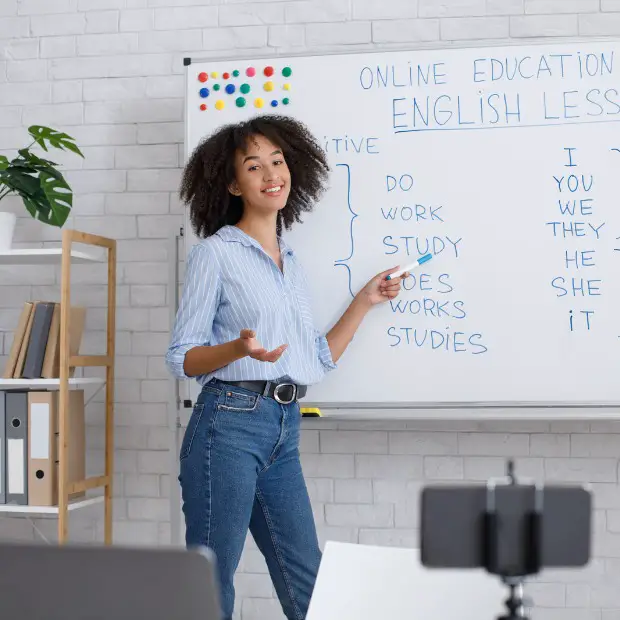 In today's interconnected world, the importance of learning English as a global language is paramount.
It serves as a bridge that spans cultural gaps, facilitates international business, and opens doors to endless opportunities.
Sadly, not everyone has access to quality English education. That's why when you volunteer to teach English online, you can impact other people's lives in ways more than you can imagine. Plus, it can also be an enriching experience!
This blog post delves into the reasons teaching English online is a profoundly rewarding endeavor, providing you with a step-by-step guide to embark on this fulfilling journey.
Why choose to teach English online?
Teaching English online offers a myriad of benefits and opportunities. First, it allows you to make a tangible global impact by helping individuals around the world enhance their educational and employment prospects through language acquisition.
Second, teaching online provides unparalleled flexibility and convenience. It liberates you from the constraints of a physical classroom, enabling you to work from anywhere and design your own schedule.
Teaching English cultivates valuable skills like effective communication and cultural sensitivity, fostering personal development. Interaction with learners from diverse backgrounds sparks cultural exchange and broadens your horizons.
Volunteering as an online English teacher not only supports your professional growth, but also enables you to learn from others. Simultaneously, it creates a positive social impact by offering equal access to education.
Ultimately, the experience of teaching English online is exceptionally rewarding, allowing you to contribute to a more interconnected and inclusive world.
A step-by-step guide on how to volunteer to teach English online:
1. Research online volunteering platforms
Begin your journey by exploring reputable online volunteering platforms that offer English teaching opportunities.
Well-known platforms like iTutorGroup, VIPKid, and Cambly should be on your radar. Dive into their websites, delve into user reviews, and compare features and requirements to find the one that aligns with your goals and preferences.
Each platform has its own unique advantages and disadvantages, so choose the one that resonates with you and your aspirations.
For example, VIPKid focuses on one-on-one lessons for children in China and has a rather fixed schedule. Cambly, on the other hand, specializes in global conversational English and is much more flexible and no required minimum hours.
2. Improve your English teaching skills
You might think this step does not apply to you if you already have an English or a teaching degree, but everyone can always improve and it is never too late to learn something new. It is never a bad idea to invest in your professional development, no matter where in your career you might be.
Take advantage of the plethora of online resources, such as teaching blogs, YouTube channels, and websites that offer lesson plans and teaching methodologies. Consider enrolling in online courses or obtaining certifications, such as a TEFL (Teaching English as a Foreign Language) certification, to strengthen your credentials.
This investment in your professional development will enhance your teaching abilities and open doors to teaching opportunities worldwide. For example, read here about the step-by-step process of nailing a strong fool-proof Teach English job in Italy.
3. Research volunteering requirements and expectations
Research the specific requirements and expectations of the online volunteering platforms that capture your interest.
Some platforms may have minimum education or experience requirements. Familiarize yourself with their guidelines, teaching tools, and any cultural considerations that come into play when working with diverse learners.
Being well-informed allows you to make better decisions and find the platform that aligns with your qualifications and teaching style.
4. Create a compelling profile and apply for positions
Now it's time to take action. Craft an engaging volunteer profile online and in print that showcases your teaching experience, qualifications, and personal approach.
Highlight relevant details about your education, certifications, and any previous volunteer or teaching experience. Infuse your profile with a personal touch to make it stand out from the rest. Once your profile is ready, start applying for teaching positions.
Tailor your application to each platform's requirements and guidelines, paying close attention to deadlines. Present your teaching skills and experiences in a well-crafted application letter and resume that captivate the reader's attention.
5. Prepare for your first job
Congratulations on being accepted! Now it's time to prepare for your volunteer role. Familiarize yourself with the teaching tools and resources provided by the platform.
Each platform may have its own unique set of tools, so take the time to understand how to navigate the online classroom, utilize virtual teaching materials, and make use of interactive features.
Plan your lessons thoughtfully, taking into account the needs and proficiency levels of your students. Develop a curriculum that aligns with their goals and creates an engaging learning experience.
6. Reflect, evaluate, and improve
Teaching is a journey of continuous growth. Take the time to reflect on your teaching practice and actively seek feedback from your students, fellow volunteers, and the online volunteering platform.
Embrace a growth mindset and view every experience as an opportunity for professional development. Use feedback to identify your strengths and areas for improvement, and actively invest in your growth as a teacher.
By doing so, you'll be able to provide an even better learning experience for your students while fostering your own personal and professional development.
7. Take pride in what you do
By volunteering to teach English online, you have embraced an opportunity to make a positive impact on the lives of others.
Celebrate the progress and achievements of your students, and appreciate the cultural exchange that takes place during your teaching journey. Take pride in your role in the education and empowerment of individuals around the world.
Revel in the rewarding experience of contributing to the education and empowerment of individuals around the world.
In conclusion…
Teaching English online opens doors to a fulfilling and impactful experience. By embracing this opportunity, you can make a positive influence in other people's lives, while fostering your own personal and professional growth. Most of all, you are making your contribution to a more interconnected and inclusive world.
From researching reputable platforms to continuously improving your teaching skills, creating a standout profile, and preparing for your first job, each step is designed to support your success.
Reflect, evaluate, and continuously improve your teaching practice as you embark on this rewarding journey. Celebrate the progress of your students and cherish the cultural exchange that takes place.
By volunteering to teach English online, you are making a difference and shaping a brighter future for individuals around the world.
Rafal Reyzer
Hey there, welcome to my blog! I'm a full-time blogger, educator, digital marketer, freelance writer, editor and content manager with 10+ years of experience. I started RafalReyzer.com to provide you with great tools and strategies you can use to achieve freedom from 9 to 5 through online creativity. My site is a one-stop-shop for freelance writers, bloggers, publishers, content enthusiasts who want to be independent, earn more money and create beautiful things. Feel free to
learn more about me here.