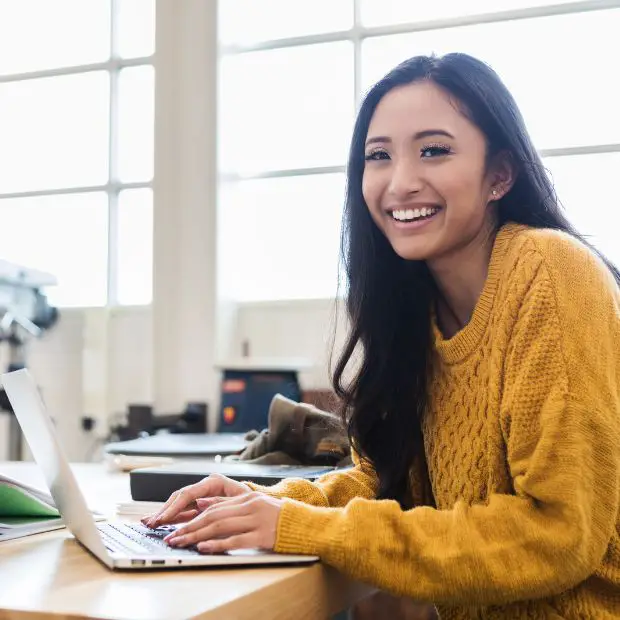 Students always look for effortless ways to perform academic tasks like assignments and research papers.
Juggling assignments and striving for top grades is a student's daily grind. Yet, achieving quality work can be a challenge. Enter modern technology: online tools like paraphrasers and summarizers powered by artificial intelligence and NLP technology can be your secret weapon. Dive into our guide to discover the top tools that'll level up your assignments, complete with standout features and pro tips. Ready to ace your next assignment? Let's explore!
Here are the 10 Best Paraphrasing and Summarizing Tools for Students:
1. Paraphrasing Tool by Paraphraser.io
Students have to write for various subjects and niches, which are not limited to their coursework. In that regard, they are required to learn several paraphrasing styles. With Paraphraser.io, they can learn several paraphrasing styles for free. Using advanced AI technology, this tool can paraphrase any text within seconds. Students can fully use this online tool to access three different paraphrasing modes. It also allows you to paraphrase up to 500 words for free, with no daily or weekly limitations. It supports a wide range of languages, making it suitable for students who don't have English as their first major. This feature can allow students to paraphrase material for their linguistic assignments without translating the written content.

Key Features
Multiple paraphrasing modes.
Option to upload and download the text file.
Free access to paraphrase up to 500 words.
Wide range of language selection.
Maintains original meaning without plagiarism.
2. Paraphraser by Spinnerchief.com
Spinner Chief paraphrasing tool provides its support as an online tool and desktop-based application. This online tool applies various text technologies, including Statistical Replacement Technology, Parts-of-Speed Analysis, and Artificial Intelligence. With the help of these technologies, Spinner Chief presents content based on nearly human-level quality, with the least or no fraction of plagiarism. The tool comparatively highlights each paraphrased section to present an easy comparison. The free version gives you basic rephrasing options with limitations on paraphrasing style. To unlock the app's full capability, you can avail of various personal and team plans so you can access the tool's premium features.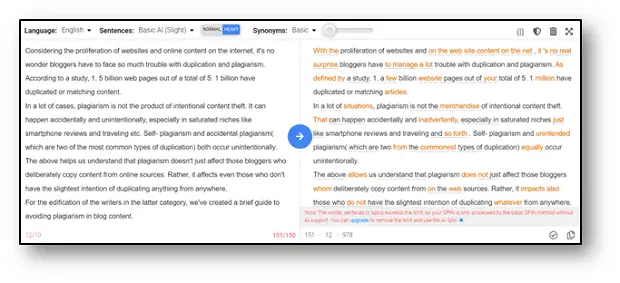 Key Features
Supports up to 20 different languages.
Allows rearranging paragraphs with tree function.
Batch paraphrasing support with up to 50,000 articles.
Grammatical mistakes correction.
Allows writing SEO-optimized content with the option to add keywords.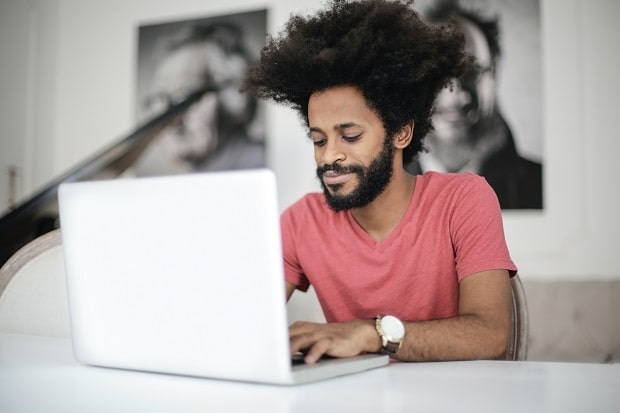 3. Rephrasing Tool by Rephrase.info
Rephrase.info is an online paraphrasing tool that gives you outstanding results for writing engaging content. This paraphrasing tool gives you a range of premium features under free access. This paraphrasing tool offers a range of options with a very easy-to-use interface for more convenience. It provides three different writing styles, of which two are free to use without registration or login requirements. Each paraphrasing mode gives you a set of unique synonyms and words. The creative mode performs under Artificial Intelligence and Natural Language Processing Technology for enhanced readability. Under free usage, you can rephrase up to 500 words in one go. Its extensive linguistic function supports over 17 languages, and it is valid for both paid and free users.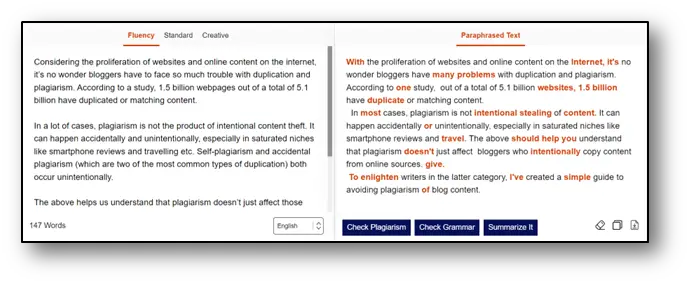 Key Features
Allows file upload and download options in various formats.
Removes plagiarism from the content.
Enhances readability.
Permits free usage without registration.
Provides three different paraphrasing modes.
4. Text Paraphraser by Cleverspinner.com
Clever Spinner provides enhanced features and affordable premium packages, thus earning the favor of many dedicated writers. This online paraphrasing tool is a pretty straightforward option for creating plagiarism-free content. It may seem outdated from the look of the interface, but it provides a decent set of features that make this tool capable of producing high-quality content. Based on Artificial Intelligence and NLP technology, it brings the most accurate results, nearly similar to human-level writing. It allows six rephrasing options, including a dedicated option for unique content. You can also set the synonym frequency to change content. All these services come under paid usage with an offer of a free 3-day trial.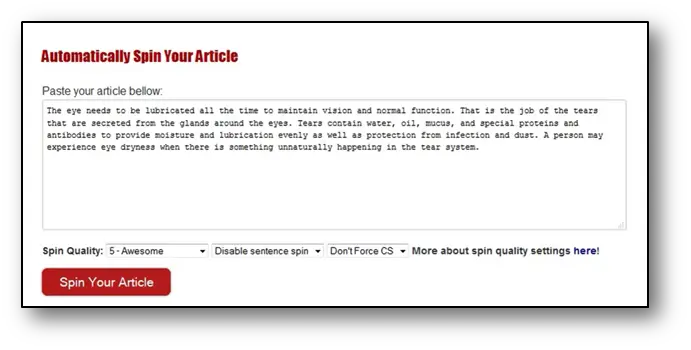 Key Features
Six different paraphrasing options.
Option to set synonym frequency.
Easy to use interface.
Bulk paraphrasing option.
Integrates with Copyscape.
5. Online Paraphraser by Linguix.com
Students always seek learning opportunities to enhance their skill sets in the competitive market. Linguix provides this prospect for students by providing free access to account registration. This tool works under the principle of sentence-by-sentence paraphrasing. So, once you input the content on Linguix, you'll have to select each sentence to paraphrase it. The tool provides a range of paraphrasing options with different synonyms and words. On the downside, there is no automatic paraphrasing option or a menu of paraphrasing modes. Therefore, it may seem like a time-consuming option. On the brighter side, this website offers an integrated grammar checker, which ensures error-free paraphrasing. The tool has no word limit on registration, but as a guest user, you can only paraphrase up to 500 characters.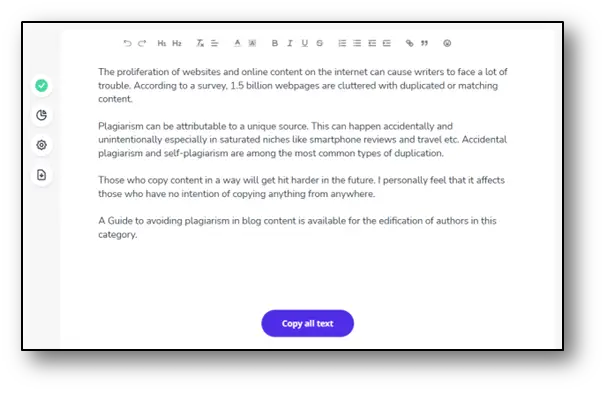 Key Features
Sentence-by-sentence paraphrasing.
Integrated grammar checker.
Error-free paraphrasing option.
Free and unlimited access for registered users.
One-click to copy all text.
6. Text Summarizer by Summarizer.org
Text summarization requires precision, attention, and customization. Summarizer.org offers these options along with a range of features and ease of use. Students can use this tool to create a customized summary for various types of academic work. The site has a slider bar to set the summary lengths to a specific mark. Instead of asking the number of lines, you can select the summary length as a percentage. You can also set the filter to show summarized text in bullet points. It has an interface that is easy to understand and use, and it supports various languages, so you can summarize the content without translating it. Students can take advantage of this tool as there is no word or per-day usage limit. Moreover, you don't have to sign up or log in to access this tool.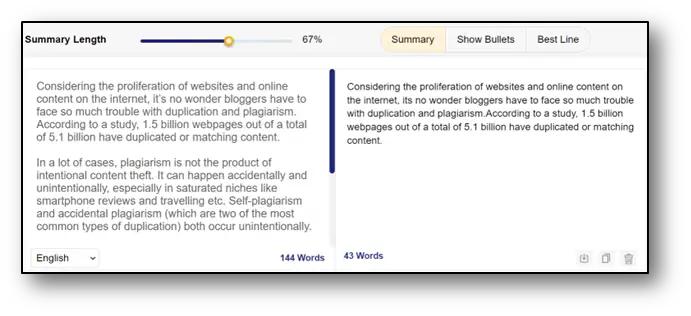 Key Features
Text summarization filter for structure.
The length adjustment is in a percentage format.
Option to select various languages.
Document uploading feature.
Free and unlimited access.
7. Summarize Tool by UniPapers.org
Students are often asked to write a summary of their research paper, thesis, and other assignments. Since it must contain all the essential points, paying attention to detail becomes a challenge. That's where UniPapers comes in. This summarizing tool is simple and easy to use for students. As a guest user, you can summarize up to 13,000 words. The pricing plans are flexible for each type of study area. With the paid plans, you'll get premium support and a higher success rate in your assignments. However, this tool lacks basic summarizing features such as adjustable length and word count. There is no option to upload text documents or download text. Therefore, you must solely depend on copying and pasting the text manually.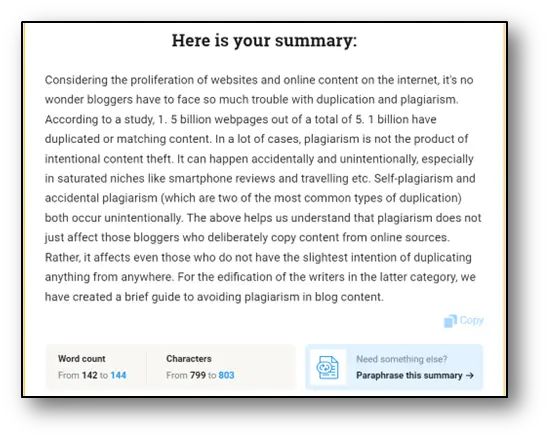 Key Features
Provides academic writing support in a paid plan.
Accurately summarizes any piece of academic writing.
Easy to use interface.
Allows summarizing 13,000 characters for free on guest usage.
Delivers results efficiently and with great accuracy.
8. Summary Generator by Summarizingtool.net
If you're looking for an efficient text summarizer with great customization of options under free usage, then the Summary Generator is the right option. This summarizing tool would be an excellent recommendation for students who have to write a summary of various types of academic work. It allows you to set the summary length to find the ideal size for your thesis or research paper. There is no word limit, so you can summarize lengthy research work in one go. The tool itself is very efficient and easy to use. You can get the results within a few seconds, free from grammatical mistakes and plagiarism. No registration or payments are required for this tool, as it is free for everyone.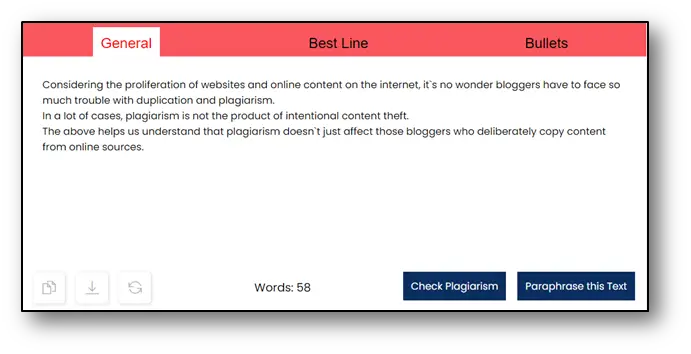 Key Features
Allows uploading and downloading text documents.
Includes filters to arrange content structure.
Supports a range of languages.
Unlimited and free access.
AI-text summarization.
9. Text Summary Tool by Textsummarization.net
Simplicity is one of the fundamental requirements for any summarizing tool, which is exactly what the Text Summarization online paraphrasing tool delivers. This tool has a straightforward and easy-to-use interface with all the essential options to paraphrase the content. It allows you to summarize text directly via input or link from an online source. There is no word count limit nor a requirement for you to sign up for the services. With this tool, you can set the limit of summarizing the text by mentioning the number of lines in the input box. Text summarization is very efficient in presenting results within a few seconds. It is ideal for students who set customized limits on their summary writing.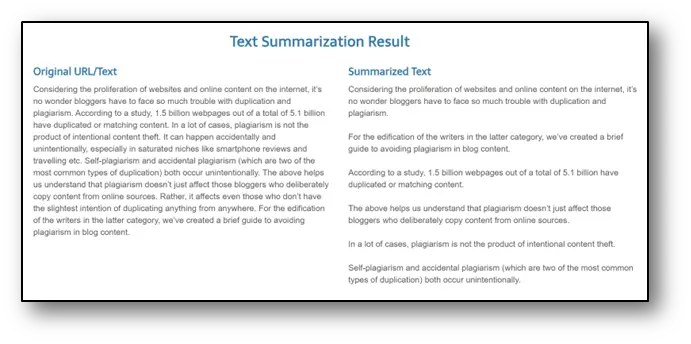 Key Features
Allows summarizing text via URL.
You can set the limit on text summarization length.
No limit on per day or week usage.
Completely free access for guest users.
Gives API support.
10. Summary Maker by SMMRY.com
If you're looking to understand the text summarization concept, SMMRY would be the right platform for you. This tool extracts the essential information from your content and presents it concisely using a core algorithm. Students can use this tool by importing files directly on the interface to summarize. There is also an option to summarize via URL so you can create a summary of some published content. You can also select the number of sentences for your summary to set a specific limit. This tool provides perfect and instant results, leaving no space for duplication. The tool may present a lack of professionalism, as the design interface may seem a bit off, but it is effective.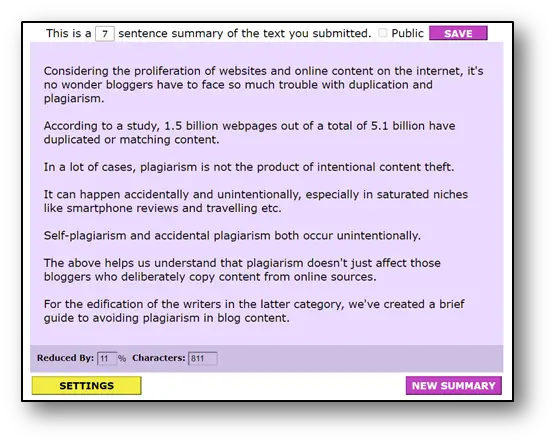 Key Features
Allows setting summarizing limits.
Option to upload the text file.
Easy to use interface.
Option to summarize via URL.
Option to apply a summarization
Why Should Students Use a Paraphrasing Tool?
There are various reasons for students to take assistance from a paraphrasing tool. For instance, students have to deal with hectic academic coursework in multiple subjects. Time management becomes nearly impossible. Therefore, students can paraphrase the academic content in an understandable tone and style to make learning easier. Another primary application of a paraphrasing tool is to remove plagiarism and make content 100% unique. This is an essential requirement in academic writing or any form of professional writing. A paraphrasing tool provides a wide range of vocabulary that is easy to understand and read. When words are replaced with simpler versions, they become unique from the original version.
How is a Summarizing Tool Helpful for Students?
Precise writing is one of the top skills every student should learn. They should make the information concise and understandable in their academic work. The art of writing summaries is crucial in research paper writing. Researchers must present a simpler version of their extensive research to discuss its essential elements. A summary makes it easier for readers to understand what the written material offers. With the help of a summarizing tool, students can learn how to extract the essential elements from an extensive piece of writing. They will also learn to exclude irrelevant information to present the central idea. Summarizing tools use AI technology to deliver a shorter version of a text without changing the actual context. Students can practice learning from these tools to enhance their precise writing skills.
Conclusion
Attention to detail and correct implementation of information is essential for writing a summary in academics. It requires a lot of time and effort to mention all the important aspects of an extensive text. The same concept goes for paraphrasing, as students must build exceptional reading and writing skills. Improper paraphrasing may cause a writer's content duplication. Students, authors, content writers, and other professionals can take advantage of text summarizing and paraphrasing tools online to generate an accurate and error-free version of their assignments. These tools help students to enhance their work and learn better ways of writing academic papers.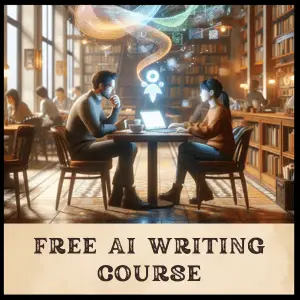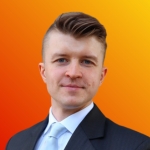 Rafal Reyzer
Hey there, welcome to my blog! I'm a full-time blogger, educator, digital marketer, freelance writer, editor, and content manager with 10+ years of experience. I started RafalReyzer.com to provide you with great tools and strategies you can use to become a proficient writer and achieve freedom through online creativity. My site is a one-stop shop for freelance writers, bloggers, publishers, and content enthusiasts who want to be independent, earn more money, and create beautiful things. Dive into my journey here, and don't miss out on my free 60-minute AI writing online course.