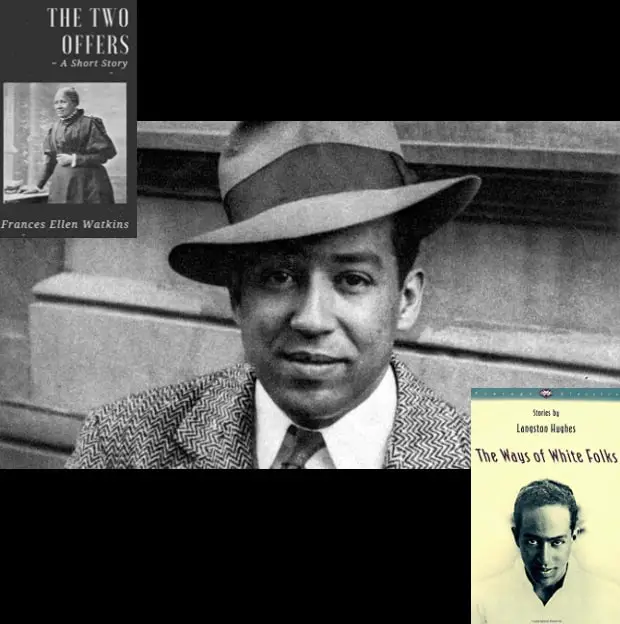 When the emancipated Olaudah Equiano was describing his West African community of Essaka, he called his people a "nation of dancers, musicians, and poets".
He also speaks about storytelling as an integral part of his roots. What started as oral lore has evolved into short stories.
February is not only a month to celebrate love but also Black History in America.
As our little way of honoring the contributions and sacrifices of African Americans this Black History Month, we collected 20 brilliant short stories by African American authors.
These literary gems provide insight into the lives, struggles, progress, and aspirations of a people who fought to live and continue fighting to do so. Let's get to it!
Mind-Blowing Short Stories by African American Authors
"A short story is a love affair, a novel is a marriage", said Author Lorrie Moore. We have 20 options at your disposal. Take your pick of what affairs you would love to have.
1. The Two Offers
This is a remarkable story about a time when men ruled both in society and the home. Women were merely seen as creatures with a strong "affectional nature" and "deep capacity for loving".
But does the ability to love deeply and wholly satisfy all the demands of a woman's whole being? Was domestication more important than self-discovery?
This short story sees two cousins considering two marriage offers. Their decision would seal their fates. Whatever path each one chooses, there will be as many merits as there was anguish.
This was the first short story written by an African American woman ever published. Frances Ellen Watkins authored The Two Offers in 1859, as her way of warning women not to view romantic love and marriage as their life's goal.
2. The Goophered Grapevine
African American novelist and short story writer, Charles W. Chestnut explores African voodoo and folktales in this riveting narrative. In the same vein, it revealed the brutality of the slavery system.
Set in North Carolina when the country is still recovering from the civil war, The Goophered Grapevine tells the story of a businessman who travels to the South to make inquiries about buying a vineyard.
Along the way, he got acquainted with a former slave who tells him about a dark chapter of the plantation's history and a series of strange events that happened before the abolition of slavery.
If you are interested in Africa's view of spirits and conjuring rites, you will want to read this one.
3. Cora Unashamed
From Langston Hughes' short story collection, The Ways of White Folks, comes this brilliant piece, Cora Unashamed.
It portrays an isolated black woman who deals with her sorrows alone but stoically. Cora works as a domestic helper to support her aging mother and young daughter. In the course of her employment, she becomes extremely close to her employer's daughter, whom she practically raised from a little child into a young woman.
A series of tragedies would eventually provoke Cora to lash out at the hypocrisy displayed by her white employers. Was her outburst worth it? Would yours be worth it?
PBS released a made-for-television film adaptation of Cora Unashamed in 2000.
4. Bright and Morning Star
This is a short story by the African American author Richard Wright from the novella collection, Uncle Tom's Children.
It tells the story of an elderly black woman who becomes a martyr to save her son and her communist comrades.
If there was one person who could successfully use literature as protest, it would be Richard Wright who at the time served as an organizer of a Communist Party group.
If you want to stand up for yourself and need some motivation, this short story might be all you need.
5. Welcome
John Edgar Wideman is known for focusing his writings on the African American experience.
The short story Welcome from his All Stories Are True collection has been described as "one of the most haunting stories" ever.
It's a story that revolves around family and the loss of loved ones. A brother and sister, both grieving the loss of their respective offspring, find strength from each other as they cope with the children's absence.
Their expressions of grief will get you teary-eyed as they weave their pain with those of strangers on the street, like the father who's been waiting for the never-arriving bus in the cold, with his son.
How people feel each other's pain and draw strength from each other is beautifully portrayed. A must-read!
6. Everybody Knew Bubba Riff
It tells the story of a murdered homeboy, Bubba Riff. He was an adorable black boy who grew into a big, bad man who acted like he owned the place wherever he sets his foot.
The setting is at Bubba's funeral, where people gather to pay their respects and share stories about his life, how he lived, and who he really was.
If you have never read a story with no punctuation, you are in for a surprise. The entire story is one long sentence, with lots of word plays, yet fluid, like jazz. It comes from the same short story collection as Welcome.
This story is another gem in John Edgar Wideman's All Stories Are True collection discussed above.
7. I Got Somebody in Staunton
This collection of twelve short stories trod the fine line between now and the past. It also reveals how a troubled history weighs in on the present.
The title story is about a young professor who befriends a white woman at a bar and agrees to drive her to a neighboring town. He began questioning his decision as he remembers his uncle's warnings about black men getting lynched for associating with white women.
William Henry Lewis wrote this critically acclaimed book.
8. Drinking Coffee Elsewhere
ZZ Packer writes short stories about being black in America with the right mix of humor and compassion.
The title story is about a young, queer black woman who is a freshman at Yale University. It narrates how she processes the loss of her mother, her sexuality, and identifying as a black woman in a predominantly white community.
It ends on a bittersweet note and the possibility of accepting herself for who she was.
Another impressive story from this collection is Brownies.
9. Friday Black
An original in this collection, the title story Friday Black explores the depravities of consumer culture.
It tells us of a department store salesman who must deal with vicious, insatiable "Black Friday shoppers". All the while, he is aiming to win a sales contest for employees so he can gift his mother the prized jacket.
How did you decide to step on a human being to get a pair of jeans? You might find this question, and several similar ones, plausible if you ever had to physically shop at a Black Friday sale.
This New York Times Bestseller is the debut book of Nana Kwame Adjei-Brenyah.
10. The Key from Kabu Kabu Stories
This creepy short story is about a girl in Northern Nigeria who does something self-destructive out of desperation.
What kind of fear would make a young child burn her own hand to elicit sympathy from her uncle just for losing the house key?
This story explores why children end up making bad decisions because of physical and emotional abuse or neglect. It exposes the potential long-term effect of traumatic childhood experiences on a person's psyche.
The Key is part of a collection of over twenty short stories by Nnedi Okorafor, which is a cornucopia of fantasy, science fiction, mythology, cultural references, and African folklore.
11. Milk Blood Heat by Dantiel Moniz
This lyrically endowed book portrays the "intergenerational tales that contemplate human connection, race, womanhood, inheritance, and the elemental darkness in us all."
The title story focuses on two girls who play with death in a quest to deal with their sorrows. Mixing blood with milk, feeling unfamiliar with one's own body, carrying 'empty' and owning 'empty', are some of the absurd possibilities explored here.
Their obsession with death eventually leads to irreversible consequences.
The entire book truly is a "seething excavation of want and human error", wrote Raven Leilani, the author of Luster.
12. Black Jesus and Other Superheroes
It tells of "the undergirding racism that continues to plague America" and a hero that shows up to save the day.
Venita Blackburn masterfully tells stories about ordinary people getting undesirable superhuman abilities that they channel towards saving others, just like the Flash.
The title story is particularly mesmerizing and a must-read.
A winner of the Prairie Schooner Book Prize for Fiction, this book is truly hard to put down.
13. Books and Roses by Helen Oyeyemi
Books and Roses is a favorite from Oyeyemi's book of short stories What Is Not Yours Is Not Yours. It is like a dark fairytale.
Two women are each gifted with a mysterious key that leads them to each other. One key opens a secret rose garden while the other opens a secret library.
The catch is that a secret passage connects the library to the garden. But like every story in the book, a simple resolution is always met with resistance. Do they meet or not? Find out!
14. What It Means When a Man Falls From The Sky
This is a collection of unpretentious short stories about people and relationships. The title story will take you on an emotional roller-coaster.
It explores something only imaginable. It tells of a future where climate change brings floods to Britain and North America, causing migration from Britain to Nigeria to form a "Biafra-Britannia alliance."
Short stories by African American authors do not get any better than this. Multi-awarded Nigerian writer Lesley Nneka Arimah will blow you away with this outstanding collection.
The next must-read story in our list also came from this book.
15. Who Will Greet You at Home?
This story is about a woman who does the unthinkable to satisfy her longing to have a child.
In this heart-wrenching fictional tale, she tries making babies from different materials, waiting for Mama to breathe life into them.
She eventually makes one out of hair at a great cost to herself. Did she get what she wanted? Find out yourself.
This is one of the featured stories of Nneka Arimah's collection What It Means When a Man Falls from the Sky.
16. Meet Addy
Connie Rose Porter is an African American writer whose work Meet Addy: An American Girl gives a glimpse into what Black Americans dealt with emotionally during the slavery era.
It is about an enslaved family that seeks to escape their plantation because they suspect their master is looking to split them up. But before they made their move, what they worry about happens, as Addy's father and brother were sold to another owner.
Meet Addy is the first of a series of books by the author that focuses on the fictional Addy Walker as the central character. The series depicts the life of African Americans before, during, and after the Civil War.
17. Suicide Watch from Heads of The Colored People
The stories in this collection elucidate what the post-racial United States looks like.
The title story tells us of two black men who got into a fight outside a convention because one felt slighted by the other. The consequences of that single action will leave your mouth agape.
But what captivated me most from this short story collection of Nafissa Thompson-Spires is Suicide Watch. You will spend time in the head of a narcissist contemplating suicide in this tale. The girl, however, often gets distracted from her life-ending plan by the attention she's getting from her social media posts.
You are in for one hell of a ride with these stories.
18. Damned If I Do
This collection of stories by Percival Everett is political. They all deal with race and the cultural divides that exist in modern America.
One of its best stories is The Appropriation of Cultures, a story of the power of symbols and narratives and how the powerful can become powerless. The clever way this is accomplished will leave you mesmerized.
19. Beloved by Toni Morrison
What makes this short story captivating is that it is based on real-life facts which make it "a horrifying tale." It gives a glimpse into the lasting impact of slavery.
This intense narrative tells the story of a black woman who escapes from her white employers with her husband and children. But their attempt seemed futile as their owner and the police soon catch up with them.
In an "act of supreme love and sacrifice", she kills her daughter to prevent her return to slavery. She inscribed the word Beloved on her daughter's tomb since all she had was enough strength to pay (10 minutes of sex per word with the engraver) for that one word.
20. Between the World and Me
If you want to gain insight into what it feels like to be Black living in a "white man's country" in the 21st century, this short story is what you need.
Ta-Nehisi Coates writes from the perspective of a father explaining "feelings, symbolism, and realities associated with being Black in the United States" to his teenage son via letter.
He wrote about how schools, the police, and people in general, pose a threat to black people. He portrayed white supremacy as a force that black Americans will always struggle against, one they will never evade.
Wrap Up
Most of these short stories by African American authors are part of a bigger collection. A majority of them explore Black History, albeit from different perspectives.
Some take you on an emotional ride, others remind you of a painful past, and some provide hope for the future. We hope this little "affair" gives you an experience, unlike anything you have ever felt, however temporary.
Rafal Reyzer
Hey there, welcome to my blog! I'm a full-time blogger, educator, digital marketer, freelance writer, editor and content manager with 10+ years of experience. I started RafalReyzer.com to provide you with great tools and strategies you can use to achieve freedom from 9 to 5 through online creativity. My site is a one-stop-shop for freelance writers, bloggers, publishers, content enthusiasts who want to be independent, earn more money and create beautiful things. Feel free to
learn more about me here.