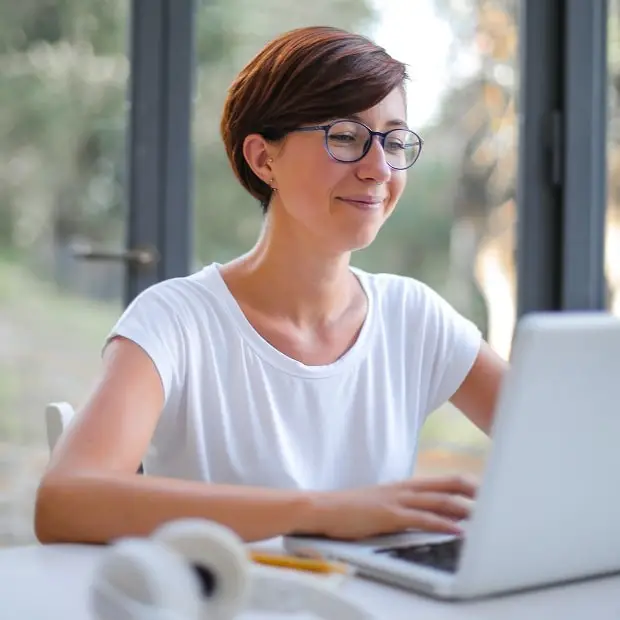 One of the most daunting tasks in growing your freelance business is finding new clients.
Having an expansive clientele leads to a wider network and work prospects, hence, more money.
However, freelance business is not like other businesses. If you plan to make a full-time career out of it, then it will require a lot of time, commitment, and the right marketing tactics, the most crucial of which is promoting your enterprise. To get there, you need to concoct a plan that will help you reach out to a greater audience.
Many freelancers shun promoting their freelance business because it is neither easy nor fun. Others opt to hire a third-party contractor to do the marketing work, so they can concentrate on the creative and technical aspects of their businesses.
But to solve this issue, we have a guide here that presents 10 profitable ways to promote your freelance business. From this list, you can choose the best marketing methods to let more people know about you and your services.
10 Profitable Ways to Promote Your Freelance Business:
1. Ask for referrals
According to different studies, asking for referrals is to date one of the best methods for freelancers to gain new clients.
According to the data from the Wharton School of Business, referred customers are less expensive to acquire and are even more profitable. One of the research projects even indicates how 84% of the B2B consumers start their purchase process through referrals only.
The basic initiative to help you solicit referrals from your present clients is to provide them with impeccable work. Once you satisfy your clients with the quality of your service or production, they will inevitably share a good word-of-mouth referral with others.
Besides providing the best service, you can ask your existing clients about other companies or individuals that can benefit from your expertise. Another great way to solicit referrals is by providing a 'finder fee' to any of your customers that will help you promote your freelance business. So, get ready to reap the benefits of your former and present clients to amplify your networks and gain future clients.
2. Launch a website or blog
As we all know, in this era of digitalization, it is virtually impossible to go without the Internet, even for a few hours.
As a freelancer, you can reap the benefit of the heightened usage of the Internet to amplify your networks and increase your target audience by launching a blog or website. Launching your website or blog is one of the most affordable and easiest methods to help you promote your freelancing business.
What's great about this method is that you do not need to hire any technical help to do so. All you need to do is invest a little amount in the domain name and the hosting service of your website or blog. Once done, you can start your blog website in just a few minutes.
Though starting the website is not that hectic or challenging, it is actually how you operate it that matters most about your freelance business.
Once you set up a website, you should have a strong portfolio of your previous work so that it can rank well on search engines and entice traffic. Apart from this, you should also know the search engine optimization techniques for targeting relevant audiences to your website.
In the end, it's all about consistency and the content you create on your website or blog that'll help you grow your clients. Some research suggests that approximately 53% of marketers use this method to promote their products or services.
3. Build client relationships
The most important aspect of being a freelancer is to have a customer base to whom you will provide your products or services.
So, as a freelancer, you can promote your business by building client relationships. It means connecting with your present or loyal customers, as well as networking with potential and former clients to grow your freelance business.
As a freelancer, it is always crucial to enhance the visibility of your business so that you have more potential clients to work with in the future. You must remain active from the negotiation process to the project completion.
To build client relationships and increase your business's profitability, you need to market yourself both online and offline levels.
You can use digital platforms to build client relationships by telling the target audience about your products or services. Offline networking platforms that are available at your disposal include local events, conferences, or communities that will help you meet people in your industry.
The most important thing in building client relationships is to let your family, friends, and professional networks know about the services that you provide as a freelancer. Since these people trust you and are more willing to help you.
4. Send cold emails
As a freelancer, it is important to send cold emails regularly to your potential clients or customers. In fact, it is a good practice to include this in your routine and schedule.
All you need to do to send cold emails to your prospective clients is build an email list. Once you have the emails of your prospective clients, you can send them periodic emails. Recommended number of recipients on your list is approximately 40 to 50 people.
What's good about this method is that it is easy to do and will not take much of your time. It is likewise free of cost and would just require a little effort.
However, don't raise your hopes too high when sending cold emails to prospective clients, because chances are only a small percentage of your email list would reply immediately.
Another thing to remember when sending cold emails is to avoid annoying prospective clients. It means not creating vague emails or not sending them regular emails if they are not replying.
You need to have a good marketing strategy that will allow you to create intriguing emails, which provide solutions to the respective target audience.
You can also create a demand for your products or services through email according to relevant scenarios and instill a spark in the audience that will compel them to buy, or at least inquire.
Say, for example, during Valentine's Week, you can tell your prospective clients how they need to order something from your business for themselves or their dear ones.
5. Build a network
Building a network may simply mean enhancing your freelancing business' image to attract more clients. And there are several methods to accomplish that.
You can choose any method according to your budget and its efficiency in your business model.
First, you can choose the offline method of building your freelancing network by attending conferences, events, or webinars. Once you attend these events or are a part of the community, you can create a business card that will help you get in touch with more people in your industry.
Acquainting yourself with more people in the industry will enable you to know about the demand for products or services in your niche and how you can fulfill it.
Apart from this, you can even build your network through online platforms like social media and different forums. While on social media, all you need to focus on is telling the people how your products or services will help solve their queries and problems.
Once you build a demand for your products or services, people are more likely to reach out to you through online platforms. While building a network, have a professional email through which your target customers can contact you.
Having a LinkedIn ID or account will even help you build a network for your freelancing business.
6. Engage in community discussions
Another promising way to build your freelancing business is by discussing the needs and requirements of your target audience and providing them with a solution.
When you are engaged in community discussions on an active level, then the people in your niche will get to know you. It will also provide you with a platform to share your knowledge and experience in the field and let the customers know you are an authority on the matter and that you can help them.
Besides being engaged in offline community discussions, you can also join different social media platforms to discuss your products or services with the people in your industry. Platforms like Facebook groups, Twitter or LinkedIn make it easy for people to discuss their services online.
But while engaging in community discussions, you need to exhibit your professionalism by being concise, clear, and to the point. You can be adept in community discussions by talking about your services, answering questions, and then telling the audience how your service is going to help solve their problems.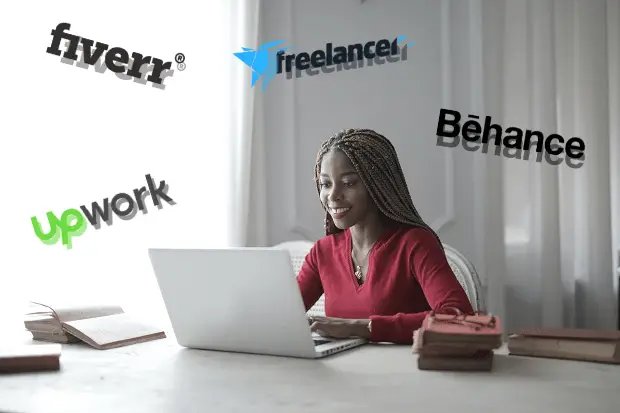 7. Effectively use freelancing platforms
One of the most efficient ways to promote your freelance business easily at a nominal investment is by effectively using freelance platforms.
Due to their immense popularity, freelance platforms serve as valuable tools to grow your career and connect with prospective clients in your industry. However, since there are a plethora of freelancing platforms out there in the market, choosing the right tool may be a daunting task.
You should always select a freelancing website or platform that has an easy-to-use and seamless interface to help you access valuable job opportunities and connect with clients.
Below are some of the best freelancing platforms that will enable you to amplify your networks and grow your client base:
Fiverr
With over three million active clients, Fiverr is a freelancing platform with a sleek interface.
This marketplace helps freelancers in different niches and industries like marketing, graphic designing, writing, etc. to connect with their prospective clients.
The only disadvantage with using Fiver is that it has a high service fee of 20%. Sometimes it may take longer to get your pay (from 7 to 14 days).
Upwork
With over 3 million jobs posted each year, Upwork is one of the largest freelancing platforms.
Hence, with a huge user base, this platform provides multiple job opportunities for freelancers in different fields.
You can choose different freelancing job opportunities on Upwork according to short-term or long-term contracts.
Freelancer.com
Freelancer.com is a freelancing platform that provides a plethora of opportunities to Freelancers.
Though it has a complex interface, you can connect with its team of advisors that will help you get hired 24/7. Once hired, you can use its easy live chat feature to connect with your prospective clients and track your progress.
Freelancer.com also allows you to gain stars and make your profile stand out from the rest by competing in different contests.
Behance
Owned by Adobe, Behance is a robust freelancing platform that is more inclined towards creative industries like photography, logo designing, illustration, etc.
With more than 10 million members, Behance is a great place to show off your portfolio and hence connect with potential clients in your niche.
Since the platform is free to use and easy to apply, you can use it according to your personalized job requirements.
8. Word-of-mouth advertising
Word-of-mouth advertising is one of the most efficacious strategies to help you gain more prospective clients. Researchers even show how 64% of marketers consider word-of-mouth advertising as one of the best ways of promoting their business.
To promote your freelancing business using word-of-mouth advertising, you need to inform your close friends and family members about your freelancing services or products.
Word-of-mouth advertising is free of cost, you only need to ask your existing as well as former clients to talk about your freelancing services to your prospective audience. You can also tell influential individuals about your freelancing business because they can help you grow your network.
Various studies even show how 88% of people buy products through word-of-mouth referrals by friends or family.
But before you can rely on word-of-mouth advertising, you should already have a great track record. Having a string of satisfied clients will boost your chances of getting referred to other potential customers.
9. Social media ads
Promoting your freelancing business through social media advertisements requires nominal investment. But since social media ads are deemed effective in reaching your target audience, they boost your chances of getting a good return on your investment.
Social media ads are based on the users' information and hence can easily interact with a specific audience in your niche. Because of this, they can provide a cost-effective means of lead generation.
But before using social media advertisements to promote your freelancing business, you need to follow certain tips.
First, decide whether to run the ad campaigns manually or through automated software. You can run your ad campaigns manually because it is the cheapest and the simplest option available.
Manually running your ad campaigns will even help you test out ads according to your business requirements and hence find the best ones. However, if you are considering using the help of third-party platforms to manage your ad campaigns, you will, of course, incur added expenses.
Besides determining how you want the social media ads to run on the different platforms, you need to choose the right platform to attract your desired audience.
There are different social media platforms like Instagram, Facebook, Twitter, Snapchat, LinkedIn, etc. Each one has its pros and cons.
One of the best platforms for social media ads is Facebook. More than 98% of Facebook users use the application to scroll through their accounts. However, you should opt for a platform that houses the biggest number of your target audience.
Once you effectively complete your social media advertisement process, you need to improve your performance by analyzing the Return On Advertising Spend (ROAS). Knowing the return will tell you if your ads are working effectively. If they are not, then you should improvise accordingly.
10. Guest blogging
The last method in our list that will help you promote your freelancing business is guest blogging.
Guest blogging is the process where you write blogs or articles on an already established website whose target audience matches your prospective clients. It provides you with a great platform to share your views with your target audience, who might like your services.
By writing a guest post, you will receive more traffic to your website via backlinks and hence, enhance brand awareness.
But before looking out for guest blogging opportunities, you need to find websites or blogs that apply to your niche. Make sure the website you are looking for guest blogging adheres to the following criteria:
The content published on the website focuses on your industry or niche.
The website has high traffic or readership. Choosing a blog with high traffic will help you enhance your network so that more people get to know about your freelance business.
The target audience of the blog or website should be interested in the services or products that your freelancing business provides.
The website or blog should have different social media pages so you can also reap the benefit of social media to attract clients to your freelancing business.
You can start searching for a guest blogging website by using Google to find different keywords, like "submitting a guest post" or "accepting guest posts".
Other than this, there are certain communities for guest bloggers that help link people with websites that require guest posts. You can prepare your pitch for guest blogging posts and request the brands or websites in these communities.
Conclusion
This is our list of the 10 lucrative ways to help you enhance your brand image and amplify your networks as a freelancer.
Now that you know about the different promotion options for freelancers, you can take ideas from each or whisk together different methods according to the requirements of your freelancing business. You can even give a shot at the different methods and test them if they provide fruitful results for your freelancing business or not.
Whether your freelancing business is already established or still in its infancy, marketing is one of the most important keys to its success. The above methods will help to grow your business into a reputable brand and let the audience know about your services. Good luck!
Author's Bio: Efa Yasin
Efa Yasin, exhibits her witty personality, through her intriguing writings. Her works have been published on various websites, like NOGOZO and THETOPTOURS. With her forte being in English, she has conducted research and concocted articles on various niches like marketing, travel and tourism, information technology, and many more. Currently, she is writing for a digital marketing and SEO services blog: aregs.com.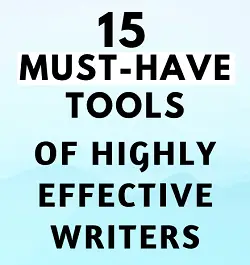 Free resource: Download your free PDF and learn about the top tools used by freelance writers.
Get it here
Rafal Reyzer
Hey there, welcome to my blog! I'm a full-time blogger, educator, digital marketer, freelance writer, editor and content manager with 10+ years of experience. I started RafalReyzer.com to provide you with great tools and strategies you can use to achieve freedom from 9 to 5 through online creativity. My site is a one-stop-shop for freelance writers, bloggers, publishers, content enthusiasts who want to be independent, earn more money and create beautiful things. Feel free to
learn more about me here.