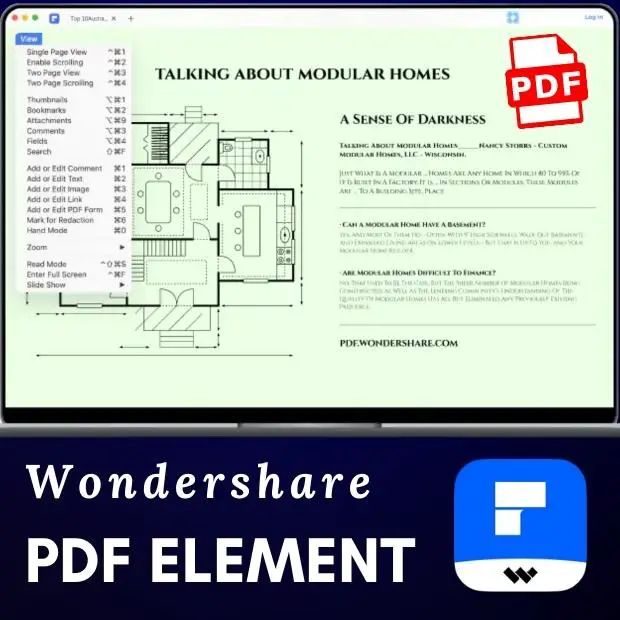 Are you looking for a powerful PDF editor that will let never let you down?
Unlike other text-based documents, which are easy to edit, PDF documents usually have limited editing options, but come with more impressive formatting. However, modern PDF editors have annihilated the limitations associated with editing PDFs.
Among many options, the Wondershare PDFelement stands out as the top choice, as it makes PDF editing swifter and enjoyable. It has many helpful add-ons, features, it's affordable, user-friendly, compatible with multiple devices, and a perfect pick for creating signatures and forms.
G2's fall report featured PDFelement as the leader in the PDF Editor realm, one of the "Top 50 Office Software Products," and a "Leader of Document Generation."
I've checked the PDFelement and here are the 10 reasons why it deserves to bear the title of the ultimate PDF editor.
10 Reasons Wondershare PDFelement is the Ultimate PDF Editor
Besides evolving to keep up with technological changes, the platform's user interface and seamless PDF editing workflow have helped it gain popularity and relevance in the online world.
It is a great tool for teachers, students, and business professionals. Here are some of the top reasons why it might be a good choice for you:
1. User-Friendly Interface
There is simply no clutter here. Everything is clear, in plain sight, and easy to find. Although the icons are quite small, they are visible and pleasing to the eye.
You don't have to navigate multiple steps to get to certain features. There's enough space to fit everything into the top header area.
With just one click, you can convert your PDF files to other formats, optimize them, edit, process, and much more. Moving from one feature to another is easy because everything is laid out in a horizontal line right at your fingertips.
The developers spent ample time tinkering with the user interface to make it beautiful and seamless.
2. Affordable Pricing
You can pay a one-time fee and have access to the software forever, which constitutes another huge selling point. The lifetime license fee of $129 for its pro version is great if you plan to use the app for a long time.
However, this type of license doesn't include major upgrades. For example, minor upgrades from version 8.1 to 8.2 are free, but an upgrade from version 8 to 9 will require an additional fee.
If you choose to pay a yearly price, you get the PDF editor at $79 per year, which is significantly cheaper than what Adobe Acrobat or other editors offer.
Even more impressive, PDFelement made no changes to its pricing, even with the recent upgrade to version 9.
It also has a standard version at $59 per year and $69 for a perpetual license.
3. PDF Editing Like a Boss
PDFelement uses simple instructive symbols that make editing a piece of cake. You can upload a PDF file by clicking the plus sign on the top left side of the interface.
The 'edit' tab is displayed in the horizontal tab at the top, from which you can highlight text, add comments, symbols, and even images or drawings.
For business documents, you can add signatures and stamps once your document is uploaded to the app. You can also create your own signature to fully digitalize your document database.
As you would with Google Docs, you can review documents and add comments before sending them back to collaborators. This is a great feature for teachers who often make corrections on school projects and for other professionals who might want to request changes to contracts or proposals.
The ease with which you can accomplish these functions makes the PDFelement an unparalleled editor.
4. Scanned PDF to Searchable PDF Feature
PDFelement has an impeccable optical character recognition (OCR) feature that makes the scan-to-search of PDF documents stress-free.
It lets you transform your scanned PDF into a searchable PDF, which is hugely beneficial if you're dealing with a pile of scans.
5. Combining and Converting PDFs
If you deal with multiple PDF files and often need to merge them, this tool is what you need. Wondershare has its "Combine PDF" function on its home page. Once you click on it, you will be asked to drag and drop the files you intend to combine or upload.
You can next choose where on your device you want the combined file to be saved, and the files will be processed automatically.
What's more? You can convert those files into different formats: Docs, Sheets, PPT, HTML, XML, and ePub, among many others. The convert PDF option is also available right from the home page.
These features come in handy for students writing a project or for business professionals creating reports; you can easily add images, texts, tables, and graphs into one file that is easy to send over email or chat.
6. PDF Optimization
With PDFelement, you can optimize your PDF file. You can increase or decrease the file size using the three available options: high, medium, and low.
I've noticed that all optimization options compressed the files. The "high" option is best because it offers some compression while maintaining the quality of the content.
What I loved about this was the speed with which it accomplished the mission. This makes it a viable option for people working with large files.
It even has a batch processing option that allows you to edit, convert, or compress multiple files simultaneously.
I've tried this with 3 PDF files. It converted them to Word documents in 7 seconds!
7. Speed of Document Processing
There have been complaints about a noticeable lag when opening documents, irrespective of size, or when starting new editing processes. But in the latest version, the PDFelement 9, offers 30% more speed.
You might still experience a delay when using its OCR (optical character recognition) feature. But this is the weightiest task any PDF editor must perform. But, after the first try, it performs much faster.
8. Availability in Different Languages
This system can identify and edit PDF documents in 23 languages. They include: English, Portuguese, Japanese, Spanish, German, Italian, French, Bulgarian, Chinese Simplified, Chinese Traditional, Croatian, Catalan, Greek, Czech, Korean, Polish, Romany, Russian, Slovak, Thai, Turkish, Ukrainian, and Dutch.
9. Multiple Operating System Support
You can view and edit PDF files on Windows, Mac, iOS, and Android. It supports Windows 11 and below, macOS 10.14 to macOS 13, Android 5.0 and above, and iOS 13 and above.
10. Excellent Customer Support
PDFelement's customer service team will respond to and resolve any issue you encounter using the software within 24 hours. The way they take their time to explain unclear terms and conditions is impressive.
Dissatisfaction is unavoidable in business. Even Adobe Acrobat receives complaints about certain features and services but has a longer response time than PDFelement.
Wrap Up
Editing, highlighting, adding comments, combining, converting, and compressing PDF files, are features offered by most PDF editors, even those who seem to top the market, and Wondershare PDFelement does that too.
But what makes it spectacular is its ability to offer all essential features at jaw-dropping prices. It even offers OCR and supports as many languages as the dominate PDF editors.
Nitro, Able2Extract, Adobe, and Foxit may be more popular, but the PDFelement editor easily stands a chance against them. It gets updated very often, so you can always count on further improvements.
Rafal Reyzer
Hey there, welcome to my blog! I'm a full-time blogger, educator, digital marketer, freelance writer, editor and content manager with 10+ years of experience. I started RafalReyzer.com to provide you with great tools and strategies you can use to achieve freedom from 9 to 5 through online creativity. My site is a one-stop-shop for freelance writers, bloggers, publishers, content enthusiasts who want to be independent, earn more money and create beautiful things. Feel free to
learn more about me here.