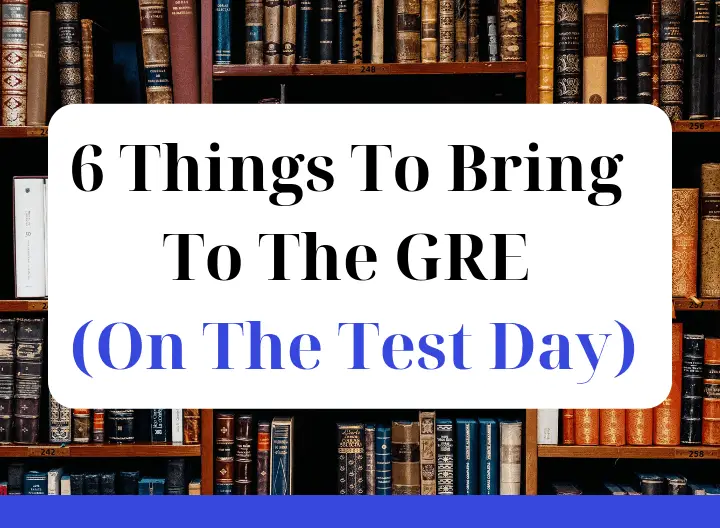 If you're applying to a grad school or want to take an MBA program, you'll need to pass the GRE with flying colors.
It's one of the most important 3-hour long test you're ever likely to take, so proper preparation is of utmost importance. Many students forget to bring the essentials and end up screwing up really badly. But since you're here, you'll know exactly what to take with you on the test day.
So, what should you bring to the GRE?
The essentials for getting through the door and taking the test:
A valid ID (more on that below)
Authorization voucher (if applicable)
Confirmation email from ETS (better print it out). It will include the name of your test, the date, the time, and the name and address of your testing center.
Two or three sharpened no. 2 or HB pencils (these won't be provided in the test center)
A good eraser
A list of schools you want to apply to. You can specify these when first registering for the test. But if for some reason you didn't do it, you can choose your schools during the test. ETS will send your GRE scores to these schools for free. You can choose max four schools in this package and any additional ones will cost you $27 a pop. And don't worry, you'll be provided with the codes related to each school.
Additional things you should take to the center to pass the GRE test:
1. Some high-carb snacks
The GRE will take three hours so you'll need to supply your organism with a steady stream of energy. Your brain burns lots of glucose when you're giving it a workout, so you can snack on dark chocolate (known to increase brain function), dates, Snickers, banana, or dried fruit.
The important thing is not to eat all the stuff at once. High-sugar foods in large quantities cause a big spike in insulin, which will cause sleepiness and brain fog – the last thing you need when taking a test! Take small bites during each break.
2. Caffeine
Coffee or a can of Redbull will boost your performance during cognitive tasks. But watch out. If you drink it too fast, you'll get the jitters which can be amplified by the stress you're experiencing during the test. So don't overdo it. You can also try tea which has a more calming effect.
3. Water
Your organism consists mainly of water, and dehydration can cause a headache and lack of focus. Make sure you have a bottle of water handy.
4. Comfortable, yet professional clothing
Some people recommend wearing your favorite sweater and yoga pants. But they're dead wrong. Wearing elegant clothing is known to increase your self-esteem and self-image which are essential to passing any test with a good score.
You wouldn't go to a job interview in your pajamas and the same goes for GRE. That being said, make sure you're still comfy and warm (some test halls can be cold) and you don't wear anything too tight.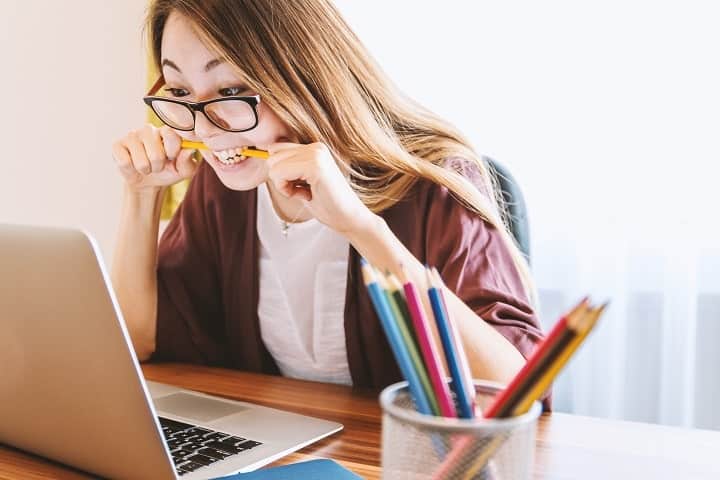 What not to bring on your test day?
Mechanical pencils or pens – these are not accepted.
Jewelry, watches (especially smartwatches), headphones, selfie-sticks, and clothing accessories. If you bring any of these, you'll need to leave them in a locker at the test center. They should be safe, but it's best to just leave them at home and have some peace of mind.
A calculator – you'll be able to use an on-screen calculator during the computerized test.
Your phone – you'll have to leave it in the locker anyway and you won't be able to use it during the breaks. It's best to just leave it at home or in your car. If someone sees you with your phone, your test might be canceled.
Friends or family members. They won't be allowed to enter the test center anyway. So save the stories of your GRE struggles for later.
Any sort of weapon, tobacco, alcohol, or illegal substance.
Any notes (especially written on your clothes or body) related to the test.
Important: You might be asked to turn out your pockets and pull up your sleeves or pants before entering the test hall. So don't try to smuggle any forbidden items.
A note about which type of ID should you take
There are a few requirements regarding the ID you'll need to present at the test center. Here they are:
The document must be original (no photocopies are allowed).
It must be a valid government-issued ID provided by your country, state, province etc.
It must be up-to-date. Expired documents won't be accepted.
It must have your first and last name.
It must have your recent, clear photograph (something from 9 years ago won't do).
It must have your signature (which matches the name on the id, obviously).
So basically, bring your original valid government-issued national ID card. You simply can't go wrong with that. But just in case, bring an additional document for supplemental verification (if it should occur).
Remember: if you can't pass the door because of your invalid ID, you won't be able to take the test, and your fee ($160) won't be refunded.
How may your ID be checked?
There are a couple of ways in which the employees of the testing center can verify your ID:
Biometric voice and photo identification
Fingerprinting/thumbprinting
Videotaping
Signature comparison
Important note: If you refuse to go through any of these, you won't be able to participate in the test.
Some of the documents (IDs) that won't be accepted:
Photocopies of documents
Expired documents
Documented presented on a phone or a laptop
Driver's license
International student ID
Social security card
Employee card
Important note: If you're in a political asylum or a refugee, and for some reason, you're not able to present a valid ID, you should contact your testing center at least seven days before registering for the GRE.
The type of document you have to bring may depend on your country of origin or the place in which the test is administered. You can see the full list of acceptable documents on the ETS website.
When you're at the testing center
You'll need to enter your first and last name exactly as it appears on the ID you brought. Make sure you exclude any accents. Also, you can include your middle initial but it's not mandatory.
Additional tips on what to do one day before taking the GRE:
Make sure you'll be able to arrive at the test center at least 30 minutes before the test. If you're late, you won't be admitted to the test room, and your test fee will be gone. A great way to avoid stress is to check your center one or two days before. You'll know the way, the building, and the entrance exactly. There's nothing worse than searching for this stuff a few minutes before the start of the test.
Get some good sleep. It's essential for high mental performance. Get at least eight hours of it.
Try to relax. You've done your test prep. Now it's time to chill and take your mind off the test. Take a hot bath, spend time with your friends, meditate, or do a bit of exercise.
Don't cram one day before the exam (or on the exam day). This will exhaust your brain. You need to save all your mental capacity for when you sit down to begin the test.
Remember: You won't be able to leave the test center during your breaks. If you seriously need to leave or need an extended break, inform your instructors. Otherwise, you're asking for trouble.
I hope this little guide was helpful to you, and that now you'll be able to step into the test center, knowing that you're fully covered. Keep it tight, concentrate on the task in front of you, and you'll GRE success will be virtually guaranteed. Good luck!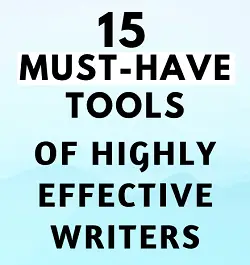 Free resource: Download your free PDF and learn about the top tools used by freelance writers.
Get it here
Rafal Reyzer
Hey there, welcome to my blog! I'm a full-time blogger, educator, digital marketer, freelance writer, editor and content manager with 10+ years of experience. I started RafalReyzer.com to provide you with great tools and strategies you can use to achieve freedom from 9 to 5 through online creativity. My site is a one-stop-shop for freelance writers, bloggers, publishers, content enthusiasts who want to be independent, earn more money and create beautiful things. Feel free to
learn more about me here.