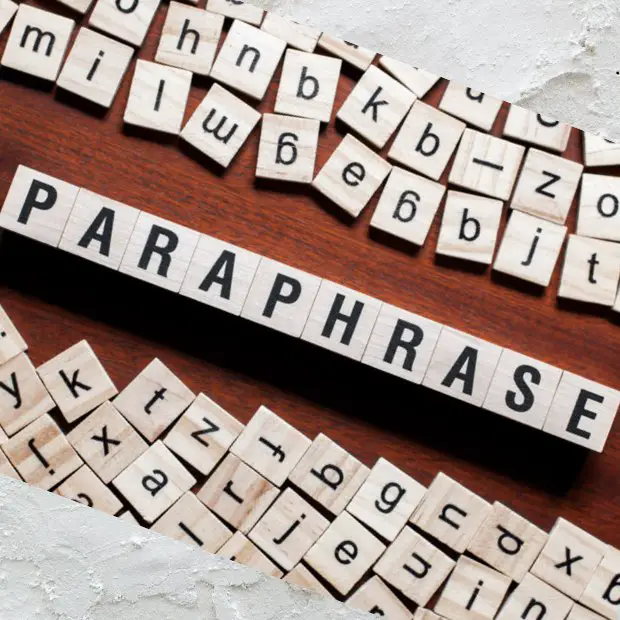 Content writers and bloggers find themselves inundated with writing tasks.
Short on time, but with an ample amount of work to do. Does it sound like you?
Writing about the same concept or idea you've already mentioned in your past work is also quite a challenge.
The same goes for picking the minds of other writers. You cannot copy what they said verbatim, (unless you are just quoting them) or you'll be guilty of plagiarism.
Thankfully, there are a lot of great online paraphrasing tools to make content writing easier.
Quick Introduction to Paraphrasing Tools
Before looking for the best paraphrasing tools to help you in content writing, let's learn what they are all about and what they do.
A paraphrasing tool is an online tool to convert any written sentence, paragraph, or even whole article into a unique one.
It creates an entirely different sentence from the text by restructuring the sentence and using synonym replacements. While rephrasing the text, the paraphrasing tool keeps its focus on keeping the context in line with the original text.
Also, with the use of paraphrasing tools, content writers don't have to worry about plagiarism. Typically, the system automatically removes, or flags plagiarize content.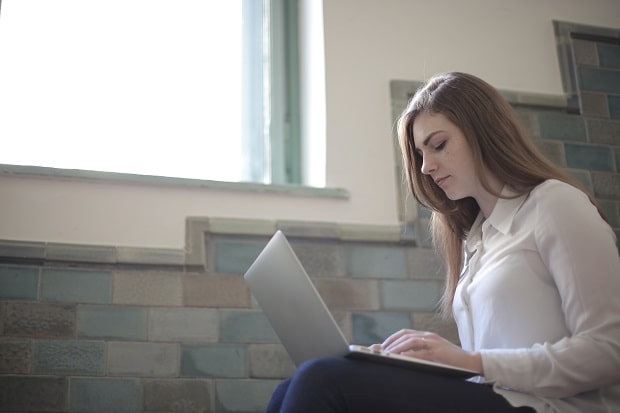 Best Paraphrasing Tools to Make Content Writing Easier:
It would not be unfair to call the Paraphrasingtool.ai an all-in-one content writing solution instead of just a paraphrasing tool.
Paraphrasingtool.ai mainly rewrites text online while also providing other helpful features.
This AI-based tool is amazingly beneficial for content writers because it not only provides them with accurately paraphrased content but also offers them to summarize existing content or generate entirely new content.
Using Paraphrasingtool.ai, bloggers can check grammar and plagiarism while staying on the same page. With this tool, they don't need to shift to other tools for plagiarism and grammar checking.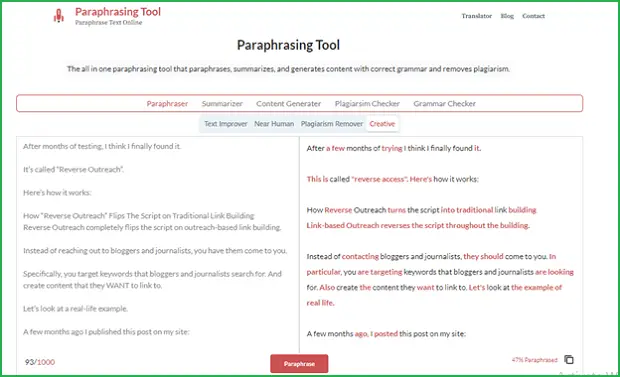 It offers various styles for paraphrasing to generate unique content every time. For instance, the text improver enhances the fluency of the text during paraphrasing, while introducing only minor changes in the sentence structure.
While other modes of paraphrasing, like the plagiarism remover, have features of their own. Possessing the largest thesaurus database, it simplifies the conversion of words to better synonyms, without sacrificing the context.
The salient features of Paraphrasingtool.ai that make it the best choice for content writers include:
AI-based
All in one writing tool
Free of charges
Plagiarism free content
Built-in Translator
Grammar checking
Being a content writer, you are probably familiar with or at least heard of the QuillBot, paraphrasing tool.
This tool is also AI-based and is quite prominent in the writing world. Its free service allows you to paraphrase 125 words in one go. If you want to avail yourself of the usage of the unlimited word feature, upgrade to premium.
It offers the standard and fluency mode for paraphrasing, free of subscription. However, bloggers can make their content writing easier with its 5 additional paraphrasing modes that can be used by upgrading to premium.
Along with paraphrasing, it also offers a plagiarism and grammar checker to generate readable and plagiarism-free content. They also have a downloadable extension to aid writers even further.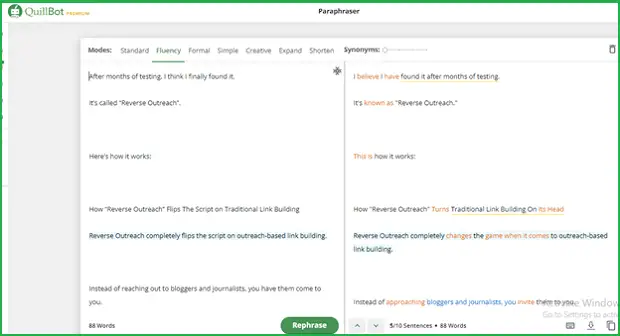 Using the QuillBot paraphrasing tool, you can change the synonyms and select the most appropriate one. For additional settings, you can also choose to exclude quotations from the text while paraphrasing.
The main features of the QuillBot AI paraphraser are given below:
7 Paraphrasing modes
Upload document
Optional synonyms
Customize changes (in synonyms)
Download extensions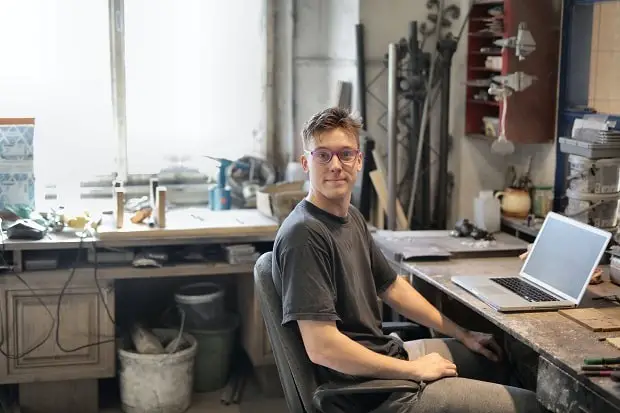 Another remarkable AI integrated tool that can assist content writers in their work is Paraphraser.ai.
It generates the content differently from the existing text by restructuring it and altering the synonyms.
Artificial intelligence helps paraphrase content and make it more readable and meaningful. No improper or unnecessary words are used during the rewriting of the text, so writers don't have to worry about plagiarism.
Paraphraser.ai also allows bloggers to translate their text into other languages after paraphrasing. It keeps the main context intact in the rewritten text through machine learning and NLP technology.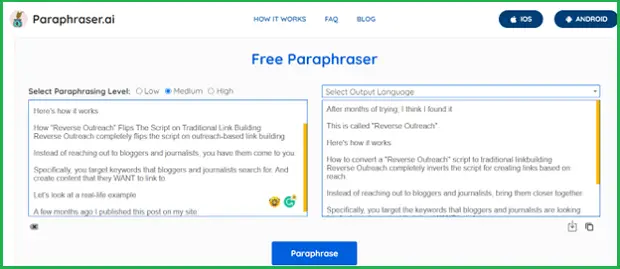 The major convenience Paraphraser.ai offers is its cross-platform availability. You can download this tool on any device (android or iOS) and access its amazing features on your device. Also, you don't have to log in or subscribe to the avail of its incredible features.
You can paraphrase your text in 3 different ways. By using the low-level setting, you can retain the originality of your work with just minor changes. The high-level mode can completely transform the text into a unique one, even changing sentence structure.
The prominent features of Paraphraser.ai are:
AI integration
Semantics and Machine learning
3 paraphrasing levels
Cross-platform (downloadable on any device)
Multi-language (80+)
GPT3 and BART Model
Essayrewriter.io is the simplest and most convenient paraphrasing tool for content writers.
Its no-frills UI makes it an easy-to-use platform for anyone using it for the first time.
The Article Rewriter is a free online rephrasing tool that allows you to paraphrase unlimited words in a single turn. There's no limit on word count or paraphrasing service on this tool and it's forever free.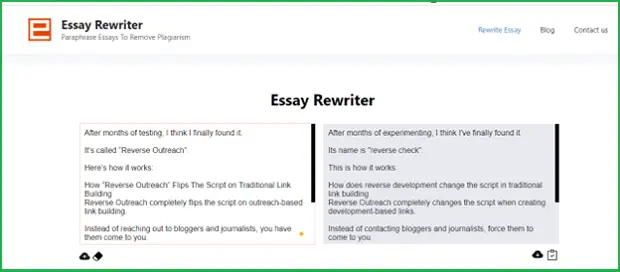 Essay Rewriter doesn't require subscribing to any plan or signing up to use its features. Therefore, it is most preferred by busy content writers. All you have to do is paste your required text and receive the paraphrased content after a short while.
However, this tool does not offer any other paraphrasing options. It simply rewrites text into a different version. It does not generate complex words and unorthodox language.
It produces simple and easy-to-understand wording. Among its notable features are:
Free to use
No subscription/login
Unlimited word count
No usage limit
Simple and easy to use
Last but not least, you can use this amazing AI powered tool to rephrase any sentence you would like.
If you want to rephrase up to 500 words, you don't even need to set up an account. Simply paste the text you'd like to change into the editor and click on "rephrase".
Almost instantaneously, the rephrased text will show up on the other side. You can export it or copy it according to your wishes.
I'm pretty impressed by this tool because of its speed, accuracy, and ease of use.
If you need extra features like paraphrasing up to 1 million words, grammar checks, and an AI article writer, you can get started for as little as $20 per month.
Modern Aid for Content Writers
Content writing involves hours and hours of research and data collection. The actual writing will then ensue, followed by proofreading, grammar and spelling checks, and editing.
It is not an easy task, my friend.
While living in an era of making things work easier, professionals turn to software and apps to bring ease to their jobs.
Similarly, writers and bloggers today look for alternatives to make content creation easier and more convenient.
Among these alternatives are paraphrasing tools. Not only do they produce rapid results, but they also minimize the hassles content creators encounter in their work.
However, not all the tools are worth using. Some even give terrible results. Hence, to receive optimum results from paraphrasing tools, stick to credible platforms.
In this article, we will discuss the 4 best paraphrasing tools that can make your content writing easier than before.
Conclusion
It would be foolish for modern writers not to take advantage of at least one of the apps and software available that aid in improving their writing composition.
Especially if they are free! Imagine, having an editor without paying a salary!
I hope that you'll find at least one of the 4 great paraphrasing tools I presented here truly helpful in your writing journey.
Rafal Reyzer
Hey there, welcome to my blog! I'm a full-time blogger, educator, digital marketer, freelance writer, editor and content manager with 10+ years of experience. I started RafalReyzer.com to provide you with great tools and strategies you can use to achieve freedom from 9 to 5 through online creativity. My site is a one-stop-shop for freelance writers, bloggers, publishers, content enthusiasts who want to be independent, earn more money and create beautiful things. Feel free to
learn more about me here.