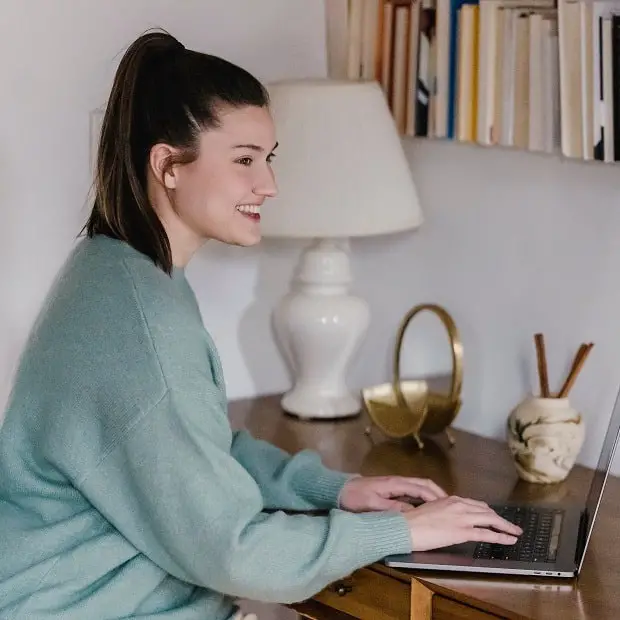 Apart from having a catchy job proposal and tons of experience, getting your skills displayed on the right platform is necessary.
And for that, an attractive portfolio will come in handy.
As thousands of new websites and blogs are born each day, content writers are becoming more in demand now than ever.
According to Internet Live Stat, there are close to 2 billion live sites, as of this writing! All of which are competing for readership, therefore with an insatiable hunger for fresh content.
If you're in the biz, you need to stake a claim on your own space on the internet, so more site owners can reach out to you and get your content writing services.
We have compiled 20 great content writer websites from which you can take inspiration for developing an impressive site of your own that wins clients.
20 Examples of Great Content Writer Websites:
To fill you with ideas on how to build a website of your own that'll showcase your skills, talent, and experience as a content writer, we compiled this list, which we are now presenting to you:
Millie Lapidario is a famous content writer who runs her job board as well.
Although primarily a tech writer, she has written other types of content too. A collection of her past work is brilliantly displayed in her portfolio.
She has chosen an attractive color combination of black and white for the theme, giving her site a nice retro look. She also has other writers under her employ to serve more clients simultaneously.
Featuring statistical figures that highlight the dramatic results of her work in the first half of the page, Francesca Nicasio has an extremely professional website.
She mentions her expertise and later defines how clients can benefit by hiring her. Such strategies can help you win jobs instantly.
She also prominently displays her email on her welcome banner, so you can see it as soon as you open it. Thus, clients find it easy to contact her.
Sally Bachhetta has a simple and decent-looking website. I think that's a good initiative because many clients don't enjoy getting into fancy details.
Right at the start, she talks about her expertise, which is freelance content writing, instructional designing, and sales training.
Her website has a nice flow of information. She first explains her expertise in content writing and then provides her bio. She also mentions her previous experience and articles in her portfolio.
Muriel Vega is a professional content writer and copywriter, and her skills are aptly highlighted in her unique portfolio.
She let her creativity shines in her portfolio by using icons and animations. As soon as you open her website, you can see the niches she's specialized in. By clicking on any icon, you get directed to her articles written in that niche.
That's a highly creative and professional way of showcasing your skills. By using the least words possible, you don't take much of the readers' time while browsing.
Helen Gebre uses a simple design on her website and introduces herself perfectly, with a short description.
Her writing style and bio portray how much she loves writing and considers it an art.
The other page displays her work, in which she included samples of past content she wrote. The next page is a short introduction about her, which is highly creative and fun to read. On the last page, she has a section where clients can reach her.
Kat Boogaard has a nicely designed website with beautiful and subtle colors and an amazing theme.
At the very beginning, she explains a little about herself in the most creative way possible. It tells about her professionalism.
Kat explains how much she loves freelance writing and how clients can benefit from her work. She included in her portfolio the many instances that other websites feature her work. I think it's a great strategy, especially if those sites provide backlinks to hers.
Emily Thompson has a simple and clean website, but with a creative flair to attract clients.
She explains her track record and uses bullet points to do away with long and boring paragraphs. Then, she presents a clever but subtle argument that can make potential clients realize the advantages of hiring a professional writer. And as a coup de grâce, there's a CTA button underneath.
In the end, she shares her client's reviews and mentions the brands she's worked with.
Tyler Koenig's website does not only exude confidence with punchy one-liners, but it also gives a glimpse of his personality by mentioning a hobby.
This strategy is amazing as it grabs attention quickly as well as conveys a message that he is a no-nonsense professional.
The website's homepage is simple and unique, and you can click the icons to get directed to a specific page.
Brittany Berger's website is one of my favorites, as she uses a unique approach to convey her thoughts in the best way possible.
She offers a quick solution to existing and potential clients, which is exactly what they are looking for. After all, clients want to see an immediate answer to their requirements.
Her website has a nice color scheme and uses icons and animations to make it even more appealing.
Yolander Prinzel has a straightforward website with little frills. However, it delivers everything clients need to know to hire her.
The best thing about her website is that all the details are on the home page. She also added links to her work, as well as feature testimonials from past clients who raved about her services.
Michal Eisikowitz has one of the best and most professional content writer's websites I've seen so far.
The way she addresses the problems on point and offers the best possible solution hooks you perfectly. She also uses clever and humorous images to make clients realize their dilemmas in producing powerful and timely content.
The way she uses bullet points and tries to make a friendly relationship with the clients through her work is highly impressive. She also explained everything sequentially, which is great!
Sarah Asp Olson uses a different approach by minimizing texts and using more images on her homepage.
Said images serve as clickable thumbnails that will direct you to see her past work in that niche.
Her bio is also short but to the point. However, what's missing is the creative style most other writers use on their websites. It's fairly neutral but delivers the right information.
From the get-go of her website, Sarah tells her expertise, which is copywriting in the health industry.
This tactic is great, as clients won't have to scroll through the website to know her writing niche. You might think that this is self-limiting, but she is projecting herself as a consummate expert on the topic.
However, unlike other writers, she shared her experience first and described herself at the end.
Catherine Conelly's website is another example of a simple and decent content writer website.
The homepage only includes a picture of her along with a list of her expertise. On the side, there are sections you can click on for further information.
She shares her content writing journey nicely on her website, including samples of her past work and experience.
Ally Denton demonstrates how you don't need to be loquacious to say much about yourself and what you can offer.
She only briefly talks about herself on the homepage and mentions the niches she loves, which is a great initiative. After all, a business should be able to communicate its products or services by using the fewest words possible. You can discern her professionalism just by looking at her homepage.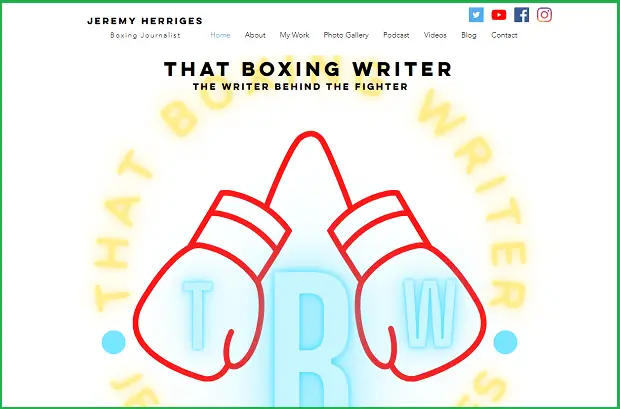 Being a sportswriter and journalist, Jeremy Herriges combines his passion with his profession.
This is another content writer with a tunnel vision. He specifically states his writing niche on his compelling website, which is the sports of boxing. He is a major contributor to various sports publications.
His homepage features colorful graphic art and a brief introduction. Later, it talks about his previous work and contact details, which are a great sequence.
Rachel B. Levin has a fascinating website that blends her expertise with the theme.
Right after landing on the homepage, the first lines clearly explain what she does. Later, you can see her published work, which she neatly organized according to niches. You can access each one by clicking on the respective thumbnail images.
Her "about" section focuses more on her content writing career.
Marlen Komar's website is an example of a creative and professional content writer's website.
While the top of the page proclaims she is a writer, the bio below details her expertise and the niches she loves to write in.
As she is a lifestyle and beauty writer, most of her past work features the beauty industry and common issues that women face daily.
Amanda uses a minimalist approach on her website and uses the first line to discuss her work experience and expertise.
Then, you can see her featured articles, which are great for displaying your work. She also tells a little about herself as a content writer.
As soon as clients visit your site, they should know what you offer. And that's what Chidinma does perfectly.
On the main lines, she tells about her favorite niches, and just below that, she mentions the type of content she prefers to write.
Her website is well-organized and professional. She also shares screenshots of her best work and how she has improved the traffic to clients' sites.
Final words
All content writer websites mentioned here are highly professional and showcase the individual's skills and expertise.
While adding the right theme is important, playing with words to convince clients to hire you is equally essential. So, whenever you want to build a website in this industry, check out the ones we featured here as a reference.
Rafal Reyzer
Hey there, welcome to my blog! I'm a full-time blogger, educator, digital marketer, freelance writer, editor and content manager with 10+ years of experience. I started RafalReyzer.com to provide you with great tools and strategies you can use to achieve freedom from 9 to 5 through online creativity. My site is a one-stop-shop for freelance writers, bloggers, publishers, content enthusiasts who want to be independent, earn more money and create beautiful things. Feel free to
learn more about me here.