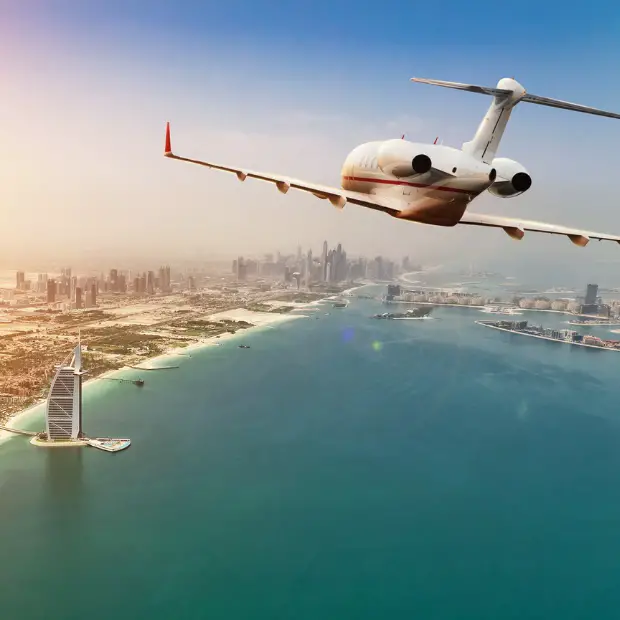 Once Dubai is mentioned, the first thing that comes to mind is the potential of luxury real estate and high-end tourism.
These two industries have become synonymous with Dubai in the mind of investors. So much so that new entrants hardly consider other investment options and opportunities in the UAE. Are you an investor, digital nomad, or a realtor searching for fresh investment options in Dubai? You're in the right place. Let's dive in together and explore various opportunities with a mighty ROI potential.
Real estate options in Damac Hills
Damac Hills shines as one of this year's prime spots for real estate investment. You'll discover an assortment of properties in Damac Hills for investment, presented by a range of high-end developers. Damac Properties, a major player in Dubai's real estate market, stands out prominently among these developers, along with the renowned Emaar Properties. As part of your investment exploration, be sure to check out the Damac Hills Lagoon area, where you can find some of the most attractive units for sale.
What to expect from investments in Damac Hills?
By the end of 2023, you can expect a minimum ROI of 9% from your property in Damac Hills. Damac Hills is one of the most in-demand areas in Dubai, popular among tourists and nationals alike. Looking ahead to 2023 and beyond, the property promises strong performance as Dubai's real estate market continues to attract increased international attention.
The price increase and expected ROI are good news for the investors and homeowners alike. However, for renters and residents of Dubai, this growth implies that rents and associated fees are likely to increase. Consequently, anyone who has not yet purchased a property may face a 9% hike in costs over the coming years to afford the same property.
Given the rising cost of living in Dubai, these developments may be viewed as a source of concern rather than a celebration for many. What constitutes a boon for the investor may indeed present challenges for those not taking part in the investment scene. As we look towards the future, it prompts us to ask – where do you envision yourself? Have you considered taking a proactive step towards real estate investment? It's worth noting that numerous convenient payment terms are available to facilitate your entry into this market.
Other investment options in Dubai and the United Arab Emirates
Consider expanding your investment horizons beyond just real estate when looking at opportunities in Dubai. The United Arab Emirates, with Dubai at its heart, presents a diverse array of business opportunities that are gaining international momentum.
If real estate doesn't pique your interest or if you're already involved in it and seeking additional investment avenues, exploring the following options could be an excellent strategy.
Five alternative investments in Dubai (with high ROI potential)
1. Keep your money in a savings or retirement account
Investing in a savings or retirement account in the UAE offers a steady interest of about 5 – 7% annually. When compared to the return on investment (ROI) from properties over the years, the range is somewhat comparable. The added advantage of savings accounts is that they're not subject to yearly depreciation or maintenance costs, unlike property investments.
Savings accounts offer flexibility with no minimum or maximum deposit requirements. You can deposit as much as you desire and access these funds during financial emergencies without having to liquidate an investment. This investment avenue is certainly worth considering.
Retirement accounts, while adhering to stricter rules, provide a structured approach to long-term savings. However, a potential downside to consider is the eroding effect of inflation on the value of your savings. Despite accruing interest, inflation can dilute the real value of these returns over time.
2. Engage in any business of your choice
Dubai's government actively encourages Foreign Direct Investment (FDI), creating a thriving ecosystem for businesses to grow. Notably, there are no personal income taxes if you operate the business as a private venture. If you decide to invest in establishing a business, you, as a foreigner, can hold complete ownership. The tax obligations are minimal, with only approximately 9% of your company's profits being required.
3. Stock investing
The Nasdaq Dubai, established in 2008 as the Dubai International Stock Exchange, presents another lucrative investment avenue. It welcomes both foreign and local investors to trade in stocks, shares, and bonds. When transactions are guided by an expert broker, this sector boasts significant potential and profitability.
However, investing in the stock market also comes with its share of risks. Ownership of shares and stocks is tantamount to holding equity in companies, and as with any business, these companies may sometimes experience losses.
4. Real Estate Investment Trusts (REIT)
This is a passive way to invest and earn from the growth in real estate in Dubai without buying a property. In REIT, you invest in the respective developer's businesses by shares or units of equity. The holder of the REIT buys equity and funds the project while the business develops the property and puts it into commercial use. As make earnings from the property, they are declared and shared as dividends. Investors can sell their REIT when they are no longer interested, etc.
5. Exchange-Traded Funds (ETFs)
Investing in Exchange-Traded Funds (ETFs) is another promising avenue to consider. To get started, you'll need to register with a brokerage firm. This entity will manage your ETF investments, trading equities on your behalf. The performance of your investments, be it profits or losses, will be reported to you at the end of each trading period.
Conclusion
Investing in the UAE, and especially Dubai, is a bit like an all-you-can-eat buffet; there are loads of options, and they all look good.
You've got real estate in places like Damac Hills, where you can buy a piece of the Dubai dream and watch it appreciate over time. Or there's the more traditional route of savings and retirement accounts, a reliable choice that can grow your money bit by bit.
If you've got an entrepreneurial spirit, starting your own business could be your ticket. Dubai loves foreign investment and offers a tax-friendly environment that's pretty hard to beat.
And those who like to play in the big leagues, trading in stocks, shares, and bonds on the Nasdaq Dubai could be just the thrill you're looking for. And let's not forget about ETFs – a great way to diversify your portfolio and spread out your risk. So, why not dive in and get your piece of the pie?
Rafal Reyzer
Hey there, welcome to my blog! I'm a full-time blogger, educator, digital marketer, freelance writer, editor and content manager with 10+ years of experience. I started RafalReyzer.com to provide you with great tools and strategies you can use to achieve freedom from 9 to 5 through online creativity. My site is a one-stop-shop for freelance writers, bloggers, publishers, content enthusiasts who want to be independent, earn more money and create beautiful things. Feel free to
learn more about me here.