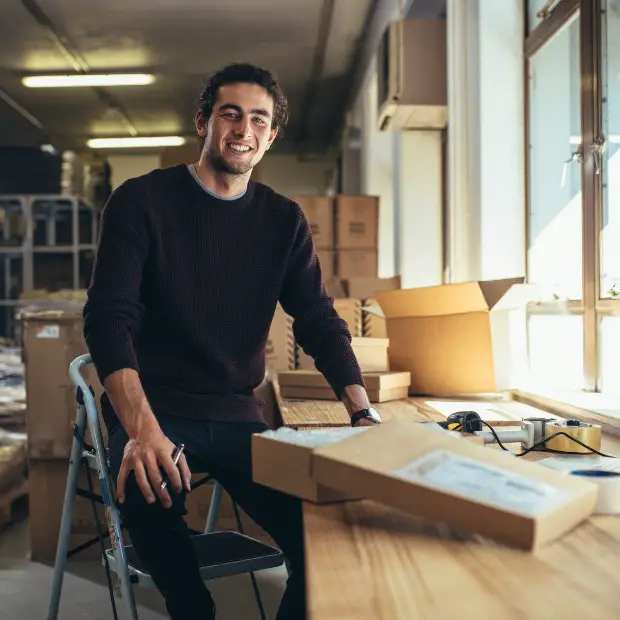 The digital revolution not only redefined the way consumers shop but also unveiled the expansive and multi-faceted realm of B2B eCommerce.
Unlike the more familiar B2C (business-to-consumer) domain, B2B (business-to-business) operation thrives on intricate relationships, tailored solutions, and a strong emphasis on long-term cooperation. Seizing the immense potential within this sector requires a thoughtful and strategic approach to navigate the challenges and opportunities that lie ahead. This guide offers a basic roadmap to launch a B2B eCommerce business, focusing on practical and value-driven steps.
Here are some helpful tips for starting a B2B eCommerce business:
1. Identify Your Target Market and Forge a Business Plan
Delve into the industries you intend to serve. Identify and comprehend their distinct needs, preferences, and challenges. Next, size up your competition and discover untapped opportunities and industry potentials. With a thorough understanding in place, you can turn your focus to building a robust business plan. It is like a blueprint that will not only steer your actions but also attract potential investors or lenders, making it essential in every successful venture. Your business plan is not just a document, it acts as your strategic compass. It will encompass detailed goals, required initial capitalization, a market analysis, competitive insights, pricing strategies, marketing approaches, and a clear growth timeline. Without it is like building a house without a floor plan.
2. Lay Down the Foundation: Platform Selection and Integration
Choosing the right platform is a crucial first step in setting up a B2B eCommerce business. Opt for one that supports B2B functionalities, offers scalability, ensures security, and enables quick and easy integration with existing business tools to create a seamless ecosystem. For instance, ERP B2B eCommerce software solutions can be pivotal in integrating various business processes within an organization. This is especially true for businesses where timing is always of the essence, such as the fashion industry. Every second can be a deciding factor between profit and loss in many businesses. ERP solutions can facilitate a seamless flow of information by synchronizing data across different departments, such as sales, finance, operations, and inventory management. This integration not only enhances efficiency but also ensures accuracy and real-time visibility across the entire business ecosystem. In the context of B2B eCommerce, this translates to quicker response times to customer inquiries, personalized pricing strategies, streamlined order processing, and improved customer satisfaction.
3. Build Your Website: Focus on User-centric Design
Developing your business's website is equally pivotal. Create a user-centric interface that not only reflects your brand but caters to the specific needs of the B2B market. Features like bulk ordering, tailored pricing, and account management enhance the experience, enabling businesses to interact seamlessly, locate desired products, and conduct transactions effortlessly. Your website's development is equally pivotal to your B2B eCommerce business's success. Having a user-centric interface not only reflects your brand's unique identity but also caters to the specific needs of the B2B market. Features like bulk ordering, tailored pricing, a live chat system, and account management enhance user experience. They enable businesses to interact seamlessly, locate desired products swiftly, and conduct transactions effortlessly.
4. Develop a Holistic Marketing and Sales Strategy
Kick-off with a comprehensive marketing plan tailored to fellow businesses. Utilize SEO, content marketing, social media, email campaigns, and strategic partnerships to connect with your target audience. One efficient approach is focusing on specific niches, such as learning how to generate solar leads. You might want to attract businesses interested in solar power. Therefore, your SEO strategy and content creation should be aligned with this objective. Simultaneously, generate a sales strategy centered on relationship-building. In B2B sales, negotiations, personalized solutions, and enduring partnerships reign supreme. Equip your sales team to navigate these dynamics, nurturing trust and long-lasting connections in the process. Partnering with a reliable Google Ads agency can also amplify your reach and engagement through pay-per-click (PPC) campaigns. They help ensure your online presence aligns seamlessly with your overall business strategy. After all, sales and marketing are the lifeblood of your business. Even if you have the best product ever invented, it will profit you nothing if it does not capture the consumers' attention and stoke their desire to buy.
5. Prioritize Customer Support and Monitor Performance
In the B2B realm, stellar customer support is non-negotiable. Implement a robust cloud CRM for small business system, and offer top-notch support across various channels to make clients feel valued. Envisage assigning dedicated account managers for a more personalized touch. Alongside providing superb customer support, vigilantly track performance. Leverage sophisticated analytics tools to track various metrics, including customer behavior and ROI. Regularly refine your strategies to stay aligned with objectives and responsive to market shifts. Investing in customer support is a wise move as it yields a higher ROI. Research shows that 86% of buyers are willing to pay extra for superior customer experiences.
6. Scale, Expand, and Innovate
With your B2B eCommerce venture established, contemplate entering new markets or diversifying your product range. Assess your capacity to scale seamlessly and ensure your growth plans harmonize with your broader business vision. Innovation is just as important if you want to stay long in business. Failure to adapt to the ever-changing market and business trends can be a death knell for any enterprise. Just look at what happened to Blockbuster Video when VOD streaming services entered the market. Stay ahead of industry trends and consistently refresh your offerings, technology, and customer experience. Cultivate a culture of innovation and adaptability for sustained success and to maintain competitiveness in the dynamic B2B eCommerce sphere.
Conclusion
Launching a B2B eCommerce business is an exhilarating and multi-faceted journey. By focusing on these comprehensive and value-driven steps, you can navigate the unique challenges and opportunities of the B2B landscape. This guide offers an all-encompassing and nuanced approach, covering everything from rigorous market research to forward-looking expansion strategies. The world of eCommerce brims with potential, and by approaching it with meticulous planning, purposeful action, and a commitment to continuous innovation, your business has the power not just to succeed, but to become a valuable brand in whatever market you're in.
Rafal Reyzer
Hey there, welcome to my blog! I'm a full-time blogger, educator, digital marketer, freelance writer, editor and content manager with 10+ years of experience. I started RafalReyzer.com to provide you with great tools and strategies you can use to achieve freedom from 9 to 5 through online creativity. My site is a one-stop-shop for freelance writers, bloggers, publishers, content enthusiasts who want to be independent, earn more money and create beautiful things. Feel free to
learn more about me here.