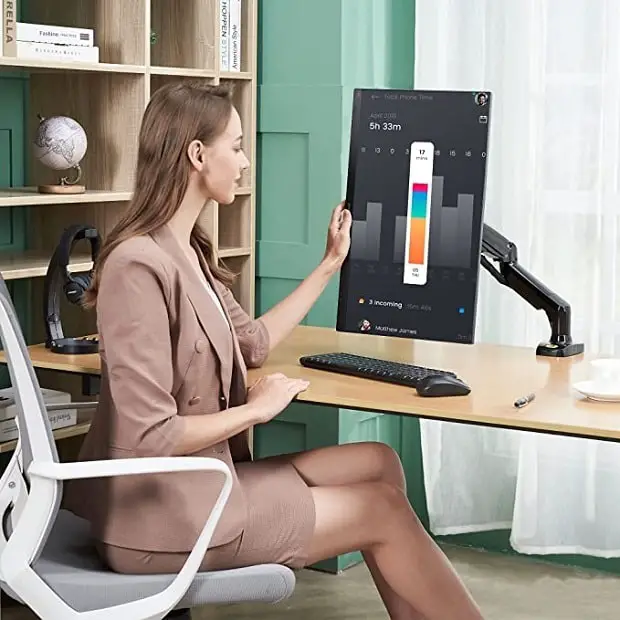 Looking at computer screens for 8 to 10 hours per day can make you feel increasingly fatigued.
If you do not take proper care, working at your desk for a prolonged period can cause discomfort. It includes neck strain, shoulder pain, dryness of eyes, blurred vision, and other problems.
One great solution to this problem is to use an adjustable computer monitor arm.
It provides better desk ergonomics and allows you to work comfortably by getting a better viewing angle.
In this article, we'll discuss the best adjustable computer monitor arms available online right now.
What is a computer monitor arm?
A monitor arm may look a bit robotic, but it's basically a mountable framing system for monitors. It has movable parts, and you can attach it to a wall, ceiling, or office desk.
It allows you to change the elevation and viewing angle of your monitor(s) at will. So, you can always set your monitor at a comfortable eye-level even when you shift from a sitting to a standing work position or vice versa. Now let's move to understand why a monitor arm is important.
The top 8 Adjustable Computer Monitor Arm for you:
For people working on two monitors simultaneously, I'd recommend this fully adjustable desk mount stand by WALI.
Features:
Supports two monitors up to 27 inches and can handle 22lbs per arm
The arms can extend, retract, tilt, and swivel up to 90 degrees as per your requirement
You can also change your view from landscape to portrait using these arms as they allow 360 degrees of rotation
The flexible arms help reduce neck and eye strain and improve productivity
There is a two-stage locking system that is compatible with a 3.1" Grommet Base and 4" C-clamp
A product by the reputed Amazon's home brand, Amazon Basics, this dual monitor stand is a great catch.
Features:
Can fit two monitors with a screen size of 13-27 inches per arm
You can rotate it up to 360 degrees to adjust your view
The height is adjustable ranging from 7.9-14.2 inches high
Has an adjustable screen title from -15 to +85 degrees and comes with a cable-management system for a fuss-free experience
It can be easily mounted with the detachable VESA plates
Comes with a 1-yr warranty
NB North Bayou's desk mount stand is another interesting purchase option.
Features:
Supports 17-30 inches monitor and can handle the 4.4-19.8lbs load
It is fully adjustable and uses a gas spring system to ensure you can move the monitor as often as desired
It offers a full-motion mount
Supports C-Clamp or Grommet installation
Provides comfortable viewing able and promotes well-being
Customers highly rated this dual monitor stand from Huanuo.
Features:
Can fit two monitors of 13-27 inches each
It weighs 5.3 pounds and has an L-shape configuration
It has gas spring arms that help to raise the two monitors to the desired height for better work posture
You can tilt, rotate, and swivel the monitor till you find an optimal angle
You can easily set it up within 10 mins and it comes with 75×75 and 100×100 VESA mounting holes on the back
Both the clamp and grommet mounting provide a stable support
If you are looking for a laptop stand where you can adjust the height and position, this product is for you.
Features:
It is compatible with most laptops that are between 10-15.6 inches
It can elevate your laptop to meet your eye level, so you do not have to hunch over your screen
The Aluminum alloy material absorbs and discharges heat easily, keeping your laptop cool
The product has a 1 yr. warranty
For people working on multiple screens, WALI's quad monitor stand is the best option for you.
Features:
Each arm can hold a monitor up to 27 inches in size and support a weight of up to 22lbs
The mount plates are detachable, and the height of the arms is adjustable
It is compatible with VESA mounting holes 75x75mm and 100x100mm
There is a two-stage locking system that is compatible with 4" C-Clamp and 3" Grommet Base
The high-grade arms can extend and retract, tilt and swivel as per your convenience
You can adjust the monitor arm on a 31.5 inches height pole
This is another great product to fit one screen. I'm referring to Rife's fully Adjustable Monitor Arm Stand Mount.
Features:
Supports one monitor with sizes ranging between 13-32 inches and can hold screens weighing up to 22 pounds
At the back of the monitor, you'd find the 75x75mm or 100x100mm VESA square bolt hole pattern
Monitor arm desk mount can tilt +/- 90 degrees, and you can swivel it left and right as desired
Made of durable and sturdy cold-rolled steel
You can quickly install the product
Comes with a 5 yrs. Warranty
This is another outstanding product for those who work or play on dual screens.
Features:
Supports 13-35 inches screen and can hold monitors weighing up to 33lbs each
The desk mount fits most flat, curved, or UltraWide computer monitors with VESA 75x75mm or 100x100mm mounting holes
Height is adjustable between 10-23 inches, thanks to the premium gas spring monitor arm
You can extend the arms, tilt them vertically, swivel horizontally, and rotate them for a portrait or landscape view
It helps improve your posture, ensures you have enough workspace, and helps hide cables as well
Comes with a 3 yrs. warranty
Benefits of a computer monitor arm:
1. Corrects your posture and ensure you are working comfortably
A computer monitor arm helps bring the screen to your eye level and keeps it at arm's length from you.
You can find the work posture you're most comfortable with by adjusting its height and depth and the angle of your monitor. The monitor arm keeps you away from leaning back or hunching over to see your screen.
2. Reduces eye strain
Say goodbye to burning and dry eyes, eye twitches, blurred vision, and other optical woes. You can prevent getting computer vision syndrome with the help of a monitor arm.
Position the monitor at a level that best suits your height and viewing angle to avoid straining your eyes while staring at the work screen.
3. Improves productivity
Several dual and multi-monitors are available in the market. Thanks to this, you have more flexibility and control over your work environment.
If you work on multiple monitors, such arms will help you place the screens one on top of the other, side-by-side, or however you want to. All of this helps to improve your productivity level.
4. Help keep your workspace neat
An adjustable computer monitor arm leaves no footprint on your desk. How? Remember, I mentioned you can attach it to the wall behind your desk, or the ceiling above it, or the back of your desk? Thanks to this, you have a lot of free space on your desk for accessories and other stuff.
Final Thoughts
So now I've told you about the best ones available in the market. It's your turn to decide.
There are various factors such as sturdiness and stability of the arm, price of the product, etc., which you should consider before you purchase one.
You should also look at the extent and level of adjustments the product offers. This would help you work more comfortably.
Have you used an adjustable computer monitor arm before? Drop a comment to let us all know about your experience.
Rafal Reyzer
Hey there, welcome to my blog! I'm a full-time blogger, educator, digital marketer, freelance writer, editor and content manager with 10+ years of experience. I started RafalReyzer.com to provide you with great tools and strategies you can use to achieve freedom from 9 to 5 through online creativity. My site is a one-stop-shop for freelance writers, bloggers, publishers, content enthusiasts who want to be independent, earn more money and create beautiful things. Feel free to
learn more about me here.