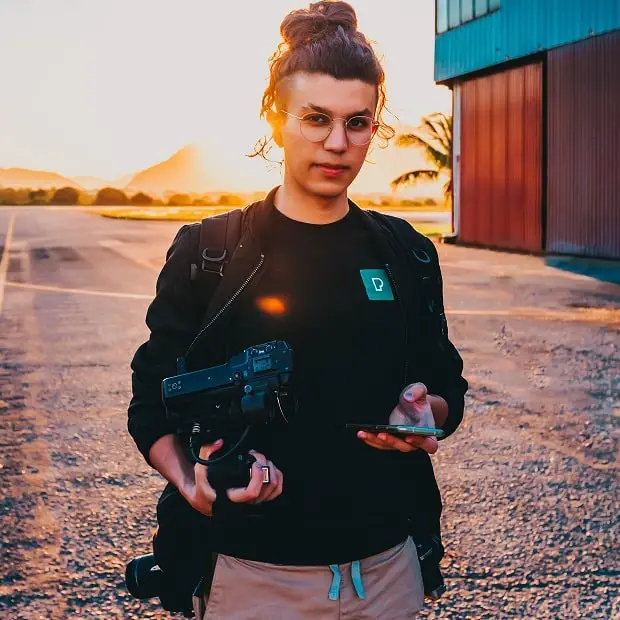 The world of backpack journalism is thrilling, but getting the right equipment can be daunting.
If you're going to do it all by yourself, you want the best tools for the job. Right?
Let me share with you my top must-have pieces of backpack journalism equipment. You can thank me later!
What is Backpack Journalism?
In a nutshell, it's when a single journalist does the work of a whole team while operating remotely.
They are the reporter, photographer, videographer, producer, and editor all rolled into one. This type of journalism is usually practiced in remote locations or places that are hard to get to, like war zones or disaster scenes.
Well, if you're doing all those jobs at once, you're going to need the right equipment.
Top 15 Must-Have Backpack Journalism Items
1. A Durable and Lightweight Laptop
Most of the writing, editing, and production will be done on a laptop. This is one of the most important pieces of backpack journalism equipment to buy.
You might want something lightweight – you'll have to carry it around after all! It is also worth purchasing one that is compatible with the cell phone you use. For instance, if you use an iPhone, then a MacBook is a good way to go.
Your life will be easier if the equipment can 'talk' to each other.
2. Digital Camera/Camera Phone
If your cell phone is a reasonably high spec, you can use its camera to record footage and take still photos. If not, invest in a good digital camera with a zoom lens.
Part of the attraction of backpack journalism is being able to connect with individuals. You can share their stories through footage of segments of their lives. A good camera is essential to let you do that.
3. Microphone (lapel / shotgun)
Another must-have for any good backpack journalist is a decent microphone.
You will tell your stories through pictures and audio, so you want to make sure the sound is crystal clear.
It is easy to find microphones that attach to your camera or phone. They don't need to take up a lot of space, but they will be worth it. Don't risk muffled audio or too much background noise. It will affect the quality of your reporting.
4. Voice Recorder
When you are interviewing people, you want to be there with them at that moment.
Writing or typing notes will detract from the connection you have with them.
Invest in a good quality voice recorder so that you can record the interviews and listen back to them later. This will help make your interviews feel more natural and lead to a more detailed discussion.
5. Lights
Ring lights are all the rage amongst social media influencers for good reason. They make a real difference to the quality of your videos.
You can find lights that attach to your camera/phone. That way, you don't need to worry about holding another piece of kit.
This piece of backpack journalism equipment shows your footage in the best light…pun intended!
6. Editing Software
Decent editing software is inexpensive, or even free. It is essential to allow you to edit your stories on the move.
You will often have to edit your footage on the go to keep up with events. Make sure your software will allow you to cut footage and edit quickly. It also needs to be compatible with your laptop, so check that out before you buy!
Most laptops, tablets, and smartphones in the market today come with built-in editing tools or have downloadable apps you can readily access via App Store or Google Play.
7. Dictation/Transcription App
Another valuable piece of software will be a good dictation/transcription app. Like the editing software, this doesn't need to be expensive, but it will be useful.
This will allow you to dictate your story, rather than type it. It will also help you add subtitles to any video you produce to make it more accessible to a wider audience.
Be sure to read through the transcription so that you can make any adjustments when you finish. No transcription app is perfect after all.
8. Earphones
When editing, you will need to listen back to your footage several times. Investing in a good set of earphones will make this painless.
If you find them comfortable, in-ear earphones would take up less space. Noise cancellation will also be useful to help you concentrate as you edit and transcribe your audio or video recording into text.
9. Satellite Phone
If you are going to work in remote locations, you need to invest in a satellite phone.
You need to stay in contact with some people even when you're in the remotest part of the earth. But it is unlikely that you will always have a normal cell phone reception.
Wherever you are reporting from, you must be reachable by the news agency or whatever organization you are working for in case of an emergency.
To be more efficient in your job, and for your safety, you need to stay in contact with the people you work for, as well as those who are concerned about your well-being, like your family and friends.
If you are on an overseas assignment, it is also important that you have a way of contacting your embassy when needed.
A satellite phone will keep you connected where a cell phone can't. It is an essential piece of backpack journalism equipment, so don't be without it!
10. Notebook and Pen
Whether you like pen and paper, or a modern electronic version, you will need a notebook. A good journalist is never without one.
If you prefer an electronic one, check out our review for the best digital notebooks on the market.
Make sure you opt for a lightweight one with good battery life. You don't want to run out of power at the wrong moment.
11. Power Bank
Speaking of running out of power… purchasing a power bank for your phone is a sensible purchase.
If you are likely to be in remote locations or disaster-hit areas, you might not always be near a power outlet. Technical challenges like these must not become a hindrance for a news writer and reporter to do his job.
You can buy all the equipment you like but it is no use if the battery runs flat! You will be glad you bought a power bank to save the day.
12. Wrist strap
This might seem like a strange thing to make it to our list, but hear me out…
You may well be walking (or running) over uneven terrain. The last thing you want to do is drop your camera or phone.
Make sure that you attach any loose items to you when you are on the move. You won't regret it!
13. Valid Passport
You never know when, or where, you might need to report on a story. Always make sure your passport is up to date and ready to go.
It is also a good idea to make sure you have a photocopy of your passport's info page saved on the cloud. If you lose your passport, it will be handy to have all the details accessible to help you sort out a replacement.
14. Weather-Resistant Clothing
No matter where you will report from, remember to check the weather. Pack and dress appropriately!
If you will be exposed to scorching sunlight for hours, remember to bring sunscreen and shades too.
If it will be wet, pack a lightweight raincoat. Top tip: buy one bigger than you need so that it can also cover your bag and protect all those expensive equipment!
Above all, make sure you wear appropriate footwear. You are likely to be on your feet most of the day, so make sure you keep them cool and dry. You don't want to end up with sore feet, do you?!
15. High-Quality Backpack
Last, but not least, on our list of backpack journalism equipment is the backpack itself. You need something to put all this stuff in, don't you?!
You will want to find a backpack that has lightweight, breathable fabric. This is especially true if you will report from hot climates.
It also needs to have space for all your equipment, along with pockets for sundry items. This includes a water bottle, as you need to stay hydrated while on the move.
What Next?
Now it's time to get up and go!
You have your list of must-have equipment. Once you have them all, the world is your oyster. I look forward to reading about your experiences as a backpack journalist!
Rafal Reyzer
Hey there, welcome to my blog! I'm a full-time blogger, educator, digital marketer, freelance writer, editor and content manager with 10+ years of experience. I started RafalReyzer.com to provide you with great tools and strategies you can use to achieve freedom from 9 to 5 through online creativity. My site is a one-stop-shop for freelance writers, bloggers, publishers, content enthusiasts who want to be independent, earn more money and create beautiful things. Feel free to
learn more about me here.