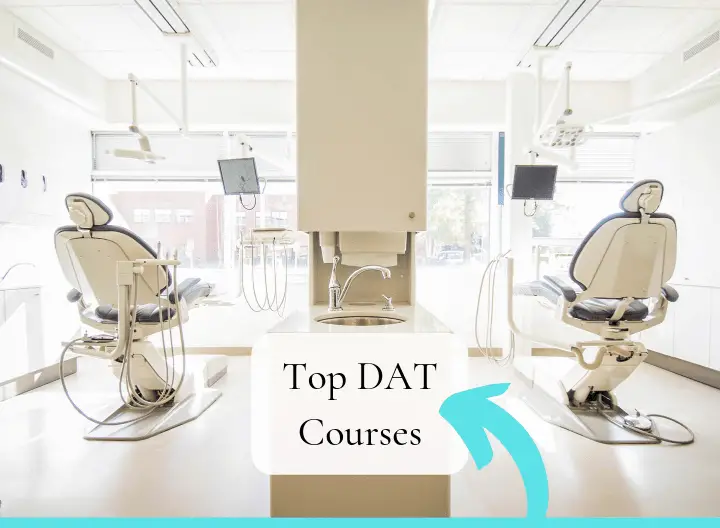 DAT or the Dental Admissions Test costs $495 per try. You'll also need a ton of time to get prepared for it. That's why many students decide to take one of the best DAT prep courses.
They act as "insurance" against having to take the test all over again. These prep classes and materials are not cheap either, but at least, they'll allow you to pass with a good score on the very first time.
That's worth a lot because most students suffer from test anxiety and having to retake the DAT can be a major source of stress in your life. So do your best to smash this challenge by using one of the course options reviewed below.
The computer-based DAT is 5 hours long (if you include the breaks), and if you pass it with a score high enough, it will get you admitted into a dental school.
According to ADEA (American Dental Education Association), the average standard score that will get you accepted into a dental school is 19,9, And the average GPA is 3.5. This may vary from school to school, but it's a good benchmark to aim at.
Taking a good course and squeezing around three months of prep out of it should be more than enough to reach a high score if you apply yourself.
In summary, here are the three best DAT courses available online:
But what's so special about these options and what kinds of features do they offer? Let's find out!
Table of contents:
What are the Top Features to Look for in a DAT Prep Course?
When signing up for a prep course, think about how you like to study and which features are most important to you. There are a couple of things to keep in mind when selecting a course:
1. Do you prefer to work with an instructor or are you fine studying on your own?
If you thrive in a structured, classroom environment, it's better to take a live online course. But if you like to lock yourself up and crack the materials on your own, then the self-paced course will be better.
2. What is your budget?
The question of financing is always important. If you decide on a live-online course, prepare to pay a little bit over $1000. But if you select a self-paced option, you'll pay around $299 – $499 depending on which one you choose.
3. Is the course comprehensive?
Make sure that all areas of DAT are covered before you sign up. Otherwise, you'll have to supplement your efforts with extra materials such as books and apps.
4. How many practice tests you will get?
Going through timed practice tests and analyzing your results afterward is the best way to improve your score. So make sure the class you select gives you a lot of opportunities to crack the tests and practice questions.
A Comparison Chart Between the Top 3 DAT Prep Courses Available Online:
| | | | |
| --- | --- | --- | --- |
| | Princeton Review DAT Ultimate | DAT Bootcamp | DAT Destroyer |
| Price | Check the price here (check for discounts) | Check the price here | Check the price here |
| Overall score | 9/10 | 9/10 | 8/10 |
| Live instruction time | 55 hours | 0h – fully self-paced | 0h – fully self-paced |
| Higher score guarantee | Yes, higher score or your money back | No | No |
| Length of access | 5 months | 3 months | Unlimited |
| Full-length practice exams | 4 full-length computer-based exams | Unlimited tests created from practice questions | 0 full length-practice exams |
| Practice questions | 4000+ | 4670+ | 960+ |
| Books / written materials | 880+ pages of materials + a workbook with 500+ pages of practice questions | No books – fully online based | 2 or 3 books, depending on the bundle you choose |
| Video materials | No | 700+ | No |
| Mobile app | Yes | Yes | No |
#1 DAT Course – Princeton Review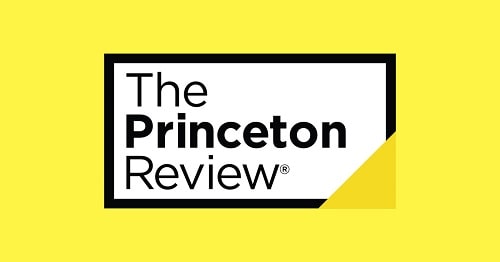 Princeton Review is one of the leaders of the test prep industry and they actually offer a great DAT course. It's a live online option, meaning that if you sign up, you'll be able to attend all the classes online through a special dashboard.
The course offers 55 hours of live instruction with 3 or 4 expert teachers who specialize in different parts of the test. What's great about this option is that you will attend your classes from the comfort of your own home – no commuting required.
There are also a couple of different dates and schedules you can choose from. Normally the whole course takes around 3 months, and every week you would attend two, 2,5 hour long classes on Wednesday and Saturday.
This time frame is perfect to prepare for the DAT and score high enough to get admitted to a dental school of your choice.
Naturally, with this amount of live instruction, the course is more expensive and costs over $1,000. But it's still a great option if you have the money because it will allow you to nail the test on your very first try and avoid paying another $415 for another try.
During your classes, you will learn about all the details of the test, cover the whole curriculum, and absorb the best strategies in terms of timing and answering tricky questions. After each class, you'll also be assigned specific homework that will take you around 10 hours to complete.
This may include completing one of the four full-length practice tests which you will then analyze under a careful eye of your instructor. This course is perfect if you like to work with external expectations and you want a uniquely tailored study plan.
And as a bonus, you'll get tons of printed materials you can use in your own time to master the different aspects of the test.
Highlights of the course:
The top pick in the live online category
55 hours of live instruction
Four computer-based practice tests and thousands of practice questions
Useful "student portal" mobile app
You'll work with 3 to 5 subject expert instructors
Comprehensive workbooks and other in-class study materials
A score improvement guarantee
Personalized study plan
#2 DAT Course – DAT Bootcamp

DAT Bootcamp is a new company in the test prep industry. But it's already ranked as one of the top self-prep options for the Dental Admissions Test. It offers a high-tech approach to learning and it's fully online-based. Besides a beautiful and easy-to-understand online dashboard, you'll get access to a mobile app available on both Android and iOS to review your content on the go.
The recommended "pro" version of the course costs around $500 but it offers a lot of value for the money. It provides 60 practice tests you can complete in your own time. Besides, you'll get over 4000 practice questions on all categories of the test, as well as hundreds of in-depth videos for chemistry, PAT, and RC.
What's great is that all the questions you'll face are timed, so you'll get used to the serious test-taking environment. This is cool because you'll learn how to time your answers, and inoculate yourself against the stress often associated with taking standardized tests.
Of course, here you won't get so much structure and discipline as you would with a live-online course. But DAT Bootcamp will give you a proven study schedule, so it's easier to keep on track and finish your tasks.
Another thing is that you'll be able to use "hero support" which is a simple, yet effective support platform. If you're stuck with a particular problem, and the given explanation is not enough, you can always drop a line to the instructors and get an answer within one or two days.
The only drawback of this course is that you will get access only for 90 days, which might not be enough. But you can upgrade to the "Bootcamp Plus" option for $400 and get access to the whole course for 180 days, along with some extra materials.
The course is comprehensive, but if I were you, I would still complement it with books and apps listed below. It's always great to attack from different angles and get different points of view.
Highlights of the course:
The best pick in the self-prep category
Over 330 in-depth chemistry videos
70+ PAT and RC videos
A nice study app available for both iOS and Android
Over 4000 practice questions
Unlimited practice exams available through your browser
90 days of access
A proven study schedule
#3 DAT Course – DAT Destroyer
This is not a full-blown course, but rather, a set of detailed books containing "DAT secrets" that will improve your score. I wanted to include the "destroyer" series here because it helped many students achieve great results on the test.
The books are created by Dr. Jim Romano who's been helping students with the dental exam for many years. The main book in the series is called "DAT destroyer". It contains detailed info about organic chemistry, general chemistry, biology, and quantitative reasoning sections. It costs $150 which is not cheap, but the quality of the materials is fantastic.
If a single book is not enough, you can also buy one of the "combo packages". These bundles are going to cost you $100 to $150 more. But in return, you'll get a "Math Destroyer", a "General Chemistry Destroyer" or an "Organic Chemistry Odyssey".
There is also a master package called "DAT Destroyer Dynamite". This is the ultimate bundle which costs $399. It's comprised of 4 separate volumes filled with some of the best test-related information you will ever find.
Perhaps you won't need all the items from the "destroyer" collection. But if you're struggling just with math, you can only order the relevant volume at $99. It contains 12 tests with 40 problems and covers every single topic related to math, that's tested on DAT. This includes quantitative comparison, data analysis, and data sufficiency problems. The solutions are written out in a clear and concise manner and will help you master the QR section of the test.
Review from one of the students:
"I just took my DAT and am extremely happy with my scores. I wanted to thank Dr. Romano for the invaluable resource that is the DAT Destroyer. While studying for the DAT, you MUST understand every single answer choice in the destroyer, not just the ones that are correct. I wouldn't have been able to get those science scores without the destroyer. THANK YOU!"
Highlights of the course:
A set of high-quality prep books
Over 960 practice questions with thorough explanations
Extra materials for chemistry and math sections are available
Highly praised by students
A relatively inexpensive, but effective way to prep for the DAT
Covering organic chemistry, general chemistry, biology, and quantitative reasoning
Other DAT Courses Worth Considering
I always recommend using extra materials in conjunction with your main course. There are a couple of other options here that didn't quite make the top 3 list but are still worth considering if you're serious about improving your score.
1. Chad's DAT Exam Videos (Course Saver)
Many students praise Chad's Exam Videos, which are a part of the Course Saver platform. To gain access to the dashboard with over 450 videos you will need to pay $50 a month. It's a great and inexpensive option to use, especially if you love to learn with video content.
And the great thing is that you don't have to pay hundreds of dollars upfront. You just pay a moderate monthly $50 fee for 2 or 3 months before the test day.
Except for the videos, you will also get access to 3500 practice questions and DAT / PCAT quizzes. These materials are recommended, especially for a review of the chemistry and organic chemistry sections.
2. Crack the DAT
This is a good option for students who want to improve their performance in a particular section of the exam.
Each package is $99 and for example, you can take PAT (perceptual ability test) option and get 5 full-practice tests, 450 questions, 3D interactive models, hole punching, cube counting, and angle ranking generators just for that section. The same goes for Math, DAT reading, and science.
What I like about this option is that it gives you unlimited access with no expiration date. So once you buy it once, you'll have it forever.
3. DAT Bootcamp YouTube Channel
For the next two or three months, you can change your YouTube diet, and instead of watching cat videos, binge watch DAT videos (wink wink). Along with the course reviewed above, the "Bootcamp" company offers lots of free video prep materials.
On the channel, you'll find videos about more general topics on how to make a list of dental schools and how to prepare your application. I suggest checking their videos in your free time as they contain heaps of useful info.
4. Kaplan DAT Courses
Kaplan offers a couple of prep options for DAT. These include one-on-one tutoring which unfortunately is really expensive and costs over $2,500, a live-online option which starts at around $1499, and a self-paced option for $1299.
Kaplan materials are of high quality, but they are generally expensive. That's why I picked Princeton Review as a better option if you want to go the live-online course route. If anything, I would take a look at a Kaplan DAT prep book which is great (see the book section below).
The Best Books to Prepare for the DAT
Along with online courses, you can also grab a few textbooks that will help you master the content necessary to pass the test.
As you know, there are many topic areas included in the DAT curriculum. These include:
Perceptual ability
Quantitative reasoning
Reading comprehension
Biology
General Chemistry
Organic chemistry
Total Science
Not all courses cover every area in enough detail so sometimes it's great to use books to cover all the bases. Let's see which ones deserve your attention.
Sterling Test Prep DAT Biology Practice Questions
This is just one example of many prep books by Sterling covering the DAT curriculum. If you go online you can actually find a title like this for every major part of the test. Sterling books are indispensable as well as accessible and easy to read.
For example, this one contains 1500 practice questions, and that's a lot given that the book only costs around $30. Besides the questions, it also contains a summary of the most important concepts that appear on the test (with detailed explanations).
DAT Prep Plus: 2 Practice Tests + Proven Strategies + Online Materials (Kaplan)
This is a title coming from Kaplan. What I like about it is that it's like a small course in itself for a very affordable price. It contains two full-length practice tests so it's great to buy if you don't get enough practice with your regular course.
It also offers some great strategies for taking the test. You probably realize that it's not only about the knowledge but also how can you apply it effectively in a stressful situation.
The Best Apps You Can Use for Your DAT Prep
If like me, you like to learn while on the go, there are a couple of great apps for DAT to use on your mobile phone or tablet. These apps are available for both Android and iOS.
It's great to use them if you only have a couple of minutes and your phone in your hands (what is practically always these days).
1. DAT Mastery (Android & iOS)
This is a top app available on Android and iOS. It offers over 1200 DAT practice questions with explanations and images. It also has a neat section for verbal reasoning, social sciences, natural sciences, and technology.
But the best part consists of 100+ mnemonics that will help you sear the toughest concepts into your brain. There's also a nice tracking tool that will show you how you're doing on different sections and address your weaknesses.
If you're looking for something similar, you can also check DAT Tests – Dental Prep. It's a smaller app, but it can still be a good supplement to your course.
2. DAT Bootcamp (iOS)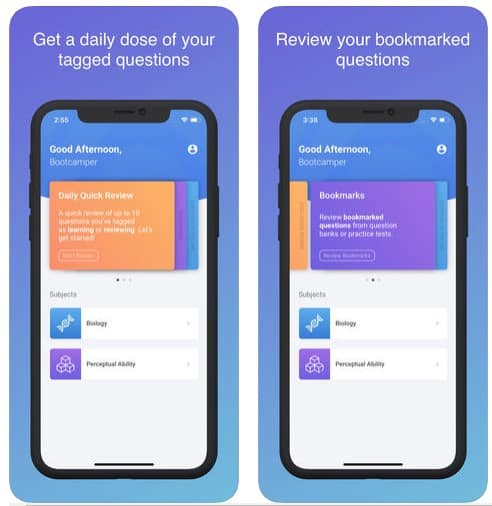 This is the best mobile option if you have an iPhone or an iPad. And the best part is that it's completely free. It offers hundreds of practice questions and gives you detailed explanations.
You can also save the questions you have the most trouble with so you can review them every other day. It also has a progress chart that allows you to see how you've scored in the past and how far you've gone.
Conclusion
There are many amazing and effective ways to prepare for the DAT. It's best to use a couple of methods in combination, not to rely only on one set of materials.
Even if you decide to invest in a full-blown live online course, it's still great to supplement your efforts by using books, mobile apps, or other inexpensive online options such as YouTube videos, blogs, forums, and of course, the free materials from ADA.
Either way studying for the test doesn't have to be stressful and if you are willing to put in enough time you will achieve great results on your first try. Good luck!
Rafal Reyzer
Hey there, welcome to my blog! I'm a full-time blogger, educator, digital marketer, freelance writer, editor and content manager with 10+ years of experience. I started RafalReyzer.com to provide you with great tools and strategies you can use to achieve freedom from 9 to 5 through online creativity. My site is a one-stop-shop for freelance writers, bloggers, publishers, content enthusiasts who want to be independent, earn more money and create beautiful things. Feel free to
learn more about me here.