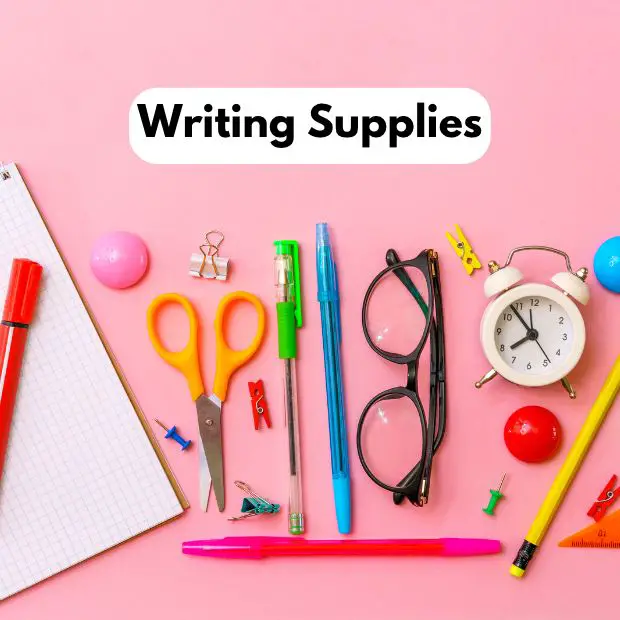 As writers, we often use our keyboards and digital word processors to get the final draft done.
Most times, the journey to a polished manuscript starts with the classic duo of pen and paper. There's a certain magic in the sensation of a pen dancing effortlessly across premium paper. And hey, did you know? Handwriting supercharges your memory and boosts retention. But the toolkit of a passionate scribbler extends beyond just these two. That led me on a quest to uncover the best writing supply havens online. We're talking luxe pens, vibrant markers, radiant highlighters, dreamy notebooks, journals, trusty sticky notes, artsy tapes, reliable staplers, snazzy scissors, nifty folders, chic envelopes, and indispensable planning sheets. Need a space to pin your thoughts? Or maybe a planner that's a game-changer? Dive into my roundup of the top writing supply sanctuaries online!
10 Amazing Sites with Writing Supplies:
If you're after something unique, go for Etsy. This huge marketplace gives the platform to many crafty people and small stores around the globe to advertise and sell their creations. That makes Etsy a place where you can find practically anything that can be customized or handmade. Whether you want a vintage leather-bound journal to write the notes for your novel or a monogrammed wire-bound planner to manage your blog, chances are you'll find the right notebook on Etsy. Sellers on the site sell office supplies of all shapes and sizes, custom-made paper products, and even witty 3D-printed stationery like this clever Julius Caesar Pencil Holder. Of course, you can find almost anything else on Etsy too – from art printed on apparel and hand-lettered wedding invitations to hand-sewn plush toys.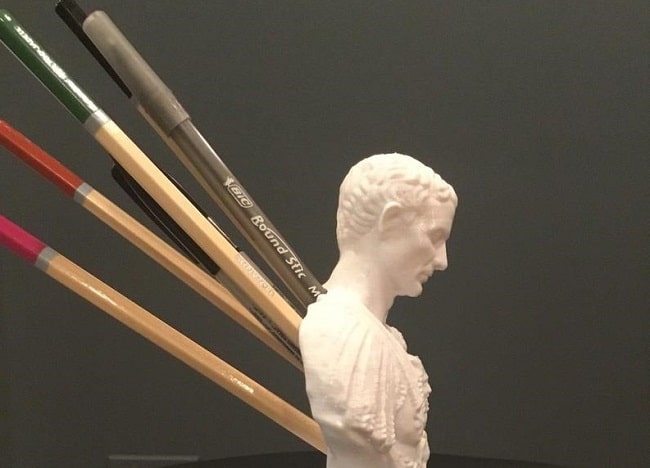 Everybody knows Japan produces some of the world's highest-quality stationery. But besides its heightened durability and precision, Japanese writing tools also come in a variety of extremely cute designs. The people behind the Kawaii Pen shop know this – so they brought a selection of Japan-style stationery to offer from their New York-based offices. Heavily inspired by Japan's unique kawaii culture, this pen shop sells tons of incredibly cute stuff with unique designs inspired by cartoons, nature, and ancient Japanese art. But Kawaii doesn't merely mean "cute". Kawaii is a concept that encompasses an entire way of thinking and lifestyle, and Kawaii Pen Shop embodies that concept perfectly. From backpacks, brush pens, decorative stickers, cute wooden stamps, and handy hole punchers, the Kawaii Pen shop is there for all of your adorable office supply needs. International customers rejoice – Kawaii Pen shop gives free standard intl. shipping on all orders above US $35!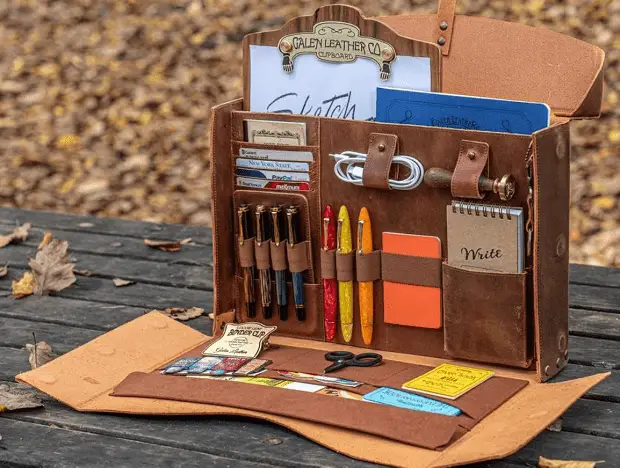 Paper Source is a famous American retailer based in Chicago, Illinois. Using their own words, the mission of the Paper Source is to inspire you to do something creative every day. They strive to bring joy to every step of their customers' creative journey, whether that's by giving thoughtful gifts, living a well-organized life, creating your project, or celebrating life's special moments. Colorful, cute, elegant, minimalistic, badass? Paper Source is the right place to go if you're not 100% sure what kind of design you want. They offer such a variety that everybody will find something perfect for themselves. Among other products, Paper Source sells calendars and planners, journals with blank or lined pages, fine papers, paper craft kits, stamps, pens and pencils, gift wraps and gifts, wedding invitations, greeting cards, and party supplies. If you're in love with stationery, you'll love Paper Source's subscription boxes. They bring you three types of subscription boxes to choose from, including a creativity box with art supplies (and online video instructions), a kids club subscription with paper crafts and activity sheets for kids, and a lifestyle subscription box that ships four times a year.
While everyone loves a little cute from time to time, it can be overwhelming. Sometimes, you just need a simple notebook to do your work efficiently or to give it to someone else with a beautiful inscription. Here's a place to look – overcrowded designs are NOT something you will find in the MUJI U.S.A. store. Based in New York, Muji is a store that proudly sells clean, minimalistic stationery. Their signature product – notebooks made of recycled paper with calming monochrome covers. You can get everything you need in their store. From folders, binders, pen cases, and planners, to pens, MUJI is a well-equipped place for all of your minimalistic office supply needs. Apart from all the things a writer needs, they also sell apparel, furniture, items for the home, and snacks and cosmetics from Japan – all rocking the signature minimalistic design. At the moment, they ship all of their products within the contiguous US, and they send smaller, non-fragile packages to Canada, Puerto Rico, Hawaii, and Alaska.
JetPens is an exclusively online stationery shop based in San Jose, California. They ship worldwide but offer free shipping within the US on orders over US$35. JetPens offers a wide variety of products. From high-end fountain pens to super cheap notebooks to use on the go. They sell tested and tried products in all price ranges and offer a truly impressive variety of office supplies. From journals and pens to paper cutters, ink erasers, and letter openers, JetPens offers it all in various brands, colors, and sizes. The thing that sets JetPens apart from other stores is its sorting system. Apart from the typical sorting, this store also lets you browse products by color and through their curated collections. For example, browse all orange items, or see everything they picked for their Pastel stationery collection. If you're after long-term value with papers that last a long time or pens that never fade, their collection of archival supplies is a great place to look.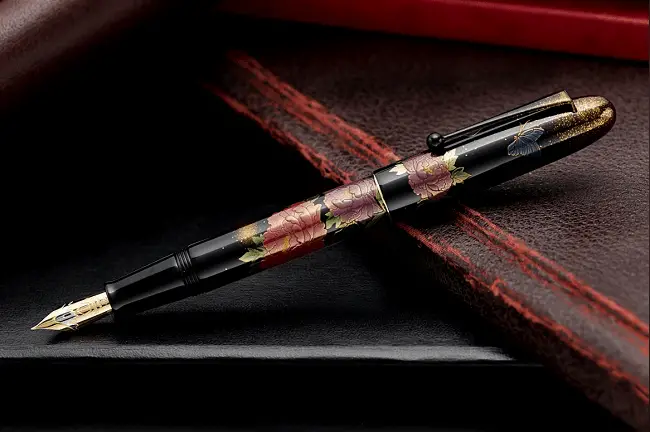 Operating out of Henrico County, Virginia, The Goulet Pen Company is a family-owned enterprise that produces top-notch pens. Fountain pen enthusiasts will love this store that offers a wide selection of pens, fountain pen maintenance supplies, and colorful inks (even multicolored ink with a two-color sheen), along with other stationery you may need for your writing job. Their products rock an elegant, classy design that comes both in clean and decorated versions. Whether you want a $10 set that includes a notebook, a pen, and three ink samples, or you want to invest upwards of $5000 for a premium-quality signature fountain pen you'll use for life – the Goulet Pen Company has what you need. If you opt for an expensive product, The Goulet Pen Company works with Affirm Financing to let you pay off your purchase.
Lovers of elegant, retro art rejoice – the Two Hands Paperie based in Colorado has a lot of nice stationery (and much more) for you. The Two Hands Paperie was originally intended to be a shop with a wide selection of premium paper, but now they're a one-stop shop for all of your office supply needs. From lovely journals and sketchbooks, over craft supplies like paints, ink, and tools, to planners, file folders, bags, pens, and greeting cards, this shop gets anything that fits that lovely, whimsical vintage style. They even sell puzzles and tea towels with beautiful retro drawings. They truly have everything that a romantic soul needs.
With offices and warehouses in Seattle and Seoul, MochiThings is well-prepared to ship out premium analog writing tools and just about anything else you may need to enjoy your home office more. They don't focus on a particular style, instead; they sell simple, elegant, and cute stationery. They hold a huge collection of decorative stickers and have all that you need to keep your memories nicely labeled in your scrapbooks. Besides pens, journals, and mouse pads, they also sell unique things that can make your office life easier – for example, this amazing transparent memo board you can stick to your monitor. Bags, coasters, magnetic bookmarks, tablet stands, desk organizers, notebook refills, and so much more are available at MochiThings.
This Nashville-based store and online retailer carries one of the widest arrays of merchandise for writers, calligraphers, illustrators, painters, hobbyists, and craft enthusiasts. Besides writing instruments such as pens & markers, calligraphy pens & nibs, and pencils & graphites, they have a complete lineup of artists' supplies such as paints & inks, brushes, gouaches, watercolors, art papers, and other specialty products. They also sell hobby kits and various art materials for craft projects, as well as books, novelty journals, stationeries, gift items, and a lot more. The company ships products worldwide, but the price will be subject to applicable duties taxes, and shipping costs. They offer free shipping to anywhere in the United States, but only if your purchase totals $250 and up.
Now, here's a place that will deliver quickly to my Europe-based readers. Based in the UK, Pen Pusher is a nice online store with a wide selection of writing and art supplies. Whether you're after a fountain, ballpoint, or calligraphy pen, or if you want a few brush markers and paints to make your journals look nicer, Pen Pusher can push the pens right to you no matter where you're located. Pencil cases, tapes, rulers, paperclips, unique designer notebooks and journals, art paper pads, and everything in between are sold at the Pen Pusher. They ship their packages worldwide, except for liquids (like fountain pen maintenance liquid and inks) which can't be sent outside of the UK.
Last, but not least, on our list of the best sites with writing supplies is this family enterprise based in Istanbul, Turkey. Founded by Zeynep, who sadly passed away in 2019, and her brother Yusuf, this company has made a name for itself in handmade leather goods. They produce stationery gift sets, wallets, bags, leather-bound notebooks, and many other charming items. Their impressive gift sets come with high-quality leather or wooden cases that exude elegance and a rustic feel. They contain writing materials and sundry stationery products like Writer's Medic Bag, A5 Zip Folio, Zipper Pen Cases, Flap Pen Cases, and many others. Their offer is great if you're looking for a well-thought-out gift for managers, professors, lawyers, or any other person you highly value. What's your favorite stationery store? Next up, you may want to check the list of the best digital notebooks for writers.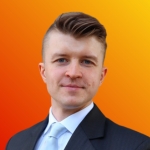 Rafal Reyzer
Hey there, welcome to my blog! I'm a full-time blogger, educator, digital marketer, freelance writer, editor and content manager with 10+ years of experience. I started RafalReyzer.com to provide you with great tools and strategies you can use to achieve freedom from 9 to 5 through online creativity. My site is a one-stop-shop for freelance writers, bloggers, publishers, content enthusiasts who want to be independent, earn more money and create beautiful things. Feel free to learn more about me here.