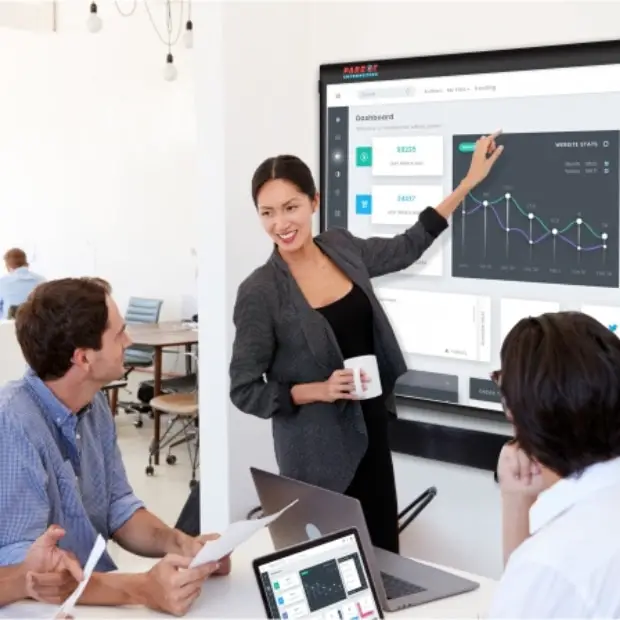 Smart boards are now used in conference rooms and classrooms, instead of chalkboards, whiteboards, and projection screens.
The best smart whiteboards in the market let you present information and graphics that will grab the audience's attention. You can use it to move things around the screen, which is perfect for remote presentations and business meetings. You can use it for:
Business presentations
Online learning activities
Presenting a webinar
Recording a video
Brainstorming with multiple users
Screen sharing
Below you'll find a list of the best interactive whiteboards on the market. The selection criteria include screen size, resolution, speakers, touchpoints, integration, functionality, affordability, and a few other factors. Let's check them out, shall we?
10 Best Interactive Whiteboards
With these interactive whiteboards, you can engage your students or colleagues with more than just text-based lessons and presentations. You can use graphics, powerful PowerPoint slides, and even movies to make lessons and meetings more interactive. Learning in this smart, connected way is going to benefit your organization. Let's get right to it!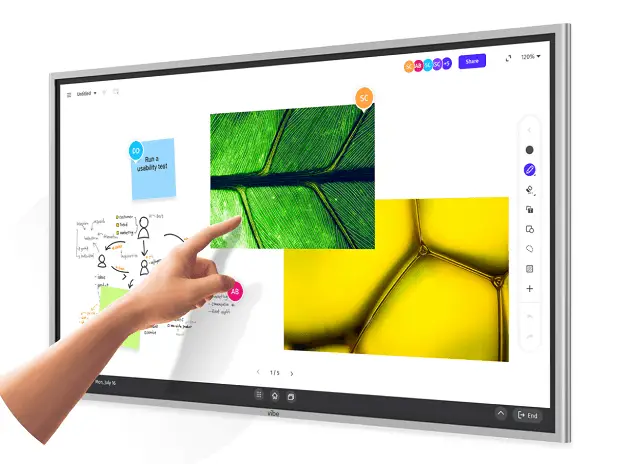 This smart digital interactive whiteboard is great for business and academic settings. It is available in different sizes, from 55 to 75 inches, so you can choose what size works best for your audience. Whether you are conducting business seminars or presenting ideas to middle or high schoolers, you can captivate your audience with its 4K UHD intuitive touch screen. You can integrate popular software and apps like Microsoft Office Suite and Google Drive with this smart board. Students can interact with whatever is displayed on the screen from their own devices since it supports multi-person and multi-device editing and sharing in real-time and from any location via HDMI, AirPlay, and EShare. If you need to bring in an expert to discuss things, you can connect via video conferencing from this smart interactive whiteboard. You can also write and sketch documents using its magnetic stylus and even directly search for information from apps such as Google Chrome and YouTube. What's more? You can save your data to Vibe Cloud in real time and revisit them whenever you need them. You may opt to mount it on the wall or get a specially-designed stand from the Vibe store. Whereas you can get various apps available in the Google Play Store. Education has never been more interactive and technology-based than ever before.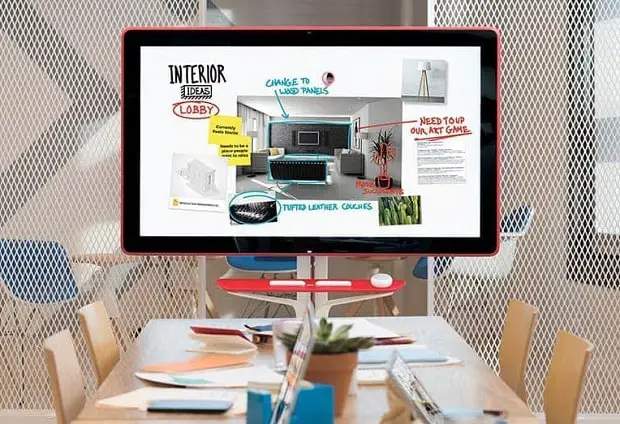 The Google Jamboard digital interactive whiteboard allows you and your team to visualize ideas collaboratively using an interactive display that lets you pull data from the web. Everyone can write on the board to express their ideas. Jamboard can support up to 16 touchpoints concurrently on one device. An entire group can collaborate on the same jam via other Jamboards or through phones and tablets equipped with the Jamboard application, making it one of the best collaboration tools in the market. You get the best of Google search in this interactive whiteboard as you can easily pull work from Google Docs, Sheets, and Slides as you pull up photos from Drive. Its 55-inch 4k interactive display is impressive. It comes with a stylus that does not require pairing for you to write or draw. It even has an eraser, in case you don't want to wipe things off with your hands. The one downside is that after purchasing the Jamboard, you might need to pay an annual management and support fee of $600.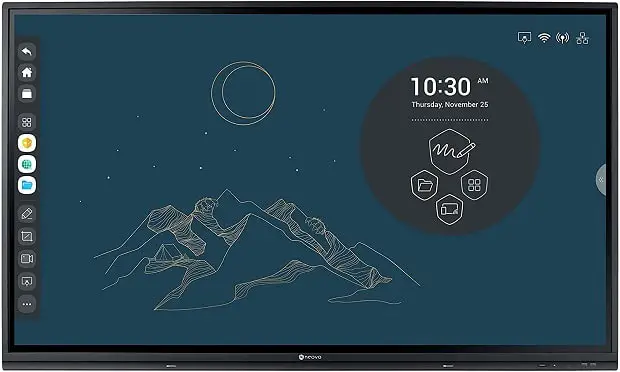 The Meetboard 3 is an impressive teaching and business presentation tool. The ease with which you can highlight, markup, and add notes to documents makes it one of the best smart interactive whiteboards for teachers. You can customize its toolbars to include only the tools you commonly use and reduce on-screen clutter. With the Meetboard app, you can transfer files to students or workmates via mail or Cloud Drive. Students can connect their devices to this smart board seamlessly and interact with it directly. It is available in 65, 75, and 86-inch 4k displays for clear images and crisp videos. You can connect to it via Wi-Fi and Bluetooth as well. It also allows wireless screen mirroring.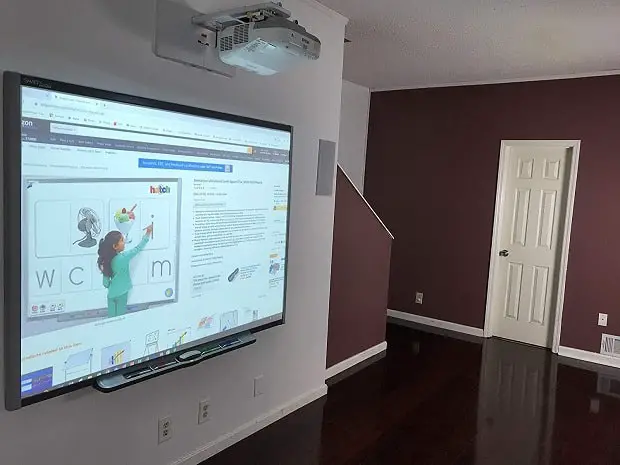 This 77-inch interactive smart digital whiteboard is excellent for learning and collaboration. It comes with mounting hardware and frame, 4 interactive pens, an eraser, a projector, a remote control, and a USB cable for connections. You can integrate it with streaming services like Netflix, and it works with both Windows and Mac operating systems. Its surface is touch-sensitive, allowing students to interact with elements on the screen. You can connect the Smart Board to your computer and the projector. Whatever the teacher displayed on the tablet or computer reflects on the board. Other users can write over this interactive board and even save edits in a file. You can capture students' progress or project reports, save them as notes, and revisit them later.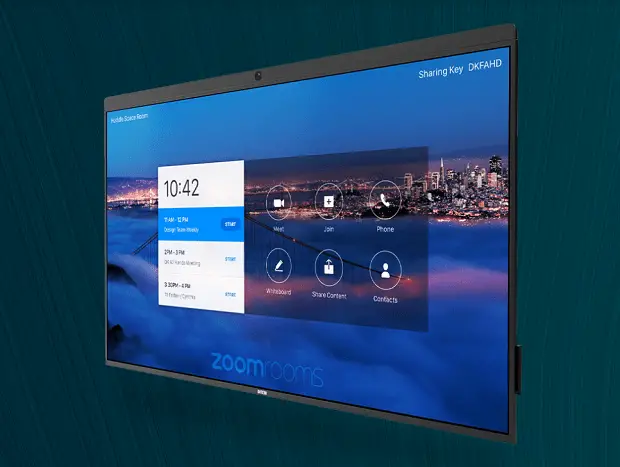 This is an all-in-one Zoom appliance for meetings and online classes. It is one of the best smart whiteboards available for videoconferencing in the market right now. While on call, you can share documents in real time and use your hands as a mouse. Its 55-inch Ultra HD 4K display offers a sweet visual experience. It has a built-in camera, a 16-microphone array for clear audio, and integrated speakers. This interactive board is designed exclusively for Zoom use. So, if you hold classes and meetings via Zoom, this smart board is all the tools you need.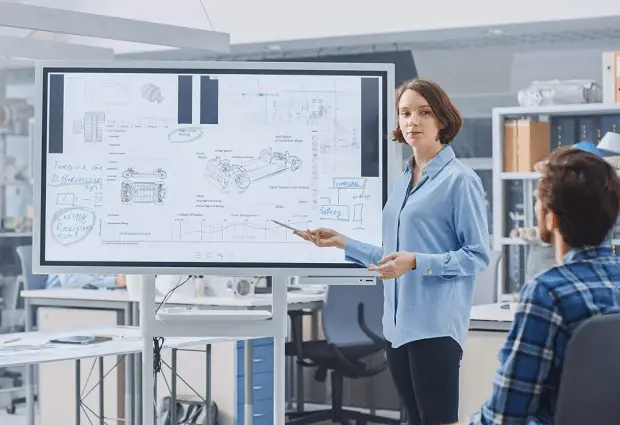 Idea and information sharing and collaboration work better with smart interactive whiteboards like this one from Gigabyte. It is a great digital solution that transcends traditional workplace or school limitations. It is an all-in-one PC with a touchscreen for interactive classes or business sessions. It is user-friendly and allows multiple people to edit content, annotate, save, and share documents effectively and in real-time physically, or remotely. It is available on 55, 65, and 75-inch screens. With a stylus, fingers, or other tools, students can interact with images on the screen, and teachers can share multimedia content to aid learning. This smart board has multiple interfaces for connection to various devices. It is also compatible with most Windows software. Once you install them on the smartboard's Smart Display Module, you can start using them.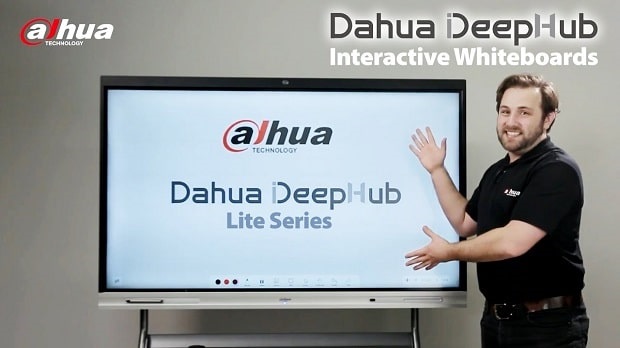 The Dahua DeepHub smart interactive whiteboard is an efficient tool for team and class-shared productivity. This digital whiteboard is available in 65, 75, and 86-inch 4K UHD displays for vivid colors and sharp images. It supports wireless projection from different devices and offers a smooth writing experience. 8 microphones deliver a great audio experience and are compatible with common video conferencing software. It manages files and even has a fingerprint lock to ensure that only authorized personnel can access it. This interactive whiteboard offers both wired and wireless connections and comes with an embedded 5-MP camera. It is ideal for both office spaces and classrooms.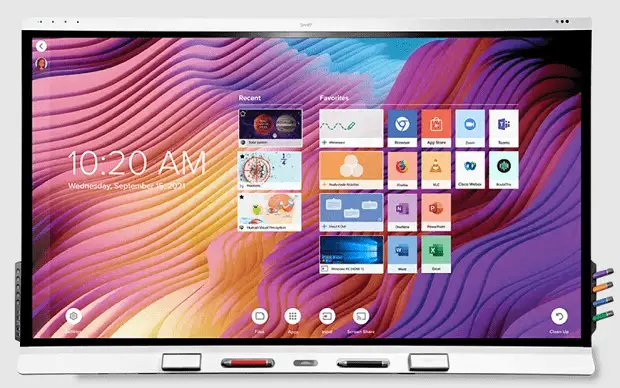 Smart Tech's interactive whiteboards were explicitly designed for seamless collaborative experiences between teachers and their students. They are available in 55, 65, 75, and 86-inch screen sizes and different types, though all come with a 4K UHD screen resolution and Grade-A LCD quality. They all come with teaching tools that make learning fun. You get an Android-based operating system that is easy to use and access free interactive lessons and resources with no subscription requirements. You can integrate this interactive whiteboard with Google and Microsoft, and they support Windows, Mac, and Chrome OS. Its built-in IQ platform allows collaboration while protecting your students' data. Teachers can create and deliver lessons online or offline with its SMART Notebook software. Other features include a web browser, screen sharing, interactive widgets, Google Drive and OneDrive, app libraries, and so on.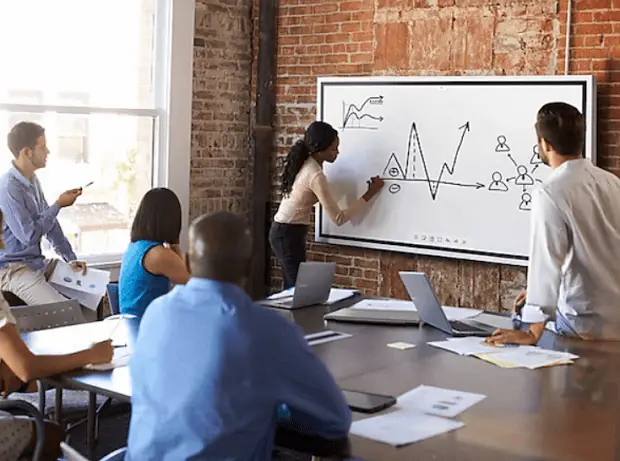 This 65-inch digital flip chart is one of the best smart interactive whiteboards for businesses. It features a 4K UHD screen resolution and has USB and HDMI connections. It features a very simple design and looks more like a regular whiteboard but with highly interactive features. It is an excellent modern tool for teaching in person or remotely. Up to four people can write on it simultaneously and in different colors. Users can easily erase what they've written with a swipe of their fingers or palm. Referring to a previous class is even easier since information is stored within the Flip in real time and can be accessed anytime. You can project content from the Samsung Flip to a larger screen over a Wi-Fi or HDMI connection to cater to a large audience. You can also control your computer from the board's screen using its touch features via the HDMI connection and its USB Touch-Out cable. This interactive whiteboard comes with built-in speakers that are loud enough for standard-sized classrooms. This is the best digital interactive whiteboard for you if you want the feel of traditional writing but in a digital format.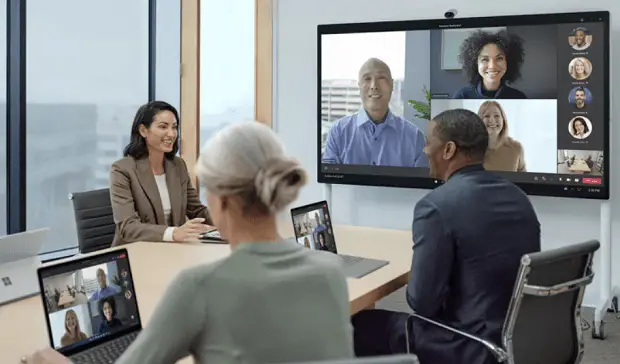 The Surface Hub 2S is specifically designed for businesses. Remote collaborations are easier with this smart interactive whiteboard. It is a great meeting platform, especially if you and your team use Microsoft Teams. Its graphics are excellent with a brilliant 4K screen resolution. Far-field mics and crystal-clear speakers are integrated into the system to ensure that everyone is heard. Everyone with a link can use the board either directly or from their PCs. You get to enjoy collaborating with remote workers like they are physically present in the room. This digital whiteboard is fully integrated with Windows, easily accesses Microsoft 365 files, and lets you project things onto bigger screens. Although an 85-inch screen seems sizable enough for common classrooms or conference rooms. It is also available on a smaller 50-inch screen. It is Skype-enabled for business and has multiple ports for connecting various devices. Among its wireless connections are Wi-Fi 5, Bluetooth, and Miracast Display. It also comes with a camera and pen for writing.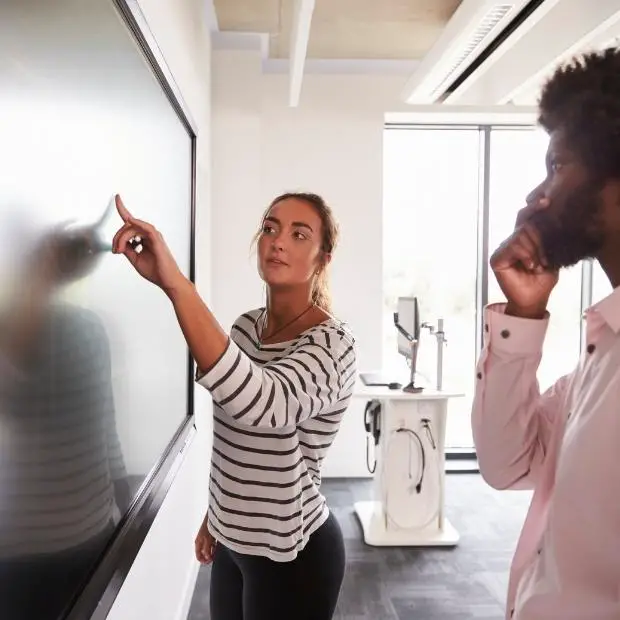 Wrap Up
Businesses and schools are moving beyond traditional whiteboards and implementing the best interactive whiteboards available in the market to foster remote collaboration and share ideas in new ways. Now you can make your meetings and classes more engaging and exciting with these touchscreen devices. A few of them, like the Vibe all-in-one, may require an external camera for video calls, but most of them need just an HDMI cable to get started, making them a great tool for businesses and educators alike. It's time for you to adapt to this new technology to boost student engagement and remote collaboration. Just make sure to not spill your digital ink!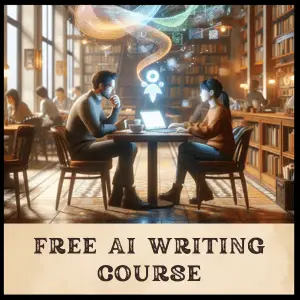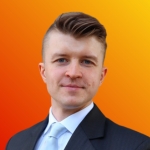 Rafal Reyzer
Hey there, welcome to my blog! I'm a full-time blogger, educator, digital marketer, freelance writer, editor, and content manager with 10+ years of experience. I started RafalReyzer.com to provide you with great tools and strategies you can use to become a proficient writer and achieve freedom through online creativity. My site is a one-stop shop for freelance writers, bloggers, publishers, and content enthusiasts who want to be independent, earn more money, and create beautiful things. Dive into my journey here, and don't miss out on my free 60-minute AI writing online course.