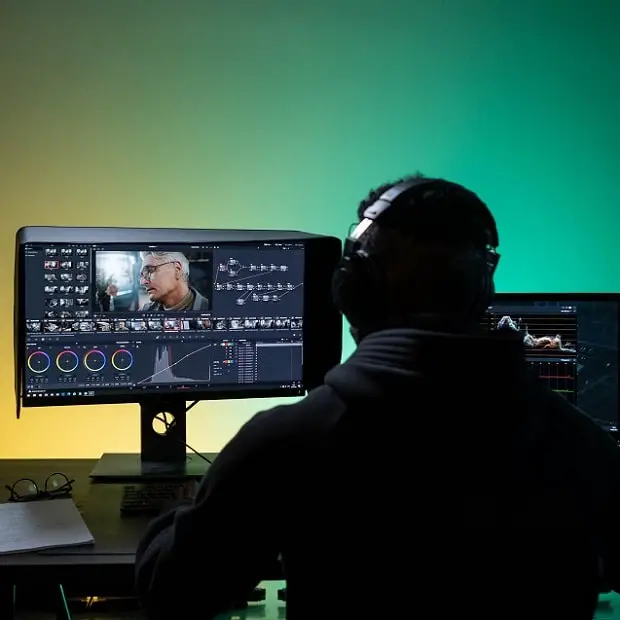 Subtitles help your online video content reach a wider audience.
Getting your subs created and translated into multiple languages is hugely beneficial. What if you could produce subtitles automatically and add them to your videos on YouTube, Vimeo, TikTok, or Wistia? The auto-sub-generators, using machine learning algorithms and natural language processing, can do just that (at a fraction of the cost it would take using manual title creation). Here's a list containing the best subtitle generator software that'll make your video content cross boundaries and reach people in their native language!
The 8 Best Subtitles Generator Software
Whether you are a YouTuber, influencer, online content creator, or anyone who produces videos for personal or commercial purposes, this list is for you. Whether those videos are for your portfolio, product, services, channel, or company, you would need a tool to generate subtitles. Below is the list of the best auto subtitle generator software you can use. The information is accurate, verified, and easy to work with as possible.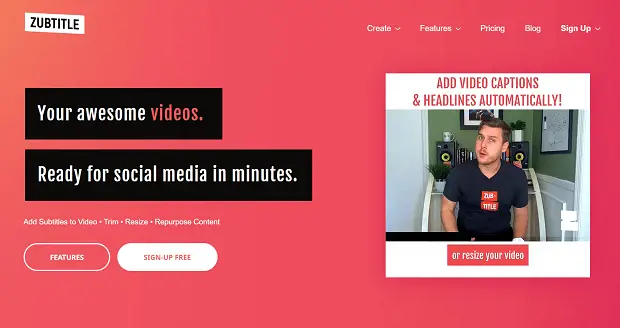 Zubtitle is #1 on the auto sub creators list. It is an AI-based tool that transcribes your video with almost 100% accuracy and then converts the transcription into subtitles.
Key Features:
Easy-to-use interface with video enhancing and editing options
Allows downloading of .SRT and .TXT files
Optimize and repurpose your video according to different social media platforms
Support subtitles in multiple languages, including English
Accuracy:
Although the tool is almost 100% accurate, you need to check the final subtitles for spelling
Supported Languages:
Support over 60 languages
Pricing:
Free trial for only one video
The standard plan is $19 per month for 10 videos
The elite plan is $49 per month for 30 videos
Sign Up to try Zubtitle for free.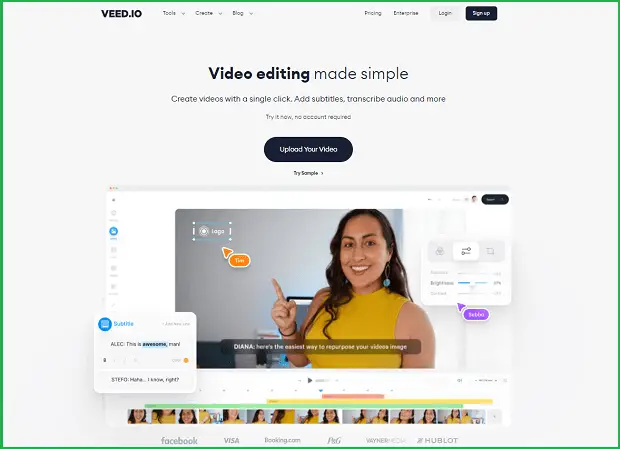 VEED.IO is another great browser-based subtitle-generating software. It generates subs based on the audio track of the video and lets you add subtitles to a video in a couple of clicks.
Key Features:
Fast and accurate subtitles generator
Provides video editing and enhancing features
Provides voice-over recording feature
Provides branding kits with rich fonts and themes
Includes a complete tutorial for users
Accuracy:
95% accurate but proofreading is always recommended
Supported Languages:
Pricing:
Free for less than 10 minutes video of 250MB with a watermark
Basic $12 per month plan for individuals with simple editing and subtitles features
Pro $24 per month plan for companies with rich branding features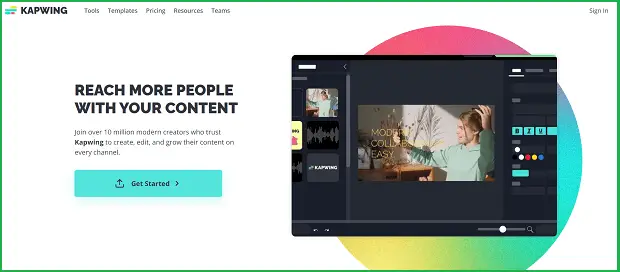 Kapwing is a packaged software that includes a video maker, meme generator, photo editor, and subtitle generator. This is a browser-based tool to generate subtitles from videos.
Key Features:
Free version available without watermark
Generate subtitles for videos whose URLs are provided
Allow uploading of .SRT file
Includes photo editing, video editing, meme generator, and subtitle generator
Includes all content creation tools
Accuracy:
Supported Languages:
Supports over 60 languages
Pricing:
Free for 3 exports per month for 30 minutes of videos with 250 MBs file and transcription limit of 10 minutes
Pro $16 per month with a 6GB export limit, unlimited video transcriptions
For teams $16 per user per month with unlimited export, transcription, and access to pro features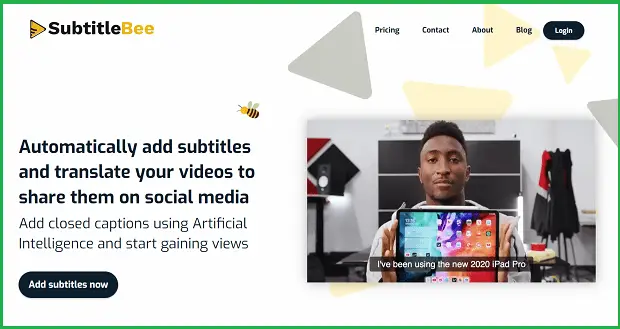 It is the most innovative and straightforward browser-based auto subtitle generator that does not require advanced technical knowledge or coding skills.
Key Features:
Includes complete branding package with themes, fonts, headings, and colors
Does not require any downloading, all features are available in the browser-based interface
The easiest subtitle generator to work with
Integration of YouTube and Facebook
Transcribes audio files
Includes video editing features
Supported Languages:
Accuracy:
Pricing:
Free trial for 1 video of ten minutes and 1GB size per month
Starter $19 for 12 videos per month
Premium $45 for 35 videos per month
Business $129 for 60 videos per month
The maker specifically optimized this subtitle generator for content creators and influencers to add branded captions and subtitles to their videos.
Key Features:
With a built-in feature for adding and customizing branded captions
Allows editing, enhancing, and repurposing videos
Allows to download SRT files
Support videos from iOS, Android, and desktop
Automatically generates .SRT file
Accuracy:
Supported Languages:
Pricing:
Free for 100 MB files per month
Pro $149 per month for 100 hours of videos
Enterprise unlimited access to all features – provided at special request
A subtitle and closed caption generator tool with very advanced video editing and enhancing features.
Key Features:
Includes very high-level video enhancement and editing features
Can generate subtitles for broadcasted videos
Includes video dubbing options
Provides auto transcriptions and auto voiceover features
Provides text editor to edit captions and subtitles
Support multiple videos, audio, and file formats
Accuracy:
Supported Languages:
Supports more than 50 languages
Pricing:
Pay as you go $10 per hour
Premium subscription $29 per month
Enterprise provided on special request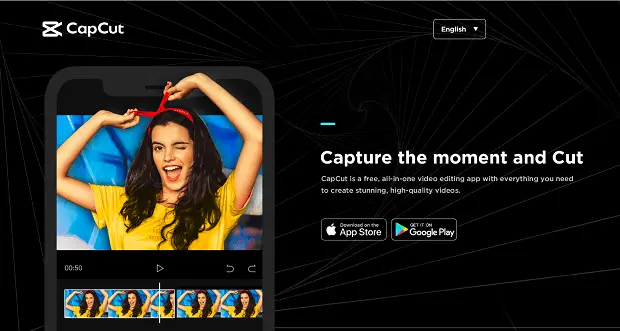 CapCut is a free mobile application to generate captions and subtitles. It is a video-capturing and editing tool with subtitle-generating features. Its portability has made it one of the most widely used auto-sub creators.
Key Features:
Automatically generates subtitles and captions to the targeted language
Easy to use and portable interface
Includes rich video editing features with filters, speed control, effects, stickers, and text
With a feature for formatting and customizing captions and subtitles
Allow fonts customization
All-in-one video editing and creating features
Includes a huge music library
Accuracy:
Supported Languages:
Pricing:
8. YouTube Auto Caption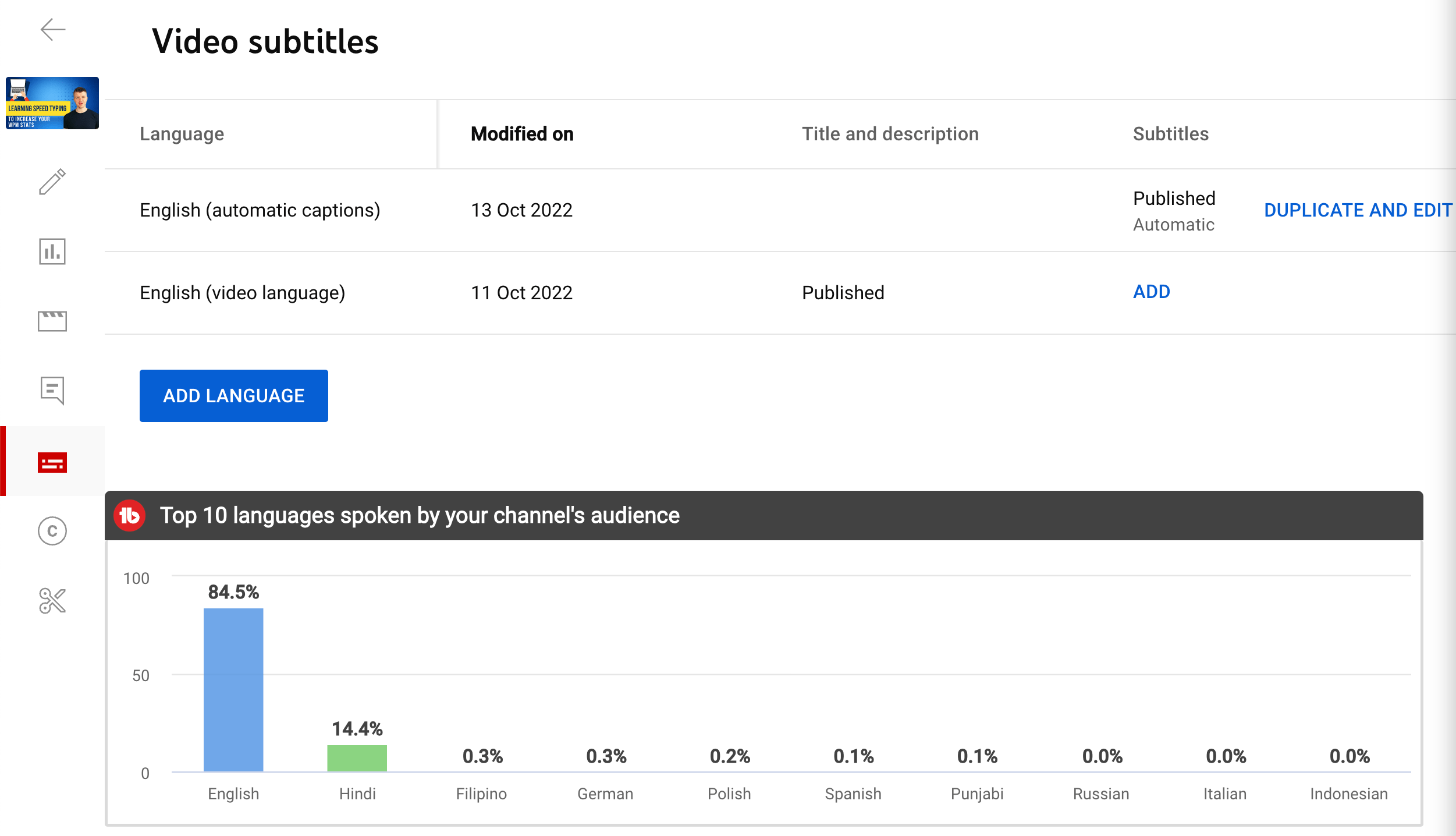 YouTube itself provides a feature to create subtitles and captions in different languages. It uses speech-recognition technology and Google Translate to generate subtitles. Although the accuracy of this platform is not high, it saves you from the hustle of downloading other software.
Key Features:
Very simple and easy steps to generate subtitles
Creates subtitles for live-streaming videos
Fast way to create subtitles
Accuracy:
Supported Languages:
Pricing:
What is the Purpose of Using Subtitles?
Once you are on the internet, your voice can be heard across the globe. Hence, you need to make your content more understandable for everyone. Unless you have the comedic talent of Mr. Bean, who can beam his humor across the globe without uttering a single word, you need a tool to transcend most, if not all, language barriers. This is your only way of reaching a global audience. And adding subtitles to your videos is your best bet for the job. The illustration below highlights the benefits of adding subtitles to your videos: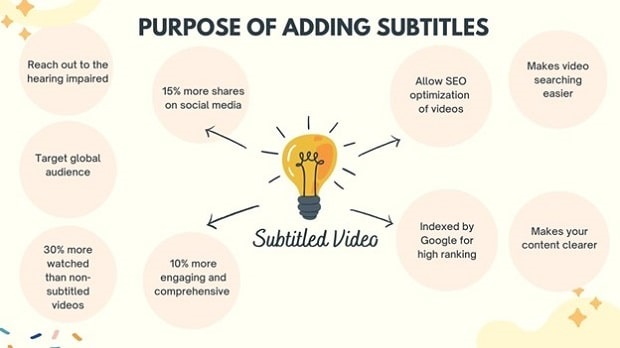 Wrap Up
To optimize your videos for a high Google ranking, adding subtitles is a must. It helps bring them on top of search results and makes them understandable for people of different languages and those with hearing difficulties. Several off-the-shelf platforms and tools are available that can auto-generate subtitles for your videos in different languages. This article has presented a ranked and verified list of auto sub-title creators. Analyze them by yourself and select the one that suits your budget and requirements.
Rafal Reyzer
Hey there, welcome to my blog! I'm a full-time blogger, educator, digital marketer, freelance writer, editor and content manager with 10+ years of experience. I started RafalReyzer.com to provide you with great tools and strategies you can use to achieve freedom from 9 to 5 through online creativity. My site is a one-stop-shop for freelance writers, bloggers, publishers, content enthusiasts who want to be independent, earn more money and create beautiful things. Feel free to
learn more about me here.