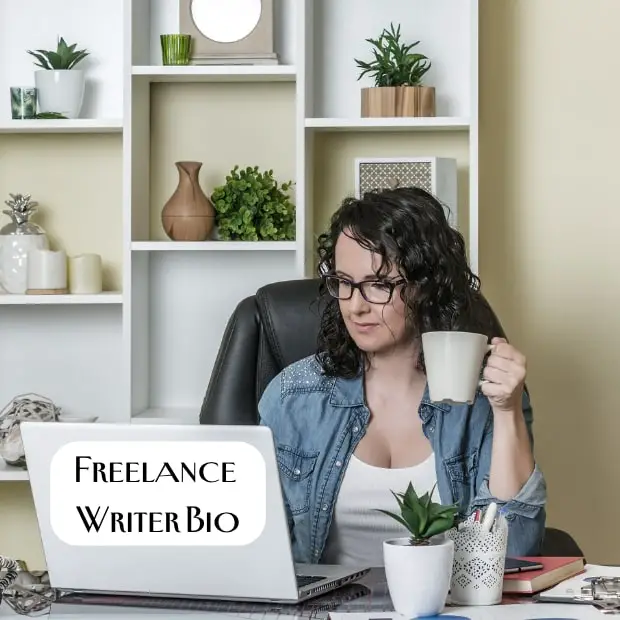 An impressive freelance writer bio gets you noticed by the right people.
It inspires employers to hire you.
But the biggest challenge lies in writing a winsome bio without being too wordy.
Ideally, you should be able to tell everything the readers need to know about your credentials in 1 to 2 paragraphs. You can have a longer version with 3 to 5 paragraphs, which you can use on your homepage or if space or occasion allows it.
You will be flooded with inquiries and offers if you can hook clients with a bio that speaks volumes about your work. It is your resume in a nutshell that potential clients are looking for.
How to Create a Freelance Writer Bio:
1. Write a One-sentence Synopsis of Your Work
The first line of a freelance writer's bio ought to be a one-sentence synopsis of your work.
It should indicate who you are, as well as the work you do. Clients who read the first line should know right away what they can get from you.
For instance, the opening line could be: "Samantha Jones has 10 years' experience as a self-employed freelance fashion blogger, specializing in brand marketing and PR."
2. Write the Bio in the Third Person
Always write your professional bio in the third person. It will appear as if it's written by an impartial observer instead of sounding like an autobiography.
Therefore, when you write a bio, never start with "I have been a freelance writer for ten years." Instead, begin, "Samantha Jones has over ten years of experience as a freelance writer."
3. Use a Professional Profile Picture
Always provide a professional profile picture with your bio.
Never take webcam shots, as they can be hazy and will not make you look like you mean business. It's important to look impressive and professional even as a freelancer.
Anything casual or offensive may ward off clients. Highlight your image to potential clients with a proper, professionally clicked photograph.
A good photo can make all the difference in who gets hired as a writer. So make it look professional and friendly!
4. Pitch in Your Qualifications
Always pitch in your qualifications to increase your credibility with the clients.
A professional degree always keeps you ahead in the race. People know they can entrust the work to you as you are familiar with the technicalities. You can mention your degrees and diplomas here and whatever awards you have won for your work.
You may write something like, "She has completed her Master's in Marketing Communications and Public Relations along with a Diploma in Advertising."
People often write a short version of their qualifications, mentioning only the most important part in their short author's bio. If you have a detailed bio or resume that lists all your qualifications, certificates, and experience posted on LinkedIn or some other websites, be sure to link that to your short bio.
5. Include your Experience, Affiliations, and Publications
A fantastic bio can help establish your credibility as a freelance writer if it has an impressive section highlighting your professional experiences.
Clients prefer writers with a considerable track record. Here, you may include a list of prestigious companies you worked for, projects you completed, and other notable accomplishments.
Mentioning your present affiliations with publishers or other companies will also help you sound more professional.
6. Use Keywords in Your Freelance Writer Bio
Your bio should have phrases or keywords describing your professional skills and areas of expertise.
Use keywords like "financial expert", "beauty blogger", or "crypto influencer". These words will be associated with your name and highlight your forte as a freelance writer.
When people search more about you and your work, the keywords play a role in your personal branding. When you use keywords in the bio section of your articles or on platforms like LinkedIn, it will increase the likelihood of your name appearing in search results.
For instance, if a client Googles a financial writer, the search engine results page (SERP) may include your profile because of the keywords describing you as a "financial writer" or "finance expert".
7. Add a Personal Note Stating Your Passions
Adding a personal note to your professional bio can be helpful. Here, you can state the passions that help you professionally and figure significantly in your career.
People may not be interested in knowing your personal life, but they may find the passions that have been a part of your journey as a writer relevant to what they need.
Write about your passion for writing that you continue to pursue along with your studies or mainstream career. You may also talk about your interests in media, fashion, travel, or finance and how determined you are in carving a career in this niche.
For instance, "She is an avid reader with an undying passion for writing, which she determinedly practiced alongside her formal education. Contributing to the world of fashion has been a part of her long-term goals."
8. Link your Freelance Writer Bio to Your Website
Your author bio should have a link to a page where clients can look at your articles or your website. Showing your published work, whether in print or online, can boost your credibility.
Anybody can provide tons of information on their author bio to sound professional and skilled. But, you must back up whatever you claim. If you're saying that you have years of experience in writing financial articles, provide a link where clients can go through your posts to be convinced.
For example, "Samantha Jones has written winning articles on finance over the years for several companies. Her work appears on websites like FinCorp, The Financial, etc." The websites you mentioned should have links to the page of your posts.
You may also link your bio to your website, where clients may contact you or read more about you. Add a call to action stating, "Know more about her on…", and link your website's name to the button or anchor text(s) of the page.
Author Bio Examples
Now that we covered the major points, here are some great samples to give you a clearer idea of how crisp and classic the author bio should be.
NOTE: The following samples with photos are for illustration purposes only and do not represent actual persons.
Sample 1:
Emilia Fischer is a freelance writer with an MBA and ten years of experience in ghostwriting and copywriting. She has been working closely with B2B businesses and catering to their content needs. Her work has appeared on Under30CEO, BusinessDaily, and many more sites. Know more about her on FischerWrites.com
Sample 2:
Sean Clarke is a freelance content marketer helping businesses grow and develop. His writings have been featured on several platforms like Business Daily, Entrepreneur, etc. He has an MBA degree and a diploma in Marketing and PR. He turned down many good mainstream job offers and embraced the freelance business writing career. Read more about him on (Name-of-Website).
Sample 3:
Joan Weber has been working as a freelance writer for over five years. Based in Canada, she dedicates her passion for health and fitness by writing avidly in that niche. Her articles have been featured in HealthandFitness, HealthDaily, LifestyleChoice, etc. She also authored the book Lifestyle Choices for A Healthier Tomorrow (March 2019). Find out more about Joan on (website name).
Conclusion
Following these writing tips will help you create a crisp, concise, yet detailed bio about being a writer.
Your freelance writer bio should now get you noticed and hired by the best clients after highlighting the main areas and doing away with the chaff.
Rafal Reyzer
Hey there, welcome to my blog! I'm a full-time blogger, educator, digital marketer, freelance writer, editor and content manager with 10+ years of experience. I started RafalReyzer.com to provide you with great tools and strategies you can use to achieve freedom from 9 to 5 through online creativity. My site is a one-stop-shop for freelance writers, bloggers, publishers, content enthusiasts who want to be independent, earn more money and create beautiful things. Feel free to
learn more about me here.