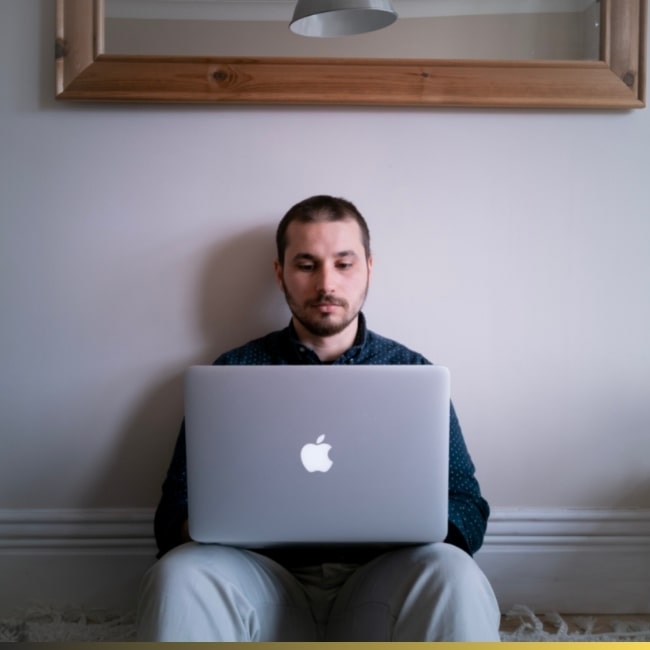 Freelance writing is one of the most lucrative professions in the world. And it's evergreen too.
Unlike other professions, freelance writing isn't affected by economic recessions or pandemics, and other reasons.
In fact, during the peak of the Covid-19 pandemic, the demand for content surged by some 23 percent. Many wordsmiths find themselves getting started as freelance writers in this uncertain time in history.
And that's despite the fact that persons in other fields were facing the threat of unemployment as businesses began collapsing due to the economic fallout of the pandemic.
Therefore, if you're among those wanting to make a career as a freelance writer, here's my complete guide to get you started.
You can follow these time-tested and proven tips to make a superb career as a freelance writer and make a lot of money.
Let's begin by knowing the different types of writers that work as freelancers.
Different Types of Freelance Writers
Writing by itself is a vast profession. Therefore, like any other profession, there're lots of specialties in writing too.
Here I will enumerate some of these. You could choose from any of these categories to become a freelance writer.
Content Writer
The most common profession as a freelancer is a content writer. That's because the content is the king of any blog or website.
Without content, no digital marketing processes can be done on any blog or website.
Journalist
A freelance journalist is also a writer in the truest sense. They write news reports for media companies.
And often, they write news reviews and news features too. This is a highly respected profession among freelancers.
Copywriter
A copywriter is someone that writes very creative stuff for promotional literature, ads, and other publicity material.
This is a very profitable profession since it involves a lot of creativity and thought.
Technical Writer
A technical writer is someone that simplifies technology. They write user manuals for everything from your simple smartphone to the most complex piece of machinery.
Their job is to simplify technical jargon and create manuals for laypersons.
Reviewer
Broadly speaking, any person that experiences something firsthand and writes an honest opinion about it is a reviewer.
This can include reviews of everything from electronic items and software to books, food, and restaurants.
Then we also have other genres of writers such as travel writers, feature writers, legal writers, and scriptwriters, to name a few.
As you can see, each writing job specializes in a specific theme only.
Beginner's Guide to Freelance Writing
If you've excellent writing skills, creativity, a nose for news and research, here're the various steps to get started as a freelance writer. You could select from any of the categories above and work as a freelancer.
1. Define Your Niche
Defining your niche is the first and perhaps the most important thing to do when you want to get started as a freelance writer.
I've already enumerated the different kinds of writing jobs that exist in the freelance market. Obviously, you can't be a master of all these kinds of skills.
Hence, the best way to get started is by defining the niche where you would fit in with the best of your skills.
You could take a skills inventory to find what kind of writing you'd love to do as a freelancer.
2. Create Own Blog
Having your own blog is the best way to showcase your writing skills. And starting a blog isn't the proverbial rocket science, as you might mistakenly believe.
Instead, blogging is very simple. You can open a free blog on various platforms such as WordPress.com, Wix.com, or Blogger.com, to name a few.
Or you can buy a superb domain name and website hosting to launch a proper, own blogsite. A blog is also useful nowadays for self-branding.
Therefore, one of the stepping stones to a career as a freelance writer is an excellent blog.
3. Get a Killer LinkedIn Profile
All freelancing platforms such as Upwork.com and FlexJobs.com, among others, require that you provide a link to your LinkedIn profile.
Generally, buyers of freelance writing services will refer to your LinkedIn profile to assess whether you're suitable for their projects or assignments.
Therefore, make a killer LinkedIn profile and include several superb references in the writing field. Also, grow your network of freelance content writers.
You can upload some content daily as posts on your LinkedIn profile, for people to read. This also helps in self-branding as a freelance writer.
4. Develop Supplementary Skills
Even as you define a niche to become a freelance writer, it's also important to add supplementary skills such as proofreading and online editing, among others.
That's because websites such as Fiverr allow you to charge extra for providing supplementary skills to a buyer of your freelance work and make more money.
The same holds true for other freelancing platforms too. When you indicate a couple of supplementary skills, your chances of getting more freelance jobs increases.
5. Fix Your Price
Surely, as a freelance writer, you'd love to get paid. Therefore, the next step is to set a proper price for your freelance work.
Generally, all freelancers charge for their work on an hourly basis. As a beginner, you can check the prices that other freelancers with some experience or even freshers are charging.
And arrive at your prices accordingly. If you're already working as a writer, the best way to calculate your pricing is to divide your last drawn salary by 30 days.
And further, divide the income of a single day by eight hours. That would indicate how much money you were making per hour from a full-time, regular writing job. You can charge this price too.
6. Learn to Bid for Projects
Freelance writing projects aren't given on any invitations. Instead, you have to bid for projects that appear on freelancing platforms.
This is done by submitting a proposal to the prospective buyer. Therefore, you'll have to acquire this vital skill of bidding for freelance writing work and compete with others in the field.
This is where your niche and supplementary skills also come in handy. You can highlight your skills by creating a project for the prospective buyer and submitting it along with the bid.
So, check out a good tutorial on how to bid for freelance projects online.
7. Select Your Freelancing Platform
There are countless freelancing platforms in the world. However, the topmost among these are FlexJobs.com, Upwork.com, Freelancer.com, Toptal.com, and Fiverr.com to name a few.
Most of these freelance work marketplaces charge you between 5% and 20% of your income as their fees.
However, FlexJobs.com charges you a flat monthly, quarterly, or annual membership fee and doesn't deduct anything from your income.
Therefore, be very careful about choosing a freelancing platform. Remember, you'll also have to bear the fees for money transfers through banks, PayPal, Payoneer, and other online payment systems to get paid.
8. Upload Reference Letters
Normally, as a beginner, you won't have any reference letters or letters of recommendation from any freelance work buyers.
That's nothing to worry about.
You can upload reference letters from members of your faculty or former colleagues and seniors, if you were working as a writer full-time, before hopping on the freelancing bandwagon.
These references can be uploaded on your freelancer profile as well as your LinkedIn profile.
That way, a buyer knows that you're serious about the work and can cross-check your credentials, if needed.
In Conclusion
Before concluding, I'll add that getting work as a freelance writer from any freelancing marketplace isn't a cakewalk by any yardstick.
It requires a lot of patience because you have to continue bidding for contracts and assignments until you're successful.
And once you have one freelance assignment or contract, it becomes a bit easier to bid for and get more jobs.
Therefore, get all your credentials, blog, and LinkedIn profile in place and follow the steps I mention to work as a freelance writer.
Rafal Reyzer
Hey there, welcome to my blog! I'm a full-time blogger, educator, digital marketer, freelance writer, editor and content manager with 10+ years of experience. I started RafalReyzer.com to provide you with great tools and strategies you can use to achieve freedom from 9 to 5 through online creativity. My site is a one-stop-shop for freelance writers, bloggers, publishers, content enthusiasts who want to be independent, earn more money and create beautiful things. Feel free to
learn more about me here.