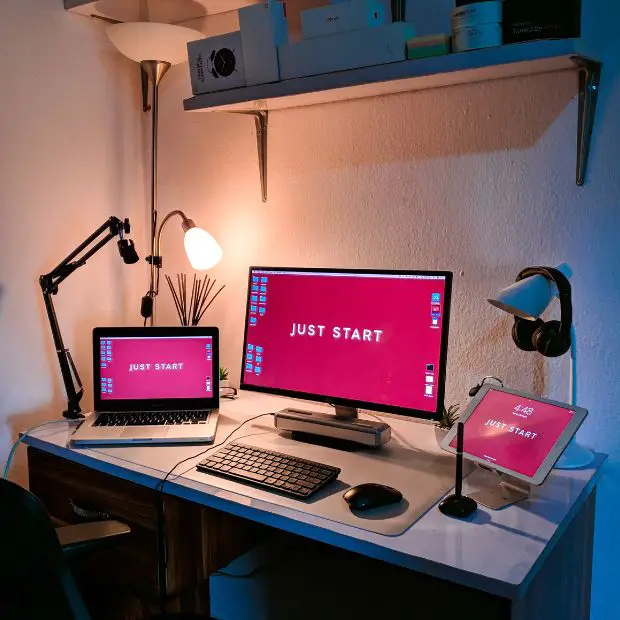 If you are working remotely, chances are your home office lacks a few useful gadgets that could boost your productivity.
From getting a more powerful laptop, to speeding up your internet connection and enjoying high-quality sound, there are things you simply must possess.
Let's look at some of the best gadgets you need, from the essentials to the nice-to-haves:
10 Great Gadgets for Remote Working:
Being a location-independent worker is great. You have flexible hours, you're free from the hassles of daily commuting, and enjoy more freedom.
However, you cannot work remotely without the right tools of the trade. Remote work is possible because of modern technologies, communication tools, and yes, gadgets. Some of the non-negotiable essentials are, of course, a non-archaic computer (desktop or laptop) and a reliable internet connection.
But let's do a run-down of the gadgets for remote working that you need so you can make a living out of your living room:
1. An Up-to-date Laptop (With Good Battery Life)
Probably the most essential gadget for any remote worker is a good laptop.
While an up-to-date desktop PC may do the trick, a laptop gives you the flexibility to move around your house as needed. It also enables you to take your work with you if you need to travel for business or pleasure.
If possible, splurge on a high-quality model with a bright screen and fast processor – it will make working from home much more pleasant!
If you don't already have one, we recommend the MacBook Air 13.6-inch Liquid Retina Display. It's lightweight and portable, it has a long battery life, and it comes with everything you need to stay productive while working remotely.
I'm using a MacBook Pro because it has more ports and can do heavy-duty tasks like video editing much faster.
I've been using a Windows laptop previously, and I have to admit, a MacBook is a remote worker's dream. Everything is just so much faster, more beautiful, and cooler.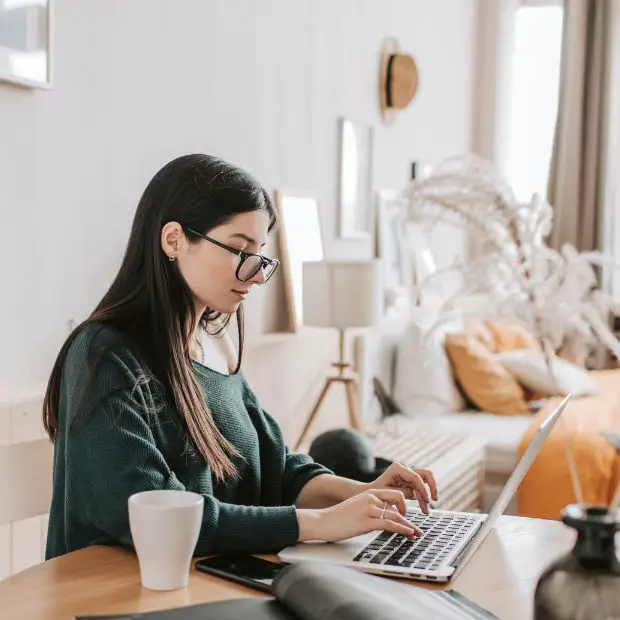 2. A Powerful Wi-Fi Router (And Possibly a Signal Extender
While your internet service provider might supply you with a sophisticated modem, there may be some limitations to what it can do.
It may be enough if you are living in a tiny apartment. But if you have a spacious house with a backyard and patio, a powerful router will enable you to work outside too.
And since you need a fast internet connection while doing your job, one of the best ways to ensure that you have a strong and reliable connection is to invest in a good quality Wi-Fi router and an extender to help the signal reach even further.
We recommend the TP-Link Archer C7 AC1750 Dual Band Gigabit Wireless Cable Router. It's affordable and it will help ensure that you always have a powerful signal no matter where you're working from.
3. A Portable Charger (To Never Run Out of Battery)
When you're working remotely, there's nothing worse than having your laptop or phone die on you in the middle of the day because there wasn't an outlet nearby.
That's why we recommend investing in a portable charger like the Anker PowerCore 10000mAh Ultra Compact Battery Pack.
This way, you can charge up your devices whenever and wherever without having to worry about finding an outlet first.
Now you'll be able to go on an extended outdoorsy adventure (basically live the van life), and you'll still have enough juice to keep your laptop going for two days.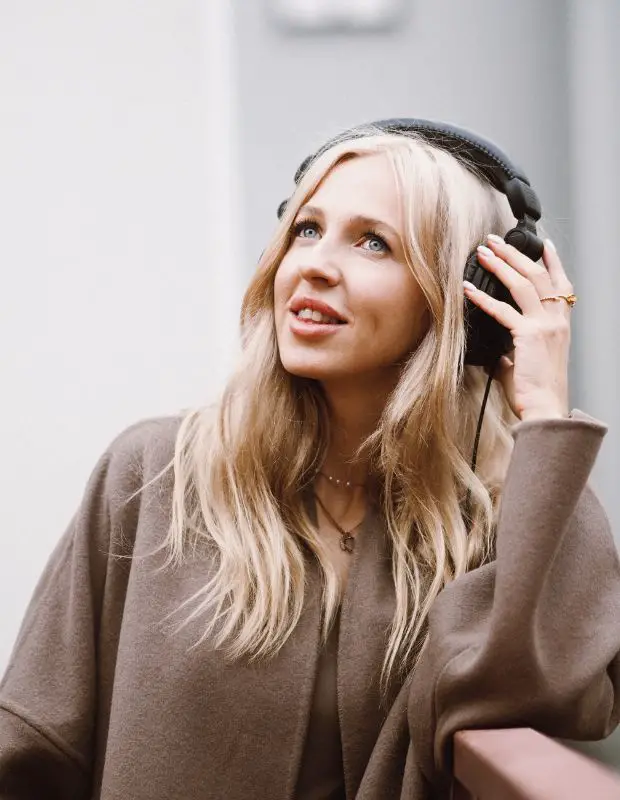 4. A Good Pair of Headphones (Preferably With a Good Microphone and Noise Cancellation)
A great pair of headphones can be a lifesaver if you work in a shared space or simply want to avoid distractions.
I highly recommend Soundcore by Anker Life Q35. The battery lasts for something like 40 hours (no kidding!), the noise cancellation is fantastic, and the built-in mics are enough to get you through any meeting, while you're secretly folding your laundry and watering your plants.
They're comfortable, they sound great, and they help you focus on your work even when there's noise going on around you.
5. A Wireless Keyboard and Mouse
If you've ever had to deal with tangled cords while working remotely, then you know how annoying it can be.
That's why we recommend investing in a wireless keyboard and mouse like the Logitech MK345 Wireless Combo Set. It's very reliable and highly portable.
This way, you won't have to worry about dealing with messy cords anymore and you can use your little gadgets for gaming as well!
6. A Speedy External Hard Drive
Backing up your work or even personal data is always important, but it's a must if you're an audio or video editor.
But it's especially crucial if you're working remotely in case something happens to your computer or files. We recommend the Seagate Portable External Hard Drive.
It's affordable and easy to use, and it will give you peace of mind knowing that your work is safe and sound even if something goes wrong with your computer.
7. A High Quality Webcam
One gadget that is essential for any remote worker is a good-quality webcam, such as the Logitech C920 HD Pro Webcam.
This will allow you to take part in video calls and meetings in a professional manner.
Please don't be that person who appears in a meeting in a 360p resolution (unless you want your coworkers to make fun of you!)
8. A Gel Seat Cushion (To Keep Your Buttocks Happy)
Asking a big mammal like yourself (no offence) to sit in the same position for eight hours is quite unreasonable.
Your buttocks will be screaming for help, and you'll become fidgety. That's why you should equip yourself with a gel seat cushion with a honeycomb design like this one.
It will make you cozy so you can work without discomfort. But don't forget to take breaks, and if you can afford it, invest in a sit-stand desk that can further improve your productivity.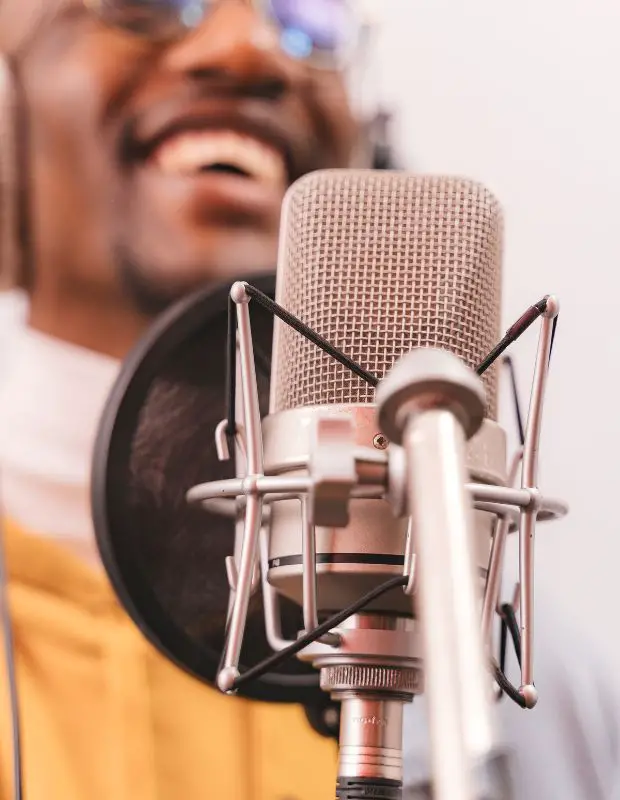 9. A Smart Wireless Microphone
Trying to facilitate sound and voice during a virtual meeting can be problematic. Do you just use your computer's audio? Or maybe a headset, which can make you look like you're getting ready for a helicopter newscast?
A smart microphone can give you clear sound and still look great on screen.
We recommend a wireless clip-on microphone from Sabinetek. It is just a small device you can clip on your shirt and it advertises excellent sound and noise canceling capabilities.
10. Time Tracking Cube
One way employers keep track of remote worker activities is to ask them to report the time spent on a particular task.
If you're a freelancer who works from home, you likely need to keep track of time spent per client project. But time tracking manually can take up some of your precious time.
That's why there's a time-tracking, cube smart gadget called TimeFlip on the market. It makes tracking time for different activities as easy as flipping a multi-sided die.
Just flip to start or stop timing and the smart gadget keeps track of your times per each activity according to your preset categories.
Key Takeaway: Besides a reliable and up-to-date laptop, the best gadgets for remote working include a good Wi-Fi router, a portable charger, a good pair of headphones, and a wireless keyboard and mouse.
Other Must-have Items for Your Remote Work Setup:
1. A Printer with Scanner
Printers are a necessary part of any office. They allow you to print documents, emails, and photos quickly and easily. In addition, printers come with a variety of features that help you save time and money.
A printer with a scanner like the Lexmark MB3442adw has the features and specifications that any highly functional office must have. It's a four-in-one device, which means you have a fax facility (assuming you have a landline) besides printing, scanning, and photocopying.
It prints at a rate of 42 pages per minute and is among the fastest laser printers around. There's plenty of room for paper, too, with a 350-sheet main tray and the option to upgrade, so it's unlikely you'll ever need another home printer.
2. An Adjustable Stand-up Desk
Sitting all day can be terrible for your health, so if you can stand up while working, then we highly recommend it!
One option is to invest in a sturdy, adjustable standing desk. It's easy to set up and use, and it will let you quickly switch between sitting and standing as needed throughout the day.
If you are interested in this piece of furniture, we suggest you check out our list of the best and most affordable adjustable desks that can spruce up any home and office with their modern designs.
3. A Comfortable Office Chair
If you think any sturdy and cushioned chair will do for your remote working journey, think again. Try working on your computer for hours sitting on one of your dining chairs and your back will soon feel sore and sweaty.
It pays to have a comfortable and ergonomically designed office chair. They are built to provide both comfort and support to your back, especially the lumbar area. They also allow you to shift to a more comfortable position when you are getting tired from all the sitting.
You can also adjust its height so your legs are in the most comfortable position while working.
So don't wait any longer – start shopping for your perfect home office setup today!
Key Takeaway: Working from home can be more productive and enjoyable with the right gadgets and equipment. Besides the essential electronic gadgets, you need a comfy and ergonomic chair, a stand-up desk, and a printer-scanner combo.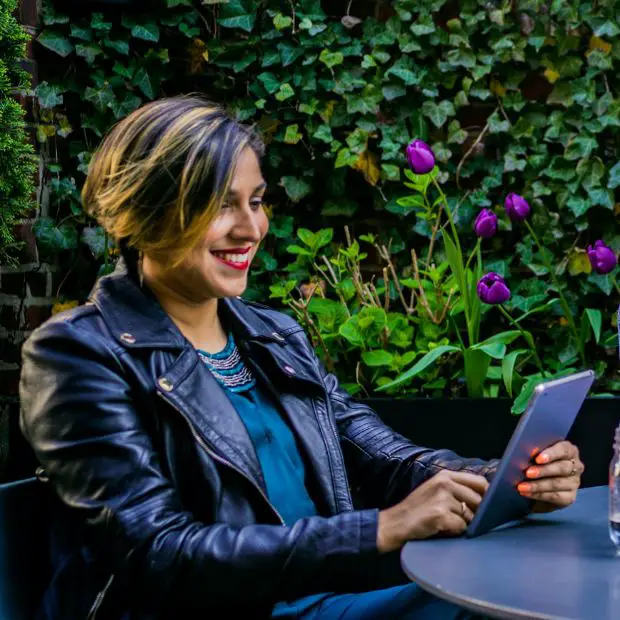 Other Cool Gadgets for Remote Working in Your Home Office
A big part of making your home office work for you is outfitting it with the right gadgets. They can help with everything from organization to inspiration, and they don't have to be expensive either.
Here are 7 cool remote-working gadget options for your home office:
1. A Wireless Portable Printer
This is essential for printing documents and photos regularly. Look for wireless connectivity so you can easily bring it along with you if you want to work in a cafe, a library, or somewhere else.
2. A Document Scanner
If you often need to scan paperwork or convert PDFs into editable text files, this tool can save you loads of time. Again, look for one with wireless capabilities, so sending files directly to your computer is breezy.
3. An Ergonomic Keyboard
This tool can help increase your typing speed and accuracy while minimizing wrist pain. In addition, these keyboards come with a variety of shortcuts that can help you work more efficiently.
4. A Tablet
Another great option for increasing productivity, a tablet offers a larger screen than smartphones, which makes them ideal for working on documents or presentations. In addition, there are many tablets that come with a stylus, which is great for taking notes or drawing diagrams.
5. The Sony LinkBuds Wireless Earbuds
They make a great work-from-home companion with their Alexa connectivity and open ring driver. The latter feature helps you connect with your surroundings while listening to calls, music, and more.
6. A Pomodoro Timer
If you know about various productivity approaches, then you probably heard about The Pomodoro Technique. Here you split your day into 25-minute work sprints followed by brief breaks. This helps you focus and get more done in less time.
7. A 4K Monitor
If most of your job involves staring at computer screens (like mine does), then upgrading to a 4K monitor can make a big difference. I highly recommend making the switch. If you can afford it, you won't regret it!
Key Takeaway: Gadgets can make working from home more comfortable and efficient – look for ones with wireless capabilities for easy connectivity.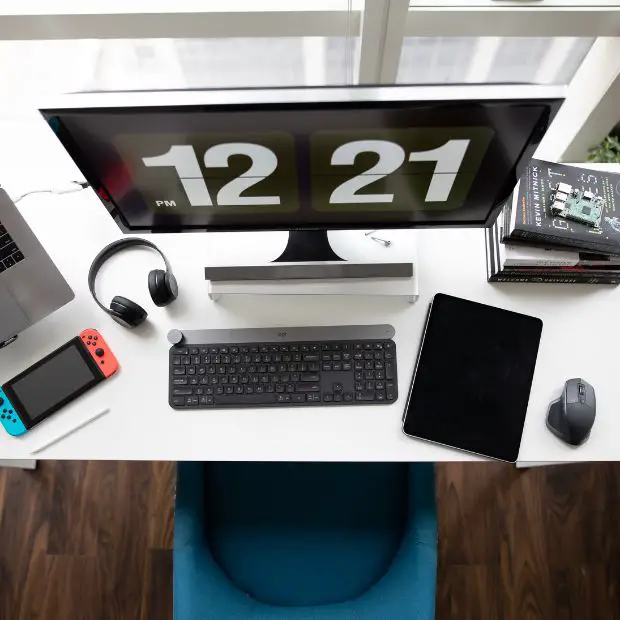 FAQs on Gadgets for Remote Working:
1. What equipment do I need to work remotely?
There is a range of equipment you may need to work remotely, depending on your job and employer. Some basics that are often required include a laptop, a reliable internet connection, and possibly a printer.
Other things you might need include video conferencing software or app, project management tools, and cloud storage.
If you're not sure what your job specifically requires, be sure to ask your boss or HR department before getting started.
2. What technology do I need for remote working?
There is a range of online or on-site tools used for remote working, including:
Virtual private networks (VPNs)
Cloud computing and storage solutions
Web conferencing and collaboration tools
Communication platforms such as Slack or Zoom
3. Which tools are most useful to remote employees and coworkers?
There's no one answer to this question since everyone has different needs and preferences when it comes to remote working tools.
However, some of the most commonly cited helpful tools for remote employees include:
Communication platforms like Slack or Zoom make it easy to stay in touch with coworkers, no matter where they are located.
Task management software, like Asana or Trello, helps team members keep track of deadlines and assigned tasks.
Productivity apps like Evernote or RescueTime can boost individual productivity levels by helping users better organize their thoughts and time.
Of course, these are just a few examples. There are many other great tools out there that can help make remote working more efficient and enjoyable. Ultimately, the best way to figure out which ones will work best for you is to experiment with different options until you find the perfect fit.
Conclusion
There are plenty of ways to have fun while working remotely! One great way is to get involved in online communities and forums related to your work.
This can help you meet new people, learn new things, and stay up-to-date on industry news. There are many remote working groups and events that you can join or attend. These provide a great opportunity to network with other remote workers and learn about best practices.
Finally, don't forget to take breaks throughout the day and make time for yourself outside of work. These activities will help keep you sane and prevent burnout.
There's no need to feel chained to your desk when you work from home. With the right gadgets for remote working, you can create a remote office that allows you to work from anywhere in the world.
Rafal Reyzer
Hey there, welcome to my blog! I'm a full-time blogger, educator, digital marketer, freelance writer, editor and content manager with 10+ years of experience. I started RafalReyzer.com to provide you with great tools and strategies you can use to achieve freedom from 9 to 5 through online creativity. My site is a one-stop-shop for freelance writers, bloggers, publishers, content enthusiasts who want to be independent, earn more money and create beautiful things. Feel free to
learn more about me here.