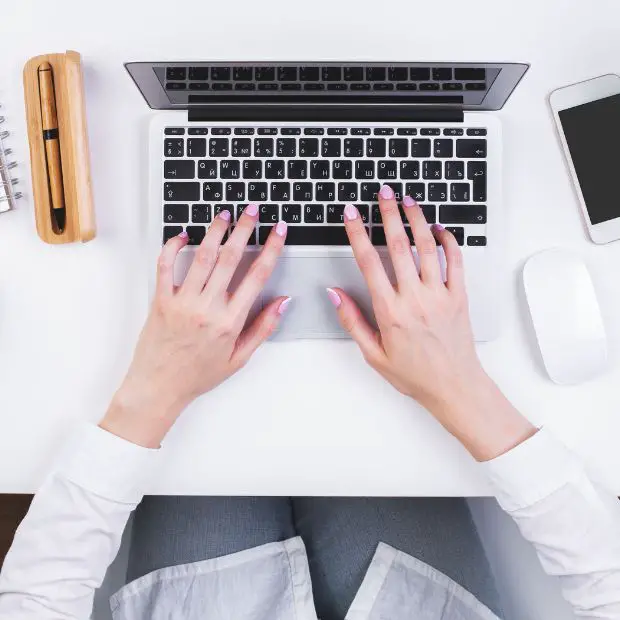 Do you desire to join the ranks of the secret society of fast writers?
Boosting your WPM (words per minute) is the key to writing at the speed of thought and expressing yourself freely. Plus, fast typing equals fast cash.
Testing your typing speed is easy with writing speed test websites.
They can help you check and analyze your keyboard skills and teach you methods of improving your WPM stats.
Wanna go above 100 WPM? Check these sites:
Here Are The Top Writing Speed Test Websites: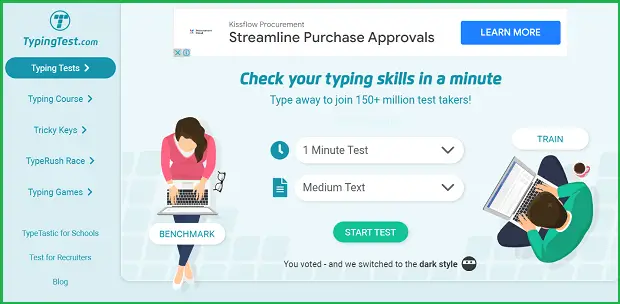 TypingTest is one of the best websites to test your WPM stats. You can use the platform to check your typing speed for free.
The interface is user-friendly and presents a menu of tests you can choose from.
The typing test can vary from 1 to 10 minutes, depending on the theme and difficulty level you selected. It has an algorithm that calculates your typing speed to determine how fast you type. It will also deduct errors from your score to gauge your accuracy level.
The site offers typing courses and games too, to help you improve your speed and typing accuracy.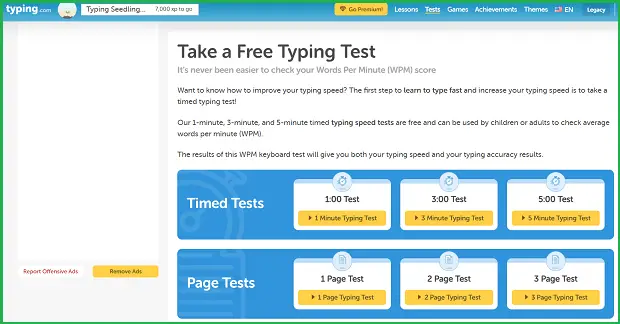 Typing.com is another writing speed test website that helps measure various aspects of your typing skills.
Find out about your WPM statistics by taking a 1-minute, 3-minutes, or 5 minutes test from this site. The difficulty level may vary from 1 to 3 pages of examination.
It has a beginner-friendly interface and a vintage typewriter sound effect, making it more fun for everyone. The tests give you a clearer picture of your speed and accuracy level on the keyboard.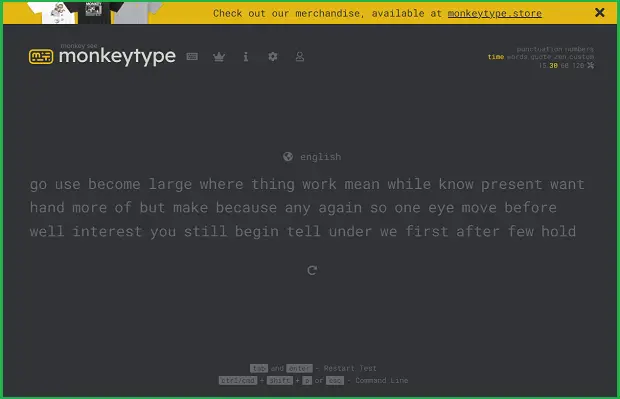 Monkeytype is a unique WPM assessing website that lets you look at the words given in the examination and type them in the same box.
Various test modes let you focus on typing words, punctuation, quotes, and numbers. The website also supports 40 languages to help you determine your typing speed in other major languages you speak and write fluently, besides English.
You can customize your test's time limit and level and choose between 15 to 120 seconds. After you are done, you can check your WPM statistics in areas like speed or precision on the results page.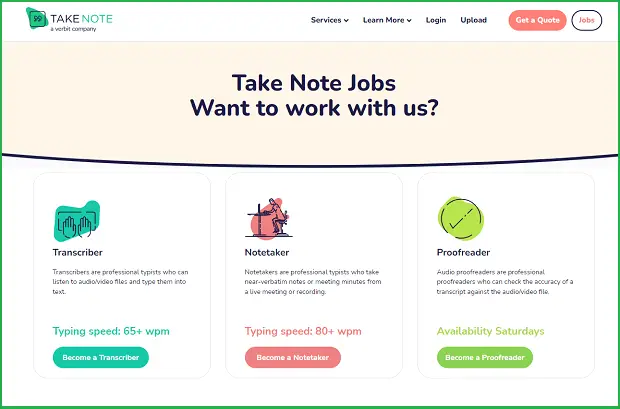 Take Note is a smart, user-friendly platform that allows you to type using the copy typing method and the audio typing method.
The free tests are supposedly for those who want to apply for a transcriber or other positions in their company. But you can take them anyway and even consider working for them if you qualify.
The audio typing or transcribing method allows you to type as you hear the sentences to test your listening and writing skills. While the copy typing method provides you with a text, you need to read and copy it within 90 seconds.
After you are done, you can check your WPM speed and accuracy. You can take as many practice tests as you want before you go for the real test.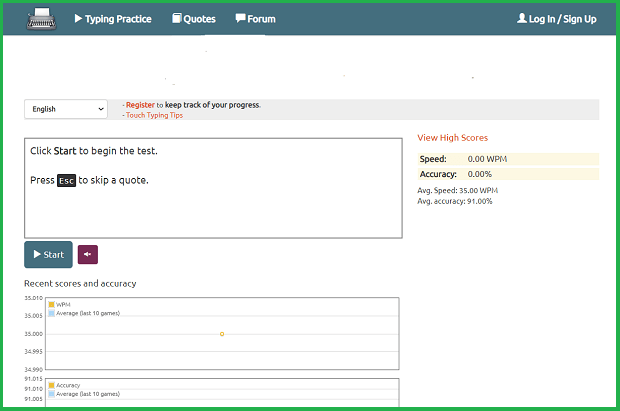 Key Hero is another free online tool to test your typing skills and accuracy using the read and copy method.
It's a very user-friendly platform where you simply read and copy a text within a certain time frame to check your score.
The best part is that it supports many other languages other than English. Thus, you can check your typing skills in as many languages as you know.
10FastFingers is a typing speed test website where the mechanism to test your skills differs from the rest.
The site will present you with random words that you need to read and type. The trick here is that you need to type words that are not related to each other. This will test your actual typing speed when you cannot predict the next word in a sentence.
A 1-minute test has 200 words to type. You can increase your WPM score with the help of such tests. After the test, you can see your score and the number of correct and incorrect words.
The website works in many languages, and you can opt for basic to advanced typing tests. There are also multiplayer tests that let you play and compete against other people.
The only drawback is that there are no typing lessons included.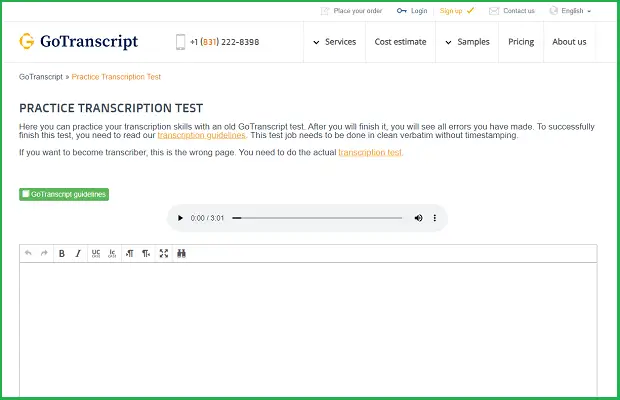 GoTranscript is a website offering transcription services. They offer, however, one simple but useful transcription test for users.
The test asks you to transcribe verbatim an audio file into a written text to check how fast you can complete the task in real-time.
It's a great test for those who want to check their audio transcription skills and typing speed instead of just copy typing scores.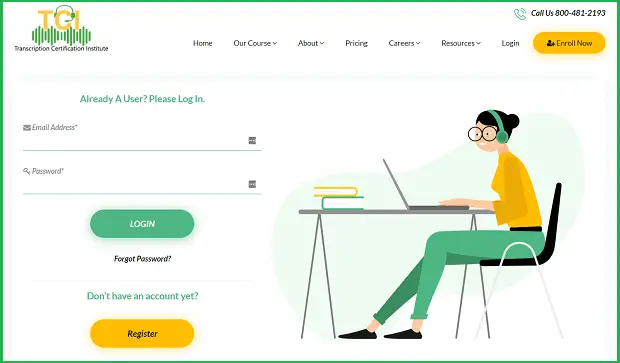 Accuracy Assessment Tool by Transcription Certification Institute (TCI) is the best platform for serious candidates who are planning to become professional transcribers.
However, this is not a free platform like the other sites mentioned. Each test costs around $1.99. There are a couple of free tests available for beginners, though.
There are more than a dozen tests to evaluate your typing speed and transcription skills to prepare you for such a profession. After finishing the test, you can compare your written text with the actual transcript and check your speed and accuracy levels.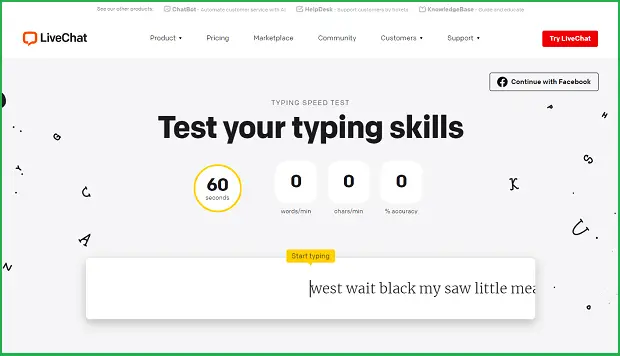 LiveChat offers you a 60-second test to check your WPM rate. The text changes every time you refresh to help you take short tests as often as you want.
Here, you get random words instead of meaningful sentences to challenge you to type the unrelated words as fast as possible.
The test does not allow you to go back to a word and correct them if you make a mistake. There is a fixed time limit within which you must finish typing. Once you are done, you can check the WPM score at the end.
LiveChat also shows your stats while typing the text during the test.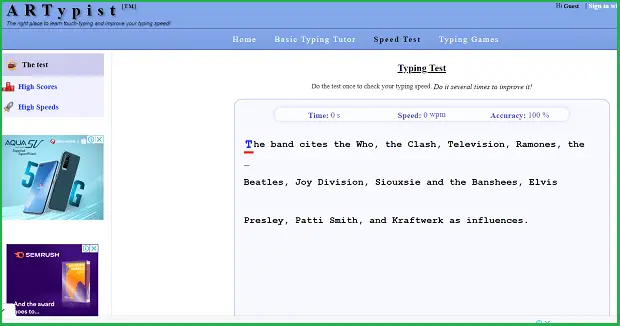 ARTypist is a challenging typing speed testing platform but is very effective in improving your WPM count.
The speed test consists of words, numbers, punctuation, games, and typing lessons. The only downside is that you can't go back and edit a mistyped word.
The test is overwhelming because it uses a random Wikipedia article as the text to copy, which includes a lot of names, punctuations, facts, and dates. These could slow you down and test the accuracy of your typing skills.
After completing the test, you can go through your final stats to check your score. You can also check the time used and the speed rate while typing the test.
Conclusion
The writing speed test websites mentioned here offer variable tests and methods to assess your mastery of the keyboard in forming words and sentences.
I suggest you take more than one test from these websites to get an average score and see how good you are. If you find your typing skill is below par with the industry standard, then take advantage of the tips, games, and courses offered on these sites to improve yourself.
Try taking a re-test after a few weeks to analyze your improvement. It's all about focus and practice to have a high WPM score.
Rafal Reyzer
Hey there, welcome to my blog! I'm a full-time blogger, educator, digital marketer, freelance writer, editor and content manager with 10+ years of experience. I started RafalReyzer.com to provide you with great tools and strategies you can use to achieve freedom from 9 to 5 through online creativity. My site is a one-stop-shop for freelance writers, bloggers, publishers, content enthusiasts who want to be independent, earn more money and create beautiful things. Feel free to
learn more about me here.