FreshBooks and Harvest are accounting tools that help small business owners manage their finances. They both offer a wide range of similar services, hence the question "Which is better?"
To answer that, let's compare both. We will base our comparisons on personal use and honest reviews from real-time users on G2 and Trustpilot.
If you feel financial recording should be easy and fast, yet professional, FreshBooks and Harvest are accounting and bookkeeping software solutions to try. But you need to know which suits your business needs, and this review will help with that.
First, we will review their services individually and then compare them to see where they surpass each other.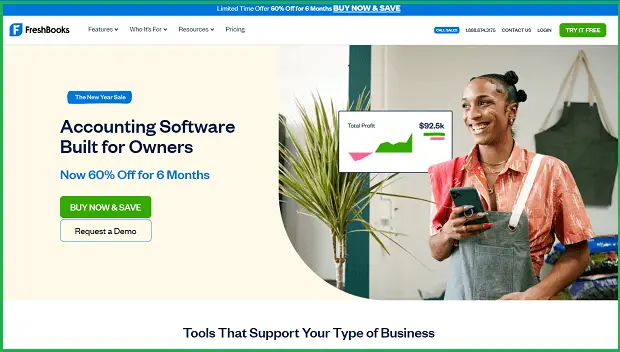 61% of users who reviewed FreshBooks on Trustpilot rate it as an "excellent" accounting tool, while 17% consider it "great"!
It even has higher stats on G2, formerly known as G2Crowd. About 75% of users who reviewed it gave it a 5-star while 19% gave it a 4-star review.
One marketing and communications consultant who reviewed the software on G2 described it as "the best for small service industry professionals."
FreshBooks Upsides
Invoicing Feature – FreshBooks excels in this area. You can generate professional-looking invoices that clients can pay immediately via the payment portal. This gives you a layer of professionalism that your business may lack. You can also customize these invoices as needed.
Flexibility in Payment Acceptance – You can accept credit card payments, request deposits, create recurring invoices for long-term customers, offer discounts, get paid in different currencies, and create invoices in other languages. Clients can even pay directly through invoices using the FreshBooks payment feature at a token fee.
Expense Tracking Feature – It keeps track of how much money you spend to make money in real-time. This helps you stay within your budget for a project.
Time Tracking Feature – It can monitor how much time you spend on a project so you can bill accordingly. It has a built-in timer that helps you accurately charge clients who pay hourly.
Project Management Feature – It allows a collaborative space for feedback. So, as a freelancer, you can coordinate all your affairs with different clients using this one space. If you work with a team, you can keep everyone up to date on the status of a project at once.
Report Generation Feature – You also get ready-made reports as it updates and monitors your account. You get to know if you are making a profit or loss.
FreshBooks Downsides
It is pretty expensive at $20 per month for its Premium plan that offers you the best of its features. But if you can settle for less, you can pay $6 and $10 per month for the Lite and the Plus plan, respectively.
A recent upgrade to the user interface made a lot of processes more complex than they used to be. Some functions that took one click now take two or three to complete.
Time entry and expenses are more complex, and one user who reviewed the most recent UI layout describes it as "frustrating."
Customer support has not been very helpful since this new user interface went online.
Its Lite plan has very little to offer, almost like a free plan.
If you need to manage your time and team more than managing your finances, Harvest is more of the accounting software you need.
In addition to that, it offers expense tracking, project management, scheduling, and invoicing. 56% of users who reviewed Harvest on G2 gave it a 5-star, while about 37% gave it a 4-star review.
Harvest Upsides
Time Tracking Tool – If you are a freelancer who charges per hour worked, you can depend on Harvest to work well for you. It helps you stay within your contracted work hours, so you don't overwork yourself or your employees. You can also keep track of the hours logged by your employees to monitor their performance and dependability.
Time-based Reporting – It takes data collated from your timesheet and converts it into reports that inform you of how much time each project takes and if it's well worth it. Such critical information saves time and helps you scale your business in the right direction.
Automatic Invoicing – Once a project is completed, it creates an invoice that you can send to your client to get paid online. It does this by importing the billable time and expenses you have tracked and converting them to invoices. You can also create manual and customized invoices.
Team Management or Tracking Feature – As a team leader or owner, you no longer need to prepare Excel sheets to track the status of a project or request hours worked by an employee. Harvest provides all this data in real-time.
You'll know what each employee is working on, how much time they have spent on it, and if their work produces any return. You can also find out who makes the most money for you and who needs more support.
Project Management Feature – Since each project has a budgeted number of hours, you can see how much time you have spent on it and how much time is left so you can keep your client informed about the progress of their job.
Having access to this data helps you show your client the cost breakdown for each task performed for the project. For example, if you are a writer, you can show how much time you spent on research, writing, and editing and the billable amount under each task.
Such data can help you discover what you spend most of your billable time on and how you need to improve.
Integration with Other Apps – It easily integrates with Asana, Google Suites, Google Calendar, Jira, Trello, GitHub, QuickBooks, Xero, Basecamp, Slack, and Teams, amongst many others.
Like one product consultant said, it is an impressive tool because "it's easy to add users, projects, clients, and tasks."
We can thus say that Harvest is that tool that accounts for the work you do and the money you make and spend.
Harvest Downsides
If you input work hours daily, it might be a bit of a hassle because the days do not update automatically. You have to select the day you want to log hours on manually. For example, if you last logged hours on Tuesday and come on Wednesday, you have to manually select 'Wednesday' because it doesn't default to the current day.
It costs $12 per user per month, and you pay the same amount for each user you add to the team. Although this price is very reasonable if you work solo, the incremental cost per added user can be a bit too much.
It is not as customizable as FreshBooks.
Most users on G2, though, have the same thing to say when asked what they dislike about harvest. "Nothing really," "very little," or "It does exactly what it needs to do" are typical comments.
FreshBooks vs. Harvest
Now that we have an overview of each software, its upsides, and downsides, let's compare them.
Invoicing and Direct Payments:
FreshBooks surpasses Harvest in this aspect. On FreshBooks, you can customize your invoices and accept payments directly via several available gateways like PayPal, something you can't do on Harvest.
FreshBooks also offers recurring payments, which Harvest does not.
Reports Generation:
Though both software provides reporting features, FreshBooks collates this without prompt.  In contrast, you have to manually run it on Harvest.
User Experience:
At the moment, Harvest has a user interface that looks a bit outdated but is easier to use. There are lesser bugs, and processes are much easier to complete seamlessly.
Affordability:
Harvest is more affordable than FreshBooks, especially if you are going solo. It might become a little more expensive when you add users.
Time Tracking:
Hands down, Harvest has better features in this category.
Team and Project Management:
We can call it a tie for this category. Both FreshBooks and Harvest are excellent at team and project management.
Wrap Up
At the moment, it's pretty easy to tell that Harvest is leading FreshBooks by a bit on this review. If you need time-tracking, Harvest is the better accounting tool for you.
But, FreshBooks is the right tool for you if you need aesthetically pleasing invoices. We hope FreshBooks fixes its new UI, then we can revisit this review.
Rafal Reyzer
Hey there, welcome to my blog! I'm a full-time blogger, educator, digital marketer, freelance writer, editor and content manager with 10+ years of experience. I started RafalReyzer.com to provide you with great tools and strategies you can use to achieve freedom from 9 to 5 through online creativity. My site is a one-stop-shop for freelance writers, bloggers, publishers, content enthusiasts who want to be independent, earn more money and create beautiful things. Feel free to
learn more about me here.