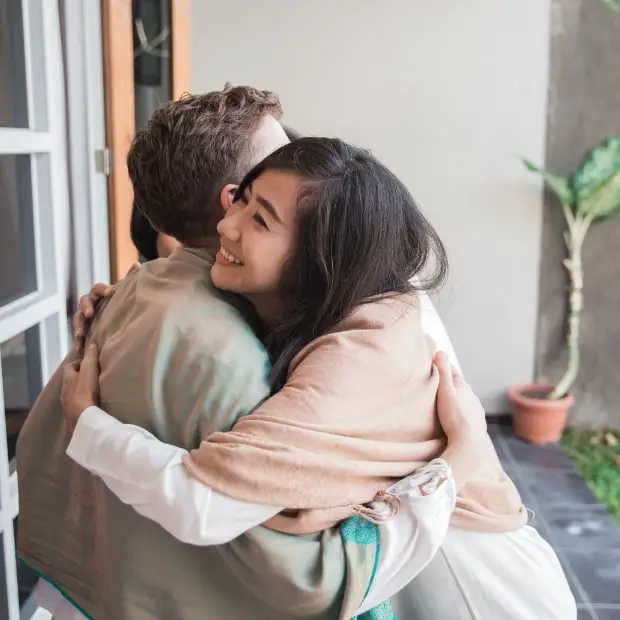 To forgive is to set yourself free. To forgive is to relieve yourself of a burden and bring about peace of mind.
Forgiveness is the key to untold peace and happiness. We all should learn to forgive, but that doesn't mean it's easy to do so, especially when a person has done something you find unforgivable.
I've collected and shared with you some of the most gripping stories about people who were subjected to the most awful of situations but were able to put aside anger and choose to forgive.
Here are 12 inspiring short stories about forgiveness:
It's not a made-up story, but a real-life incident about how a mother spared the life of a man who murdered her son right before he was to be hanged in public.
Iranian mother Samereh Alinejad, along with hundreds of people, had gathered near the prison in a northern Iranian town to see the execution of Balal, who murdered her son in a street feud in 2007 when he was only 18.
Just moments before the execution, the mother went towards Balal and slapped him across the face as she burst into tears. It was like all the rage in her heart vanished and she asked to remove the noose around his neck.
She spares the life of her son's murderer. Balal was declared pardoned.
It's been over 25 years since the genocide against the Tutsis in Rwanda. Killings happened even in broad daylight, and close to a million Tutsis and moderate Hutus were hacked to death with machetes by their own neighbors.
That three-month killing spree changed the fate of the country forever. The Rwanda genocide is one of the most gruesome atrocities in the history of Africa to date.
A young boy named Jean Claude, who was 11 years old when the genocide began, witnessed the heinous act of their neighbors who tortured and mutilated his father. He was hiding in the bushes nearby as some people murdered his sister, uncles, and aunts.
After the genocide, he joined the Compassion Program at the church where he came to know Jesus and learned the power of forgiveness. He forgave the perpetrators of his family's massacre.
Matt Swatzell, a firefighter/EMT, fell asleep at the wheel when he was driving home from a 24-hour shift at his station in Dacula, Georgia.
He was tired like hell, and it was only a few miles before his home that he realized he fell asleep and crashed into a car, killing Erik Fitzgerald's wife June and their unborn baby.
At Matt's sentencing, he pleaded for leniency. Fitzgerald declined to pursue the maximum sentence against Matt. In the end, he got off lightly as the judge ordered him to pay a fine and do community service.
A decade later, the two have remained friends and began meeting for coffee and conversation. The unlikely friendship between them is proof that a little forgiveness can go a long way.
This is an exemplary tale of forgiveness. Domestic violence survivor Pascale Kavanagh sets an example by not only forgiving her mother – her abuser – but also extending support to her when she suffered consecutive massive strokes.
Not even in her dream had she thought that she would reconnect with her mother.
Pascale's parents were both successful physicians, but their home life was a mess and deeply troubled. When the mother became bedridden and had nobody else to take care of her, Pascale felt duty-bound to help.
She was angry at first, but as months passed, her hatred for her mother slowly dissipated into forgiveness and love.
Most people think that the only attack on U.S. soil during World War II was the one that happened at Pearl Harbor. It was a surprise aerial bombing of the U.S. naval base by the Imperial Japanese Navy Air Service in 1941.
A year later, the U.S. was hit again by a Japanese pilot, Nobuo Fujita, who dropped incendiary bombs on an Oregon state forest. The mission was to start massive forest fires, but the plan didn't work, thanks to the damp conditions.
The firefighters contained the fire, and the pilot returned home to Japan. Ashamed of his actions during the war, Fujita came back to the town he once tried to raze, to make amends. To his surprise, the people of the town welcomed him with a grand reception and a key to the city.
The people of Oregon, in a remarkable act of generosity and forgiveness, made Fujita an honorary citizen shortly before his death.
This is a heartwarming story of a grieving mother who suffered the unimaginable loss of her daughter. Yet, not only did she forgive the boy who killed her child, but also plead with the court for a lighter sentence.
Teen Jordyn Howe accidentally shot Ady Guzman-De Jesus's daughter Lourdes, 13, while showing the firearm to his friends on the school bus.
Ady Guzman-De Jesus's extraordinary gesture of forgiveness moved everyone as she hugged Howe despite her grief over her lost daughter. Howe was sentenced to one year in a juvenile detention facility.
She said she believes it's what her daughter would have wanted her to do. She made an emotional act of forgiveness and gave him a second chance at life.
Stephen Owens was only 12 when he found the body of his father, who was badly beaten and gasping his final breaths.
Stephen's mother, Gaile Owens, supposedly paid a hitman to kill her husband in 1984. Stephen testified against his mother who was eventually sentenced to death.
A couple of months before her execution date, she had her death sentence commuted to life in prison and was released on parole in 2011. For decades, Stephen rejected his mother until he realized he must forgive her.
His struggle to forgive is documented in the book titled Set Free: Discover Forgiveness Amidst Murder and Betrayal.
On a cold February night, Chris Williams went out for ice cream with his pregnant wife and three children. Never in a million years, he would've imagined that his life will change forever that evening.
As they drove back home, their car collided with a tremendous force with another car. A 17-year-old drunk teen was driving the other car.
As he sat in the car, while the lives of his wife and children are being taken away from him right before his eyes, he looked at the other car that hit them. Suddenly, he was overcome by a strange sense of peace and at that moment, a thought came to his mind that he would forgive the other driver.
The story of Chris Williams is depicted in the book Let It Go: A True Story of Tragedy and Forgiveness.
This is a real-life story of the unfortunate Sue Klebold. She's the mother of Dylan Klebold, who, with his friend Eric Harris, shot dead 12 students and a teacher and injured 24 others at Columbine High School in Littleton, Colorado. Then the duo turned the guns to themselves.
Ever since the incident, Sue Klebold has lived with grief and shame. The horrors of that day would haunt her for years to come.
Years later, she is still haunted by one question: is there anything she could have done differently? She battled her demons for decades, trying to make sense of her son's actions. Finally, she accepted the truth and made peace with it.
Sue is now in a place where she can be happy. Her struggles are depicted in her gripping, troubling, and best-selling memoir, A Mother's Reckoning: Living in the Aftermath of Tragedy by Sue Klebold.
At the age of 14, the helpless Elizabeth Smart was abducted at knifepoint from her home in the middle of the night. She was held captive by preacher Brian David Mitchell and his wife Wanda Barzee.
She was tortured and raped repeatedly for nine months before she was rescued and returned to her parents in March 2003.
For the innocent Elizabeth, her ordeals carried a heavy toll, but she said she has long since forgiven her abductors and wants to embrace and live her life fully now. She believes everyone deserves happiness, and she just wanted to move on and never give up on her life.
She learned to believe in forgiveness and to care about other people. You can read the full account of Elizabeth Smart's harrowing tale in the hands of her captors in her memoir, simply entitled My Story.
This is a remarkable story of Holocaust survivor Eva Kor, who spent most of her life telling her experiences, advocating forgiveness, and educating people across the world on the horrors of the Holocaust.
She became a controversial figure when she publicly forgave the Nazis responsible for committing atrocities during that dark era in world history.
Eva and her twin sister Miriam were separated from their parents and taken to Auschwitz. They were used as human guinea pigs and subjected to a series of horrific medical trials at the hands of the notorious Nazi doctor Josef Mengele.
Both of them survived the infamous labor and death camp, but Miriam died in 1993.
In 1995, Eva opened the CANDLES Holocaust Museum in Indiana and officially forgave those responsible. She finally understands and finds peace in the healing power of forgiveness.
This is an extraordinary story about a mother's endurance and a noble act of forgiveness.
In 2005, Mary Foley's teenage daughter, Charlotte, was stabbed to death at a birthday party in East London. A year later, Beatriz Martins-Paes was found guilty of the unprovoked attack and sentenced to life.
Two wasted lives and two devastated families are left in their wake.
But the most shocking part of the story is that Mary not only forgave her daughter's killer but also kept in touch with her. They exchanged letters several times and met each other.
For many parents, this may be a foolish act of tolerance, but for Mary, it was a moment of emotional reality. She felt relieved of the burden she was carrying.
Final Thoughts
These stories are proof that there is a divine purpose behind everything that happens. If you're ready to embrace that possibility, every aspect of your life can change.
Charles Fillmore said, "It is through forgiveness that true spiritual healing is accomplished."
These words are certainly true to these remarkable people, who have suffered devastating tragedies but still found inner peace and learned the true power of forgiveness.
These tremendous people learned that to forgive is to let go of grudges and resentments.
Rafal Reyzer
Hey there, welcome to my blog! I'm a full-time blogger, educator, digital marketer, freelance writer, editor and content manager with 10+ years of experience. I started RafalReyzer.com to provide you with great tools and strategies you can use to achieve freedom from 9 to 5 through online creativity. My site is a one-stop-shop for freelance writers, bloggers, publishers, content enthusiasts who want to be independent, earn more money and create beautiful things. Feel free to
learn more about me here.