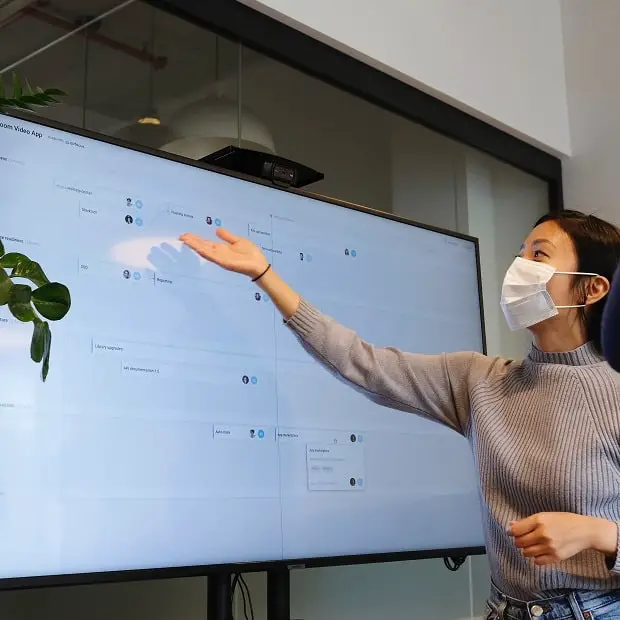 Would you like to make your classroom more interactive and engaging?
Below you'll find a list of the best interactive whiteboards for teachers available in the market.
Some of them are stand-alone items, while others will turn regular computer or TV screens into interactive touchscreen (yes, it's possible!)
Now, you can make every learning session more enjoyable by using a reliable interactive whiteboard.
Combine the power of multimedia technology with your expertise to deliver engaging lessons to your pupils.
These products also work well for sales, training, seminars, and other corporate presentations. Here are the criteria I used for the review: portability, file-sharing features, screen-sharing options, and compatibility with the most popular apps for teaching and media presentations.
The 8 Best Interactive Whiteboards for Teachers:
Microsoft offers a highly interactive digital whiteboard with an advanced CPU. It allows users to write on the surface effortlessly.
Graphic cards, Bluetooth technology, and Windows 10 OS are some of its notable features. It has an intuitive touch screen that lets you teach students more proficiently.
This digital whiteboard also ensures hassle-free sharing of images, videos, PDFs, and other files. You will find no delay in imparting your lessons.
Microsoft Hub 2 has an elegant and sleek design that you can integrate with any modern interior. It can also be used for corporate purposes, such as doing sales presentations, conducting seminars, videoconferencing, and more.
Other Features:
A thin-screen display
Size- 50"
1 far-field mic
Intel Core i5 (8th Gen) processor
Camera- 4K Surface Hub 2
RAM – 8GB
Intel UHD Graphics 620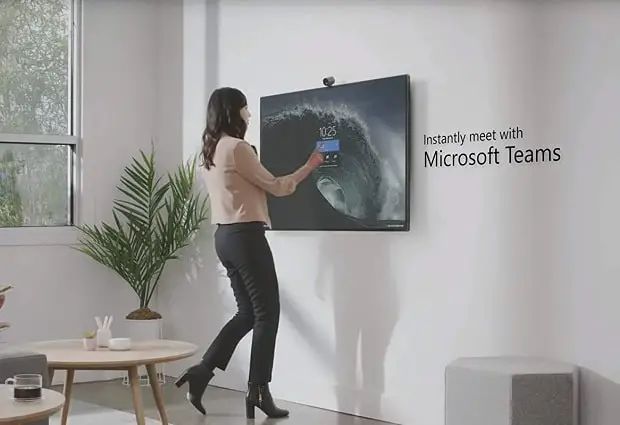 Vibe is another brand known for designing advanced interactive whiteboards.
Academic institutions and independent online tutors would find spending on this whiteboard a worthy investment. It is mainly because of its stunning benefits and features.
They can remotely connect with multiple students at the same time and share what's on the screen, including real-time annotations. It makes every teaching session highly interactive.
The best this is that you can save your content in Vive Cloud, so you will have no trouble pulling up old notes you digitally stored. You can concentrate on your canvas while delivering a lesson and maintain the flow of your ideas.
You also have the option to store your content in Google Drive and OneDrive.
Other Features:
Made of Canvas
Mounting type- Mobile stand
Accepts up to 4 users
4K UHD Touch Screen
Screen size- 55 inches
This unit is unlike other interactive whiteboards on our list. It's a screen overlay powered by innovative software that turns computer monitors and smart TV screens into interactive touchscreen machines.
The frame plays a role in creating the infrared screen, which detects movements within the boundary. It helps save the details in a file as soon as the screen senses any information.
The software also detects when a student removed any information. You don't need to use any projector while using this infrared touch frame. The overall setup process is easy, as you only have to deal with the frame.
This product is no doubt useful for teachers, as well as corporate executives and employees who need to make a commercial presentation. Its HID plug-and-play system will save you effort.
Other Features:
USB 2.0
Support Android, Mac, Native Linux, and Windows
HDMI ports- 1
This is one of the best interactive whiteboards for teachers in a classroom setting.
The whiteboard itself has a large display area, while the short-throw projector bundled with it can produce vivid graphics. The system is also highly intuitive and responsive and integrates several tools, which can sense when you switch from a pen to your eraser.
It is a reliable hybrid model that comprises both the smart projector and the touch screen. The projector-style interactive whiteboard allows a tutor to write, draw, and annotate. He or she can even let a couple of students write on the board, too.
This model grabbed our attention. The bundle also includes an eraser, a smart board tray, a power cord, a set of installation hardware, and a USB cable.
Other Features:
LED screen
Low-Gloss Surface
Size- 4 feet wide and 7 feet long
A 16:10 widescreen aspect ratio
Standard dry-erase whiteboards
Project an 80″ image
Supports Windows and Mac
This model boasts a 65-inch interactive flat-panel display. It's ideal for wireless presentations and video conferencing. Users can write, draw, and annotate on the screen.
Its 20-point multi-touch technology has made this model unique. The interface is user-friendly, so users can make their educational presentations with almost no effort. You may use a special-touch pen or finger to write on the screen. Two or more users can also use the board simultaneously.
When you need to share your screen, you can choose from different options like Chromecast, Miracast, and AirPlay.
The system works with both wireless and LAN connections, so there will be no connectivity issues with the device. As the manual includes an installation guide, you can easily mount the system on your wall.
Other Features:
Bright images
Accept many users
Compatible with a whiteboard app
Integrates easily with commonly used software such as MS Office suite
This is without a doubt the biggest whiteboard we have on the list with its 77-inch screen.
It comes with a high-resolution short-throw projector with a contrast ratio of 1200:1. It makes the presentation of multimedia lessons truly stunning, as it can display balanced images.
Its touch-sensitive surface allows the users to draw and write by making use of fingers and touch pens. This whiteboard has an easy installation process because of its wall-mounted design. You can engage kinesthetic and visual learners with your on-screen collaboration effort.
Other Features:
Include a remote control
USB connectivity
Screen size- 77 inches
No need to install a software driver
Plug and play for Windows and Mac
For real-time interaction with your students, you can invest in this device with a built-in collaboration computer.
Users have found no video or audio issues with this device. There is also a 16-microphone array for which the system can pick up audio from a distance of around 60 feet. Face-to-face video is another factor that makes the device highly interactive for every user.
Other features:
Screen size- 55 Inches
4K video
DTEN Audio AI
Smart camera technology
A noise reduction device (built-in)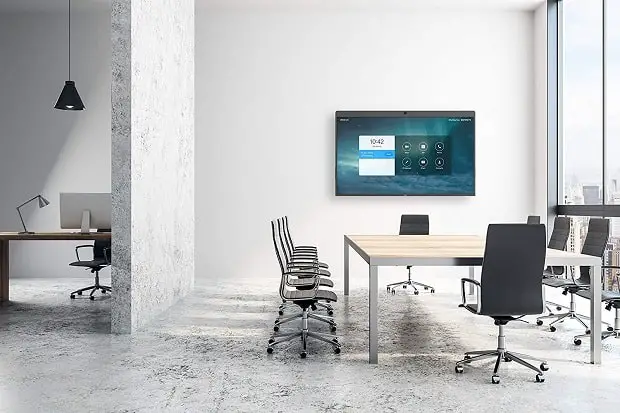 This device is another unique find. It turns any wide-screen TV into an interactive touchscreen teaching device.
It's great for both classroom and online instructions as it has a built-in camera and microphone. It can also connect you to an Online Teaching Software Suite with hundreds of digital teaching tools.
You can even drag-and-drop images and videos while streaming your lessons, making your presentation even more impressive and engaging.
All you have to do is attach it to the top of a flat-screen TV and take advantage of its software and many incredible features. It includes live streaming software that'll enable you to conduct classes via YouTube, Zoom, and other social media platforms.
Other Features:
Built-in FHD camera with a wide-angle lens
Microphone with a noise-canceling feature
It can be used for recording lessons or live online teaching
High-speed touch sensor
Automatic gain control (AGC)
Voice activity detection
Conclusion
We have reviewed the best interactive whiteboards for teachers based on screen size, app compatibility, and smart features that made each one of them stand out from the others.
Let your students get the ultimate learning experience when you present your lessons using one of these interactive whiteboards.
Rafal Reyzer
Hey there, welcome to my blog! I'm a full-time blogger, educator, digital marketer, freelance writer, editor and content manager with 10+ years of experience. I started RafalReyzer.com to provide you with great tools and strategies you can use to achieve freedom from 9 to 5 through online creativity. My site is a one-stop-shop for freelance writers, bloggers, publishers, content enthusiasts who want to be independent, earn more money and create beautiful things. Feel free to
learn more about me here.