Our modern work-life has seen the emergence of a new breed of working professionals – freelance writers.
A freelance writer is a person who works with one or more clients simultaneously and churns out content – mostly blogs, articles, and books.
Although it's not a new thing, many people prefer freelancing instead of choosing standard jobs.
If you want to stay motivated, check out the following freelance writing quotes that'll help you stay motivated to reach your goals.
Top 25 Freelance Writing Quotes
Here are some quotes from some prolific freelance writers that highlight struggles and triumphs in their careers. I gleaned the main lesson we could learn from each one and made them our outline.
1. It Gives You a Sense of Freedom
"I didn't want an unsatisfying career. And I didn't want to commit to one place – either one company or one location. I wanted to make my own decisions." – Rocco Baldasarre
The writer here reflects on one of the most crucial aspects of freelancing – not being committed to a single place. Having the freedom to work anywhere and anytime you see fit.
Traditional jobs encourage you to be loyal to your company, but it's quite the opposite for freelancers. It makes you equally responsible for multiple positions or roles, without being perpetually attached to them.
Making your own decision is key.
2. A Freelancer's Life Can Grow on You
"In 1975, I quit my tenure, and we moved from Ann Arbor to New Hampshire. It was daunting to pay for groceries and the mortgage by freelance writing – but it worked, and I loved doing it." – Donald Hall
One key takeaway from this is that life will always have its hardships, but doing something that pleases your mind and pays the bills gives you a wonderful feeling.
Freelance writing lets you do just that, even if fate forces it on you. It also helps if you have faith and strong resolve to make it in this profession.
3. It Can Become Enjoyable Like a Game
"The supreme accomplishment is to blur the line between work and play." – Arnold J. Toynbee
Unlike 9-5 jobs, freelance writing engages your creativity in the best ways possible, so your work becomes like play.
Once work becomes like that, there is no need to motivate yourself to jump into the hustle. It works out as smooth as butter.
Do you know how many pro-athletes can't thank their luck enough for getting paid to do what they love? It is also possible to have that feeling as a freelance writer.
4. It Can Be a Profession for Life
"Old age treats freelance writers pretty gently." – John Updike
Many people lose their ability to work after a certain age, and that's why they either retire or engage in smaller tasks and jobs from home.
Freelance writing, on the other hand, doesn't have age and health restrictions. As long as your mind works perfectly, you can still compose prose and poetry. This is one of the biggest advantages of choosing freelance writing.
Remember that Stephen Hawking published his bestselling "A Brief History of Time" when he was already wheelchair-bound quadriplegic.
5. Freelance Writing Takes Strong Willpower
"The life of the professional writer – like that of any freelance, whether she be a plumber or a podiatrist – is predicated on willpower. Without it, there simply wouldn't be any remuneration, period." – Will Self
Freelancing may sound like it has a lot of potentials to grow by leaps and bounds. But one thing is definite: no profession could flourish unless you have a strong will.
And it is not just freelance writing – whether you are an actor, an artist, or even a lawyer, your chances to succeed will be slim if you don't will yourself to work hard.
6. It Teaches You to Overcome Obstacles
"Sixteen years as a freelance features journalist taught me that neither the absence of 'the Muse' nor the presence of 'the block' should be allowed to hinder the orderly progress of a book." – Jim Crace
Another thing that is important to know when you're pursuing freelance writing is that you must put your best foot forward every time.
Sometimes we face writer's block and can't continue without a necessary break. But the hustle is a real thing, and the deadline still hovers above your head. So, you have no choice but to power through.
7. It Enables You to Spend More Time with People You Love
"It was my very good fortune to find a mentor, Clay Felker, who started my career at the 'New York Magazine' as a freelance writer when I had to quit my job at the 'Herald Tribune' to stay home with my young daughter. " – Gail Sheehy
Freelance writing allows you to work and earn while also enjoying quality time with your family. Very few professions and jobs let you do that.
Thousands of people often must choose between their careers and family. Sometimes to the point of missing important moments in their children's life. This shouldn't be the case if you're a freelancer.
The quote also emphasizes the advantages of finding a good guide or mentor.
8. It Can Be Isolating
"I'm a freelance writer, and I work alone at a big desk in the living room of my apartment. There are many days when I don't utter a single word to anyone but my husband." – Robin Marantz Henig
Like any other profession, freelance writing can be daunting, too. But the thing is, you must do it not only to fulfill your professional commitments but also to build some credentials.
It may involve dedicating yourself to writing long pieces in the corner of your room, and not being able to socialize. But in the end, it will pay off.
9. You Discover Many Things
"Writing is an exploration. You start from nothing and learn as you go." — E.L. Doctorow
Writing is one activity that some people try to differentiate between a hobby and a profession. But one thing is certain: it leads you to a life of constant discovery.
You get to explore the many alleys that the freelance writing journey offers before eventually finding your own lane. It compels you to read and research things you didn't know before, so you'll have something new to write about.
10. It Nudges You to Find Your Voice
"Your writing voice is the deepest possible reflection of who you are. The job of your voice is not to seduce or flatter or make well-shaped sentences. In your voice, your readers should be able to hear the contents of your mind, your heart, your soul." — Meg Rosoff
Writers have a gift. Not only do they see life from a different vantage point, but they can narrate it beautifully and transform their thoughts and observations into written words.
That talent creates a special effect that resonates within the readers and creates a lasting effect on their souls.
11. It Encourages You to Take Risk
"Get it down. Take chances. It may be bad, but it's the only way you can do anything really good." — William Faulkner
You will never succeed unless you take chances. Many of us back down from the things we want to do, but failures don't matter in the long run.
People forget the losses once they get something that matters and touches their hearts.
Michael Jordan, who is considered the greatest basketball player of all time, missed almost half of the shots he attempted in his career. But he is not remembered for that, but for the NBA titles and personal accolades he won.
12. Master the Art of Presenting
"The secret of good writing is to say an old thing in a new way or to say a new thing in an old way." — Richard Harding Davis
One thing you must master if you aspire to be a freelance writer is the ultimate technique for presenting.
If you don't learn that, a write-up on a very interesting topic may sound lifeless.
13. Learn the Meaning and Right Use of Words
"The difference between the almost right word and the right word is…the difference between the lightning bug and the lightning." — Mark Twain
There are many techniques a freelance writer has to master, and choosing the right word is one of them.
As the famous author mentioned, the closest word will never have the right impact unless it's the perfect word. Conversely, it could be the perfect word, but if you failed to use it correctly, it will be all for naught.
Expanding your vocabulary is one thing, using the words correctly in your compositions is another.
14. Don't Overthink, Just Tell the Story
"I do not over-intellectualize the production process. I try to keep it simple: Tell the damned story." — Tom Clancy
When you are coming up with writing, always try to address it as directly as possible.
Too much wordplay or embellishment can ruin a good piece.
Your goal as a writer must be simple: Tell a story that everyone can understand.
15. Keep Trying
"Long patience and application saturated with your heart's blood — you will either write or you will not — and the only way to find out whether you will or not is to try." — Jim Tully
It is a sure thing that freelance writing is a profession of many challenges, but the only thing you should focus on is to keep trying.
Because unless you try, you will never know how hard or easy it is to succeed. You will never know if an arrow will hit its target unless you let it fly.
16. Never Let a Good Idea Pass By
"Write while the heat is in you. The writer who postpones the recording of his thoughts uses an iron which has cooled to burn a hole with." — Henry David Thoreau
Freelance writing involves a lot of free thinking and processing. You should already think about the next lines while writing one.
This continuous process is important in the synthesis of good writing, otherwise, you'll lose the flow, and the reader may stop relating to your write-up.
17. Commit to Lifelong Learning
"We are all apprentices in a craft where no one ever becomes a master." — Ernest Hemingway
The secret to success in freelance writing is that you keep on improving without having an end in sight.
We all learn the basics and excel in some areas, but it may take your whole existence to master the craft. There is probably no art form where you'll achieve ultimate perfection in one lifetime, writing included.
18. Never Give Up
"A professional writer is an amateur who didn't quit." — Richard Bach
Every profession has a humble start. The same goes for freelance writing.
We all are amateurs at first, but as we gradually gather experience, we slowly move towards the position of excellence. But one thing to remember is that your evolution as a writer should not be hindered; it should remain in continuous flow.
19.  Age Doesn't Matter
"You are never too old to set another goal or dream a new dream." — C.S. Lewis
Freelance writing is a legit full-time profession, at least to those who are committed enough.
Many of us consider it as a hobby, as there are no fixed working hours unless you decide to do so. But, apart from all that, it is never too late to work as a freelance writer.
English author Bertha Wood published her first book Fresh Air and Fun: The Story of a Blackpool Holiday Camp on her 100th birthday in 2005. Can you believe that?
20. Take Pride in Your Work
"If you dig deep and keep peeling the onion, artists and freelance writers are the leaders in society — the people who start to get new ideas out." — Allan Savory
Freelance writers don't just write content – they present a new way of looking into things from their unique perspectives.
Many contents that writers produce expose certain aspects of life, some of which may be hiding in broad daylight for so long. Subscribe to the idea that the pen is mightier than the sword, because in your case as a pro writer, it is.
21. You Can Make a Difference Through Writing
"I always feel like freelance writers are leading a heroic life. I think that is the real writer's life." -Tom Paulin
When you started your journey as a freelance writer, you must have noticed that something has changed in your life – and it is mostly positive.
You can write about anything you want, but you must always aim to positively impact something or somebody. Your writing could address the ills of our society, help your fellowmen with fresh insights, inspire or educate people, or accomplish many other things.
22. It May Not Be for the Weak-Hearted
"Anybody who is in freelance work, especially artistically, knows that it comes with all the insecurity and the ups and downs. It's a really frightening life." — Alessandro Nivola
In case you haven't experienced it yet, you might wonder what insecurities freelance writing can bring to your life. Believe me, it will come.
But what's life without the fear of failure? Don't we keep trying so we'll succeed one day? Let these freelance writing quotes we've been discussing help you with that.
23. Love What You Do and Always Strive to Do It Right
"I've never had a terrible job. I've been a cook, waitress, bookseller, teacher, freelance writer. I know what the bad jobs are, and I haven't done them." — Ann Patchett
There are so many jobs available, but why choose freelance writing? Because it is a respectable job, you get to enjoy your freedom, and you can choose your responsibility wisely.
For whatever reasons you may have in choosing this profession, you have to be passionate about it and always deliver your best work.
24. Bet on Yourself
"It was daunting, giving up a regular job for a freelance world, where every day off is a day of unemployment, and you are conscious you are not earning. But it was time to take a gamble and see what's on the other side." — Konnie Huq
Many of us will give up our daily jobs and take up freelance writing, no matter what uncertainty lies ahead.
One thing is sure, it is a gamble between success and failure. But isn't this the case in any career shift or new ventures?
The important thing is to believe in yourself and play your hand well.
25. Find Your Purpose
"Who wants to become a writer? And why? Because it's the answer to everything. It's the streaming reason for living." — Enid Bagnold
Freelance writing doesn't just ease your mind. It is a way of living.
Sure, it has its fair share of ups and downs, but the people who have taken up freelance writing averred that it was one of the best decisions they ever made.
Once you fully understand what the profession is all about in your life, you are going to embrace and enjoy it.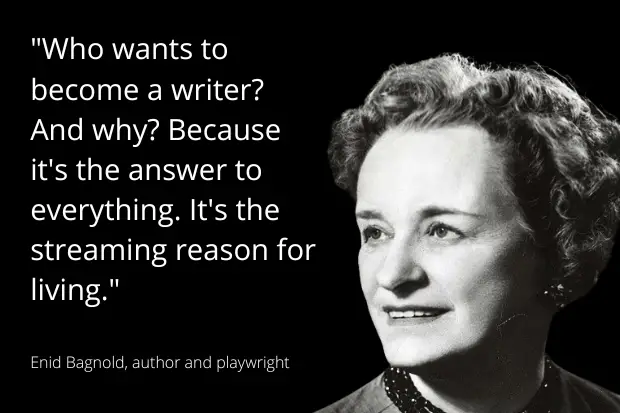 Conclusion
Freelance writing is a fantastic profession, but you must work hard and keep stepping on the right stones to achieve what you want from your life.
These Freelance Writing Quotes will help set you on the path that leads to success and longevity in this profession.
Rafal Reyzer
Hey there, welcome to my blog! I'm a full-time blogger, educator, digital marketer, freelance writer, editor and content manager with 10+ years of experience. I started RafalReyzer.com to provide you with great tools and strategies you can use to achieve freedom from 9 to 5 through online creativity. My site is a one-stop-shop for freelance writers, bloggers, publishers, content enthusiasts who want to be independent, earn more money and create beautiful things. Feel free to
learn more about me here.