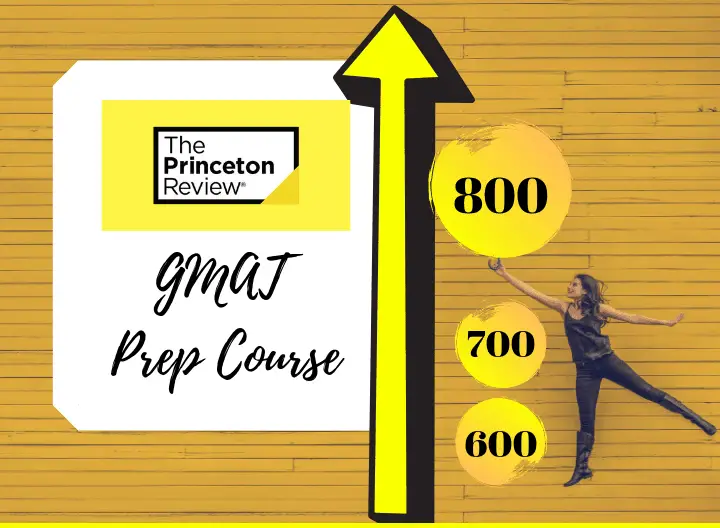 Passing the GMAT and getting accepted to one of the best business schools is not easy.
To get into one of the top 30 MBA programs in the US, you'd need a minimum score of 680 and a GPA of 3.5. And then, the acceptance rate still hovers somewhere around only 20%. That's why many students decide to take advantage of The Princeton Review GMAT prep course. I can honestly say that the course delivers on its promise and will help you boost your score. In this review, you'll find all the information about its effectiveness, features, pricing, and how it stacks up against the competition.
The Princeton Review offers three options (check for discounts):
But which one is better and are they fully comprehensive? Let's find out.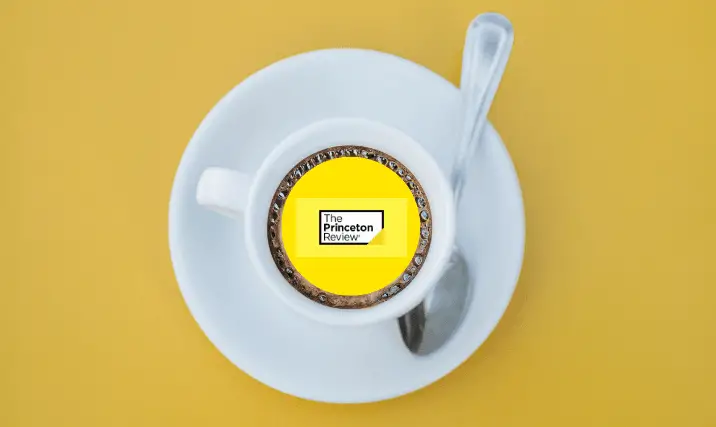 The Princeton Review GMAT Prep Courses: Which One to Pick
#1: Fundamentals GMAT Course
This is the most popular course option and one of the most highly recommended. Yes, it's pricey as you'll need to pay around $1299 for it (you can check the current prices here). But there's a saying in the GMAT prep community – don't be penny-wise and pound-foolish. It's much better to invest in a comprehensive course and get the score you want on your first try than to retake the exam and pay another $250 for your next try. This course is the best option for TPR because it includes 27 hours of live instruction and interaction with other students. This kind of learning environment creates the right "vibe" where you can absorb the knowledge much easier. It's all about doing the work "as a team" that will help you see the problems from different angles and learn how to solve them. Here you'll get 27 hours of instruction (either in-class or live online) in a group of 6-15 students. Actually, the bigger the class the better. If you decide to sign up, decide that you're going to speak up and interact as much as possible. The "spoon-feeding" approach to learning is the least effective, and that's why you need to ask questions and be engaged if you want to get the most out of this course. There's one class each week, and each one is 3 hours long. The live course lasts for around 3 months, but you'll get access to all the materials for 4 months. That's great because the live classes will give you a good foundation for understanding the GMAT concepts. And then you'll still have one month to crunch through the full-length tests and adaptive online drills. (You'll get 10 full-length computer-adaptive tests in total.) The classes are always scheduled for the late afternoon during the workweek or Saturdays, so they won't interfere with your schedule. But remember, the course itself is not enough. You should be prepared to put in 2 hours of self-study each workday and 4 hours each Saturday for 3-4 months leading up to the test.
Who is this course for?
Students who are willing to pay a bit more for a comprehensive, yet easy-to-follow prep course.
Students who thrive in a live learning environment.
Students who need a good refresher for data sufficiency and problem-solving.
Non-native English students need a deeper understanding of the verbal reasoning part.
Prep course highlights:
This is the top GMAT prep course offered by the Princeton Review. It gives you 27 hours of live instruction spread over 3 months. It's the most comprehensive prep option designed to give you everything you need to feel confident before the test and score well above 700. But it's always good to check supplemental prep materials (PowerScore GMAT Bible, and the GMAT Official Guide).
#2: GMAT Self-Paced Course
This option is ideal not only for those who can only afford a GMAT prep course on a shoestring budget but also for those who cannot devote time to a regimented schedule. Perhaps you need to keep a full-time job to support yourself or your family but are still aiming to earn that MBA to revamp your career course and work your way up the top echelon of the corporate ladder. Well, with the self-paced course, everything is still possible. Here, for around $699 you'll get access to all three modules (quantitative, verbal, and integrated reasoning). If you want, you can pick the modules separately (at $299 each), but it's much better to take the comprehensive option as it gives you more value for the money. On the plus side, you can study at your own pace at your own time using your privileged access to numerous adaptive video-on-demand lessons. This comprehensive course is designed with an exclusive algorithm, subject-specific online tools, and live interactive GMAT explanation sessions for Quantitative, Verbal, and Integrated Reasoning modules. You will also be afforded access to GMAT experts as needed. While this program doesn't guarantee a specific attainable score (like the GMAT 700+ Course), it still comes with an assurance to help you score higher or you'll get a refund. They even offer to let you repeat the course for free if you are not satisfied with the program. These guarantees, of course, are subject to some reasonable guidelines. However, the main strength of this option lies in the self-prep materials. These include 10 full-length computer adaptive practice tests, 100+ video lessons, 91+ quick review lessons, 83+ GMAT adaptive drills with 3000+ questions, and the GMAC Official Guide. It's recommended that you complete all the practice tests before you attempt the real exam. They're all computer-adaptive and Princeton Review is good at creating a genuine testing experience. It's similar to what you'll see on the real test. The drills are also great. After completing them, you'll see your score on each section and then focus on areas with the highest potential score yield. Overall, it's a nice little course, similar to what you would get from Magoosh or The Economist. But here you have the bonus of getting access to GMAT experts as needed. All of that, plus the neat online dashboard makes it a good prep option.
Who is this course for?
Students who don't have enough time to attend the full live online course, but still want to get a solid prep.
Students for whom the budget issue is important (they don't want to spend over $1000 on a course).
Students who still want to have a certain degree of live interaction with a tutor and other pupils.
Prep course highlights:
This is like the comprehensive live GMAT course but in a "mini" version. It gives you all the self-prep materials, but the live interaction with GMAT experts is available only when needed unlike with the flagship course. Instead, you get access to on-the-go adaptive video lessons anytime you want within the agreed period. Plus, you also get access to live GMAT explanation sessions that cover all three essential modules.
#3: GMAT 700+ Course
This course is very popular for those who wouldn't settle for less than getting into the best MBA programs available. This one costs just $300 more than the Fundamentals course, but the extras are staggering. For starters, it offers 20 more hours of instruction from GMAT experts, this alone, in my opinion, more than justifies the price difference (you can check the current prices here). But then again, the 700+ guaranteed score takes the cake. Scoring more than 700 points in GMAT not only significantly increases your chances of getting into the top 25 MBA programs in the U.S. but it might also determine your future salary. Studies suggest that students who graduate from top MBA programs tend to get at least 40% higher salaries than those who come from other full-time programs. You don't need to be a genius to figure out that it's a great return on investment (ROI), so to speak. Besides getting the standard 27 hours of live instruction that the Fundamental course offers, you will likewise benefit from 10+ hours of focused instruction on advanced GMAT questions, as well as 10+ hours of verbal and math explanation sessions. On top of that, you will also get access to numerous interactive video lessons and adaptive drills to help you prepare for the big exam. You will also get a GMAT official guidebook bundle with this course. Pretty much everything the GMAT Fundamental course offers is available in this course, plus you get access to more intensive test preparation materials and exclusive score-raising content. This, in turn, will help you achieve or even exceed the score guaranteed in this program, which could translate to a brighter financial future on your horizon. The course lasts for 3 months and they offer several class schedule options. You can check the details here.
Who is this course for?
Students who have a bigger budget and time for an intensive prep course.
Students who like to aim higher and would not settle for anything but the best.
Students who aim to get into the top 25 MBA programs in the country.
Students who are gunning to increase their worth in a crowded job marketplace.
Prep course highlights:
This is the top-tiered GMAT prep course The Princeton Review has to offer. It gives you a total of 47+ hours of live instruction spread over 3 months, 20 of which are on specialized subjects and strategies. The course guarantees that you will score 700 points or higher on the GMAT, thus increasing your chances of getting into the top 25 MBA programs and a more lucrative future white-collar career.

The Pricing of the GMAT Courses
The pricing of the TPR's GMAT courses is quite similar to what you would get from other test prep companies. The comprehensive live-online course is $1299, the self-prep course with all the modules included is $699, and the GMAT 700+ Course comes with a $1,599 tag price. That's pretty reasonable for courses that give you many hours of live interaction along with premium study materials. All the fees for the courses have to be paid upfront unless you decide on the "private tutoring" option, which allows you to spread the payments over a few months.
There are two private tutoring options:
18 hours – $167 per hour – $3000 in total
10 hours – 180 per hour – $1800 in total
These tutoring packages are fine, but I still think that the main live online course with 27 hours of instruction for $1399 is the top option to pick.
Here's a Quick Comparison Between the Prices of the Popular GMAT Courses:
| Company name | Price |
| --- | --- |
| Princeton Review (live online) | $1299 – you can get $200 off with a coupon code |
| Kaplan (live-online) | $1449 |
| Magoosh (self-paced) | $249 |
| The Economist Tutor (self-paced) | $899 |
| Manhattan Prep (self-paced) | $549 |
| Exam Pal (self-paced) | $440 |
Top Features of the TPR GMAT Courses
The two popular prep courses come with a variety of different features. But sometimes it's easy to get confused and miss out on some important elements of the offer.
Here are all the top features of the courses at a glance:
| | | |
| --- | --- | --- |
| | Princeton Review GMAT Fundamental | Princeton Review Connect "Hybrid" Self-Paced GMAT Course |
| Price | Check the price here (discounts available) | Check the price here (discounts available) |
| Overall rating | 9/10 | 8/10 |
| Live classroom time | 27 hours of live instruction spread over 9 sessions | Access to live interactive GMAT explanation sessions |
| Books | 3 textbooks (in-class, verbal, quant) | GMAC Official Guide |
| Full-length practice tests | 10 computer adaptive practice tests | 10 computer adaptive practice tests |
| Practice questions | 4000+ | 4000+ |
| Mobile app | Yes | Yes |
| Length of online access | 4 months | 4 months |
| On-demand video lessons | Yes, 100+ video-based lessons | Yes, 100+ video-based lessons |
| Score improvement guarantee | Yes, a higher score and 100% satisfaction guarantee | Yes, a higher score and 100% satisfaction guarantee |
| Student Portal / GMAT forum | Yes | Yes |
| Access to instructor outside of class | Yes, email assistance | Yes, email assistance |
| Reports and analytics | Yes | Yes |
| GMAT Essay Feedback | Yes, unlimited markings | Yes, unlimited markings |
Important note: The full-length GMATs you'll get from the Princeton Review (and other prep companies) aren't great at predicting your final score on the exam. The algorithms always differ a bit, and even the "official" materials from GMAC are prone to change and small errors. So treat the score you get on practice tests, as a ballpark figure, and not as something to take for granted.

Pros and Cons of the GMAT Prep from the Princeton Review
It's hard to find a course that would satisfy all your needs. It's great to know about the advantages, as well as the disadvantages of moving forward with TPR. In general, the pros outweigh the cons, but take a look for yourself:
Pros:
1. Lots of live-instruction time in small to medium groups
27 hours of interactive instruction is a lot, especially for just a little bit over $1000. The next course with a similar amount of study time is the one from Kaplan, but it's around $400 more expensive. Studying with a teacher and other engaged students is one of the best ways to boost your score beyond the 700-point range. Just remember to prepare some of your questions in advance, and be ready to get active in the class. That's how you get the most benefit out of the experience.
2. A score-improvement guarantee
It's not like your dream score is going to be guaranteed no matter what. But the basic guarantee from Princeton Review is good insurance overall. First, if you don't improve your score on the real exam (compared to your previous score or the practice test), you're eligible to get your money back. Second, if you're not 100% satisfied with the course, you can repeat it at no extra cost.
3. GMAT "Hard Math" 700+ workshops
The "hard math" workshops come as a bonus with the "ultimate" live course. They're perfect for students who are aiming to get into one of the top 20 b-schools in the country or people who need extra math practice. The workshops include 2,5 hours of live sessions, dealing with particularly hard math questions, 300+ practice questions, 18 drills, and 12 time-management drills that will help you with pacing.
4. 10 Full-length practice tests
That's more practice tests than you would get with any other company. Other prep options in the market give you 2 to 6 practice tests, but not 10. Each full GMAT is around 4 hours in length, so that's around 40 hours of practice you're getting here. You must complete as many of these tests as possible because will boost your score the most. After each one, you'll see exactly how you performed on each section and measure your improvement over time.
5. Feedback on your GMAT essay
That's another cool feature that you won't get almost anywhere else. The analytical writing assessment (AWA) is important and it's graded on a scale of 0-6. This section of the test is particularly difficult for non-native English speakers. With the TPR courses, you can submit your essays and receive detailed feedback from a GMAT expert within 3-5 business days. You'll receive a score, plus instructions that will let you improve your writing skills.
6. Fantastic video explanations for each of the questions
The video lessons are built impressively and connected to the drills. For example, if you pick the wrong answer on a practice question, you'll be able to watch a video about that given concept and understand exactly how to approach it. This will allow you to understand the core concepts at a much deeper level.
Cons:
1. Lack of a great mobile study app
Princeton Review is a big company and you would expect a great mobile app from their side. Unfortunately, as of today, this is not the case. The mobile app only allows you to check your performance reports, along with schedules for your next classes, but no more than that. To remedy this shortcoming, I suggest you download one of the free GMAT prep apps like the ones from Ready4 GMAT or Magoosh. These are great if you like to practice a bit while on the go.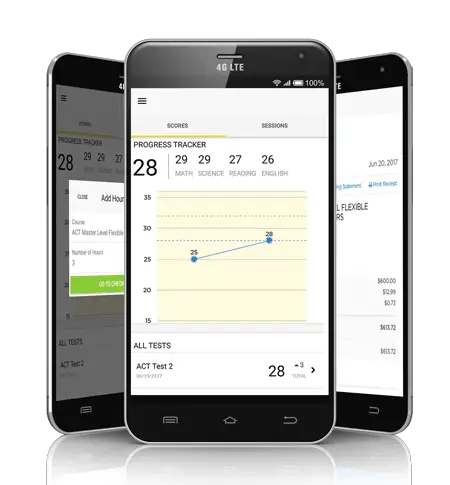 2. Sometimes an uneven quality of live instruction
Instructors hired by the Princeton Review all scored in the 95th percentile (or higher) on the GMAT. At a glance, this makes them qualified to teach the best strategies for the test. But sometimes they still lack sufficient experience to be able to impart this knowledge to you. Fortunately, if you find you're not satisfied with the level of instruction, you can always ask to join another group.
What's Included in the GMAT Prep Books?
All courses from the Princeton Review come with an "Official GMAT Guide" in an e-book version. If you want to grab the book on your own, you'd need to pay $49 for it, but here you get it as a part of the course. The book contains "retired" questions from past GMATs as well as over 130 new questions with detailed explanations. It's a great supplement to the full course. Also, with the live online course, you'll get three other prep books.
These include:
GMAT In-Class Manual
Quantitative Review Textbook
Verbal Review Textbook
These books supplement your study efforts and give you extra materials when it's time to study on your own.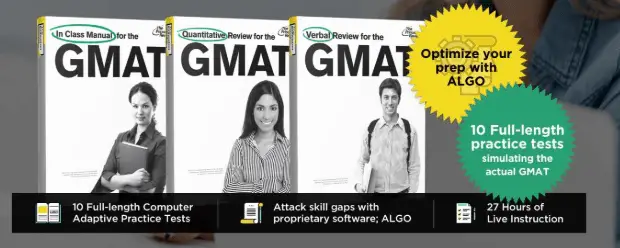 Princeton Review GMAT Prep Course Alternatives
Helping students with business school applications is a lucrative business. That's why many GMAT prep companies mushroomed around the world. There are a few viable alternatives to the course offered by Princeton Review. You may try your luck with self-prep options from companies like Magoosh or The Economist GMAT Tutor. The first one is affordable ($249) and offers a fantastic app you can use to complete practice questions on the go. That's an advantage over the TPR which doesn't rely on mobile learning yet. The course from The Economist is more expensive (there are three different pricing tiers), and it comes with a nice performance-based guarantee. Then there's always the GMAT course from Kaplan if you're looking for another live online or in-person option. But if you compare the features, you'll find that the course from TPR is more user-friendly and offers more materials. It's always better to invest in a live course, and perhaps use self-prep materials as a supplement. The "live vibe" you'll get from interaction will help you remember things better and tackle difficult questions more easily.
Conclusion
There are many amazing GMAT prep options available on the market right now. It's good to take advantage of the course offered by Princeton Review, as long as you pick the live online or in-person options. Spending lots of time interacting with a teacher and other students is one of the best ways to boost your score. And don't rely only on the TPR's materials when going through your prep. It's best to attack the questions from many different angles to maximize your chances of success. Also, don't hope that a course will solve all of your problems. In the end, it's all about your level of self-discipline and the time you're willing to put into that matter. Next up, you may want to explore a guide on how to write an essay on American literature.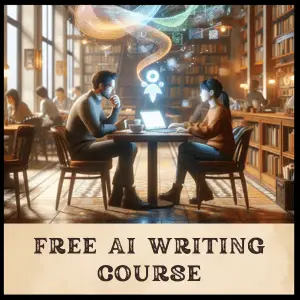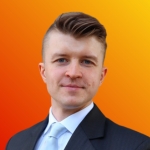 Rafal Reyzer
Hey there, welcome to my blog! I'm a full-time blogger, educator, digital marketer, freelance writer, editor, and content manager with 10+ years of experience. I started RafalReyzer.com to provide you with great tools and strategies you can use to become a proficient writer and achieve freedom through online creativity. My site is a one-stop shop for freelance writers, bloggers, publishers, and content enthusiasts who want to be independent, earn more money, and create beautiful things. Dive into my journey here, and don't miss out on my free 60-minute AI writing online course.