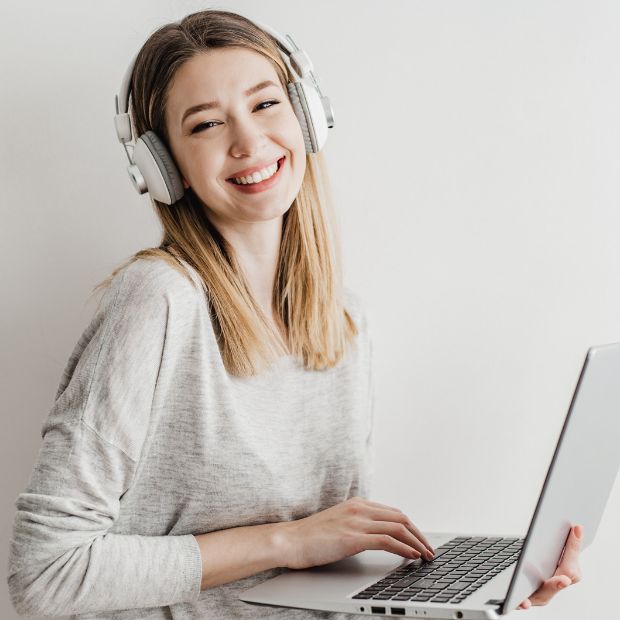 If you want to get admitted to an MBA program at one of the top business schools in the USA or Europe, you'll need to crush the GMAT.
There's no better way to improve your chances than by taking one of the best GMAT prep courses available.
In this review, you will find a list of four such courses. Each one offers different features and comes at a different price. Take a careful look and pick the one that suits you best based on your unique preferences.
Most business schools will accept both GRE and GMAT in the admissions process, but 26% of them clearly state they prefer GMAT.
The mean GMAT score is around 556 (out of 800). If you score 650, you're already in the 75th percentile of test-takers which gives you good chance to get admitted. But to get into one of the top 10 b-schools in America, you will need a score of 715 to remain competitive.
So before deciding on a course, make sure you know the target score for your school of choice.
In summary, the top GMAT prep courses on the market are:
But what makes these courses so special, and why are they worth investing in? Let's look at the in-depth analysis.
Table of contents:
Why Were These Four GMAT Prep Courses Selected?
As you probably know, there are dozens of GMAT prep companies vying for your attention. These include ManhattanPrep, ExamPal, Princeton Review, Magoosh GMAT Prep, Kaplan, PrepScholar, Target Test Prep, Empower GMAT, eGMAT, 800score, and Veritas Prep, as well as individual classes offered by local schools and educational institutions.
It wasn't easy to pick the winners. But in this comparison, I focused on the ones that consistently bring the best results and receive great reviews from students. These courses also offer the highest number of features and have the most advanced test prep technology available.
I also wanted to present you with courses in different categories and at different price points. Each option here is the winner in its own category. As a student prepping for a business school, you have unique needs as well as the amount of money to spend on a course. That's why I wanted to give you a wide range of options.
I picked one live online course, two self-prep classes, as well as an in-person one. Pick the option that suits you best, and falls within your budget. Good luck!
A Side-by-side Comparison Table of the Best Online GMAT Prep Courses
| | | | | |
| --- | --- | --- | --- | --- |
| | Princeton Review GMAT Ultimate | Magoosh GMAT Premium | PrepScholar Completely Customized Online GMAT Prep | Kaplan GMAT |
| Price | Check the price here | Check the price here | Check the price here | Check the price here |
| Overall rating | 9/10 | 8/10 | 10/10 | 9/10 |
| Live classroom time | 27 hours of live instruction spread over 9 sessions | No live instruction – fully online based | No live instruction – fully online-based | 27 hours spread over 9 sessions |
| Books | 3 textbooks | Online only | Online only | A set of 13 books |
| Full-length practice tests | 10 computer adaptive practice tests | 2 practice tests | 4 practice tests | 6 practice tests |
| Practice GMAT questions | 4000+ | 1300+ | 1,200+ real practice questions | 5000+ |
| Mobile app | Yes | Yes – a great app | No | Yes |
| Length of online access | 4 months | 12 months | 4 months | 4 months |
| On-demand video lessons | Yes | 340 lessons | 30+ GMAT skill lessons | 35 video lessons |
| Score improvement guarantee | Yes, a higher score guarantee | Yes, 50+ total score guarantee | Yes, 60+ total score guarantee | Yes, a higher score guarantee |
| Student portal / GMAT forum | Yes | Yes | No | No |
| Access to instructor outside of class | Yes, email assistance | Yes, unlimited ask-a-tutor questions | Yes, email assistance | Yes, email assistance |
| Reports and analytics | Yes | Yes | Yes | Yes |
| GMAT Essay Feedback | Yes, unlimited markings | No | No | Yes, in-class essay analysis |
#1 Prep GMAT Prep Course – Princeton Review GMAT Ultimate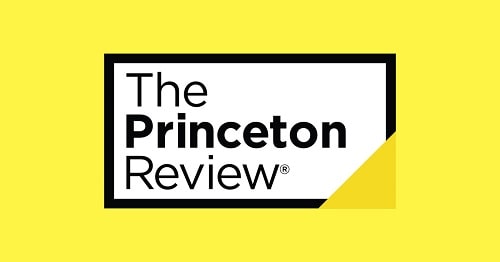 Overall rating: 9/10
The Princeton Review has been one of the leaders of the test prep industry for many years. Their courses are viewed as a premium option in the market.
They provide high-quality materials across the board, but recently they lowered their prices. Now, even the live online GMAT course is quite affordable starting at a little bit over $1,000. And you can easily get a discount by entering one of the promo codes available on their website.
If you like interacting with a teacher, and other students, but don't want to commute to a learning facility, this is the best option for you.
You'll get 27 hours of live instruction in total. The classes are divided into 9 sessions, with 3-hour long classes spread over 9 weeks. This is an ideal amount of time to get thoroughly prepared to get a high GMAT score.
The classes are usually quite small, around 6 to 10 people in total so you'll get enough attention from the teacher. At the same time, you will be able to interact with other students as well.
Communication is also possible through an online portal which you can access as soon as you sign up for the course. This kind of sense of community is what makes this course one of the top picks. It will enable you to pick up useful strategies from other students as well and get more support.
Princeton Review has perfected its materials over the years, and they implemented an adaptive testing technology called "Algo". They offer 10 full-length computer adaptive tests, and that's more than you'll get from any other company. This is one of the biggest strengths of this course because completing tests in a time-restricted environment is the number one way to raise your score.
Another thing is that the online dashboard resembles what you'll see on the computer screen during your test today. This helps you to familiarize yourself with the real-world testing environment and decrease your anxiety because you will know exactly what to expect.
Along with the core curriculum, you'll also get 3 textbooks. You will use one of them during your live classes as well as for homework. The other two deal specifically with the quant and verbal sections (including sentence correction and reading comprehension).
Moreover, you will get access to the Hard Math GMAT workshops which normally would cost you $299 extra. These extra materials will help you to master permutations, combinations, functions, sequences, series, and probability questions. It's great to go through them if GMAT math is not your top skill.
The TPR option also has some minor drawbacks. For example, its mobile app is not among the best ones and the guarantee could be a bit stronger.
But you can always get one of the free GMAT apps listed in this review to supplement your studies if learning on your mobile phone is important to you. Overall, it's a fantastic option for people who want to get the benefit of live instruction without having to leave their homes.
| | |
| --- | --- |
| Pros | Cons |
| The highest number of full-length practice tests | Not the best mobile app |
| Small class size (6-10) | Not the highest number of individual GMAT practice questions |
| Adaptive learning technology | The score improvement guarantee is not super specific |
| Great value for money | |
A student review of the course:
Excellent class! Professor King did a fantastic job. His explanations were easy to follow. The class was well paced. I haven't been in school for a few years, so this class helped bring back some concepts that I hadn't thought about in years. – Robert, 5/5
The highlights of the course:
1. The top live online course option
2. 27 hours of live instruction spread over 9, 3-hour long sessions
3. Unlimited essay markings
4. Online student portal and learning community
5. 10 full-length practice tests
6. Adaptive prep, optimized with adaptive "Algo" technology
7. 700+ Hard Math workshops to help you deal with quant
#2 Prep GMAT Prep Course – Magoosh GMAT Premium

Overall rating: 8/10
Magoosh is a perfect option for students who want to get an effective test prep without spending a fortune on a course.
The company itself is quite young. Since the beginning, its goal was to provide people from all around the world with top online education at an affordable price.
This goal is achieved when it comes to Magoosh's GMAT preparation course. It's the cheapest option on this list as it starts at $249. What's great here is that for this price you will get access to all the online materials for 12 months. That's more length of access than you would get with any other course.
Moreover, Magoosh is known for its effectiveness and comes with a strong performance-based guarantee. First, you can try it for 7 days, and if you don't like it for any reason you can get your money back. But once you sign up, you are guaranteed to improve your GMAT score by at least 50 points (or your money back).
This is one of the strongest guarantees in the market. It's surprising to see it at such an affordable price.
The main strength of Magoosh is its mobile app. This makes it a great option for people who are constantly on the go and like to study on their mobile devices. If you have a full-time job or have many other responsibilities, using the app is one of the best ways to study on your own. It gives you flexibility and it contains over 1300 practice questions.
Moreover, the app uses great score predictor technology. Basically, Magoosh GMAT prep uses data from over 200,000 students and is able to accurately predict your final score based on your current performance. This is a fantastic option because it allows you to see how much effort you still need to put in to achieve your target score.
Also, if you get stuck with any particular question, you have 24/7 email support. Usually, you will get a thorough response within one or two business days.
The only thing that needs improvement here is that the course comes with only two full-length practice tests. So if you decide to go with this option I recommend buying a GMAT book that will give you at least a few more tests to play around with.
But all in all, it's a viable way to prepare for the test without spending too much money. Many students who took the course report an increase of 50 to 70 points which is quite a lot.
| | |
| --- | --- |
| Pros | Cons |
| Super affordable | No essay markings |
| One of the best mobile apps in the market | No live interaction with a teacher |
| Lots of well-designed video lessons | Only two full-length practice tests |
| Great score improvement guarantee | |
A student review of the course:
"I am 30 years old and haven't brushed many of the topics on the GMAT since high school. Magoosh's videos made learning straightforward." – 730, 47 Math, 44 Verbal
The highlights of the course:
1. The top option in the budget category
2. Low price
3. 1300+ practice questions
4. Great online learning mobile app
5. Over 340 video lessons
6. A Score Predictor technology
7. Access to Math, Verbal, IR, and AWA
8. Study plan and checklists
9. 12 months of access
10. 50+ point improvement guarantee
#3 GMAT Prep Course – PrepScholar Completely Customized Online GMAT Prep
Overall rating: 10/10
The PrepSchool GMAT Prep offers one of the top self-paced customized courses available on the market right now. You can think about it as a highly customized Magoosh.
One of the advantages of course, aside from the personalization and adaptable study plan, is its price. The full course costs $259. But there are also other options available at $139 and $69. They're also great, but here I focus on the "Completely customized " course which offers the highest amount of features.
I selected this option for a couple of reasons. The first one is that it comes with a great score improvement guarantee. If you sign up, you are promised to improve your score by at least 60 points or you get your money back.
The course is also really accessible and you can sign up for a 5-day free trial just to test it out. I've read a lot of reviews of the GMAT PrepScholar Completely Customized Online GMAT Prep and students always praise it for its amazing content and high amount of value for the money. It's especially great for non-native English speakers who want to brush up on their vocabulary skills and crush the sentence correction section.
With the course, you will get 4 practice exams. That's more than enough to boost your score. The platform uses adaptive technology so by completing the tests, you'll get the same feel as you would during the Test Day.
The only drawback here is that you won't get any essay markings or mobile app access. So think if that's an important feature for you. If it is you can still go with the PrepScholar GMAT Prep.
| | |
| --- | --- |
| Pros | Cons |
| Customized study plan | No essay markings |
| 60+ points improvement guarantee | No mobile app |
| Over 1200+ practice problems | |
A students review of the course:
"I have a busy schedule and need to study on my time. PrepScholar GMAT allows students to study whenever is convenient for them"
"For me, the key was focusing on strengths and weaknesses differently. PrepScholar GMAT's adaptive course does just that.!"
The highlights of the course:
1. The top premium self-paced, customized course
2. 60+ points improvement guarantee
3. A 5-day free trial period
4. 4  full-length practice exams
5. 4 months of access to online materials
#4 GMAT Prep Course – Kaplan GMAT

Overall rating: 9/10
Kaplan is the biggest test prep company in the world and the main competitor of the Princeton Review. They have a huge learning center infrastructure spread all across the globe. This allows them to host in-person classes at an affordable price.
If you're living in an urban area and you want to enjoy sitting in an actual class, this is the best option for you.
The first thing that you will notice about this course is that it's designed jointly with ManhattanPrep whose instructors specialize in prepping students for the GMAT.
They are only allowed to teach the materials if they score in the top 1% of all exam takers. This is the top feature of these classes as you will get world-class instruction over the course of 9 weeks.
Each week you will attend a 3-hour long class which is usually scheduled in the evening or on Saturday. This makes it a viable option even for people who work full-time or have other responsibilities during the day.
The only drawback here is that you would have to commute to one of the classrooms so this is going to take a little bit of time. And the classes are scheduled mostly in large urban areas so if you live in the countryside that will not be the perfect option for you.
Also, very rarely the class can get canceled because of a lack of attendance or the sickness of the instructor. But if a situation like this occurs you'll be able to attend a free makeup class at no extra cost.
In the final analysis, there is nothing better than being able to sit in a class and get personalized feedback from an expert instructor. Of course, this kind of option is more pricey, but it's well worth the money.
Besides the actual classes, the package also includes one-on-one pre and post-exam assessments where you analyze your performance along with your teacher.
Moreover, you'll be able to complete 6 full-length practice tests. That should be enough to give you a great idea of how the GMAT works, and which sections of the test you need to improve.
Except for the practice tests, the course abounds in extra materials that will boost your score. These include 13 GMAT textbooks covering all areas of the exam. That's more printed material than you would get from any other company. If that's your preferred method of studying, Kaplan (or ManhattanPrep) is the top pick for you.
Unfortunately, there is no strict score performance guarantee like with Magoosh or PrepScholar. But the good news is that you can get your first class for free. That's good insurance that will help you see if it's the right solution for you.
| | |
| --- | --- |
| Pros | Cons |
| Individual attention from top teachers in the industry | Not the best mobile app |
| A set of 13 textbooks covering all areas of GMAT preparation | A bit pricey (over $1500) |
| You can take your first class for free | Sometimes the classes get canceled |
| A well-prepared curriculum | No clear performance-based guarantee |
A student review of the course:
"I found the in-person classes super helpful with the Kaplan course. I ended up having a class with only 3 other people and was able to take advantage of asking a lot of questions. I also loved the online resources, specifically the quiz bank and the practice tests." – Katie, 5/5
The highlights of the course:
1. The top in-person option
2. Excellent instructors who scored in the top 1% on the GMAT
3. Designed as a joint venture with ManhattanPrep (so you get bonus materials)
4. 27 hours of live instruction
5. 1-to-1 pre and post-exam assessments
6. 6 adaptive full-length practice tests
7. 35+ interactive video lessons
8. Small class size (6-10 students)
The Best Books for GMAT Prep
The majority of the courses listed in this review will provide you with at least one great textbook to study. However, you may want to supplement your efforts by getting one of the other top-rated GMAT prep books.
These books usually give you access to extra online materials and often contain an MBA admissions guide which comes in handy when it's time to apply. Here are the top picks you may want to check out:
This textbook set is helpful if you need to access more materials, as it offers dozens of actual questions from the past official GMAT tests. This includes 220 never-before-seen questions as well as 58 integrated reasoning questions.
The whole bundle is quite cheap, so it's a worthwhile investment and will give you a good amount of practice so you crush it on the test day.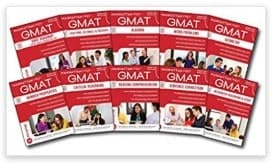 This is a fantastic textbook set which is more on the expensive side as you will have to shell out over $100 for it. But it's written by instructors who themselves scored in the 99th percentile of the test takers.
The prep books fall under the umbrella of the ManhattanPrep and can be viewed as a separate course because they give you access to lots of online materials as well.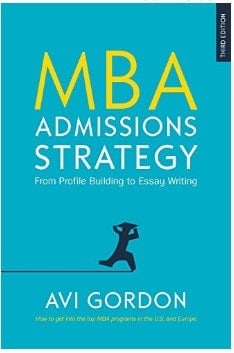 Passing the GMAT with a high score is one thing, but crafting a spotless MBA application is something different altogether. This short book will help you leverage all of your assets and write a killer application essay.
It will help to look at your application from an admissions officer's perspective and improve your chances of getting accepted.
The Best Apps for GMAT Prep
Besides taking a full-blown prep course and supplementing it with textbooks, you can also install a few useful GMAT prep apps on your phone or tablet.
These apps are mostly free and they are a perfect solution if you want to complete a few practice questions when you're not at your desk. Remember, they are not a replacement for a proper class, but they're great as an aid to your studies.
1. Manhattan GMAT Prep App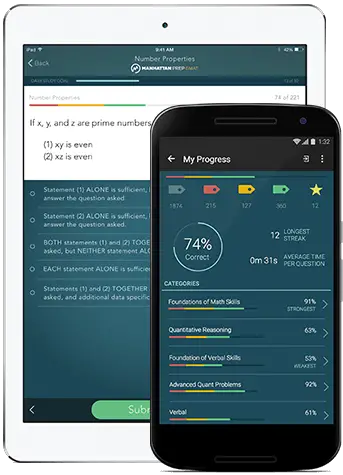 This little app offers over 1000+ quantitative and variable practice questions, as well as lots of vocabulary, idioms, quizzes, and strategies for each type of question you will encounter on the test.
It will even allow you to track your progress by showing you useful reports and analytics. The basic version is free, but if you want to get access to more materials you need to pay $29,99.
2. Magoosh GMAT Math & Idiom Flashcards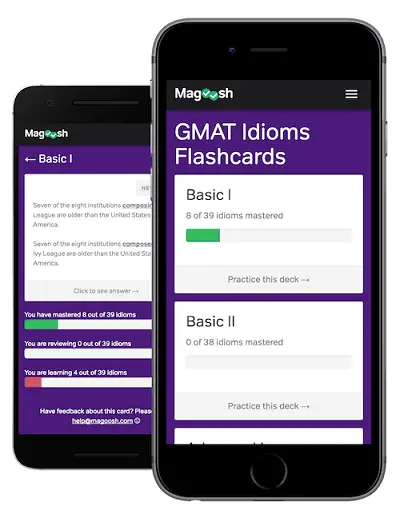 Here's another useful app that is available for both the iPhone and Android. What I like about this one is that it includes over 200 video lessons, amounting to almost 22 hours of video content.
So now instead of watching YouTube and checking Instagram before going to sleep, you can always put some more GMAT knowledge in your brain.
3. Prep4GMAT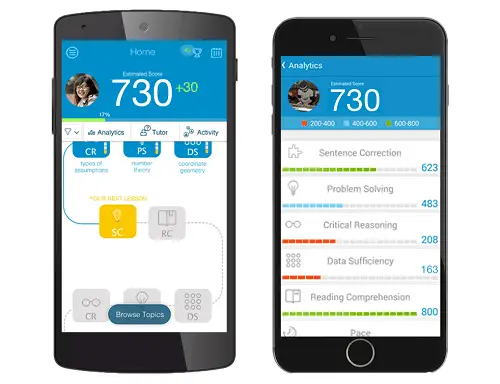 This is a free app available on both mobile platforms. It offers over 1000 practice questions as well as 500+ flashcards, that focus on the most important parts of the exam.
The best thing about it is that it even includes a full-length GMAT practice test you can complete on your phone. If you wanted to get access to more materials you can upgrade the app for $19,99.

Bonus section – How to Pick the Best GMAT Prep Course for You?
All the classes listed here are fantastic. But some of them will be more suitable for your particular situation than others. It's good to think about the features that are most important to you, as well as the learning environment that will match your needs and personality. Think about these things before deciding:
1. Do you prefer to study on your own or do you thrive in a live classroom environment?
Each student prefers to work in a different way. Are you the type of person who likes to interact with others, ask questions, and get live coaching on the spot? If so, then the live online GMAT prep course or an in-person class will be perfect for you.
This type of learning environment is also better if you need more help with the quant section as the GMAT math questions are harder to figure out on your own. But just remember that you have to stick to the course schedule and complete assignments given to you by the instructor.
Conversely, if you're a self-starter and have a lot of self-discipline, then a self-prep option will be better for you. It gives you more flexibility and it's better suited to people who are independent or have many other responsibilities to take care of. It will allow you to create a GMAT study plan so you can work at your own pace. It's a better option if you're working at a full-time job.
2. How much time can you devote to your GMAT prep?
To get fully prepared for the GMAT, you will need at least 2 to 3 months and over 120 hours of diligent study before the test day. Before deciding on your ideal course, do your best to schedule enough time so you're able to score in the 75th percentile of exam takers.
Also, see if you will be available to attend live online or in-person classes. Fortunately, these classes usually take place in the evening during workdays or even on Saturdays and last for around 3 hours per session.
If you decide to go the self-prep route, your study schedule will be more flexible. But you should still plan to work with your materials for at least 2 hours every workday for 2-3 months leading up to the test.
3. Do you want to put more emphasis on the quant section or the verbal section?
Students who take GMAT are usually better in the quant section. But think about your particular situation. What are your strengths and weaknesses? Select a course that will address them in the best way.
The test takes 3 hours and 30 minutes to complete and consists of 4 sections: analytical writing, integrated reasoning, quantitative, and verbal.
If you need more help with the GMAT verbal section, then an in-person or live-online course would be better. But if you struggle with the quant section, a good self-paced course offering detailed explanations is your pick.
4. How many full-length practice tests does the course offer?
Timing is the most important ingredient of a successful GMAT-taking strategy. Your brain cells will be on fire during the test. You need to know exactly how much time can you devote to each question to complete everything on time and with a good result.
Moreover, different sections will require a different approach. So the only way to see how you will perform is to complete as many full-length GMAT practice tests as possible.
That's why you should always see how many practice tests are on offer in your course. The more you are able to complete before the test the better. The top feature to look for here is the number of proctored GMATs as they resemble the real-world testing environment closely.
5. What is the budget you can spare for a GMAT course?
Your budget is another thing to take into consideration when thinking about picking the course. Most of the time you can expect to get higher results from live online or in-person classes which are more pricey and usually cost over $1000.
If you're strapped for cash, you can invest in a self-prep program that starts at around $250 and then is supplemented with prep books and mobile apps.
Fortunately, some companies offer financing options and allow you to pay either half up front and half later, or break down the cost into monthly installments. If that's what you need, then talk with the company's customer service.
6. Do you like to study with teachers and textbooks, or do you prefer computer-based drills?
If you like a traditional learning environment, then an in-person or live online class will be a better option. But if you're more tech-savvy and say like to work with online tools, then one of the self-paced courses listed in this article will be more suitable.
Actually, it's best to combine two methods and have some classroom time, but then access an online dashboard to practice on your own. It's always recommended to use at least two or three different preparation methods for maximum results.
Conclusion
There are many fantastic GMAT prep options available on the market. The one you choose will depend on your unique needs and your preferred method of study. I hope that by reading this review you have a much better understanding of the top features you should look for.
Investing in your education is always a great idea. By passing the test with a high score, you will get into a better school, which will ultimately lead to a much higher income in the future. Good luck!
Rafal Reyzer
Hey there, welcome to my blog! I'm a full-time blogger, educator, digital marketer, freelance writer, editor and content manager with 10+ years of experience. I started RafalReyzer.com to provide you with great tools and strategies you can use to achieve freedom from 9 to 5 through online creativity. My site is a one-stop-shop for freelance writers, bloggers, publishers, content enthusiasts who want to be independent, earn more money and create beautiful things. Feel free to
learn more about me here.