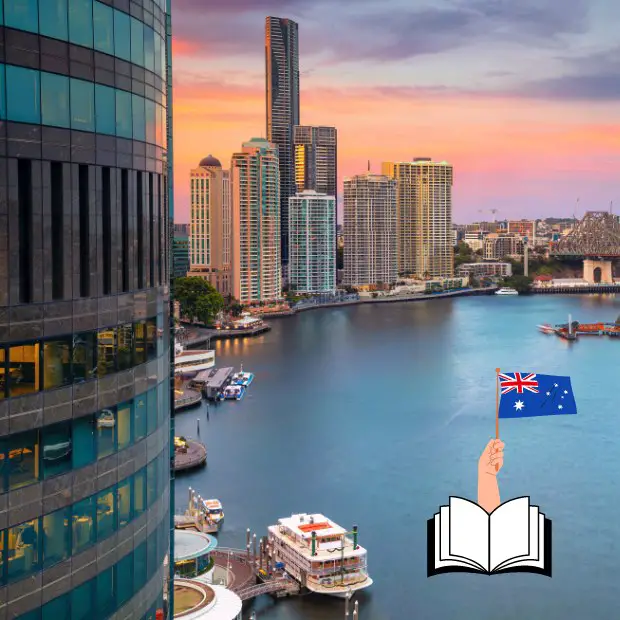 Dive into the dynamic world of Brisbane's publishing industry and its influence on the cultural heritage of Australia.
From supporting self-publishing journeys to providing expert editing services, the publishing companies in Brisbane are shaping the city's and entire Queensland's literary landscape, one page at a time. Get ready to meet the teams that bring authors' dreams to life and catapult their words into the hands of eager readers around the world. Let's discover the publishing maestros that make Brisbane a haven for writers.
Here are the top publishing companies in Brisbane, Queensland (Australia):
The first on our list is the Brisbane Self Publishing Service. The company's array of offerings includes professional editing, book cover design, ebook conversion, audiobook production, and book printing. They prioritize the author's vision for their published book and aim to support and empower writers on their publication and self-publishing journey. The organization is managed by a professional editor and publication designer Kirsty Ogden and editor and copywriter Patrice Shaw. The two met while studying at the University of Southern Queensland and discovered a shared passion for books and a similar approach to editing and book publishing services. Their team has since expanded to include additional professionals who contribute to the full range of publishing services being offered by the company, ensuring they can cater to every aspect of the publishing process. Submission guidelines.
Next up is InHouse Publishing, a family-owned and operated Australian company. Established in 1997 by Bob and Diane Karlsson, they started with a commercial book printing business and evolved into a passionate team assisting aspiring authors to bring their visions to life. What sets this company apart is its unique approach. Rather than offering fixed publishing packages, they understand that each book, like the story and its author, is unique. The organization creates personalized publishing plans tailored to suit each book and author's specific goals, with a commitment to honesty, trust, and reliability at the forefront of their operations. The InHouse Publishing team, comprising passionate editors, cover designers, and printers, goes above and beyond in providing exceptional customer service. Submission guidelines.
Global Publishing Group, a certified women-owned boutique publisher, is all about enriching lives through literature. They provide services such as traditional printing, print-on-demand publishing, and ebook formatting at no cost to their authors. They even offer ghostwriting services, catering to a wide variety of authors' needs. They are meticulous about their submission process and guidelines, accepting queries only for specific genres in fiction and non-fiction. Their dedication to fulfilling specific client needs, their effective marketing strategy, and their diverse portfolio make them a sought-after publisher in Brisbane and solidify their position among the top publishing companies in Australia. The company has a publishing division called Believer Books, which specializes in faith-based literature such as Christian children's books, Christian fiction and nonfiction books, and memoirs. Submission guidelines.
Enlighten Press is a family-owned business that creates high-quality books that stimulate wonder, critical thinking, and self-awareness in children. They aim to foster a love of learning and reading, teaching children how to think, not what to think, and preparing them for success in a future that requires problem-solving and innovative thinking. They offer their titles in a variety of format options including big books, value packs, home editions, and lapbook sets. Not only are their books designed to support the Australian curriculum, but they also focus on mental, emotional, and physical well-being, offering perspectives to cultivate an empowered mindset. With their collections made in collaboration with the educational community, Enlighten Press presents a unique, responsive, and dynamic approach to children's learning and literature. Submission guidelines.
Based in Brisbane, Queensland, Australia, Hawkeye Publishing is an independent trade publishing house committed to quality and originality. Each book they publish is a product of careful selection from open submissions and agency referrals and each manuscript is refined by their in-house staff. Hawkeye Publishing is known for its selective choice of manuscripts, favoring those that can leave a lasting imprint on a reader's heart and imagination. They offer both traditional and hybrid contracts, focusing on writing in various genres such as adult genre fiction, non-fiction, self-help, memoir, faction, young adult, and children's books. This company's attention to detail sets them apart, and its goal is to produce books that deeply resonate with readers. Submission guidelines.
Independent Ink is a Brisbane-based self-publishing service established in 2015 by Ann Wilson. The company has carved a niche for itself by providing professional services to authors navigating the often complex world of book publishing services. Their comprehensive services include editing and proofreading, typesetting, cover design, printing and publishing, and marketing and promotion. Committed to quality and professionalism, all tasks undertaken by Independent Ink are carried out in Australia by a carefully selected crew with a long history of working with traditional publishers. Their typesetters alone have produced thousands of books for notable publishing houses such as Penguin Random House, Pan Macmillan, Allen and Unwin, and the University of Queensland Press. Submission guidelines.
Steeped in over two decades of international publishing experience, Ocean Reeve Publishing stands as a beacon of dedication to the craft of publishing in Brisbane. This multi-award-winning company prides itself on delivering unparalleled service, cost-effective pricing, professional editing, and quality publications, ensuring that every author's publishing legacy is built with passion and purpose. The company's offerings extend beyond traditional self-publishing services, featuring an assisted independent publishing process, inclusive of book marketing assistance, website development, and video marketing services. The firm also accommodates different printing needs with large-run print support, small-run digital book production, and print-on-demand services. Complementing the publishing journey, they offer eBook development and distribution, as well as audiobook services that include narrators, studios, and distribution. Submission guidelines.
Australian Academic Press is a niche publisher focusing on the behavioral and social sciences field. Situated in Brisbane, this company rapidly gained renown for its dedication to excellence and inventive approaches, collaborating closely with prominent academics, researchers, as well as scholarly and professional associations within the nation. Within the organization, two significant branches were established: one aimed at advancing scientific journal publication, while the other honed in on producing evidence-based treatment manuals and resources for mental health practitioners. AAP delivers a meticulously curated selection of practitioner resources and books in both print and digital formats. They are distributed wholesale across Australia, Europe, and North America, and retailed through the www.aapbooks.com online store. Submission Guidelines.
Established in 1976, Boolarong Press is a publishing powerhouse with a distinct purpose: to amplify the voices of authors, especially those within Queensland and isolated communities, by bringing their stories to life. With a legacy spanning over 1300 titles and more than 1,000 authors, Boolarong embodies a steadfast commitment to its principles. Central to their identity is the printed book. Recognizing its enduring significance, the company not only embraces ebook production but positions them as supplementary to the timeless allure of printed works. Boolarong endeavors to champion its authors' works, ensuring their stories reach receptive audiences far and wide. For this company, honesty and transparency are core values in the publisher-author relationship. Submission Guidelines.
Offering comprehensive freelance editing, writing, and proofreading services, PS Editing is an essential resource for authors in Brisbane and beyond. They specialize in a wide array of materials ranging from books, blogs, and newsletters to business publications, ensuring quality and precision in their work. Apart from their direct services, PS Editing has gone a step further to cultivate a thriving community of writers and publishing professionals through their Facebook group, BANG! This platform welcomes Brisbane authors of all genres, both aspiring and published, to share news of their writing projects and seek advice from their peers. It also facilitates connections with local writers and publishing professionals, including editors, book designers, and other book production specialists. This digital hub is a great way to keep up with networking events and follow the latest blog articles and book promos from fellow authors. PS Editing's commitment to supporting the author community extends beyond its core editing services. Submission guidelines (N/A).
Final Thoughts
Queenslands's publishing landscape is vibrant and diverse, offering a multitude of services to authors. These publishing companies in Brisbane diligently craft compelling book covers, harness the expertise of professional editors, and build strong client relationships. Whether it's self-publishing or comprehensive marketing and distribution, they've worked hard to meet the varied needs of their clients. With their unwavering dedication, they contribute significantly to Brisbane's flourishing literary scene and are crucial companions on any author's journey. So if you have a manuscript ready, reach out to one of these publishers and get started today.
Rafal Reyzer
Hey there, welcome to my blog! I'm a full-time blogger, educator, digital marketer, freelance writer, editor and content manager with 10+ years of experience. I started RafalReyzer.com to provide you with great tools and strategies you can use to achieve freedom from 9 to 5 through online creativity. My site is a one-stop-shop for freelance writers, bloggers, publishers, content enthusiasts who want to be independent, earn more money and create beautiful things. Feel free to
learn more about me here.